Vintage and Natural Christmas Front Porch Ideas
Christmas Porch Decor Ideas
This post contains affiliate links for your convenience. For full disclosure go here.
Hey friends! Are you looking for ideas to decorate your Christmas front porch? Today I'm sharing ours plus you can see porches belonging to 17 of my home blogging friends. Thanks to the talented Amy at atta girl says for hosting and organizing this fun tour. The link to all of the porches are at the bottom of the post so be sure to visit everyone for great ideas.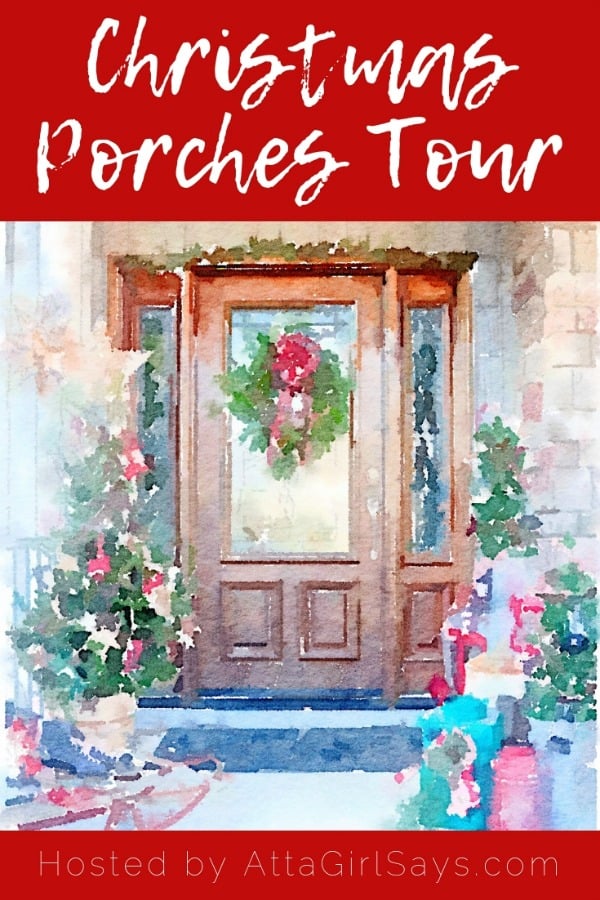 For our porch, I'm using mostly things that I already had. On our door, the vintage sap bucket arrangement is one that I found at an estate sale several years ago. I love the patina on it and the pine branches look so realistic. Sometimes I use a wreath but decided to change it a bit this year.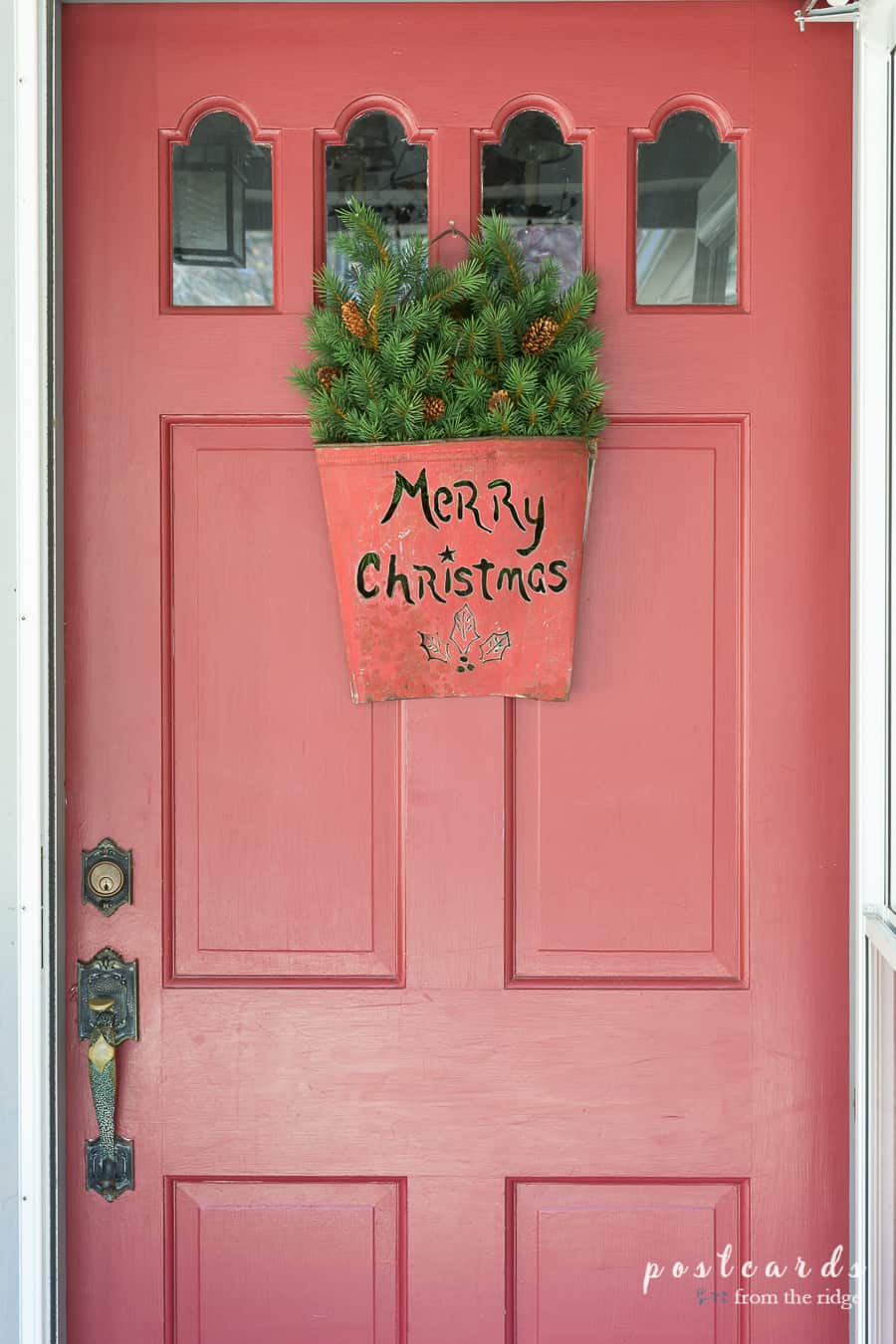 Next to the door are our Adirondack chairs. I've dressed them up with a plaid throw blanket and some wooden snowflakes that I've also had for a few years.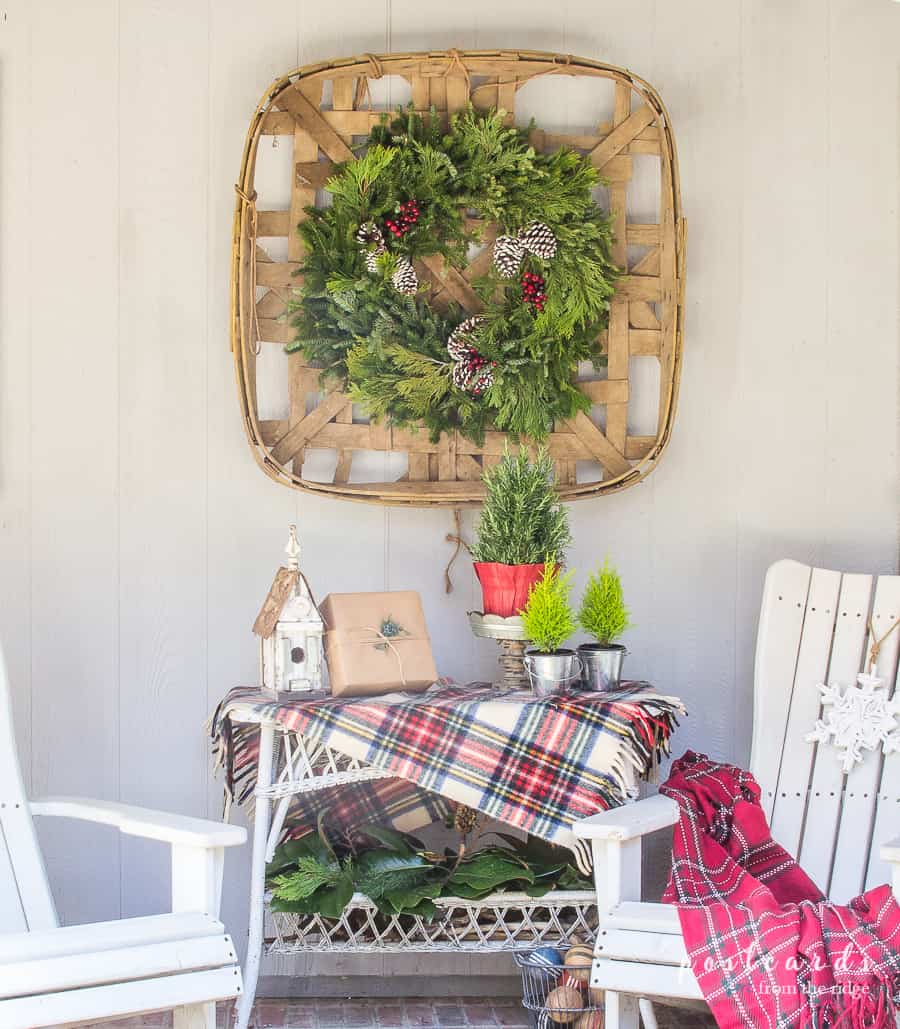 Another estate sale find is my old tobacco basket. It's a little beaten up from years of use, but that just adds to the charm in my opinion. I dressed it up with a pretty wreath that I picked up at Costco. It's just the right size.
One of my favorite finds is this little church birdhouse made from recycled vintage items. The roof is part of an old tin ceiling tile and the other parts are scraps from various things. I found it at a craft fair in Nashville many years ago.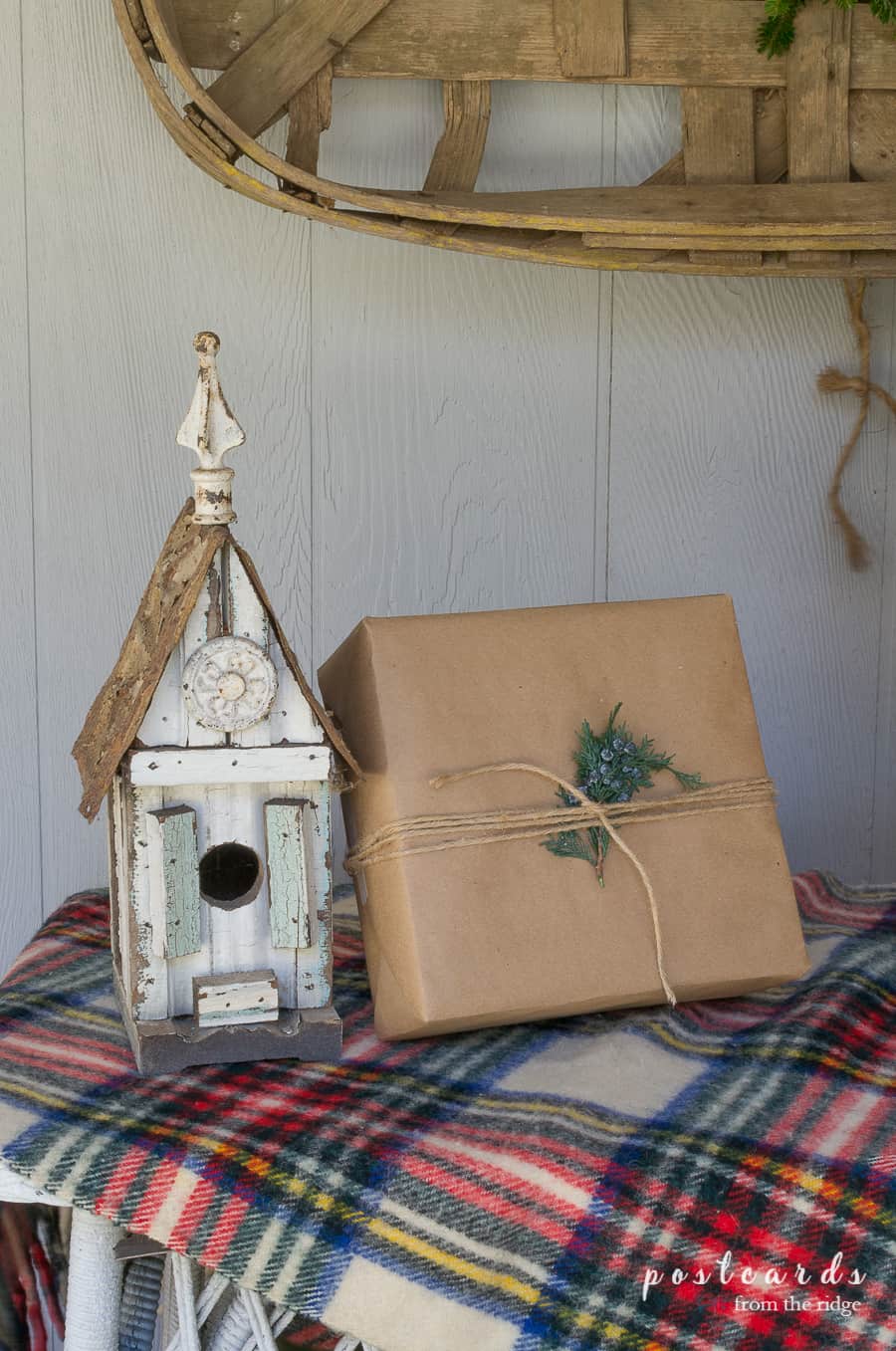 A couple of miniature cypress trees and a rosemary topiary add a little more of a natural element to the table. And the vintage plaid stadium blanket is the perfect size for a table topper. (metal and wood pedestal found HERE)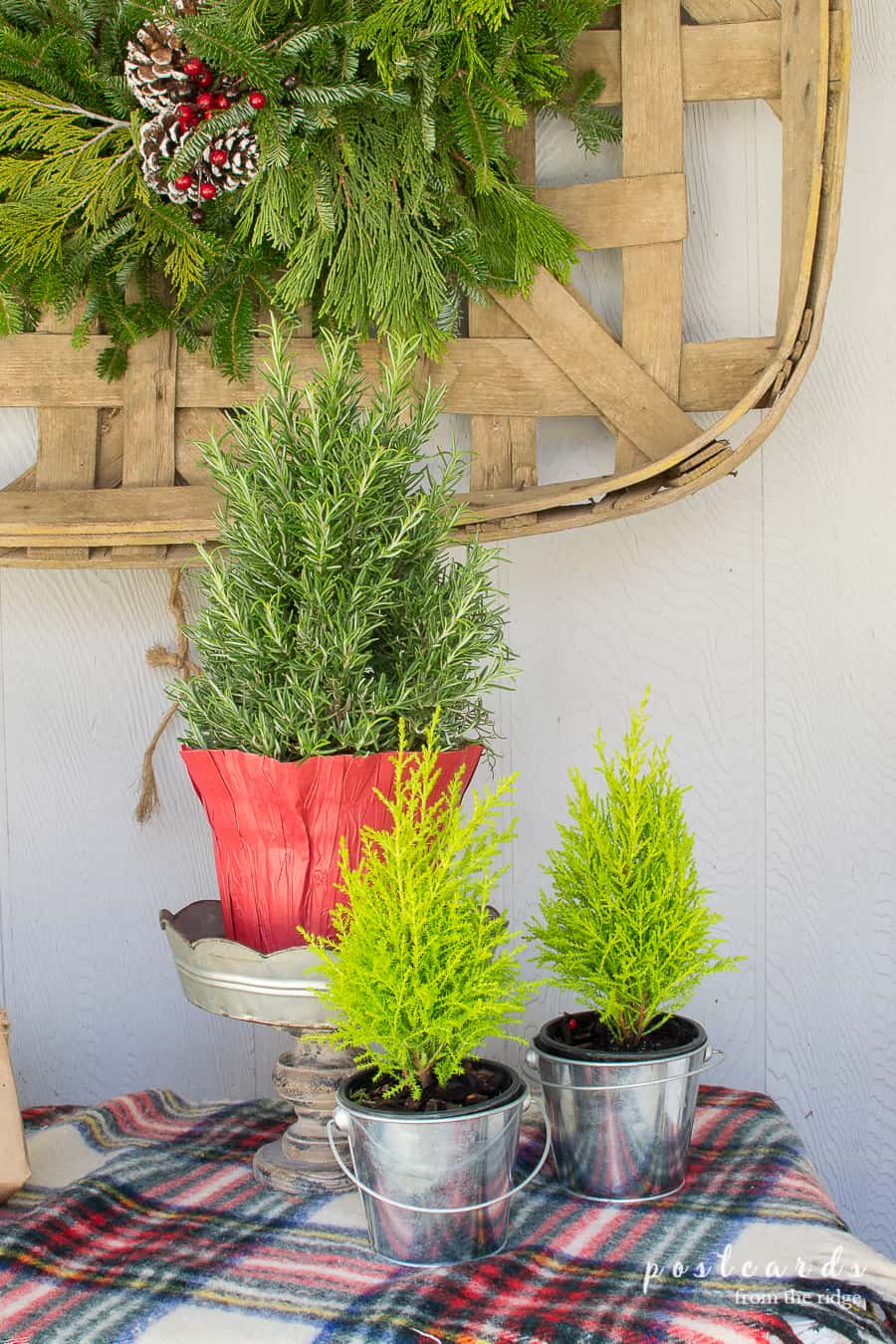 I clipped some branches from our magnolia tree and tucked them into the shelf under the table. And the old wooden croquet balls were already out here but I thought the colors were fun so they got to stay out with the Christmas decor. The red plaid throw blanket is from my shop, Emory Valley Mercantile.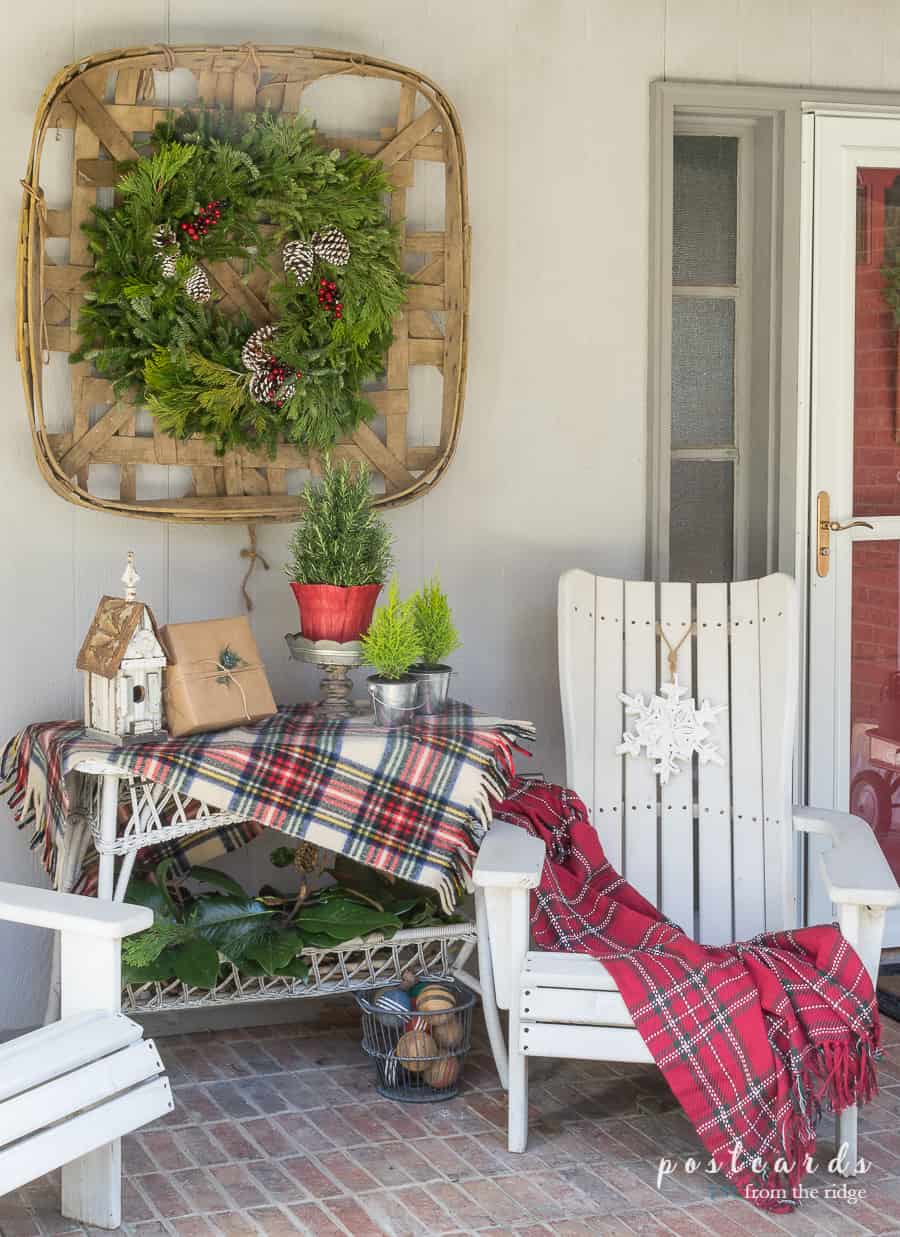 Over on the other side of the door are a few more of my favorite vintage items. The only thing here that I bought this year is the plaid scarf and the large rosemary topiary. Everything else is from my way too big stash. But it's nice to have options when I'm decorating. Know what I mean?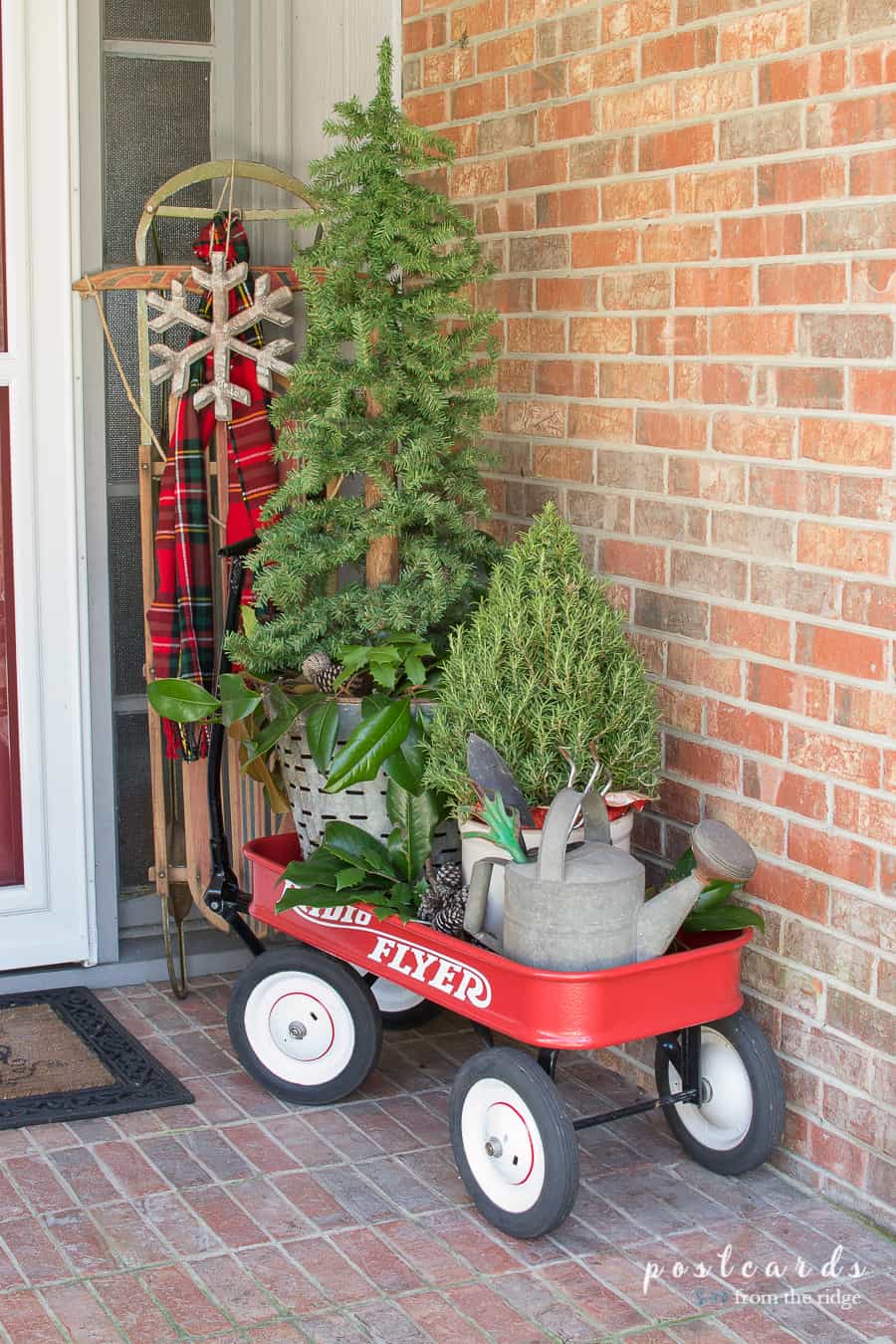 There's a bit of a gardening theme inside my dad's refurbished old red wagon. Which is kind of ironic since I really don't care for gardening at all. It's hot with 90+% humidity in the summer here in Tennessee. And I don't love being out in it at all. Anyway….the old watering can and vintage olive basket add some patina to the porch. And the old sled adds a nice Christmas-y touch.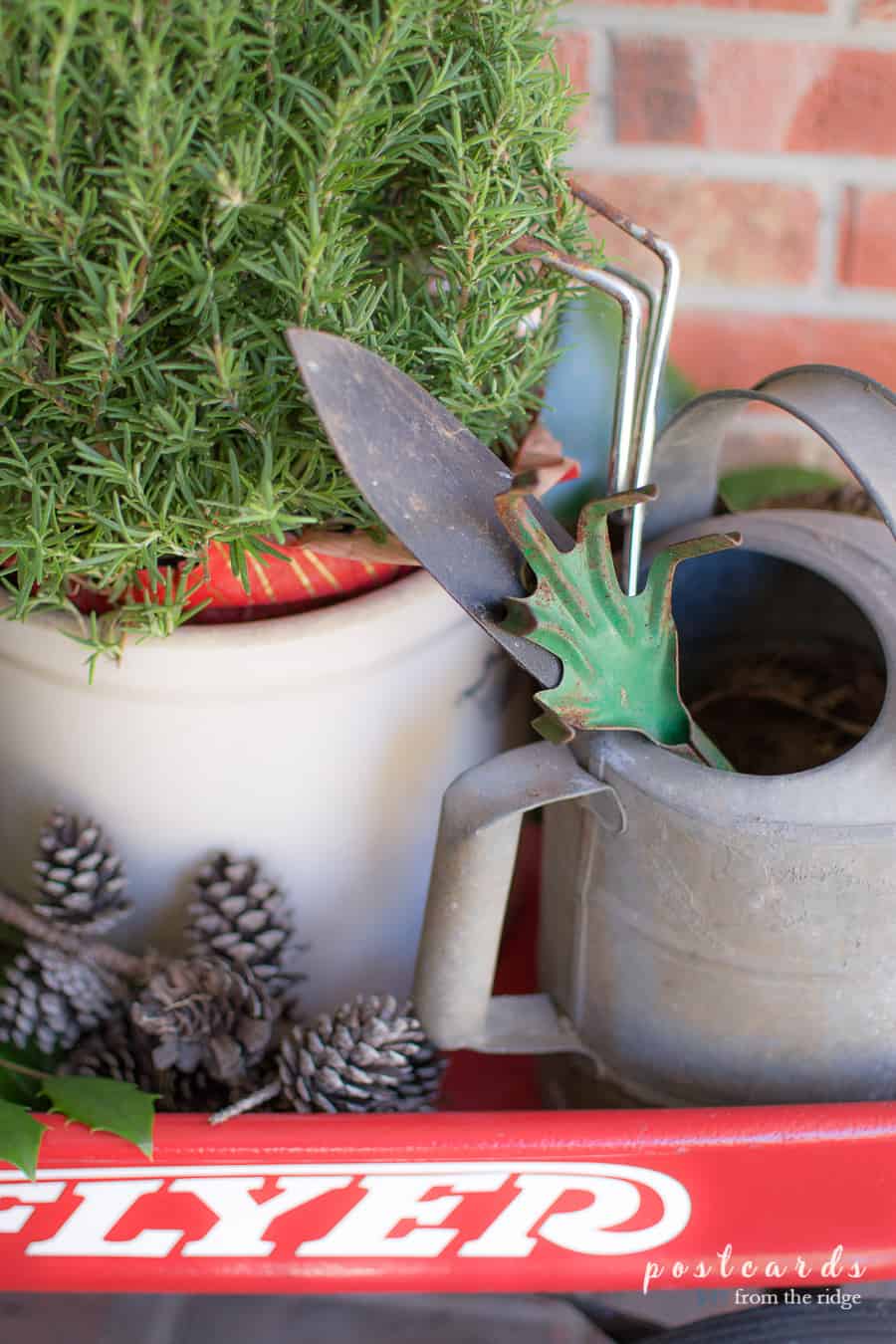 I found the old green hand garden fork at a recent local sale and wish I had gotten the other pieces while I was there. It kinda looks like a claw, doesn't it? I thought it was fun and it goes with my other rusty tools. And the old ironstone crock makes a great way to display the rosemary topiary.
That wraps up my Christmas porch tour. Next week I'll be sharing more of the inside of the house including the hutch, dining table, living room, and (hopefully) the entry. Be sure to sign up for my newsletter below and it will all be sent to your inbox when it's posted.
And keep scrolling to the bottom of the post so you can see all the other porch tours.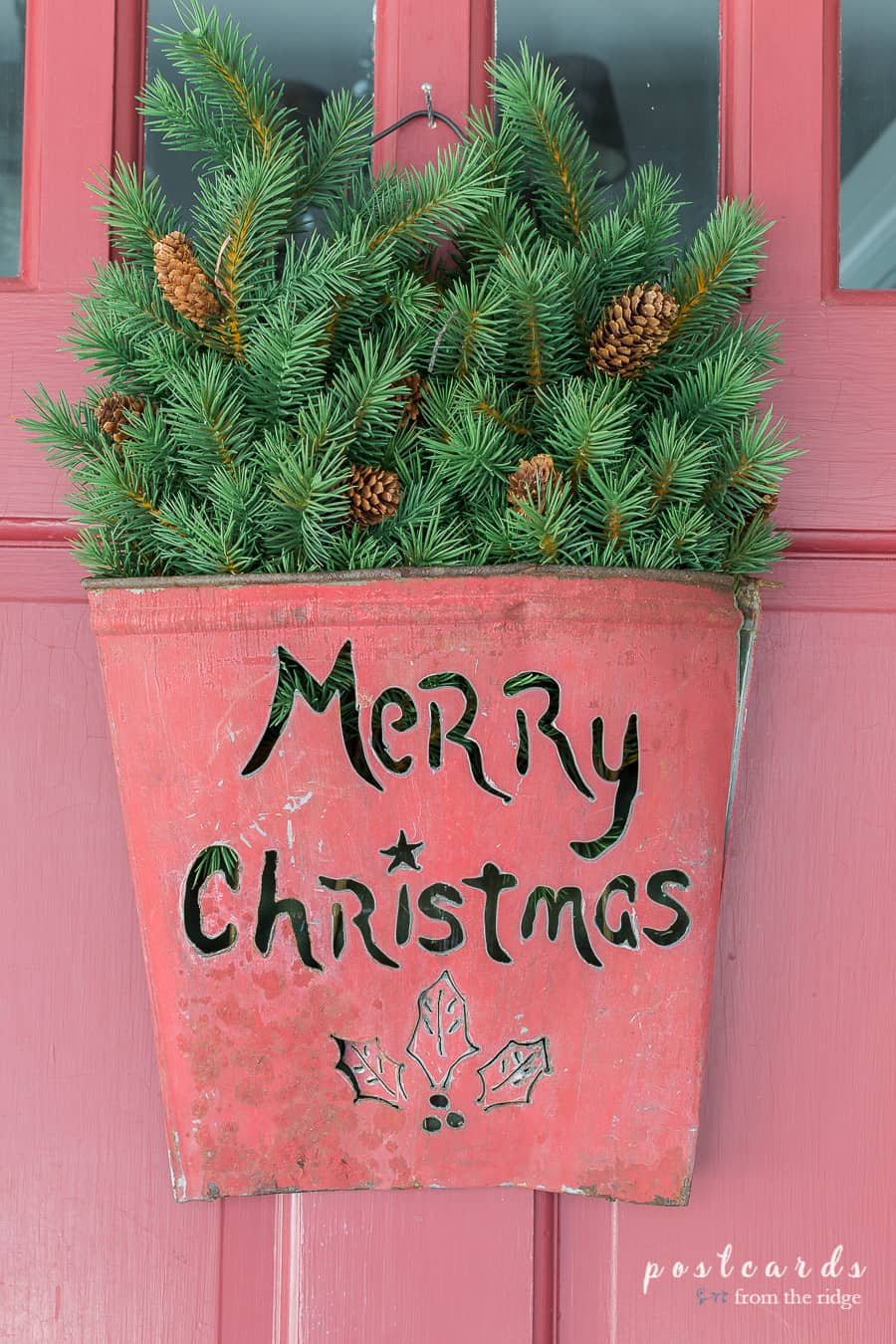 shop this look
See all of my Christmas decor ideas since 2011 HERE.
Visit my holiday shop with over 100 cozy Christmas items HERE.
Get Christmas decorating ideas for the whole house, recipes, and DIY ideas HERE.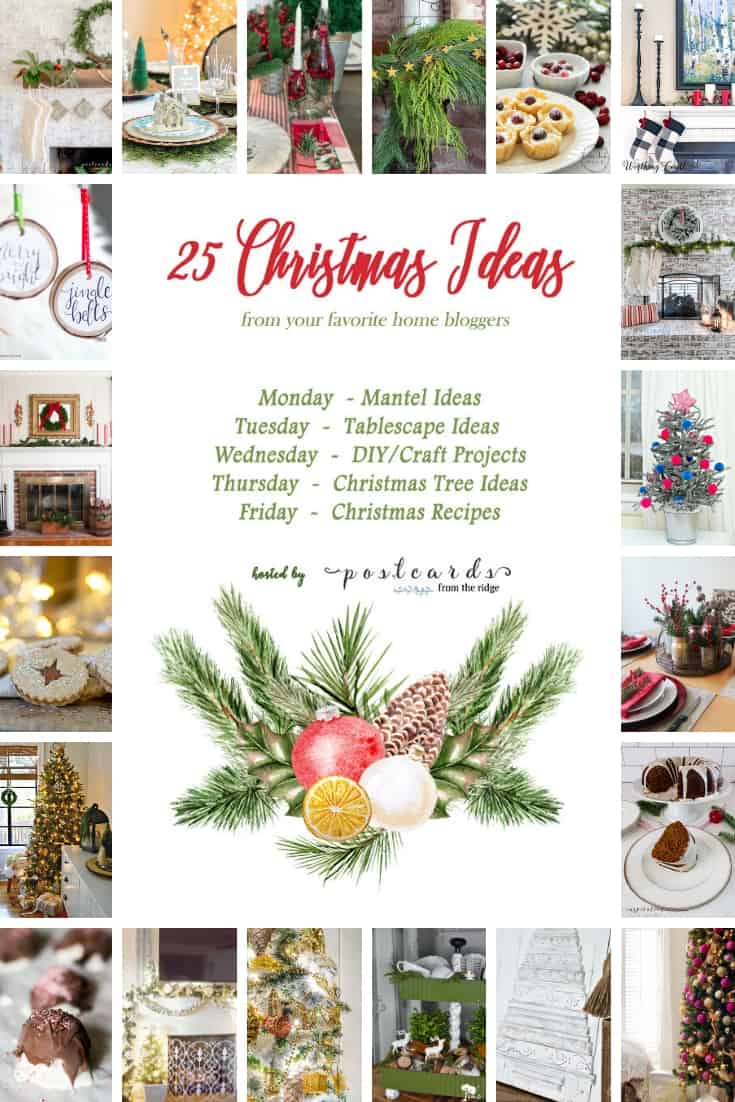 Christmas Porch Tour
Follow the links below for the full Christmas porch tour lineup, featuring 18 home decor bloggers. Be sure to visit everyone for lots of ideas to add festive touches to your porch and other outdoor spaces.
Monday, Day 1
My Thrift Store Addiction // Postcards from the Ridge (me) // Cottage at the Crossroads
Petticoat Junktion // House of Hawthornes // DIY Beautify
Tuesday, Day 2
Sweet Pea // Duke Manor Farm // StoneGable
Sand Dollar Lane // Atta Girl Says // Our Southern Home
Wednesday, Day 3
North Country Nest // My Creative Days // Worthing Court
2 Bees in a Pod // Major Hoff Takes a Wife // Craftivity Designs