Fall Hutch with Vintage White Ironstone and Wooden Butter Molds
Vintage oak hutch with white ironstone and wooden butter molds
This post contains affiliate links for your convenience. For full
disclosure go
here.
Fall Hutch with Vintage Ironstone and Wooden Butter Molds
Confession time…I've started another vintage collection. This time it's
wooden butter molds. I really didn't mean to start
another collection 😂, but I saw these at an auction and loved the intricate
designs and patina on them. I just couldn't resist! Have you ever seen one?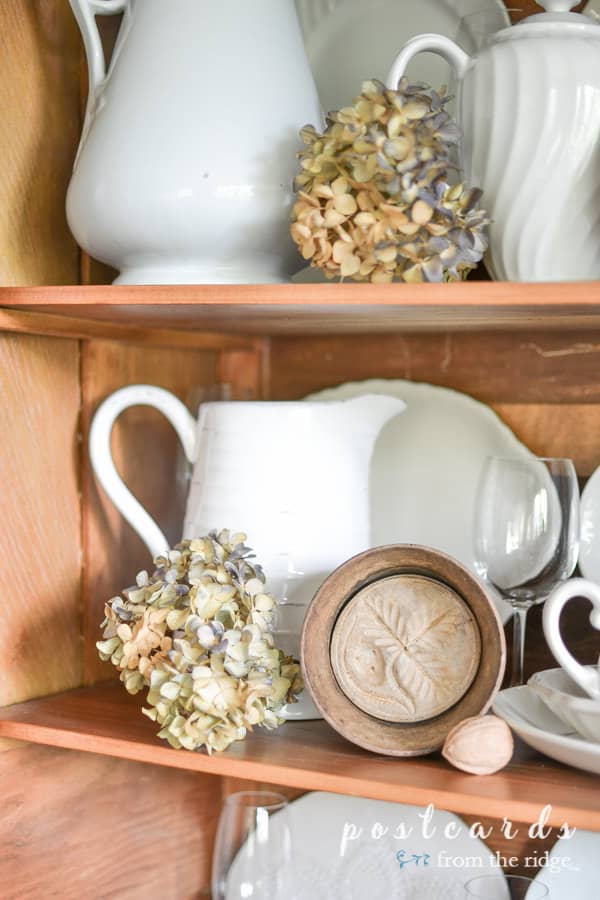 I can just imagine the proud moment when the hostess (or host) revealed her butter that had been shaped with one of these beauties. These days we're so used to
plain blocks of butter we wouldn't know what to do if we saw it molded into
something this pretty.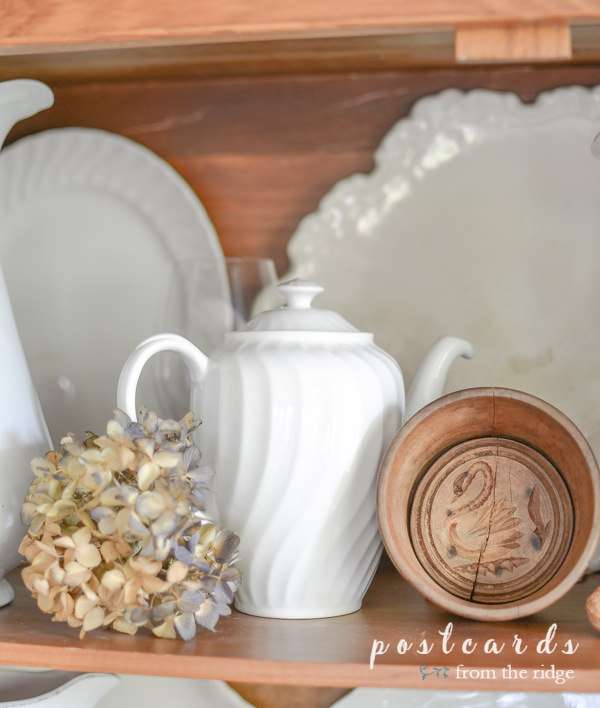 I also thought these might be used to create some interesting pottery pieces. My Friday
afternoon pottery class has been on hiatus since March, but when we
eventually start meeting again I'll definitely be using these pretty butter molds with
clay somehow.
The little "U" is probably an individual butter mold, which would likely
have been set at each place setting. How fancy!
You can see my recent fall table setting here → Fall Table with Thrifted, Gifted and Foraged Items
The character and patina of these molds, which are probably all hand-carved,
drew me in as soon as I saw them.
There are various sizes in the collection, and a couple of them have had the
handles broken off. But that's okay with me. I mainly just want to look at
them and doubt I'll be making butter any time soon.
You can learn how to take care of your vintage wooden kitchen utensils here → How to Clean and Care for Vintage Wooden Spoons and Utensils
They look just right in our antique oak hutch with some of my other
collections…vintage white ironstone pitchers and platters. I tucked some pears and dried
hydrangeas in here for a bit more texture. Decorating with wood and whites is
so easy.
See more ideas for decorating with vintage items for fall here → 9 Creative Ways to Use Vintage Items in Your Fall Decor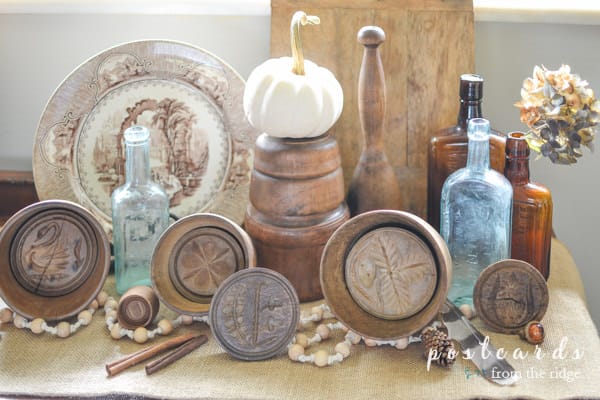 I also got a few vintage bottles from the auction to add to my collection of those. I think I'm going to have to start selling off parts of my collections soon because they're getting a bit out of hand. I'll be sure to announce it here if that happens!
See all of my vintage decor posts from the past 9+ years here:
Have you found any amazing items lately? Leave me a comment and let me know!