20+ Creative Ways to Organize with Vintage Finds
Using vintage and thrifted items for organizing your home and office.
This post contains affiliate links for your convenience. If a purchase is made after clicking one of the links I might make a small commission. Your price does not change. For full disclosure, go here.
Need to get more organized? So do I. I've been on a huge mission at our house lately. It involves being honest with myself about what I use and love and then getting rid of everything else. And for someone who has been collecting vintage items for almost 30 years, it's a really big job. But I'm so glad I'm doing it! Every time I get rid of something that I'm not using (no matter how "useful" it is), it's like a burden is lifted from my shoulders.
The things that I'm keeping are loved and utilized. It thrills me to be able to actually use some of my collection for unique storage and organization. I'm sharing how I've used my finds, and hopefully you can use many of these ideas in your own home. Let me know which idea is your favorite!
Creative Ways to Use Vintage Items for Organizing

1. Vintage China Cabinet used for storage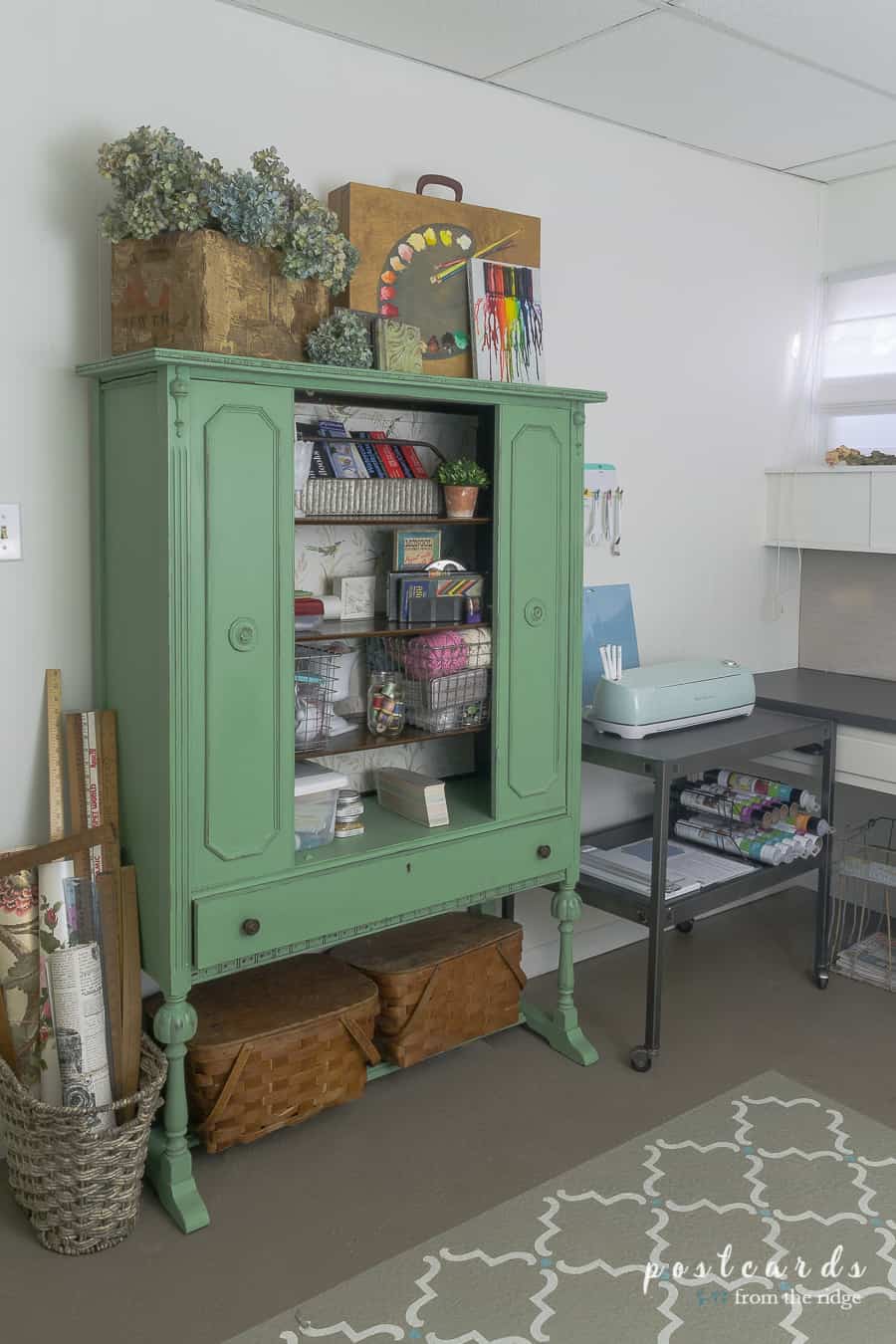 When I gave my studio a makeover a few months ago I used this antique China hutch to store many of my art supplies. It got a fresh coat of paint and was lined with wallpaper and is now the perfect accent piece in the room. You can find pieces like this at thrift stores and estate sales for various prices. Painting them gives them a brand new vibe and doesn't take much money or time. You can see the rest of the studio makeover HERE.

2. Using Milk Glass for Organizing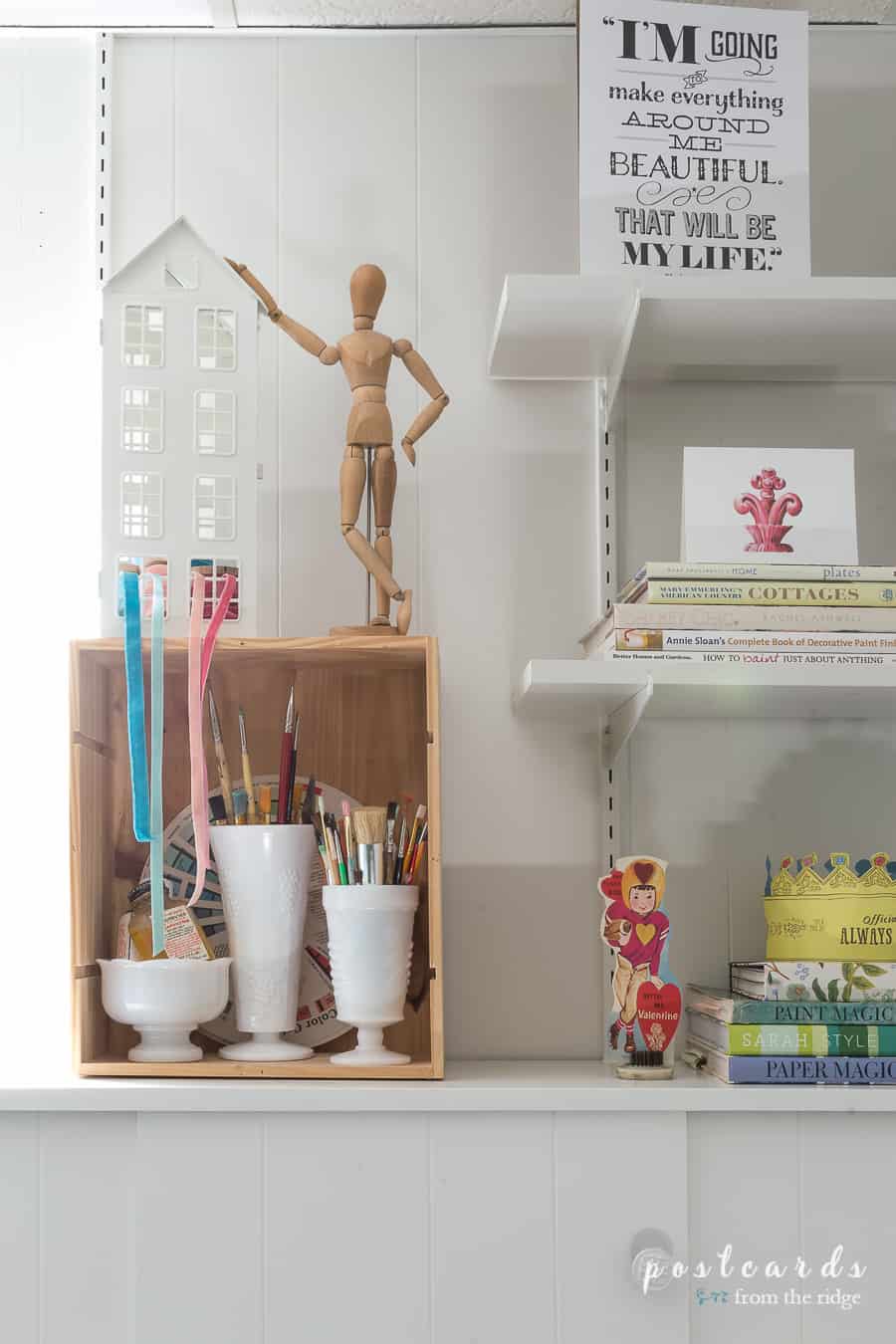 Milk glass vases and compotes are so versatile and usually pretty easy to find. (Check ETSY, thrift shops, yard sales, and estate sales). They're perfect for brushes, pencils, and so many other things.

3. Organizing with Vintage Flower Frogs & Planters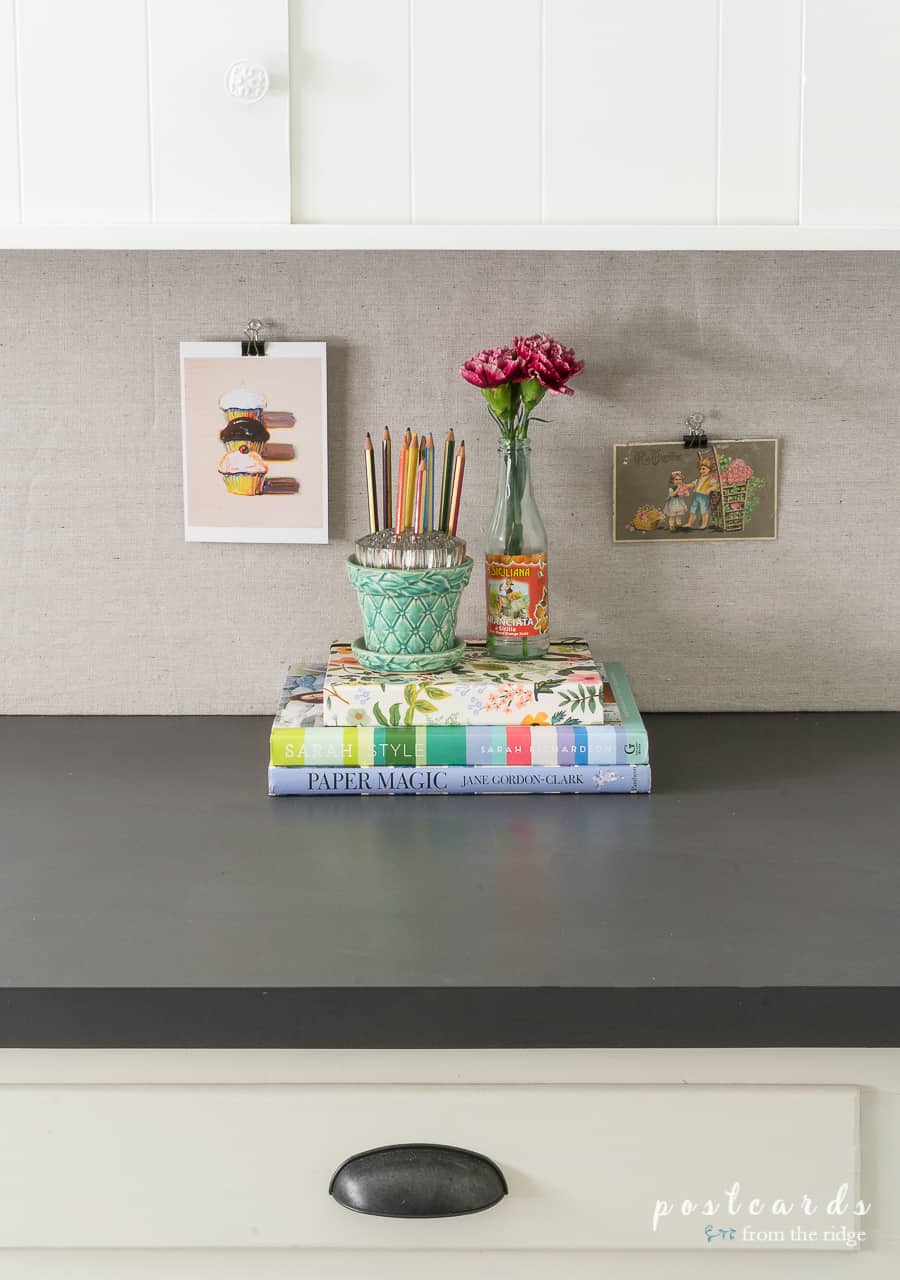 Want a fun way to store pens & pencils? Add a glass flower frog to a small flower pot and you're set!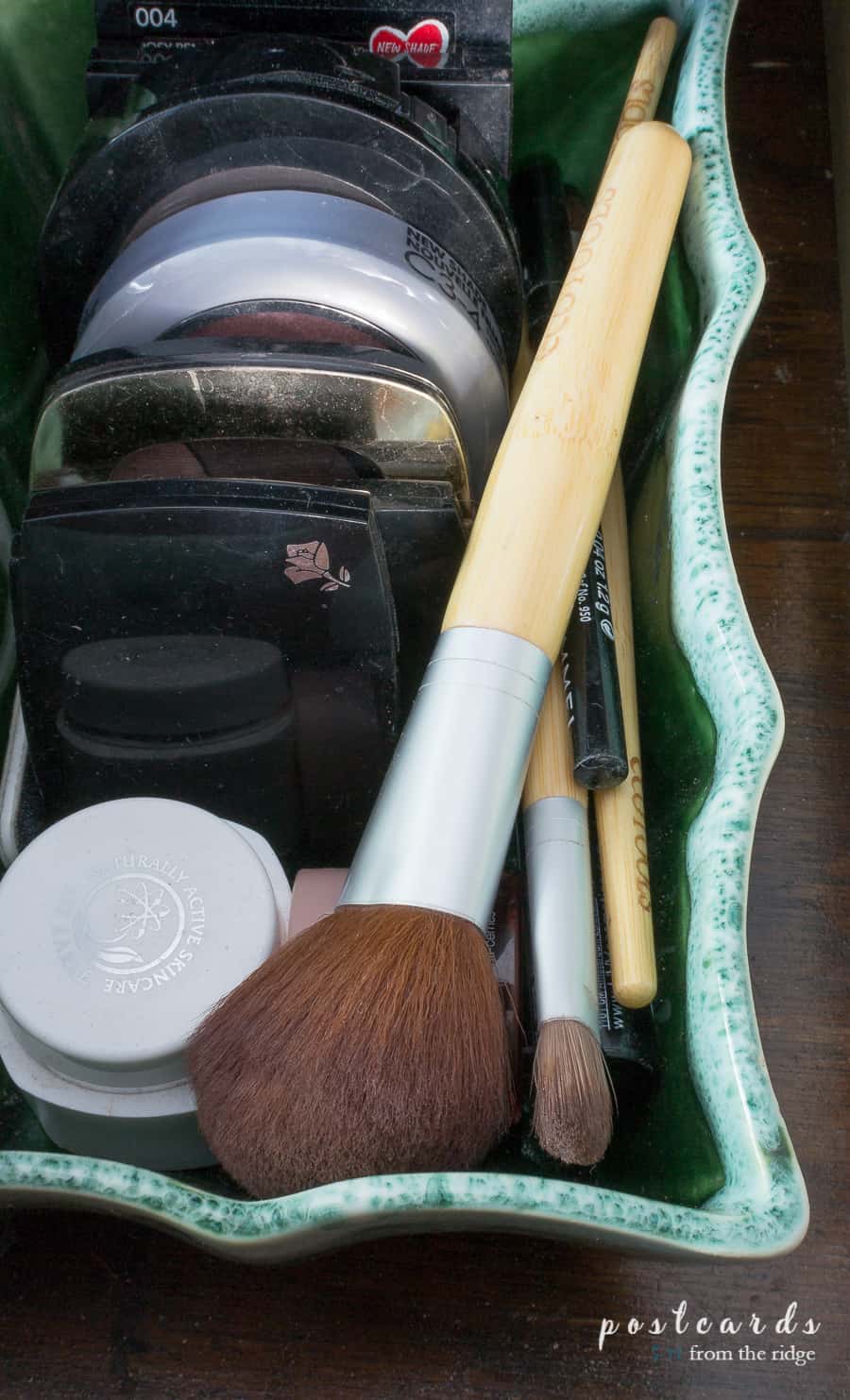 A shallow planter in the bathroom or vanity drawer is ideal for makeup and brushes.

4. Vintage Crates used for Storage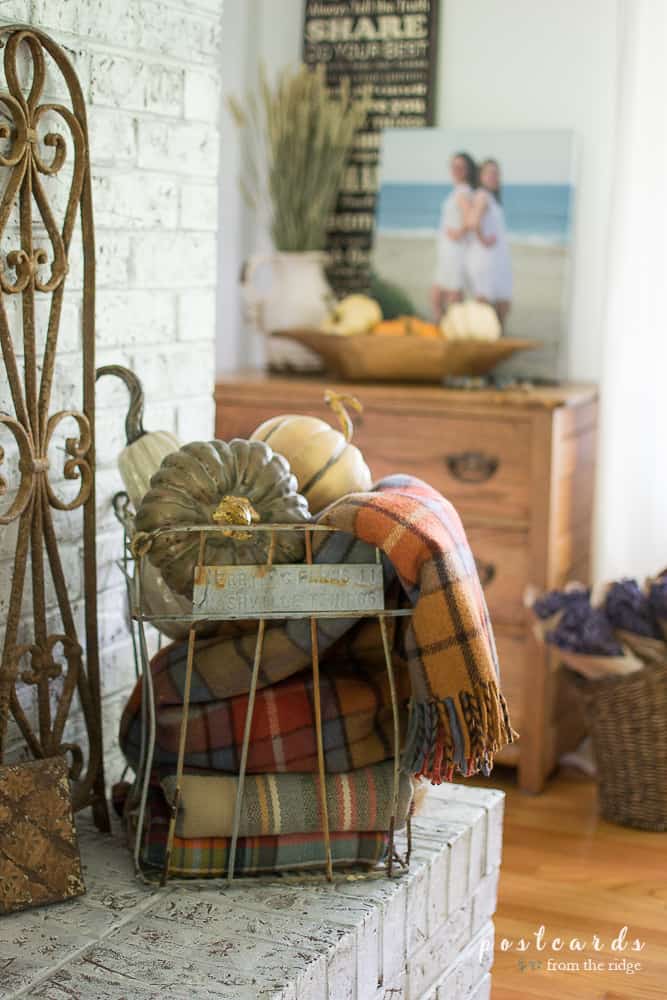 A vintage metal crate is a great way to store and show off your favorite throw blankets.

5. Use Vintage dishes to Organize Drawers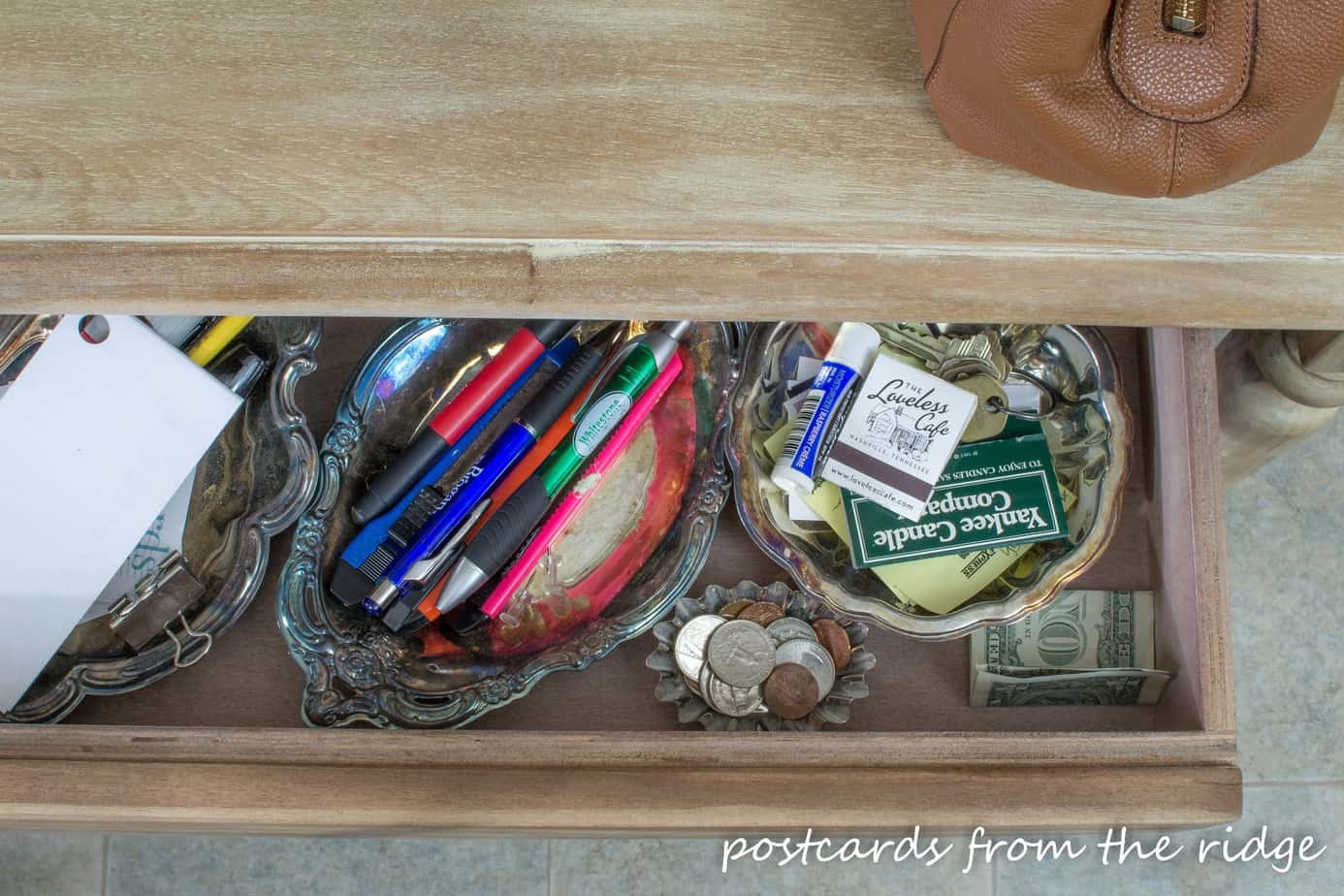 Pretty little dishes and bowls are the perfect way to corral pens, pencils, and all those loose things that roll around in drawers. These vintage silver dishes are great organizers in one of our kitchen drawers. They make it look so nice!

6. Use Vintage Jello Molds for Jewelry and Small Items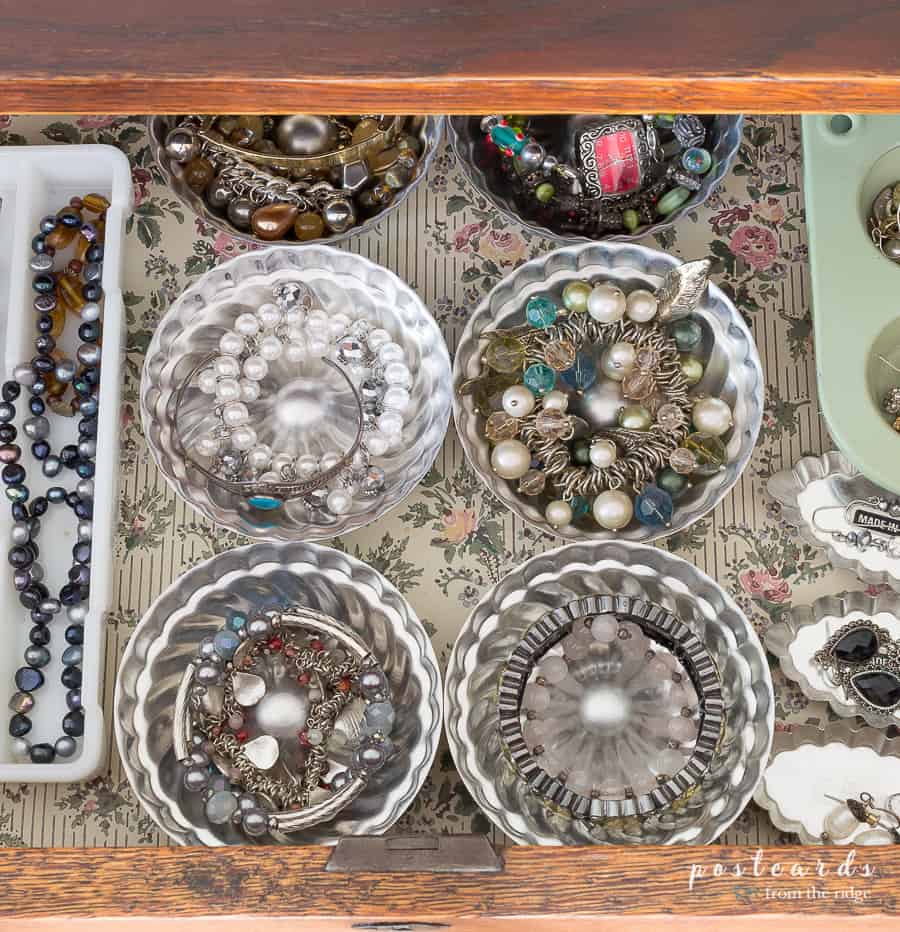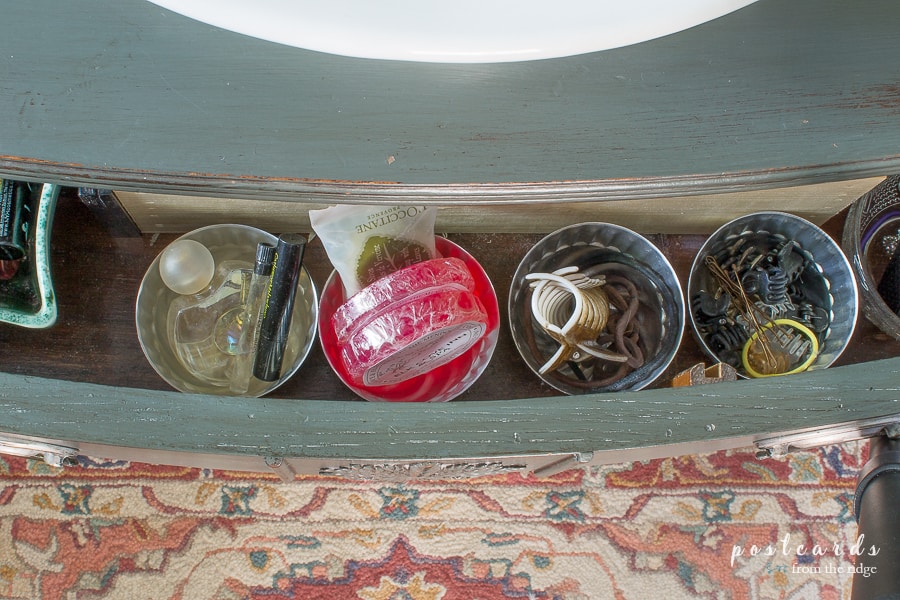 These little jello molds are a fun way to organize jewelry and also little items in our bathroom vanity.

7. Vintage Muffin Pans & Tart Tins For Organizing Small Items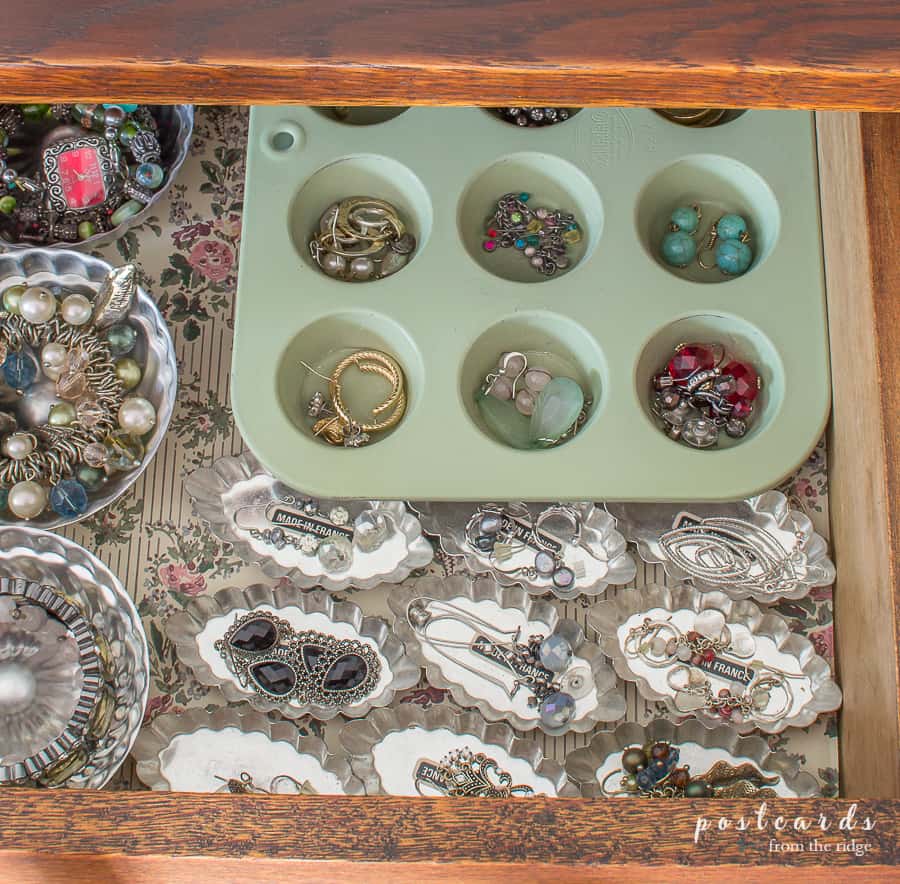 Muffin pans and tart tins are also perfect for small jewelry. They would also be great storage for small office supplies and craft supplies.

8. Vintage Milk Glass Dental Tray for Organizing Bracelets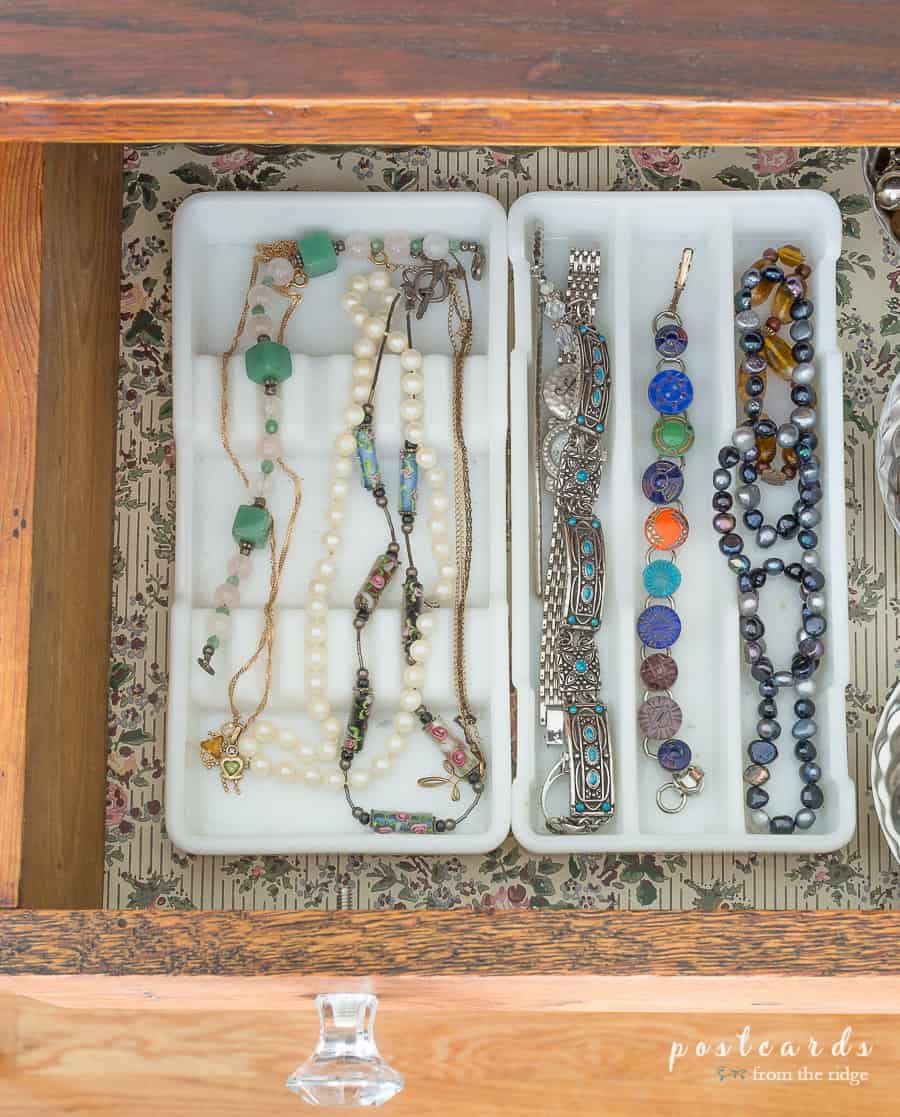 These vintage milk glass dental trays would be useful for so many different items. I'm using them for some of my bracelets but they would be great for office supplies too.

9. Vintage Tea Cups and Punch Cups used For Organizing Drawers
Vintage punch cups and tea cups are great ways to organize small items. I've got hair items and makeup in these that are in our bathroom vanity drawer.

10. Vintage Rolling Carts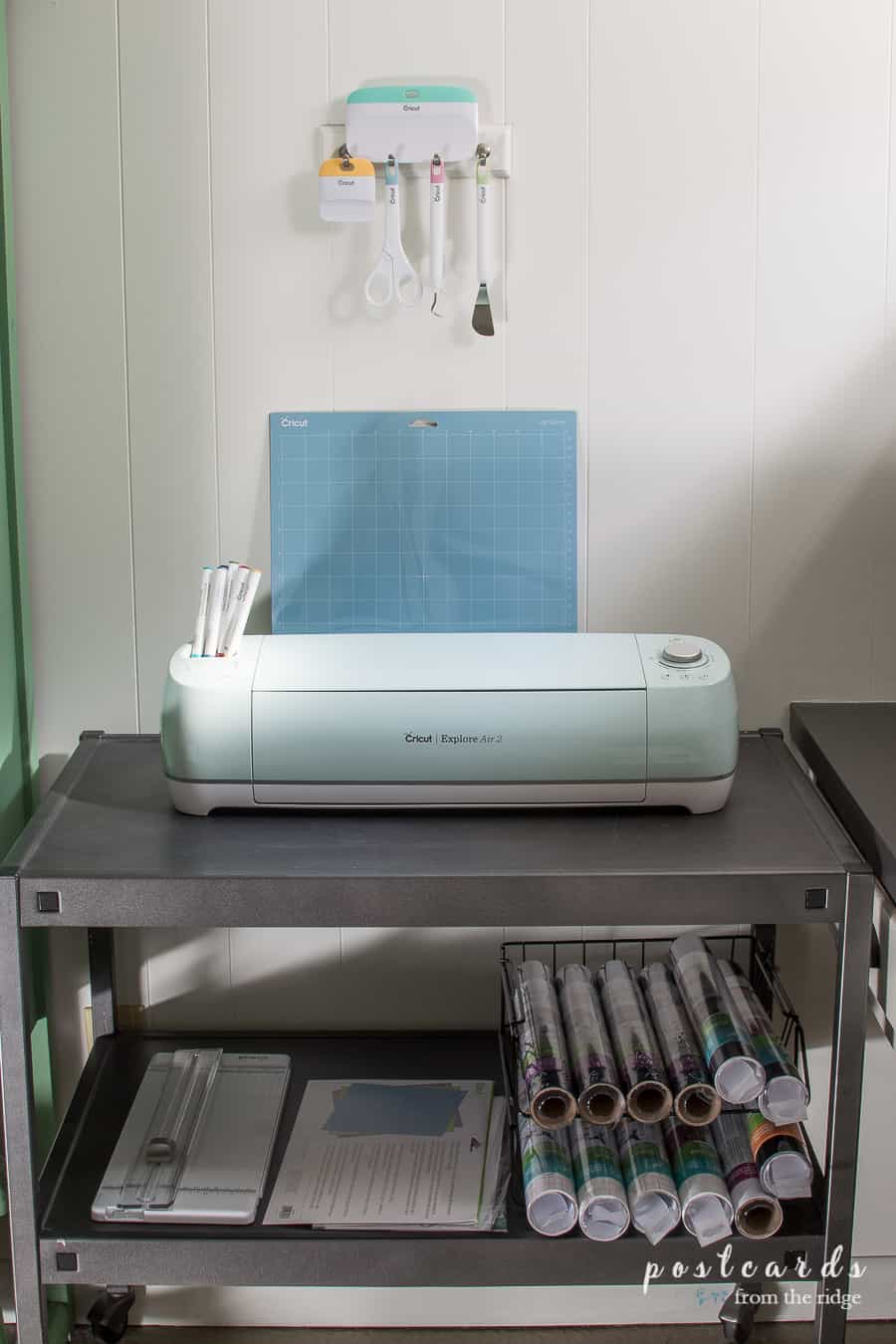 Rolling carts are so versatile. They can be used as beverage carts, storage carts, and more. This vintage printer cart got a facelift and now has my Cricut machine and supplies stored on it.

11. Vintage Picnic Baskets for Storing and Organizing Items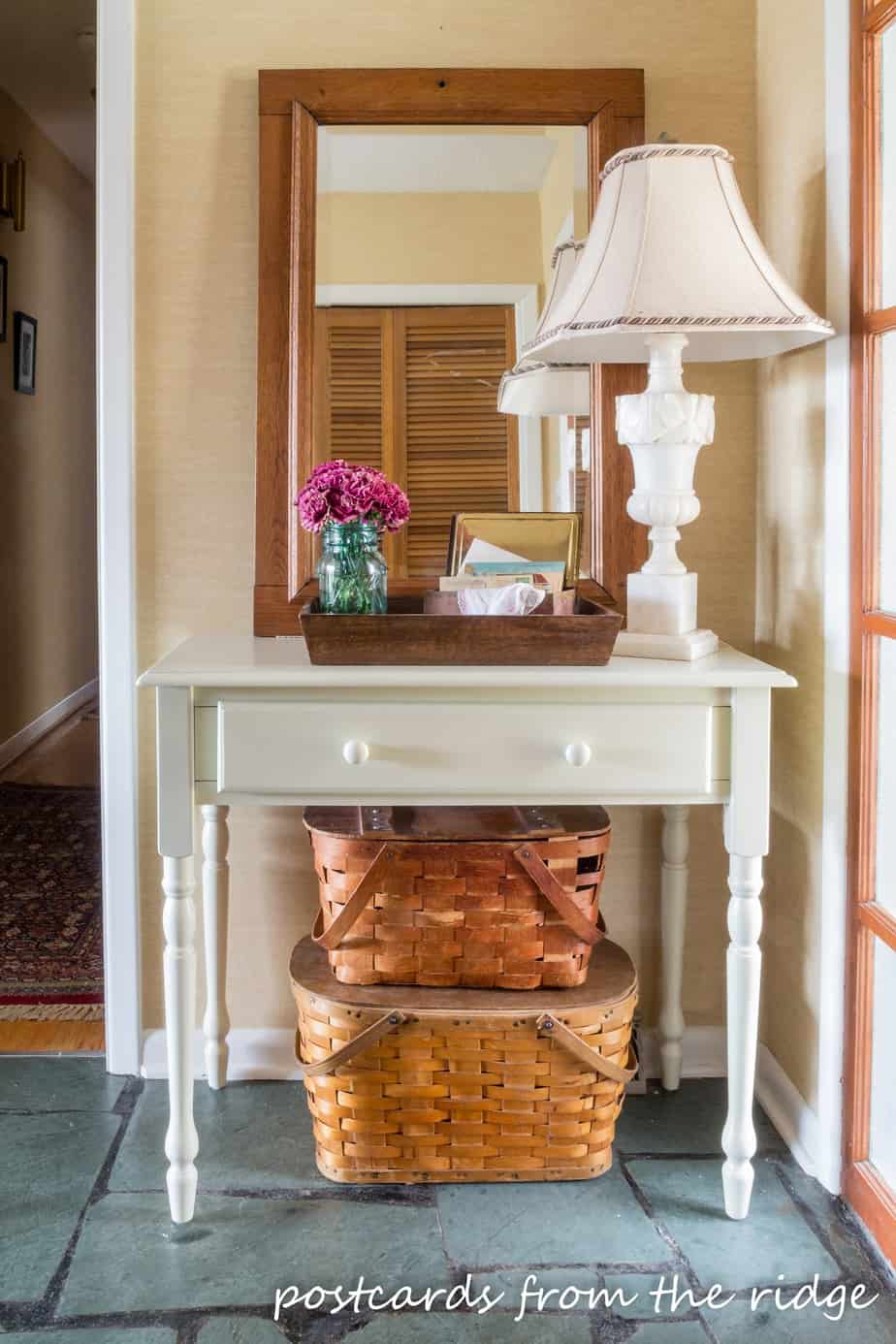 Perfect for hiding and storing so many things, vintage picnic baskets are usually inexpensive and easy to find.

12. Vintage Olive Bucket Used for a Recycling Basket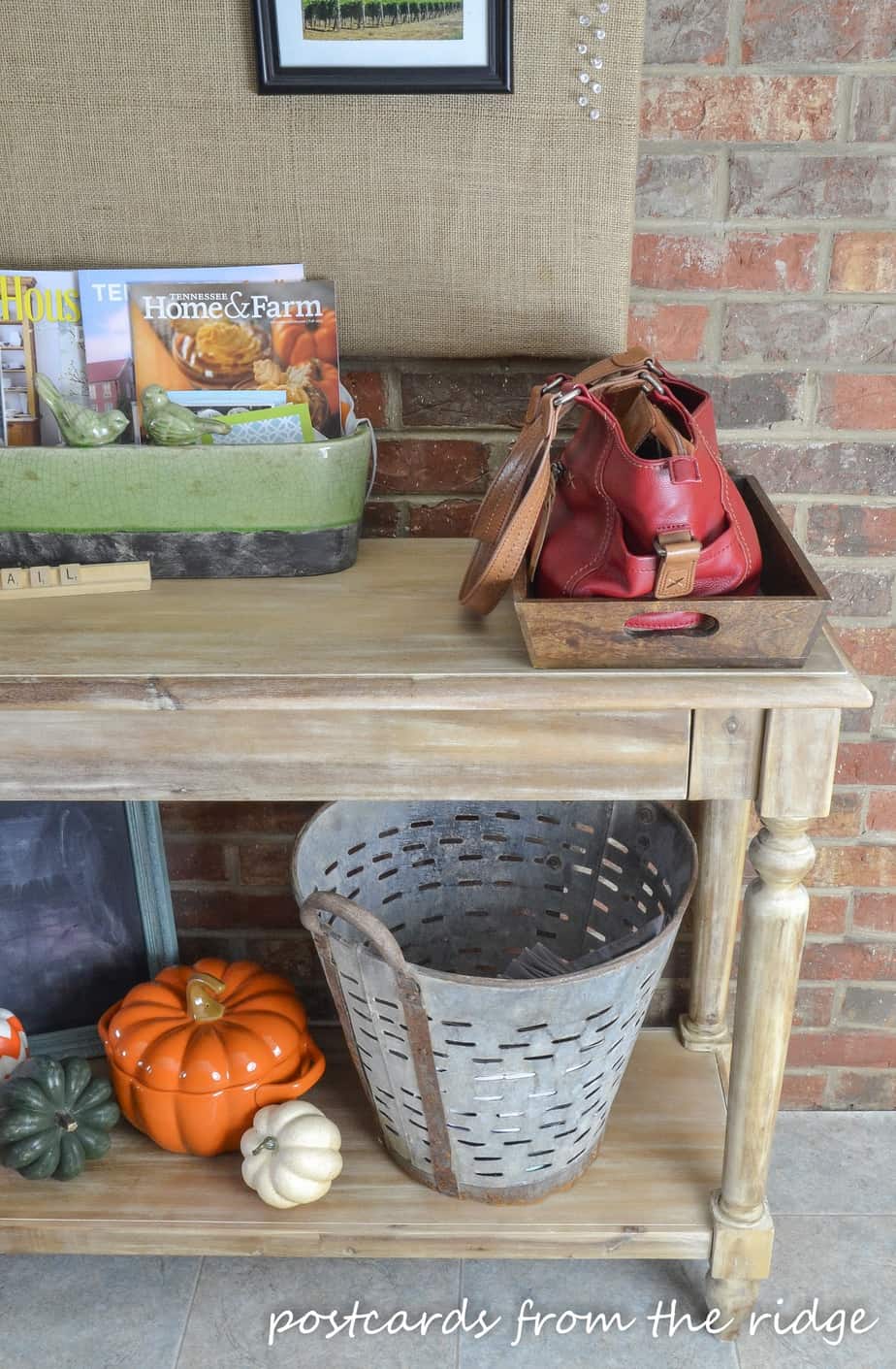 I love my vintage olive basket and have used it so many different ways. It's perfect for tossing items to be recycled, holding throw blankets, kindling, and even plants. To see even more ways to use them go HERE.

13. Vintage Ironstone Pitcher used to Organize Kitchen Utensils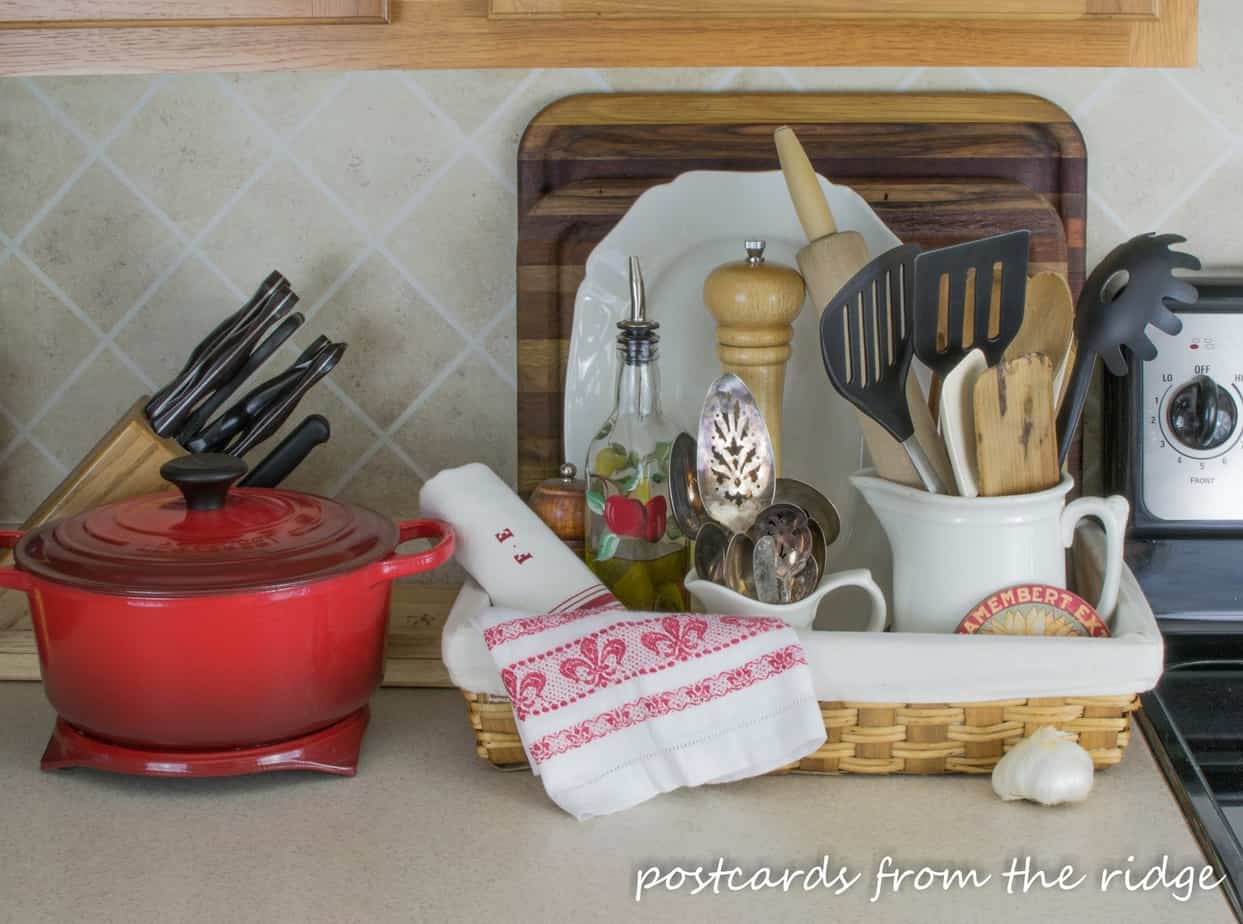 You could use an ironstone pitcher as a utensil holder in the kitchen, but they also make great vases.

14. Vintage Wooden Ladder used for Organizing Towels and Throw Blankets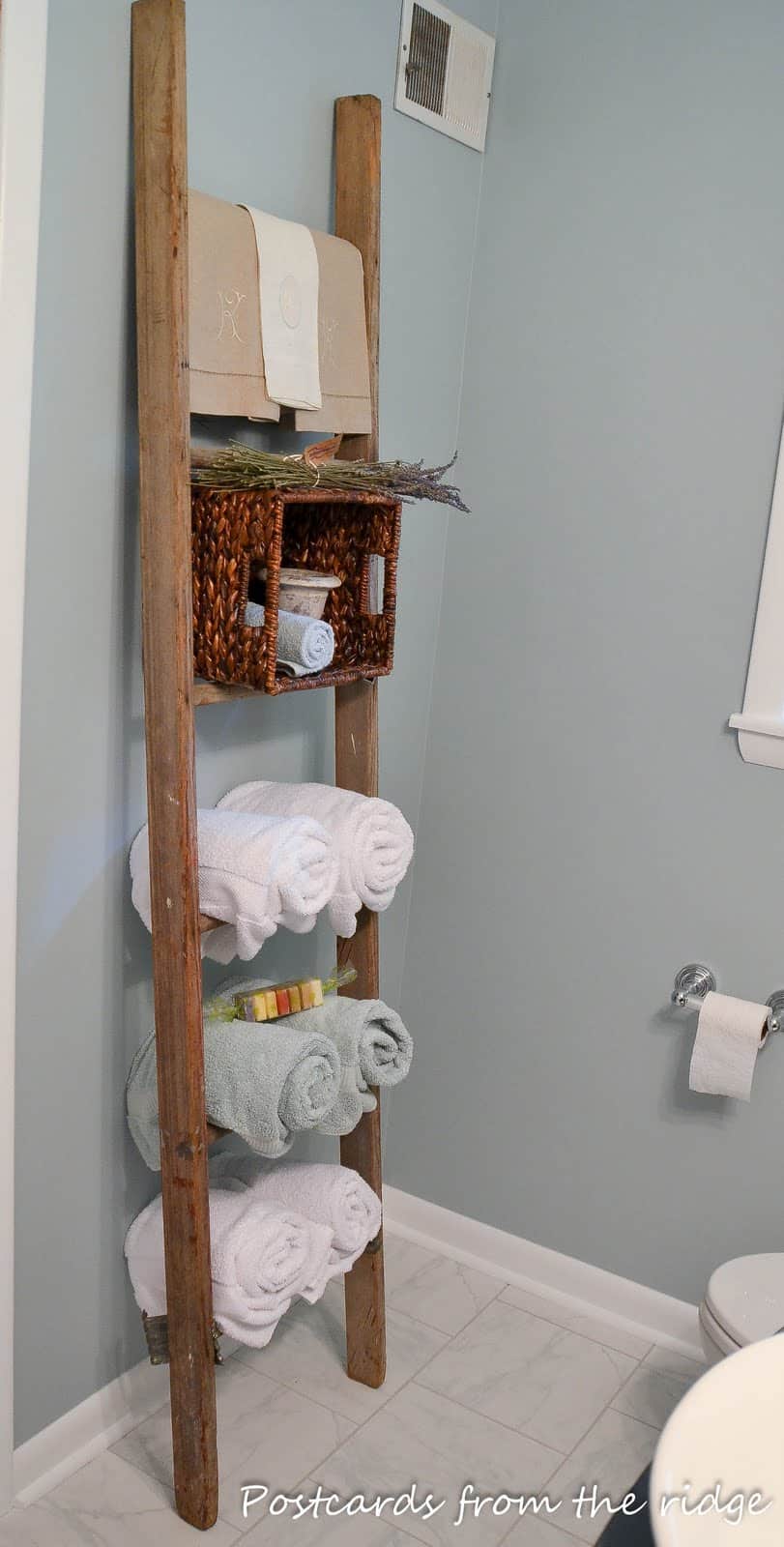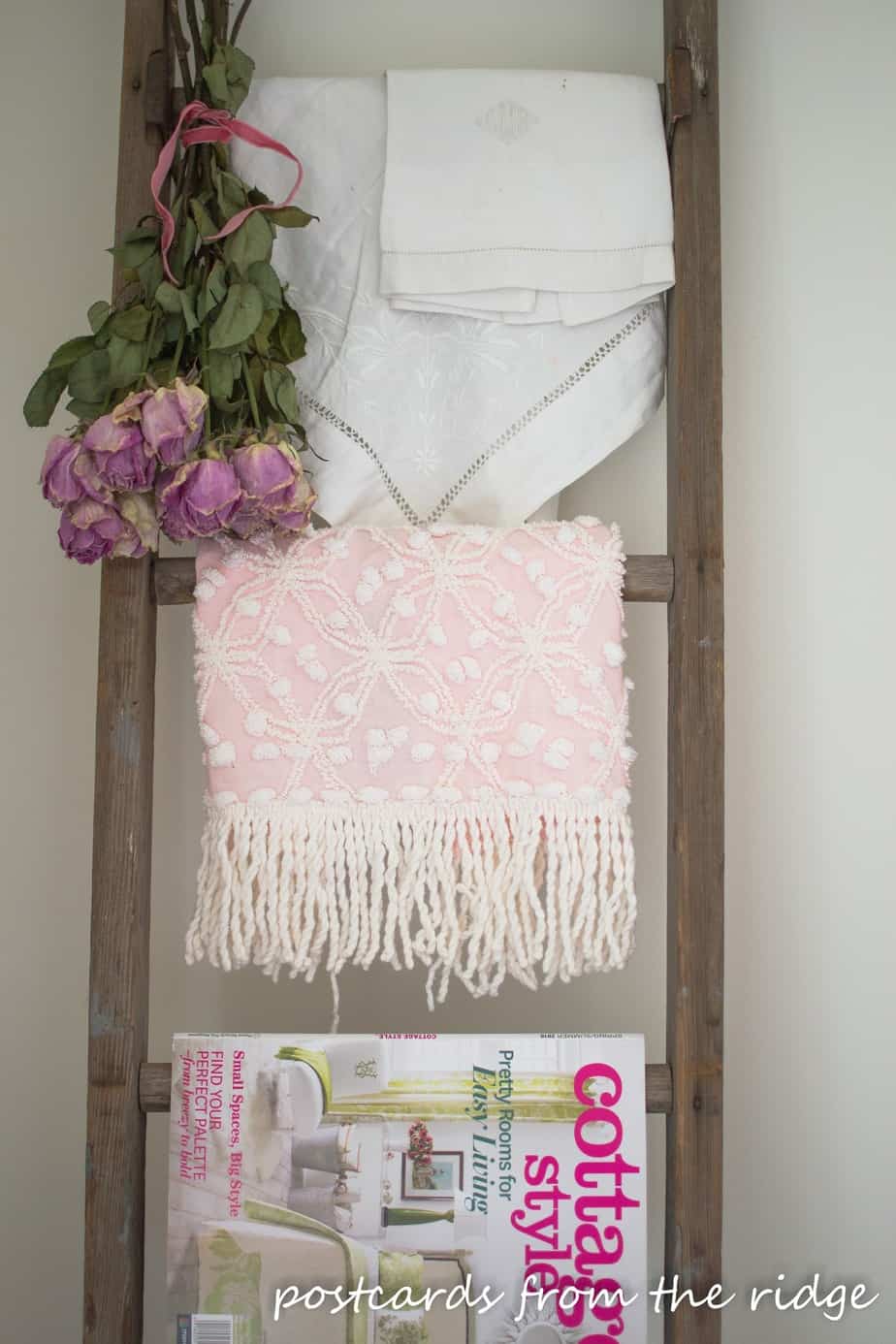 We use an old wooden ladder to hang towels in our master bathroom and another one in the living room for throw blankets and magazines.

15. Vintage Mason Jars used for Storing and Organizing Small Items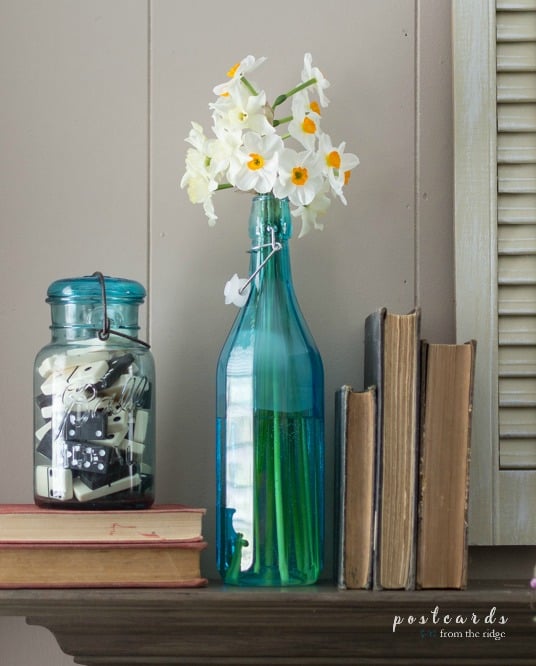 Use vintage mason jars to store your vintage dominos, or anything else small.
They make great storage for old wooden spools of thread too!

16. Vintage Wooden Milk Crates used for Garage Organization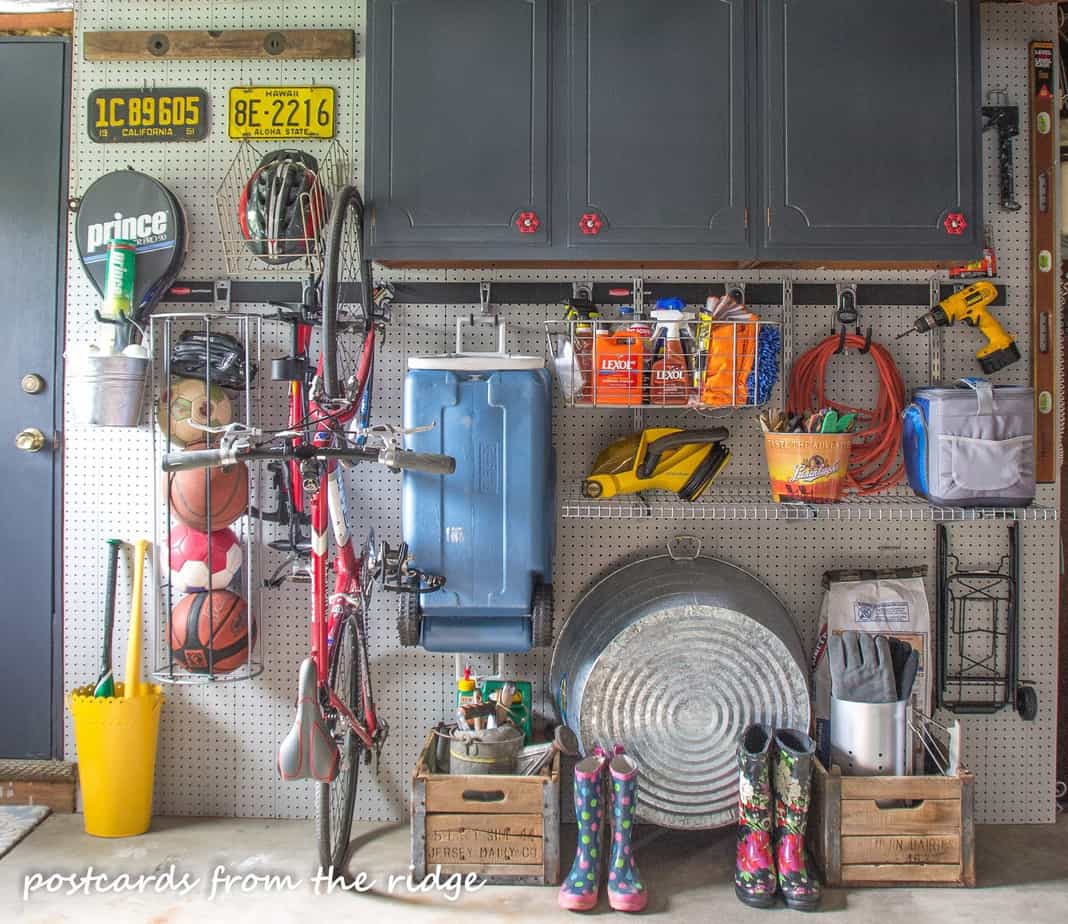 Old wooden milk crates store some of our grilling and garden items in the garage.

17. Vintage Cake Pedestal used for Counter Top Organization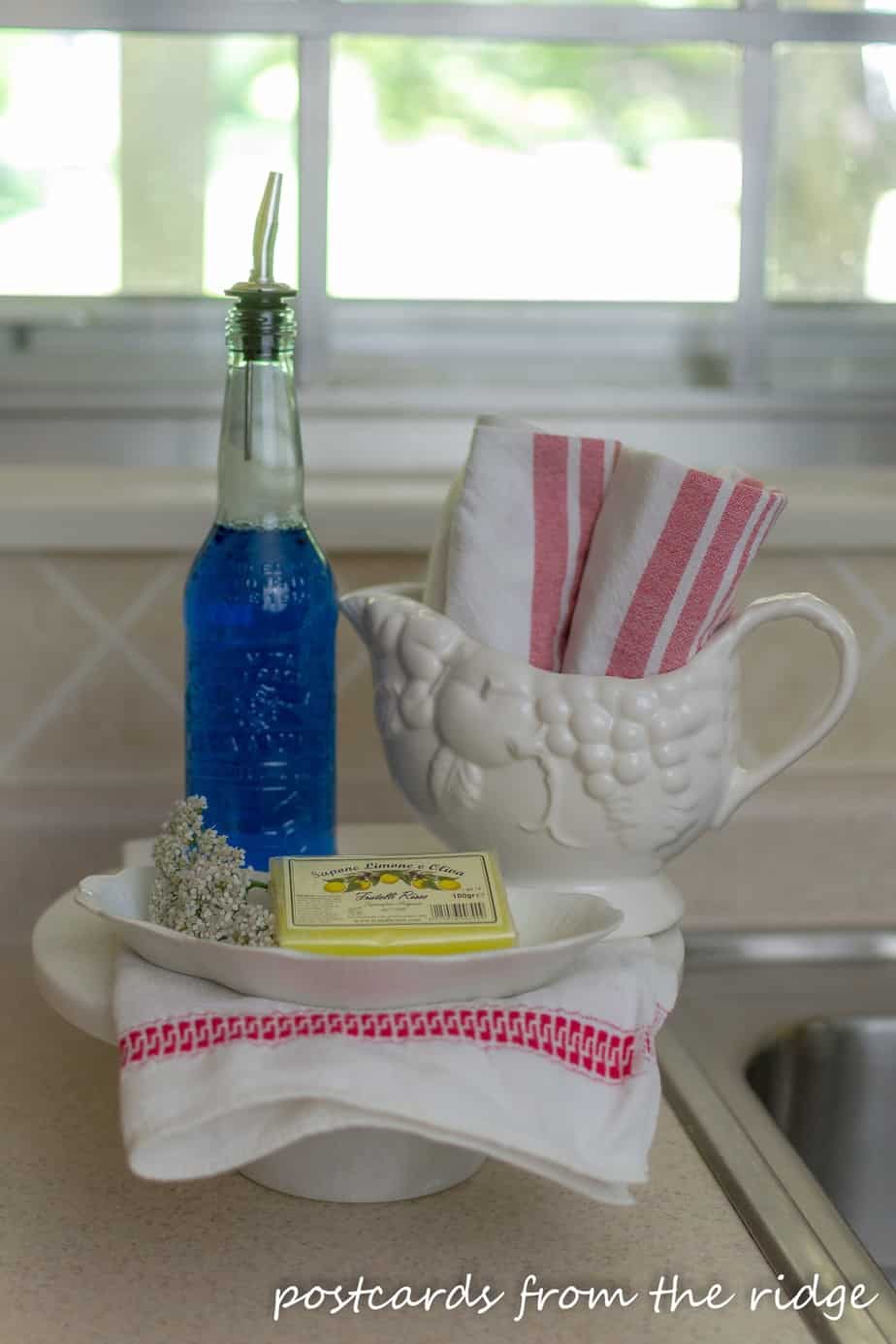 Cake pedestals are a nice way to get things up off your counters. I used one in the kitchen next to the sink for dish soap and miscellaneous items.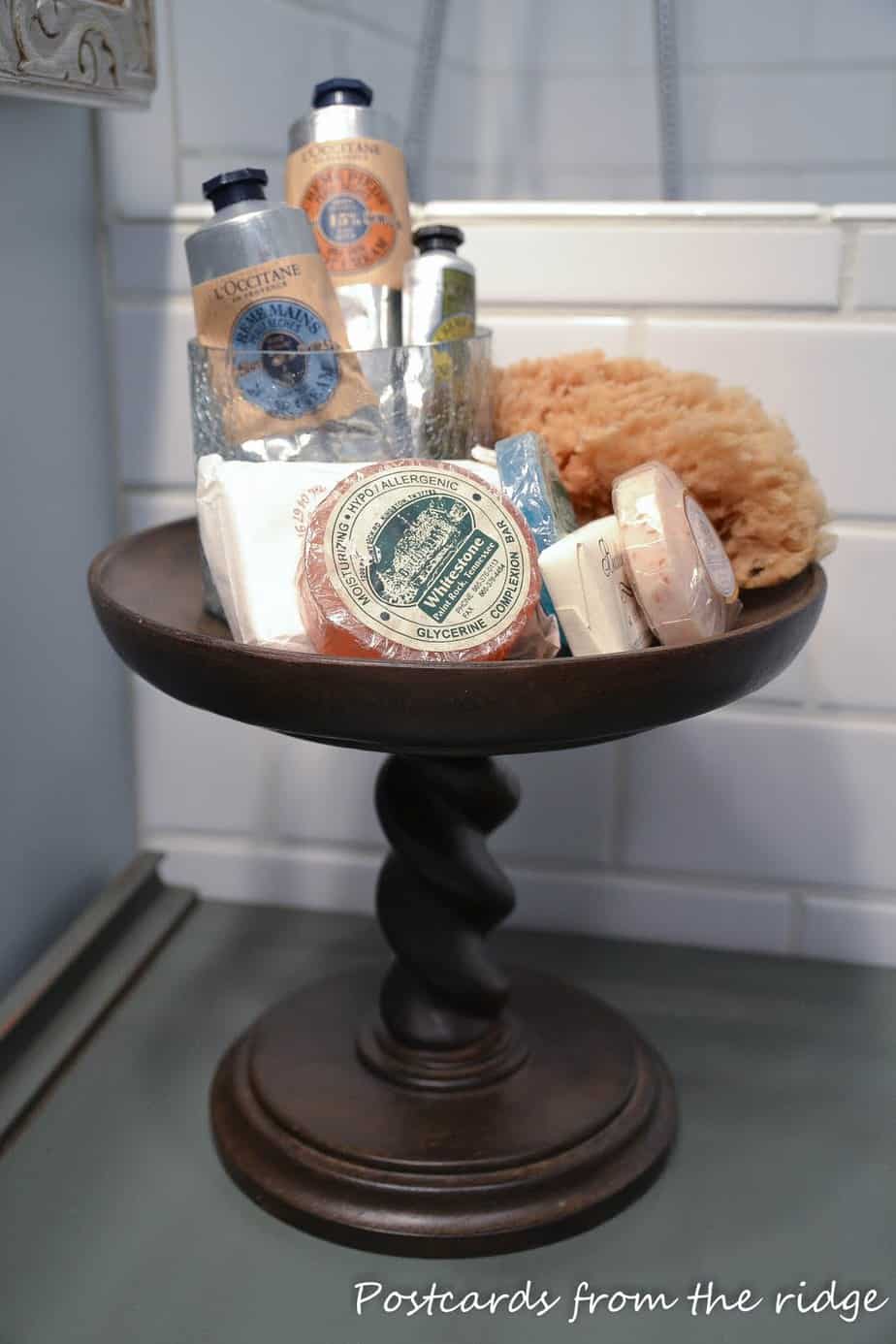 And another one in the bathroom for soaps and lotions. (Go HERE for newer ones.)

18. Vintage Trophy used to Organize Pens & Pencils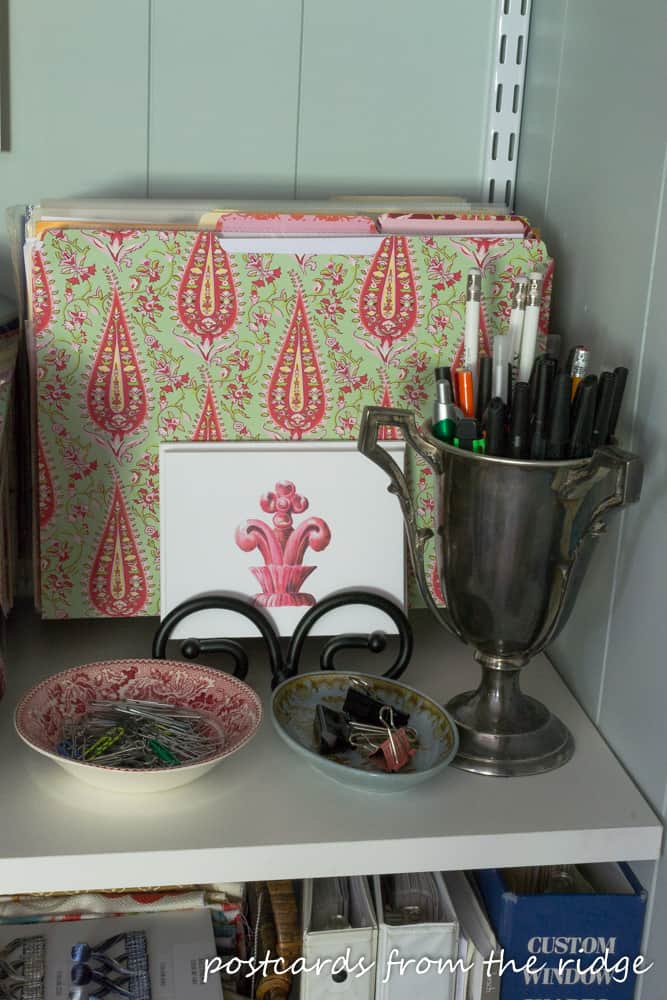 Need a place to stash pens and pencils on a shelf, desk, or table? A vintage trophy is a gorgeous place for them. Also notice the little bowls with paper clips and binder clips, and the folders are stored in a plate stand. Think outside of the box!!

19. Vintage Swivel Hook used for Organizing Scarves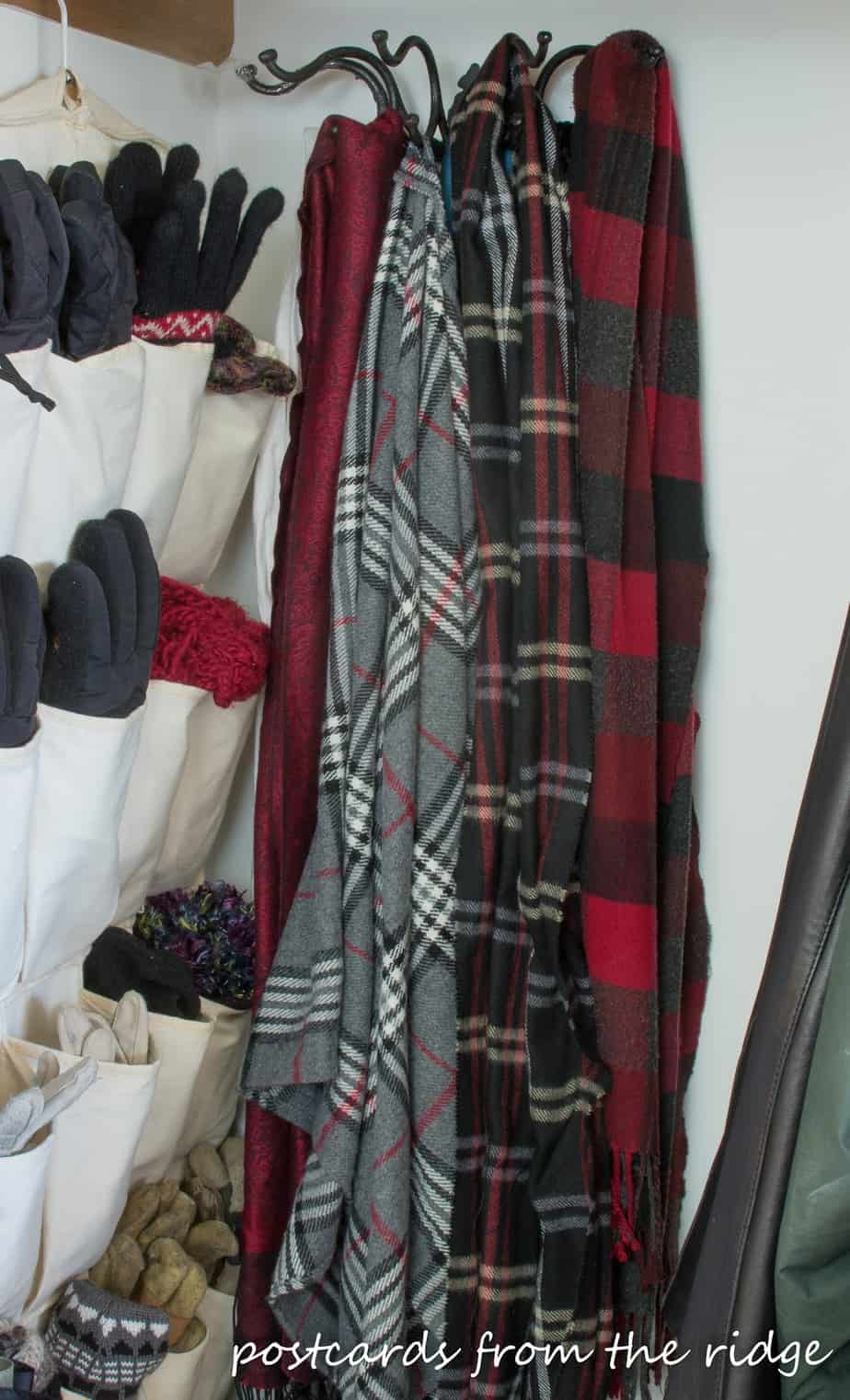 These swivel hooks are a great way to hang scarves in our entry closet. You could also hang aprons, purses, belts, and more on these. Did you notice the pocket shoe organizer we use for our winter gloves and hats? Again, think outside the box!

20. Vintage Bottles for Pretty Liquid Storage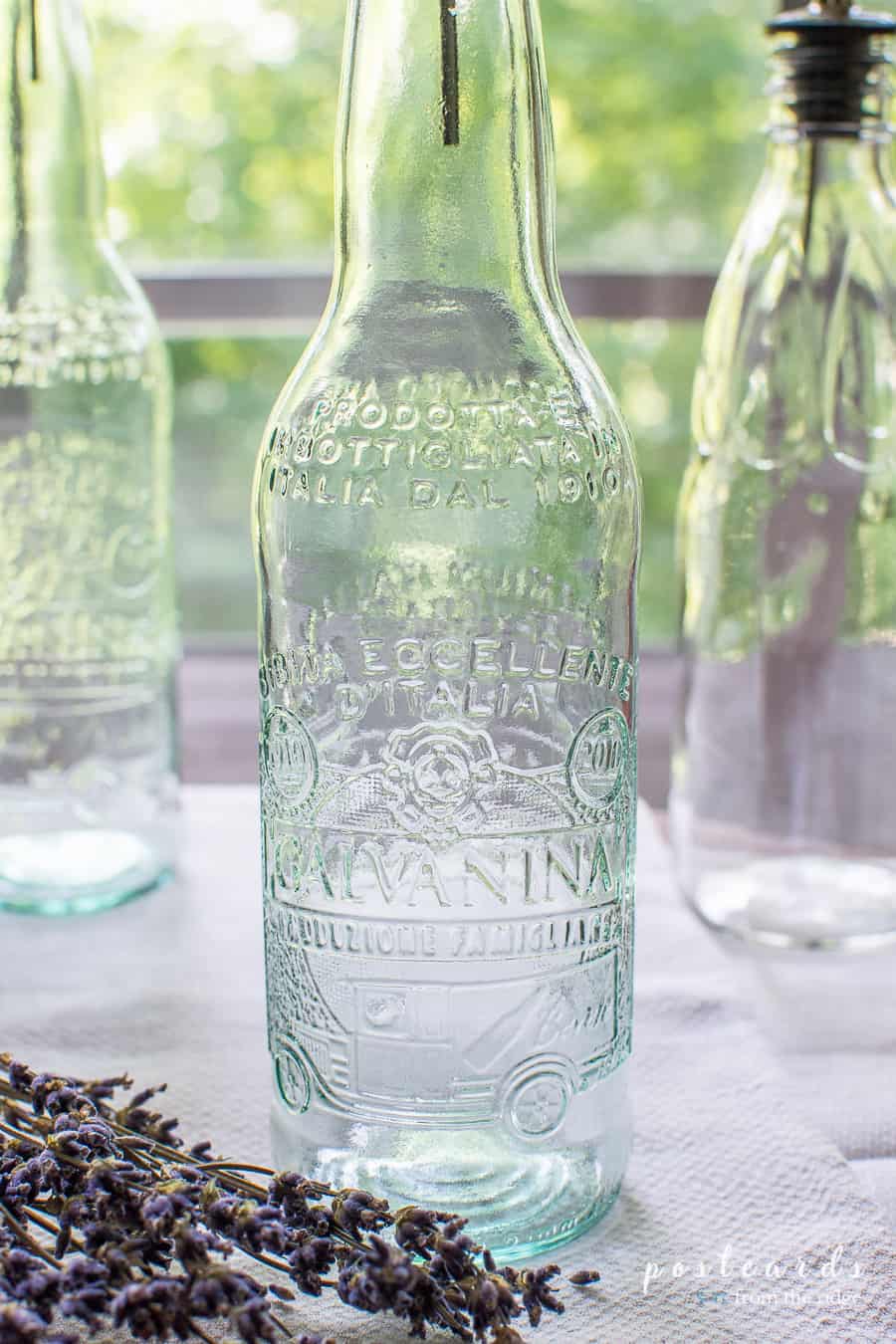 Glass bottles make wonderful storage for olive oil, vinegar, dish soap, liquid laundry detergent, syrup, spirits, and more! Add one of these spouts to make them great pourers. (The bottles shown are available in my shop HERE.)
And from a casarella, this is so clever:

Mason Jar Twine Organizer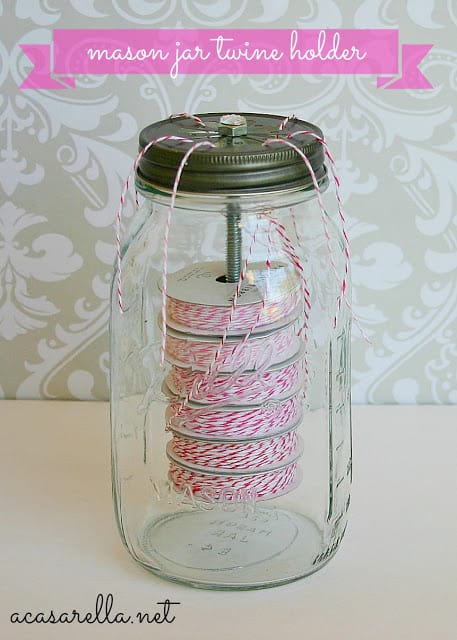 Sources
There are SO MANY different ways you can use vintage items to organize your home or office. Various sources of these types of items are are available:
eBay – simply enter the item you're looking for into the search box
etsy – also enter the item into the search box
estate sales – view photos ahead of time if possible
thrift shops – cross your fingers!!
See some of my favorite vintage organizing items from etsy HERE.
What are some of your favorite ways to organize with vintage goodies? Leave me a comment and let me know. I'm always looking for good ideas!
Want my best estate sale shopping tips?
Go HERE to learn my secrets.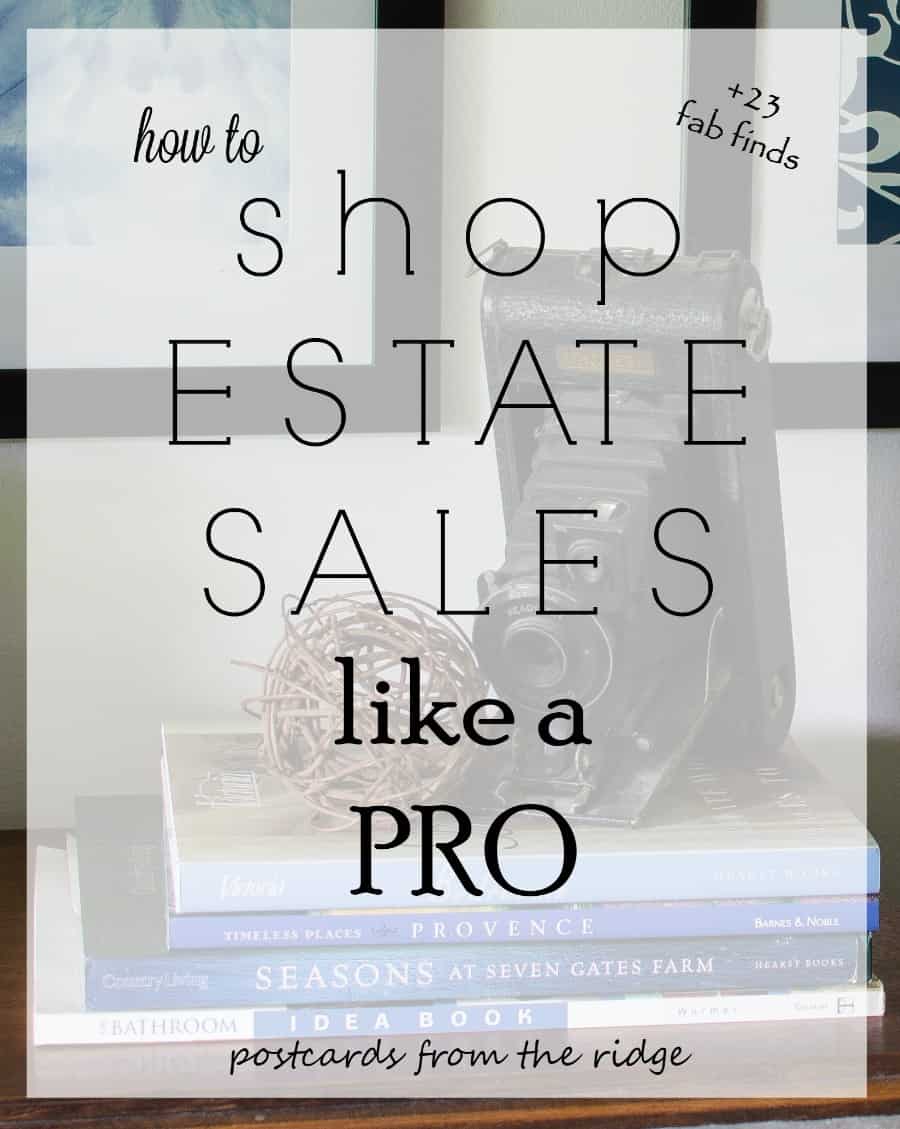 Thanks so much for dropping by. Happy organizing!!