Budget-friendly makeover for our media console
This post contains affiliate links for your convenience. For full disclosure go here.
Hello, friends! Welcome to Week #3 of the One Room Challenge. It's a 6 week challenge to give one room in your home a brand new look. I'm working on our family room and am doing several small projects and adding new furniture to give this room an update.
This week I'm sharing how I gave our black media console a fresh new look with paint and new baskets. It was a really easy project that you could do in an afternoon.
Here's how the media console looked before. Not bad, but we're going with a lighter look in here and the black needed to go. I don't dislike the cabinet so I chose to paint it instead of replace it. Most of my budget is going toward our giant sectional sofa which you'll see soon.
Supplies needed for this project:
click for sources
Paint – I used Benjamin Moore Steep Cliff Gray in eggshell finish
Brushes, Small Rollers, Rags
How to give a media console a makeover
1. Empty and clean
After removing everything, clean the surfaces with a pre-paint cleaner. My favorite one is this one. Also sand any rough spots.
2. Prime & Paint
Priming is usually a good idea. I recommend an acrylic bonding primer like this one. After the primer dries, paint the console with a durable paint. I used an eggshell finish in Benjamin Moore Steep Cliff Gray.
3. Apply wax or clear coat
This step isn't absolutely necessary, but we'll be moving the baskets in and out of the console so I wanted it to be extra durable. Plus I wanted the piece to have a bit of a rustic look. I used this dark wax and buffed it to a medium sheen once it set up (about 30 minutes after I applied it).
4. Add new baskets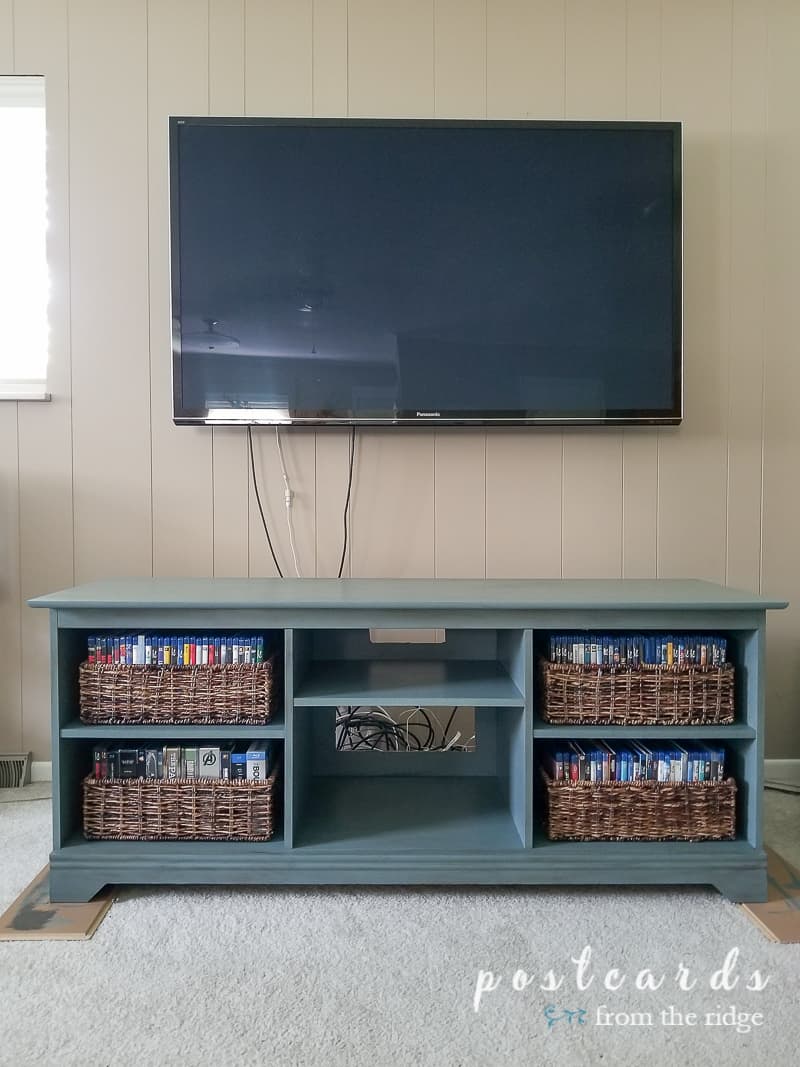 I wanted to add some warmth and texture so I found baskets that fit the openings and placed our way-too-large collection of dvd's in them. I used these baskets in the medium size. (They were out of stock online, but my local store had them so I ordered them for store pickup and they were waiting for me when I got there!)
Just in case you're wondering, I think I spent half a day trying to find the right size baskets. There are so many to choose from! I wanted baskets that hold 2 rows of dvds because apparently we hoard those along with everything else in the world. These baskets each accommodate two rows so everything now looks so much neater and tidier. The cords are another issue that hopefully my husband will be taking care of very soon. 😉
Since I wanted a new look I decided to leave the doors off and have a more open style. At this point I don't have it styled exactly like I want it and ALL of the cords are showing, but I'll update the post after we put it all together. I'll also have images in the reveal post in a couple of weeks.
Here's what I've shared the first two weeks:
Week One – Inspiration, plans, and current look found HERE.
Week Two – Updating the built-in bar area counter top found HERE.
And here's the plan, subject to small changes. You'll see the entire space in the reveal on May 9th so stay tuned for that!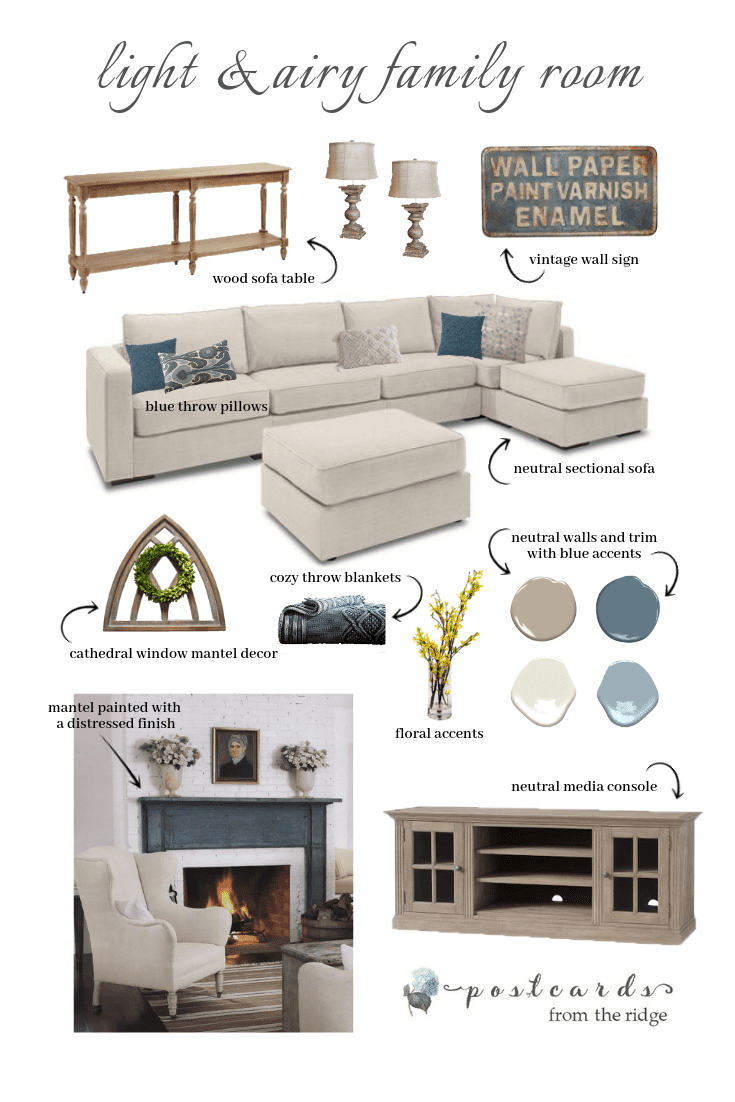 Click for sources
Paisley Pillow Cover // Blue Pillow Cover // Stonewashed throw blanket //
Macrame pillow cover // Ikat blue pillow cover // Sectional // wallpaper sign //
foyer table // media console // lamps
Find dozens of budget-friendly tutorials from my archives HERE.
Lots of before and after projects can be seen HERE.
See all of the projects linked up to this week's One Room Challenge HERE.