Spring Table and Hutch – Tulips and Pastels and Lace, Oh My!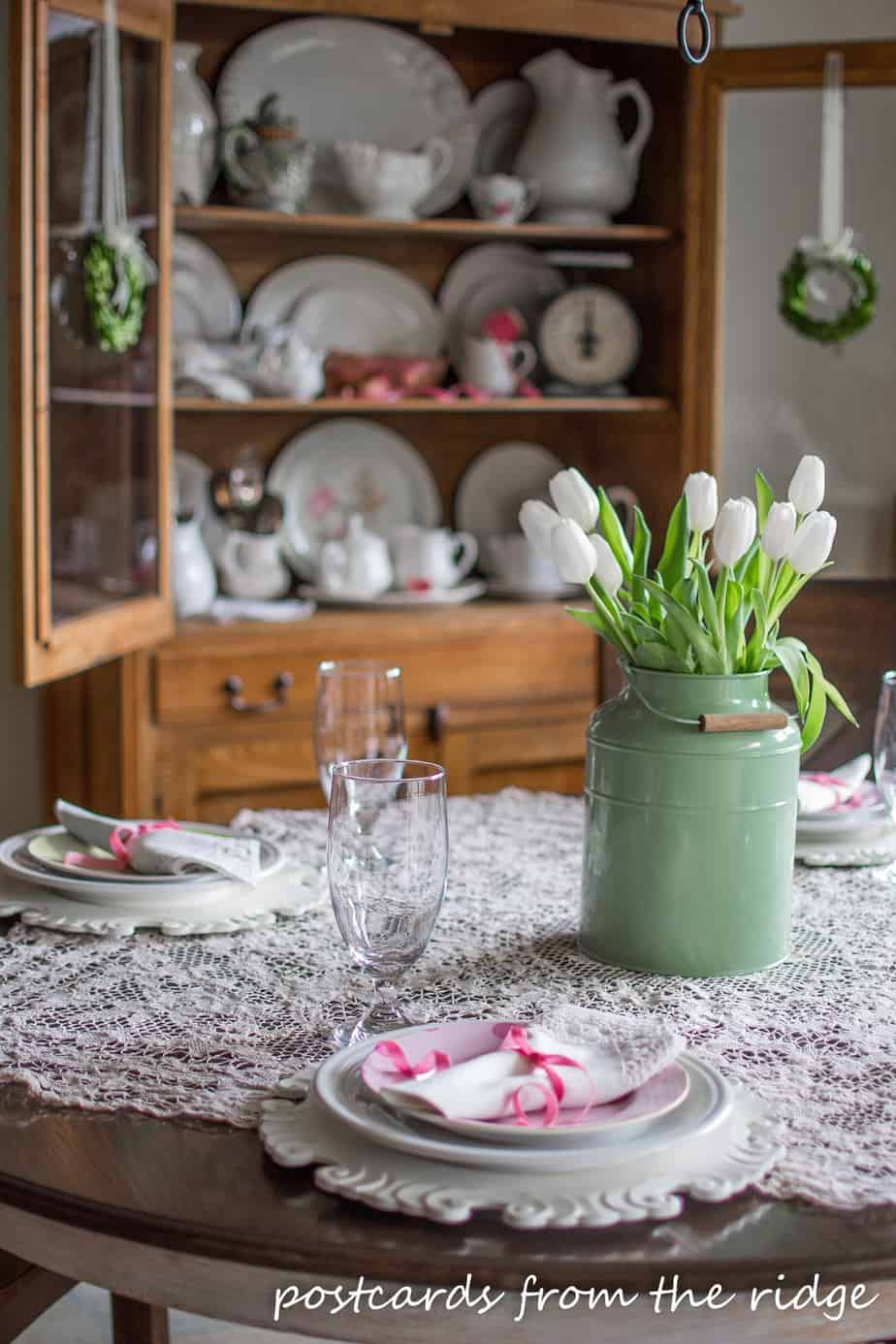 Spring…that time of year when we don our pastel apparel, plant flowers, and paint our toenails. We realize that we need a tan and a treadmill, and are so very happy to see green everywhere we look outdoors. Or maybe that's just me?? Admittedly I love spring and everything about it. Our table and hutch are now dressed for spring and I'm sharing some easy ideas that you can incorporate into your decor.
This post contains affiliate links for your convenience. If a purchase is made after clicking one of the links I might make a small commission. Your price does not change. For full disclosure, go here.
Lace and pastels – an easy way to make your home feel like spring. Add a touch of lace and some whites and pastels for a spring time feeling. I didn't purchase anything for our table or hutch. I simply used things from my "collection" (we don't call it a hoard). I've been a collector for a couple of decades and have accumulated a variety of interesting (to me) items. I'm irresistibly drawn to old things and that's just who I am, trendy or not.
Anyway, some of the more spring looking things are on rotation now and will, I'm sure, be replaced with summery things in a couple of months. The pastel polka dot plates are some that I picked up 10 years ago on clearance at Marshall's. They're all different colors, but the pastels are such pretty colors that I added them to the table. The white white charger plates get used throughout the year. I added some of my vintage linen napkins and tied them with a pink velvet ribbon. After looking at this picture I feel like I need a parasol. And a corset. Maybe a glass of sweet tea too! I surely do like girly, romantic decor in the spring.
Here's the green plate from the set. The feminine side of me loves the combination of pink and green. When the girls were little, I had their rooms painted pastel pink and pastel green and just loved them. No pink rooms now, but my 19-year-old had me paint her room in light pistachio a couple of years ago. It made me happy that she wanted that color.
Velvet Ribbon – I have this thing for velvet ribbon. Not sure why, but it calls my name. And the wooden spool seals the deal for me. It's an easy and inexpensive way to add some color and texture to your decor. No power tools or paint brushes are needed.
White dishes – they go with everything! I can say enough good things about white dishes and pitchers. Whenever I see nice ones at estate sales, thrift stores, or yard sales I get them. And sometimes I but pretty floral plates like the cake plate in the background. I bought it from a nice local elderly lady who said it was her mother's. I'm guessing the plate is from the 1940's. It's such a nice way to add some spring colors.
Fresh flowers – I think they know me by name in the flower section at the grocery store because every time I go in I check to see what they have. I got these white tulips from the sale bucket. $3.99 for the bunch! Can you believe that? Now you know why I always look there. I recently shared some ideas for displaying flowers in this post.
Lace tablecloth – this isn't actually a table cloth but is a square. I draped it across the table to lighten the area. Interesting tidbit – I bought this lace piece from a rummage sale at a local church a couple of years ago for $1. It was stained in areas and was folded up and inside a box with other things. I've never seen any lace like this so I did a little research to find out what kind it is. I discovered that it's called Point de Venise and is very expensive. I saw an eBay listing for a similar piece this size for $179. Moral of the story – if it speaks to you and the price is right, buy it. Even if it's not worth much, if it makes you happy that's what really matters. And this one makes me happy.
Sources – I've found many of my items in my collection at estate sales, yard sales, thrift stores, and from relatives and friends who were purging. There are also lots of vintage treasures at eBay and etsy (one of my favorite places) and you can do a search for exactly what you're looking for without ever leaving the house. That's my kind of shopping.
Need more ideas for your spring decor? Here are some simple and inexpensive tips, including some free printables: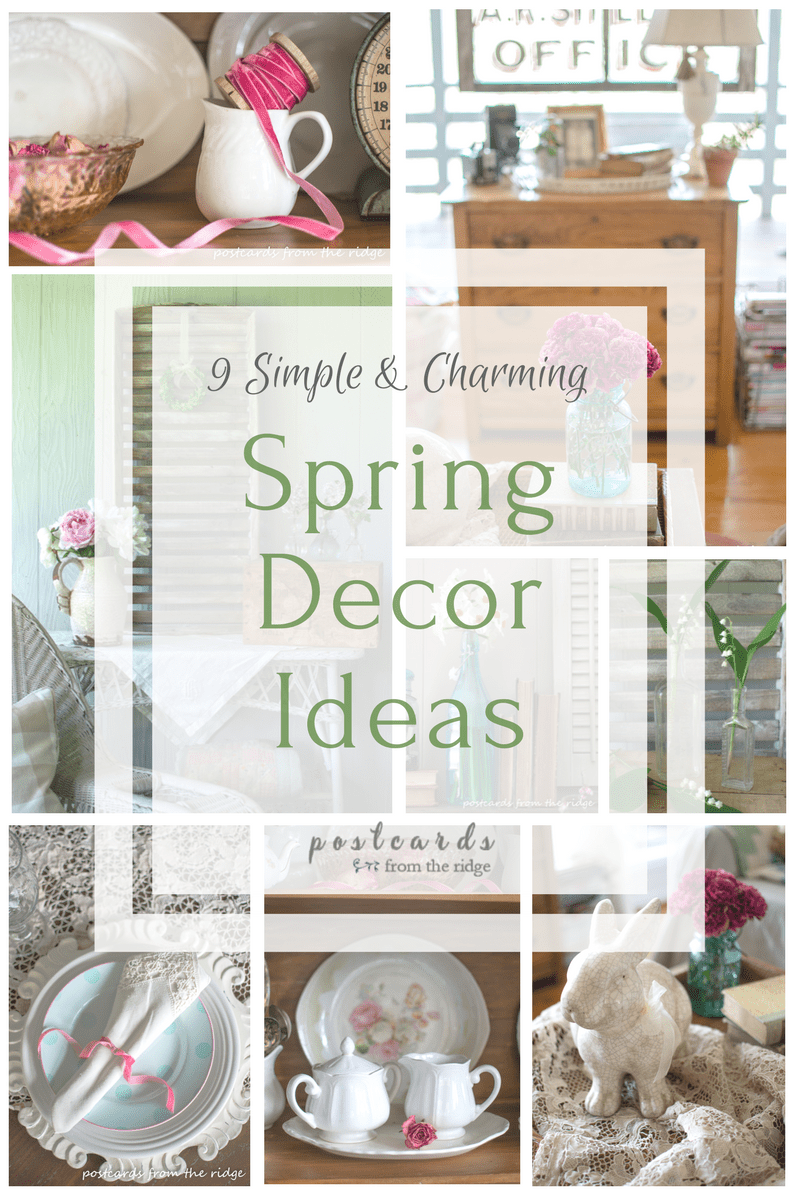 9 Easy Ways to Make Your Home feel like Spring
Have you added any spring decor to your house? What are your favorite ways to decorate for the spring?
Thanks so much for dropping by!
XOXOX,
Angie
If you're new here, sign up for email here or follow along here so you don't miss a thing:
Email * Facebook * Hometalk * Pinterest * Twitter * Instagram

For handy tips and tutorials, go here.


To see my painted projects, go here.

For tasty recipes from my kitchen, go HERE.
For some simple tips for capturing a great photo, go HERE.
Go here to learn about having an online design or color consultation.
And go here for dozens of photos, ideas and favorite paint colors.