Hello, friends! I'm excited to announce that I'm joining forces with a few of my blog friends this week to bring you some great Valentine's day decorating and craft ideas. Here today I'm focusing on showing you how to decorate for Valentine's day if you are, shall we say, challenged in the "crafty" department like I am. With a little bit of creativity and almost no work, you can add some simple Valentine's decor to your space.
One of my favorite things that I've done this year is the glittered heart and scrabble letters. I really think this needs to be on a conversation heart. Maybe it is. I try not to buy those evil candies because I can't put the bag down once I start on them.
Anyway, if you're visiting here from the tour, welcome! Here's a small glimpse of our home and how we've got it decorated for Valentine's Day.
WELCOME!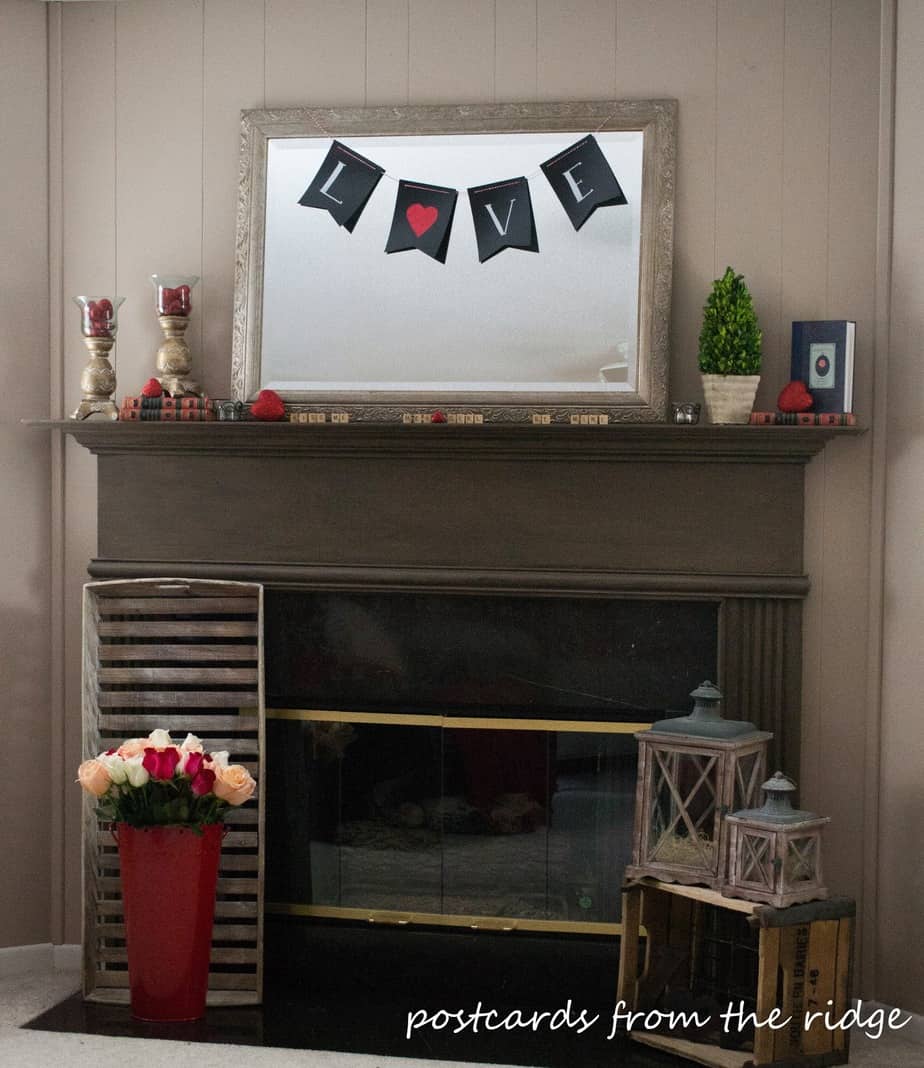 Welcome to our family room where I've got the fireplace and mantel all decked out for the season.
Roses from Costco make the perfect Valentine's accessory. And they always make me smile.
A vintage milk crate carries an almost hidden message of love.
Scrabble letters are great for dropping hints.
Later this week I'll share how I made this chalkboard banner. It's like crafting for dummies. Even I can do this one. Be sure to follow via one of the options at the bottom of the post to get the how-to for it.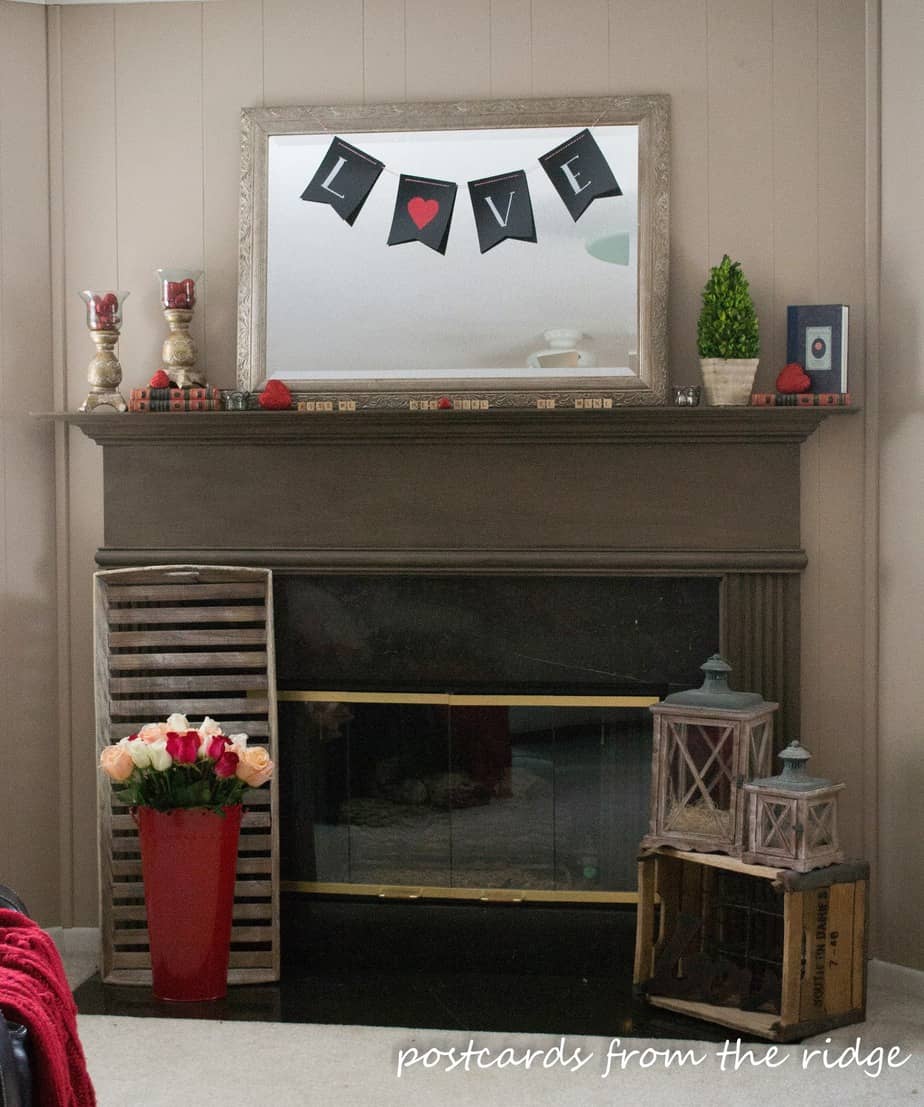 The whole mantel. I think it's never looked better. For more photos of this room go here, or to learn how to paint paneling, go here.
In the entry, you can just drop off the keys to my heart. And have some chocolate while you pass through there.
In the living room, it looks like a different house. I went all girly in here. The vintage rose painting is one of my favorite things and I usually don't even have it displayed anywhere. Shameful, isn't it?
I strung some Mary Engelbreit Valentine's cards on twine. It's the simplest type of banner ever!
A small ironstone pitcher, a book of love poems, and a fleur de lis clock here.
Shakespeare, anyone? Love's labour's lost, with a queen of hearts card as a bookmark, is opened up on the coffee table.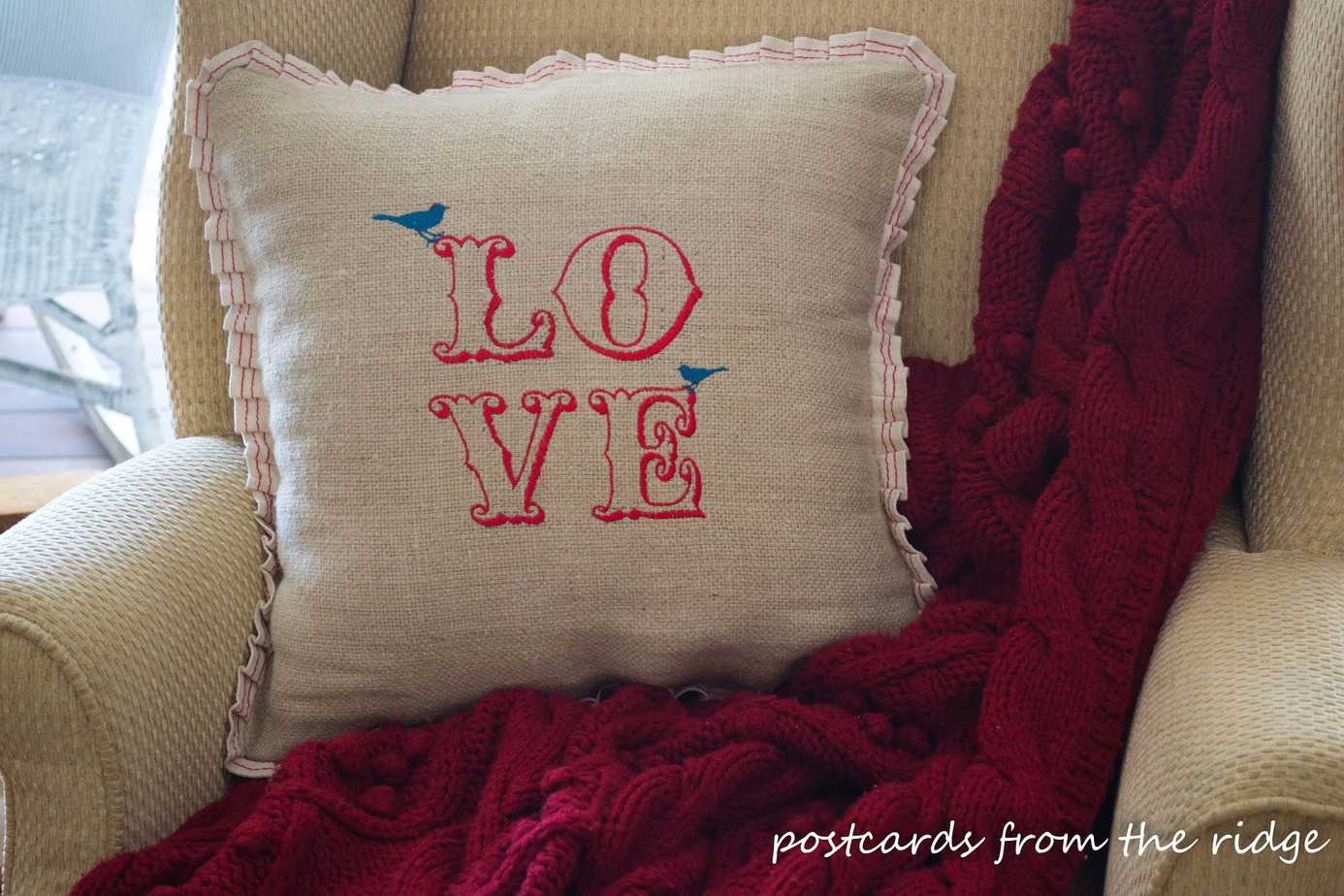 In one of the chairs I've got a fun valentine's pillow I found at World Market a couple of years ago. The two love birds are perfect.
Two of my loves, when they were little, sit on some old red books on a table in between the wing back chairs. And a few chocolate hearts.
From the living room you can see into the breakfast room.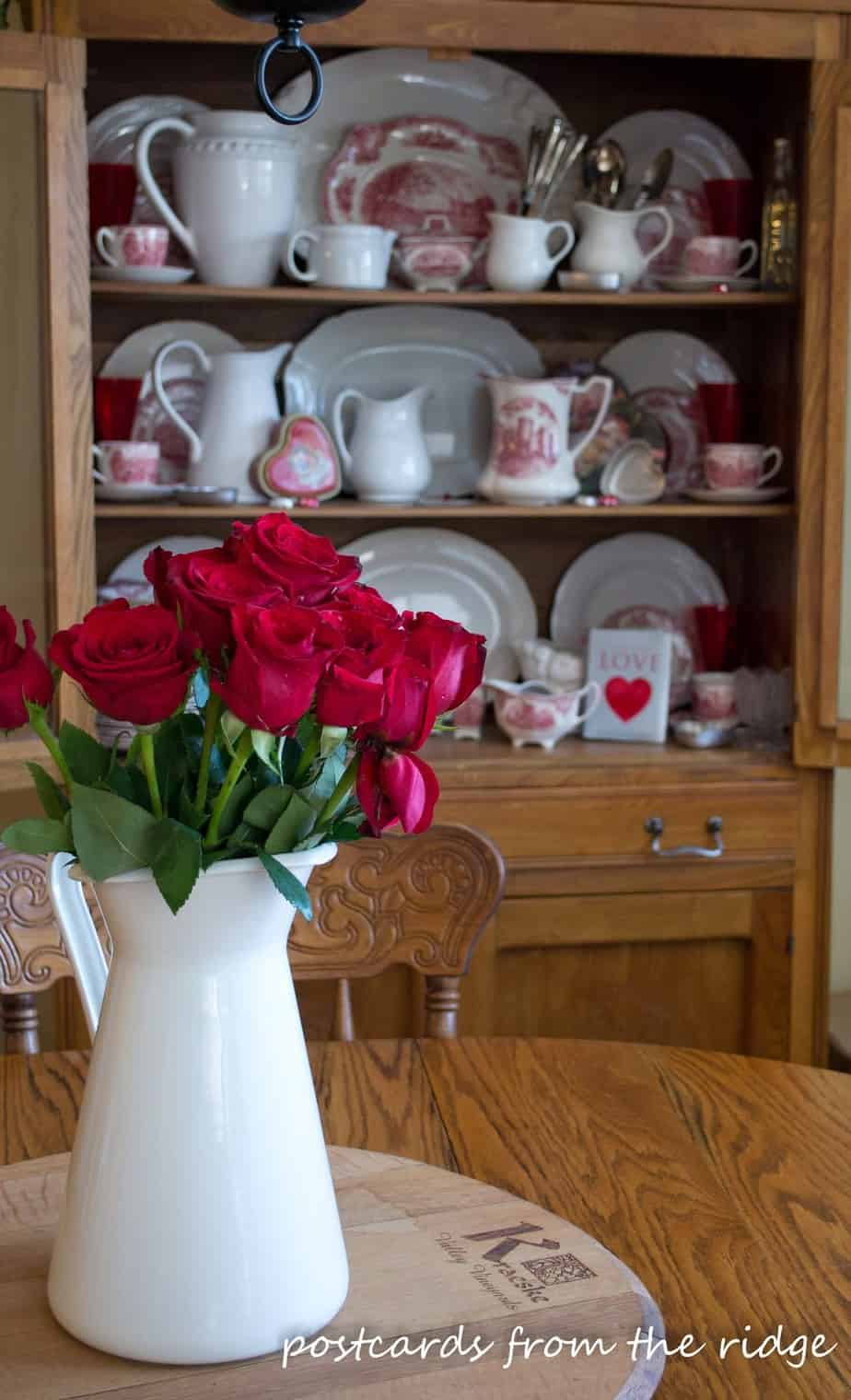 In the breakfast room, some red roses decorate the table and the hutch is filled with my red transferware and white ironstone, along with some little extra touches for Valentine's day.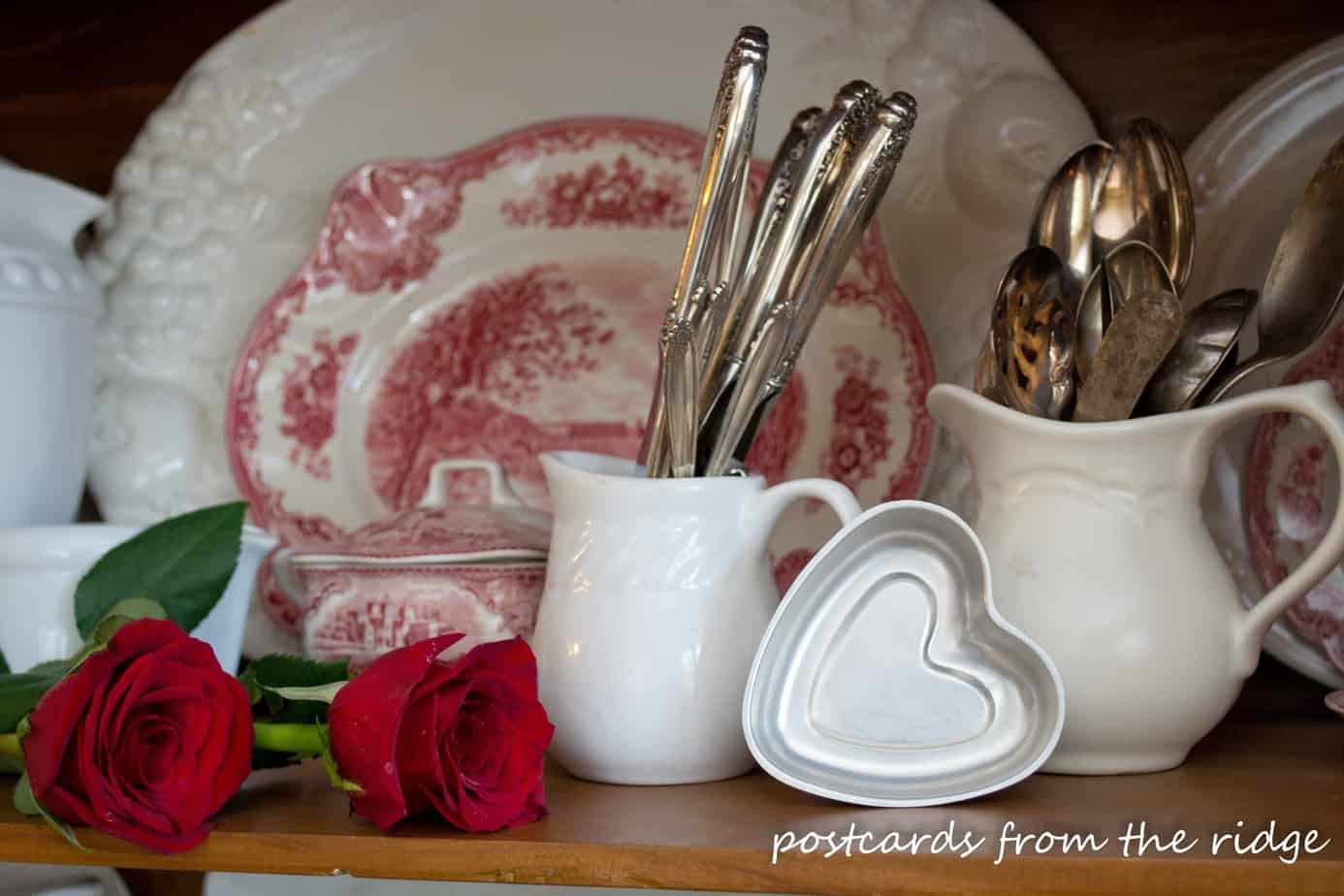 I tucked a few of the roses in the shelves and added some little heart shaped molds.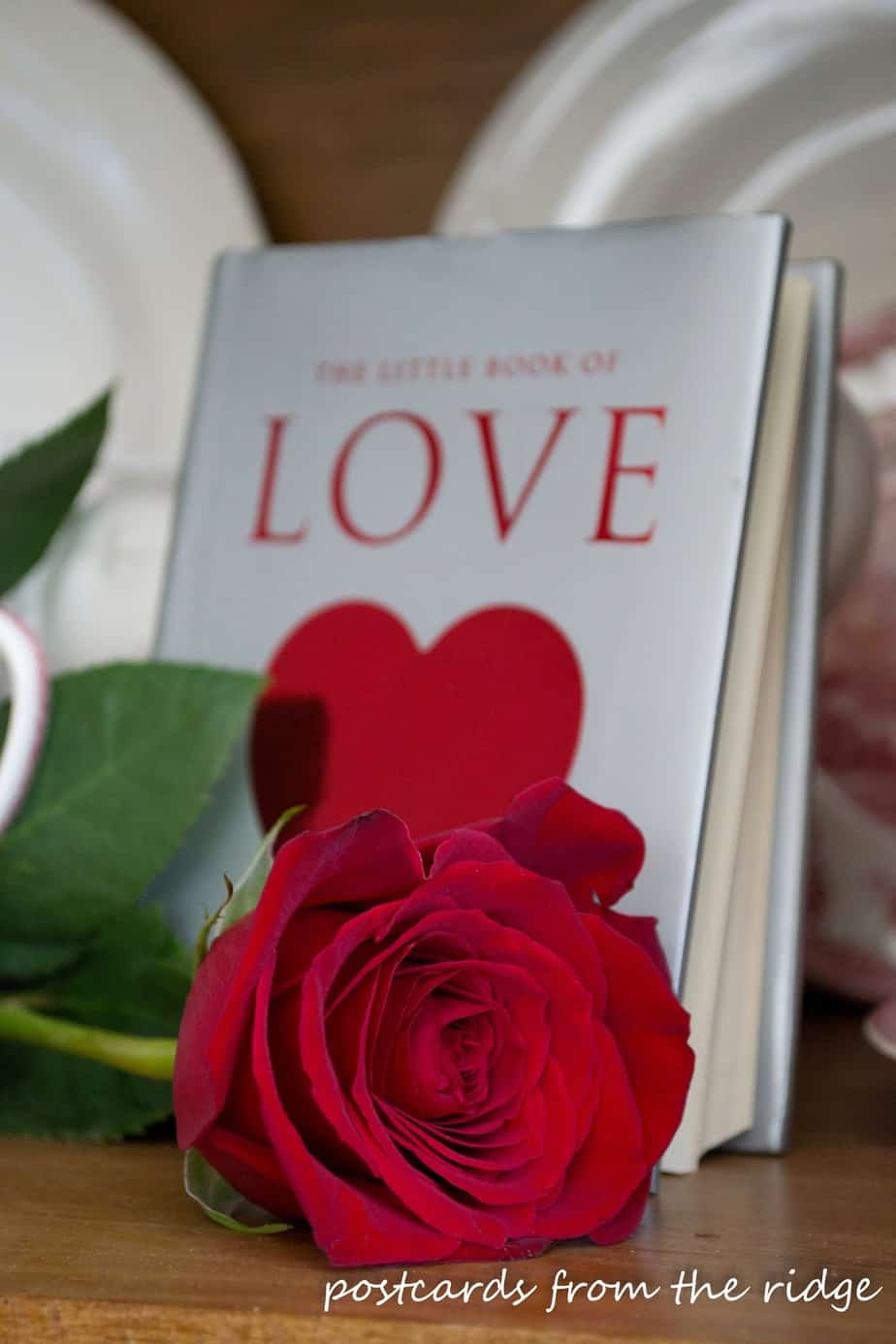 Another rose and a different book of poems.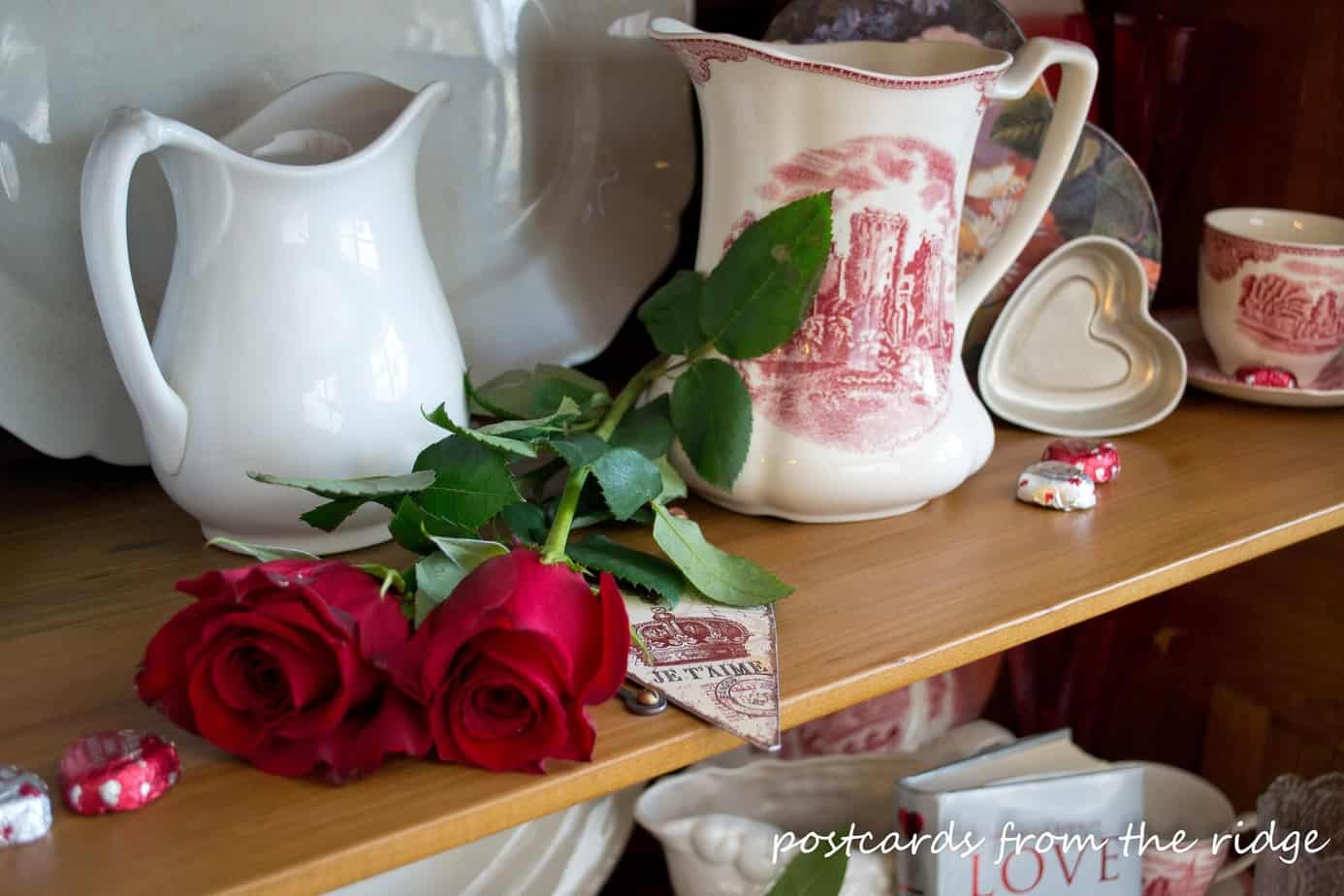 A few chocolate hearts are also strewn about in the shelves. Can you ever have too much chocolate?
Je t'aime!
Soup's on! Over in the kitchen, my favorite cookware sits on the stove top. I hung some inexpensive Valentine's dish towels on the oven door handle.
Some wood chip letters that I painted red are resting above the stove. All you need for that project is the letters, a paint brush, and a very small amount of red paint. It doesn't get any simpler than that!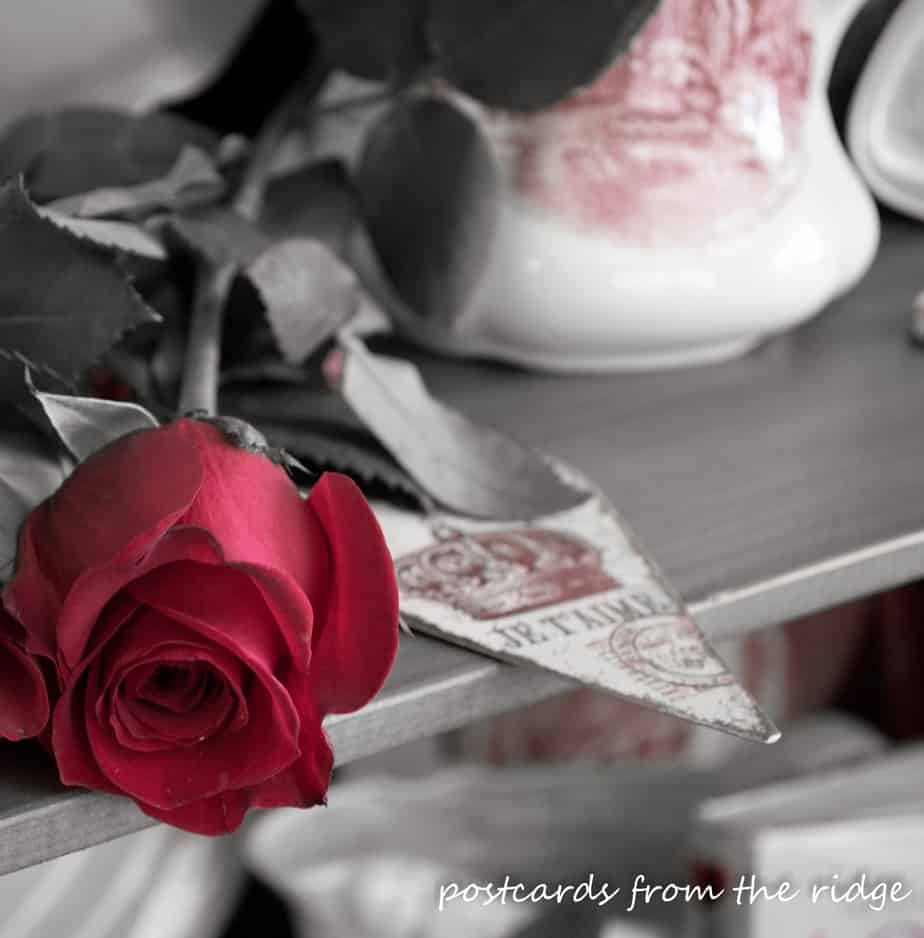 Just playing around with Photoshop Lightroom on these photos. I'm a total geek when it comes to photography and editing software. What can I say?
If you're new here, I'd love for you to follow along and see how I did the chalkboard banner and also see several other upcoming projects, including a stenciled chest of drawers, a new kitchen faucet, and much more. You can follow here:
Email * Facebook * Hometalk * Pinterest * Twitter * Instagram
Or, to see more of our home, go here.
The Valentine's tour began yesterday, so be sure to visit all my creative gal pals for tons of inspiration. Here are the links to the blogs of my ever-so-talented friends. Be sure to drop by and see what they've done. And leave them a nice comment while you're there! It always makes a blogger's day to get a nice comment!
Monday, February 3rd:
Tuesday, February 4th:
Wednesday, February 5th:
Thursday, February 6th:
Here's a preview of the posts:
Thanks so much for dropping by! Happy Valentine's day!
XOXOX,
Angie


**This post contains affiliate links to Amazon, which means that if you click on one of the links and purchase something, I might make a few cents.**