Kitchen Organization Tips
Is having a better organized kitchen on your to-do list? It's definitely on ours and I'm always working to make it more organized. I'm no expert, but in 20+ years of home ownership hopefully I've learned a thing or two about having an organized kitchen. Today I'm sharing some of my favorite tips and organizing items, plus I'm teaming up with 22 other bloggers who are sharing their favorite organizing tips this week too! Be sure to check out all of their ideas at the bottom of the post.
This post contains affiliate links for your convenience. If a purchase is made after clicking one of the links I might make a small commission. Your price does not change. For full disclosure, go here.
Sink Area
The sink area is one of the hardest working places in a home. There are several ways to make it efficient and attractive with just a little effort.
It's always fun to get creative with your organization efforts. And it's a great way to show your personality. Our dish soap is in a glass soda bottle with a spout attached for easy pouring. It's up off the counter resting on a cake pedestal along with a a little dish to put my jewelry in while I'm washing dishes, and some dish towels.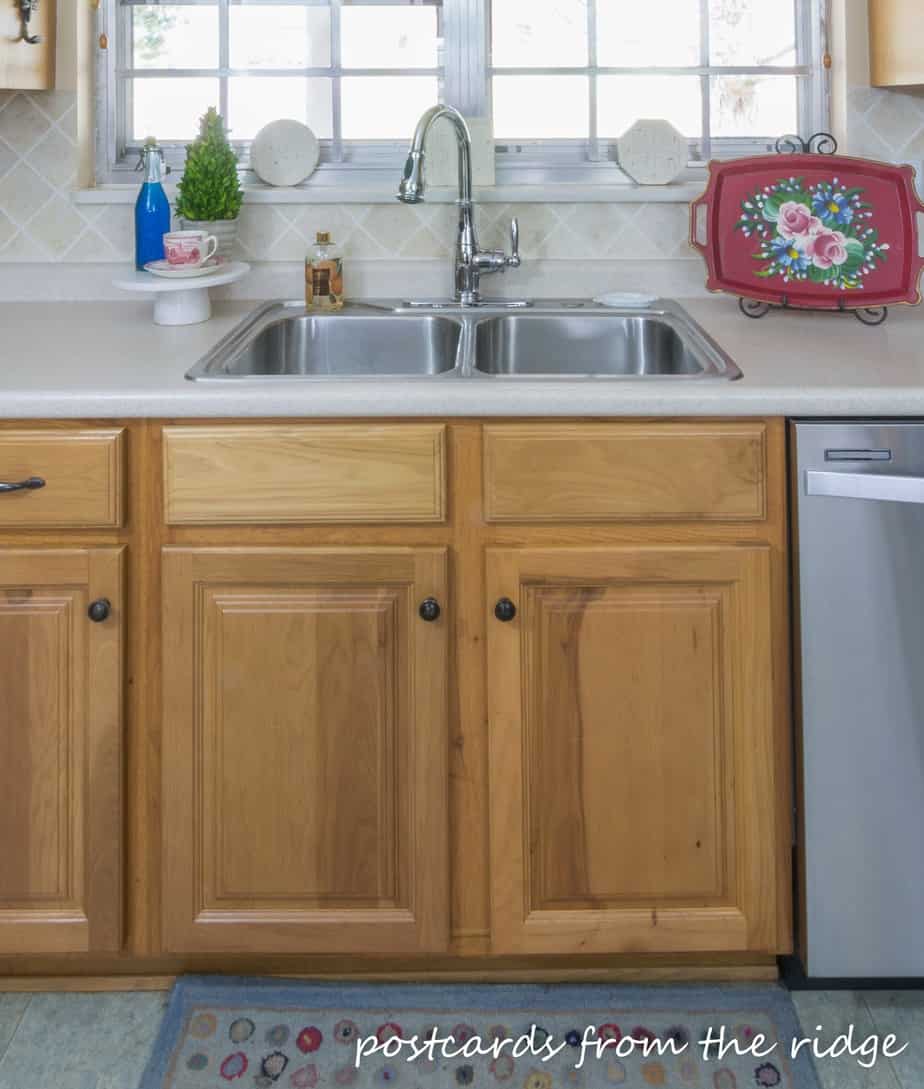 .
A grocery bag dispenser is a total space saver. This one can be attached with screws or mounting tape.
A small key rack is a great place to hang a colander under the sink. And a basket organizer is perfect for storing cleaners, scrubbing sponges and microfiber cleaning cloths.
Folding your kitchen dish cloths and towels so they can be stored efficiently helps them fit better inside a drawer.
Kitchen Drawers
We all have a junk drawer, but there are ways to make almost any drawer more organized and efficient.
Drawer organizers make all the difference in how easy it is to find things in your kitchen drawers, or in any other room. This one keeps our measuring cups and spoons and our other baking gadgets organized and accessible.
Storing wraps and bags together in a drawer makes them easy to find as well.
Next to our stove is a drawer with cooking utensils. Keeping them in a mesh drawer organizer and lining the drawer with non skid drawer liner keeps them from going everywhere in the drawer.
Cooking Zone
The cooking area is the most productive area of any kitchen and needs to be super organized. Oven mitts and utensils should be within reach of the stove top and oven. Here's a breakdown of the contents in the cabinets and drawers in our cooking zone.
I like to keep our most used items corralled in a shallow basket on the counter. To add some personality, you could store your olive oil in a pretty glass dispenser and use an old ironstone pitcher for utensils. Add some wooden cutting boards and an ironstone platter for a bit more of a decorated look. Pretty kitchen linens and a colorful cast iron dutch oven finish off the look .
A 2 tier lazy Susan/turntable is one of the very best ways to get organized in the kitchen. We have two of them in our spice cabinet. One has spice blends and the other one has pure spices. All of them are stored alphabetically so we can find them easily.
Another lazy Susan in the baking cabinet holds extracts, food coloring, and small items used for baking. Boxes of mixes are stored on their sides, and cupcake liners are stored in a glass jar. I'm looking at this and thinking that I might invest in some clear storage containers like these for dry ingredients. It will look much more uniform. What do you use to store your baking items?
Pantry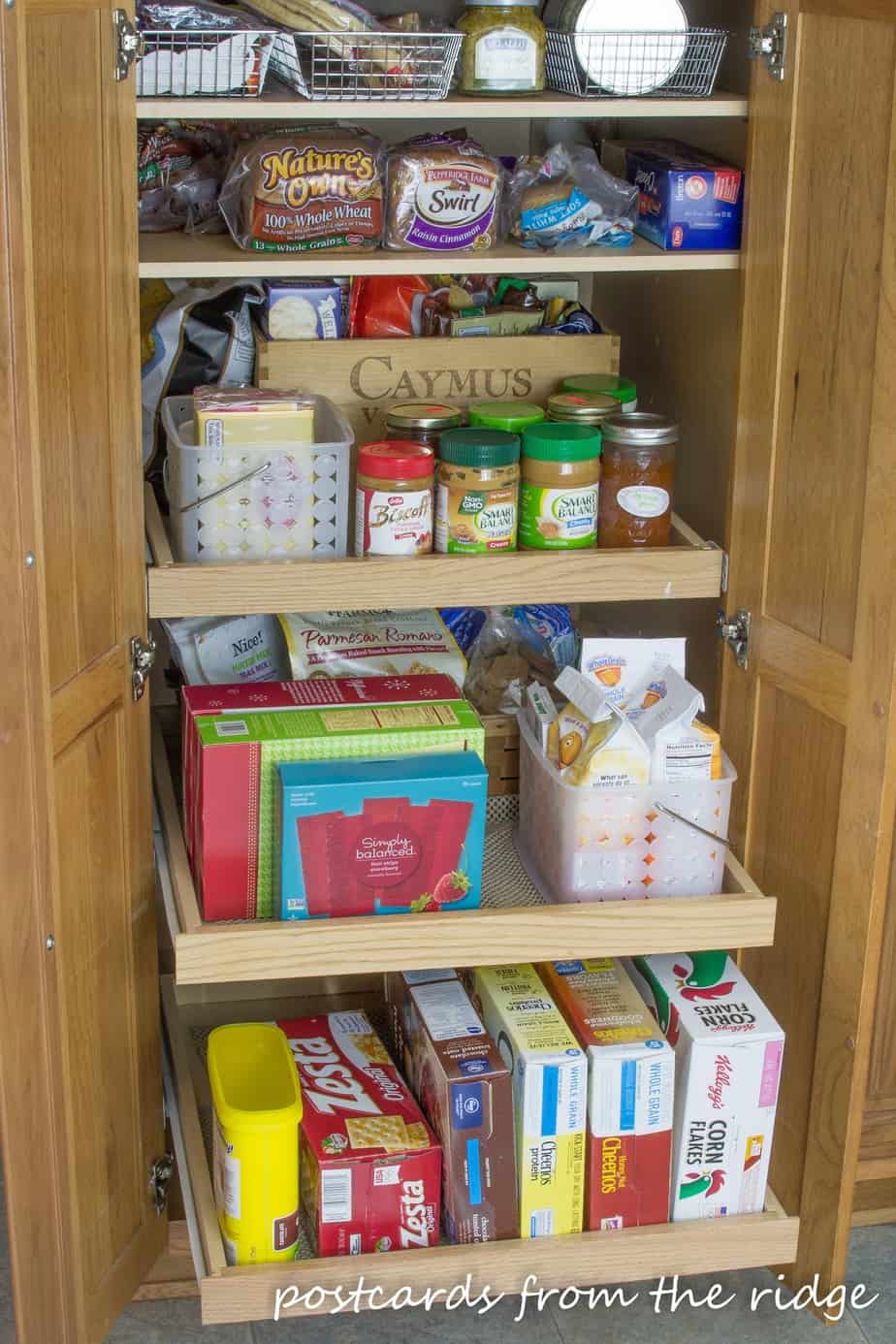 Pull out shelves make everything easy to find in a pantry. Storing like items together also helps when searching for something or making out your grocery list. You can get creative and use wine crates or baskets for this.
Need to store tall cereal boxes? Lay them on their side to store them in short shelves.
Make use of the space on the back of a door by attaching a door organizer. We have extra items stored in this small pantry closet along with our aprons and larger electric appliances like our stand mixer, bread maker, toaster, and crock pot.
A vintage wooden milk crate is a fun way to store trash bags and various other items.
Kitchen Landing Zone
For many people including our family, the kitchen is the first stop when you get home. Designating a landing zone will help keep things from getting cluttered. If you don't have much space, a wall shelf or small table can be a great place to drop your mail and bags.
We added this long table in our kitchen and it's been so helpful in keeping things organized. We also have a wall mounted mail sorter, a small bowl for keys, a large bulletin board to help us keep up with upcoming events, a vintage olive basket that we use as a recycling bin, and pens and other necessities in the drawers.
Small bowls and tins keep the drawers organized.
An unused planter is a fun way to store magazines and catalogs.
Another good way to get organized is with a weekly menu. This makes shopping so much easier and you never have to wonder what you're having for dinner.
For our weekly menu we use emeals for a good variety. We plan our menu, then I print the recipes and attach them next to the menu board so everything is easy to find.
Now it's time to see all of the great organizing ideas from my blog friends. We've created the ultimate cleaning and organizing resource for you to use as a guideline for your entire house. Click on the links for each day to get some wonderful ideas. Let me know which one is your favorite!
Thanks for dropping by today. I'd love to hear your organizing ideas.
Go here for my other organizing tips, and here for cleaning and household tips and tutorials.
Sharing this post at Your Home Decor & More
XOXOX,
Angie
If you're new here, sign up for email here or follow along here so you don't miss a thing:
Email * Facebook * Hometalk * Pinterest * Twitter * Instagram

For handy tips and tutorials, go here.

To see my painted projects, go here.

For tasty recipes from my kitchen, go HERE.
For some simple tips for capturing a great photo, go HERE.
Go here to learn about having an online design or color consultation.
And go here for dozens of photos, ideas and favorite paint colors.
Check out these great cleaning and organizing ideas:
SUNDAY – CLEAN AND ORGANIZATION PRINTABLES
Domestically Speaking | Simply Designing | Hymns and Verses
Fresh Idea Studio | Decor Adventures
MONDAY – CLEANING TIPS & RECIPES
Refresh Restyle | Cupcakes and Crinoline | Stone Gable
What Meegan Makes | My Uncommon Slice of Suburbia
TUESDAY – KITCHEN ORGANIZATION AND DIY PROJECTS
Postcards from the Ridge | H2O Bungalow
Yesterday on Tuesday | Inspiration for Moms
WEDNESDAY – BATHROOM ORGANIZATION AND DIY PROJECTS
Petticoat Junktion | Redhead Can Decorate
The Silly Pearl | Cleverly Inspired
THURSDAY – LAUNDRY ROOM ORGANIZATION AND DIY PROJECTS
The Interior Frugalista | Setting for Four
FRIDAY – PANTRY & LINEN CLOSET ORGANIZATION AND DIY PROJECTS
Duke and Duchesses | Organized Island
Occasionally Craft | Organize and Decorate Everything