How to clean a glass cooktop
How to safely clean a glass cooktop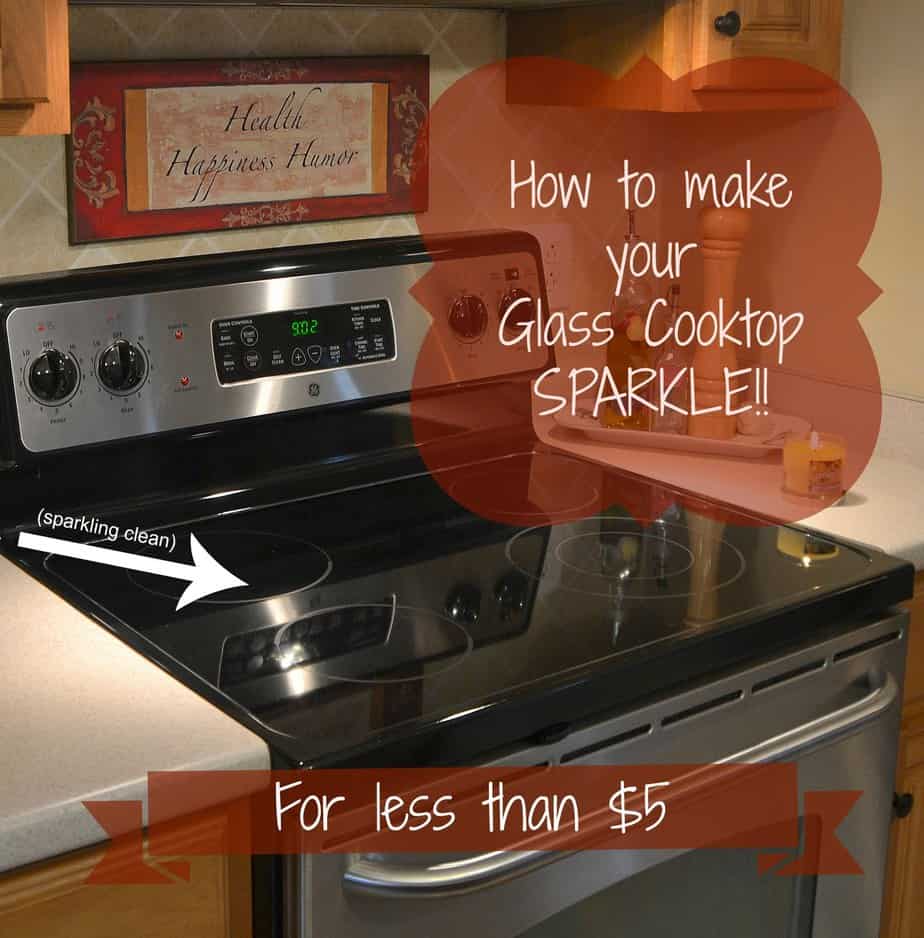 Glass cooktops.  You either love them or hate them.  I kinda love ours.  Except when I want to fry a batch of okra in my cast iron skillet and have to be extra careful about not sliding it.  But that's another story for another post.
This post is about cleaning the glass cooktop.
This post contains affiliate links for your convenience. I may make a small commission on products purchased with my link, but your price does not change. For full disclosure go here: Disclosure and Policies. Thank you for supporting my site.
How to Clean a Glass Cooktop
Let me clarify here that I am NOT a clean freak. Not by any stretch of the imagination. I've never posted a tour of our kitchen because…well… we live in there and it gets messy. And usually stays messy. I cook a lot. Probably 5 nights per week.
My husband also occasionally cooks and he's a little bit messy. He especially loves to make scrambled eggs.  And he doesn't always wipe down the stove top when he's finished.
But when I have a few minutes with nothing to do (ha!), I like to make my cooktop sparkle. Maybe it's because I'm a tiny bit OCD, but I love it when there's a reflection on the cooktop or the sink. Is it just me?
So here's my secret (although I'm sure many of you already know about this wonder product): Bar keepers friend.
I've tried other products, but this just can't be beat. It lasts forever and only costs pennies per use.
Take a good look because it won't stay this clean for too long. But again, it doesn't take long to get it clean again.
How to Clean a Glass or Induction Cooktop
1. Clean off any buildup of gunk with a damp rag or sponge. If there's any stubborn spots I let the damp cloth rest on it for a few minutes and then it usually wipes off fairly easily.
2. Rinse out the cloth/sponge/rag until it's clean. Then dampen the entire surface of the cooktop.
3. While the surface is still damp, lightly sprinkle the bar keepers friend over the entire cooktop.
4. Use a damp sponge (I use one that has a scrubber on one side) and work in circles, concentrating on any areas that have cooked-on or burned-on food. You might have to use some elbow grease on the tougher areas, but with a little work it should come clean.
5. Rinse out your sponge and wipe the surface clean.
6. Buff or wipe the surface dry with a smooth cloth. I have one particular dish towel that I use for this that doesn't leave any streaks. It's not a terry cloth type towel, but is a smoother, tighter weave.
7. That's it. You're done. Enjoy it while it lasts!
Want to try it for yourself? Find the best price for it here: 
>>BEST PRICE FOR BAR KEEPERS FRIEND<<
If you found this tip helpful, check out my other home keeping tips:
Other tutorials that I've written:
Let me know if you use bar keepers friend for other jobs. I use it in my sink and also to get stains out of our countertops. It's like magic in a can.
Thanks for stopping by.