6 Ideas for Creating a Cozy Christmas Mood
Thank you, Pottery Barn, for sponsoring this post. All opinions and text are my own.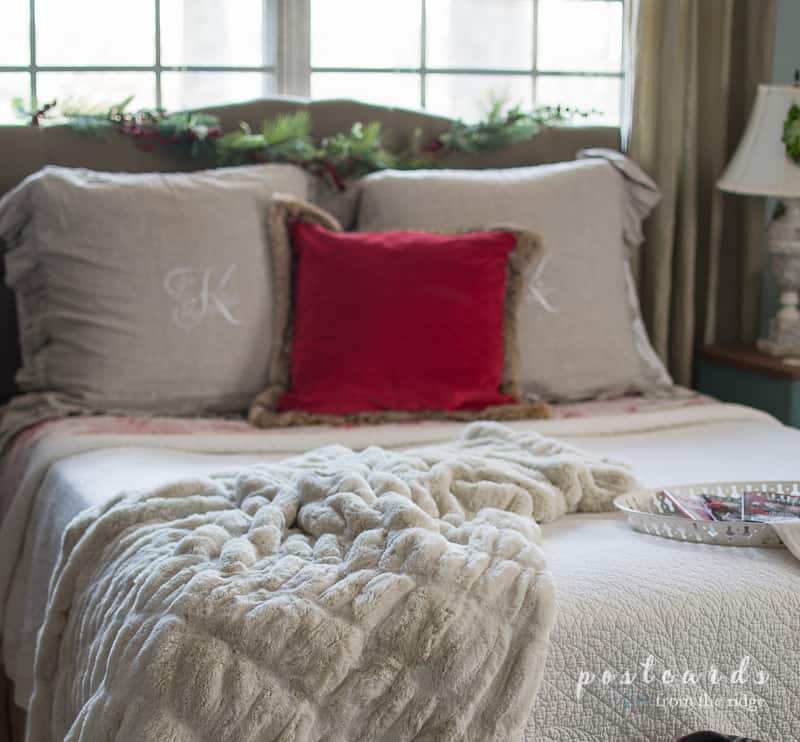 There's no other time of year like Christmas for feeling all warm and cozy inside. All the festivities, family, and food make it such a special time of year. We look forward to Christmas for months and even start playing Christmas music in November. Yeah, we're those people. And as soon as the Thanksgiving dishes and decorations are put away I start getting the house ready for Christmas.
This post contains affiliate links for your convenience. If a purchase is made after clicking one of the links I might make a small commission. Your price does not change. For full disclosure, go here.
I love it when someone says that our house is cozy, especially during the holidays. Making people feel like they can relax and enjoy themselves is something I strive for. And there are some very simple ways to add a cozy feeling to any home.
Today I'm excited to be teaming up with one of my favorite stores, Pottery Barn, and sharing 5 easy ways to make your home more cozy. Let me know which idea is your favorite, and feel free to leave any additional ideas in the comments.
1. Add a soft, fuzzy throw blanket to the bedroom
Snuggling up under a soft warm throw blanket is one of my favorite ways to feel cozy during the cold winter months. I love to cover up with this plush faux fur throw and read at night before I go to sleep. Sometimes on chilly nights I pull it up over the blanket while I sleep. It's unbelievably soft and fuzzy.
2. Little decorative touches throughout the house
The red velvet ribbon and the old worn books add character and texture and make this night stand super cozy.
3. Make the front porch welcoming
Adding Christmas decorations to the front porch adds instant charm to your house. Whether it's with wrapped boxes, greenery, or and old sled, it's a wonderful way to greet your guests.
A homemade wreath made with fresh evergreen clippings is a great way to add even more charm to the setting.
4. Cookies
You just can't go wrong with cookies any time of the year, but especially at Christmas. Set out some vintage silverware and kitchen linens to add a an even cozier vibe to the setting.
5. Hot cocoa
Turn up the cozy factor with some hot cocoa served in cute, whimsical Santa mugs. We all love to sip cocoa from these fun mugs.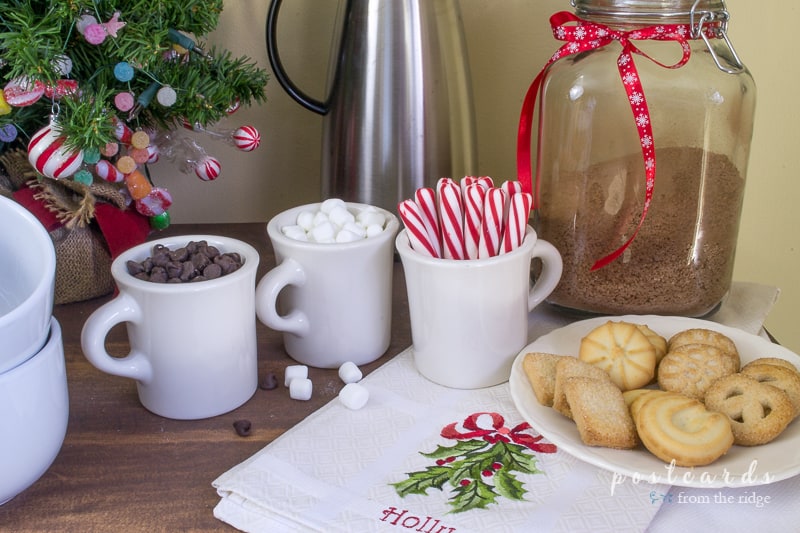 Set out marshmallows, peppermint sticks, and chocolate chips and you've got a perfect hot cocoa bar.
6. Add soft pillows and throws to your sofa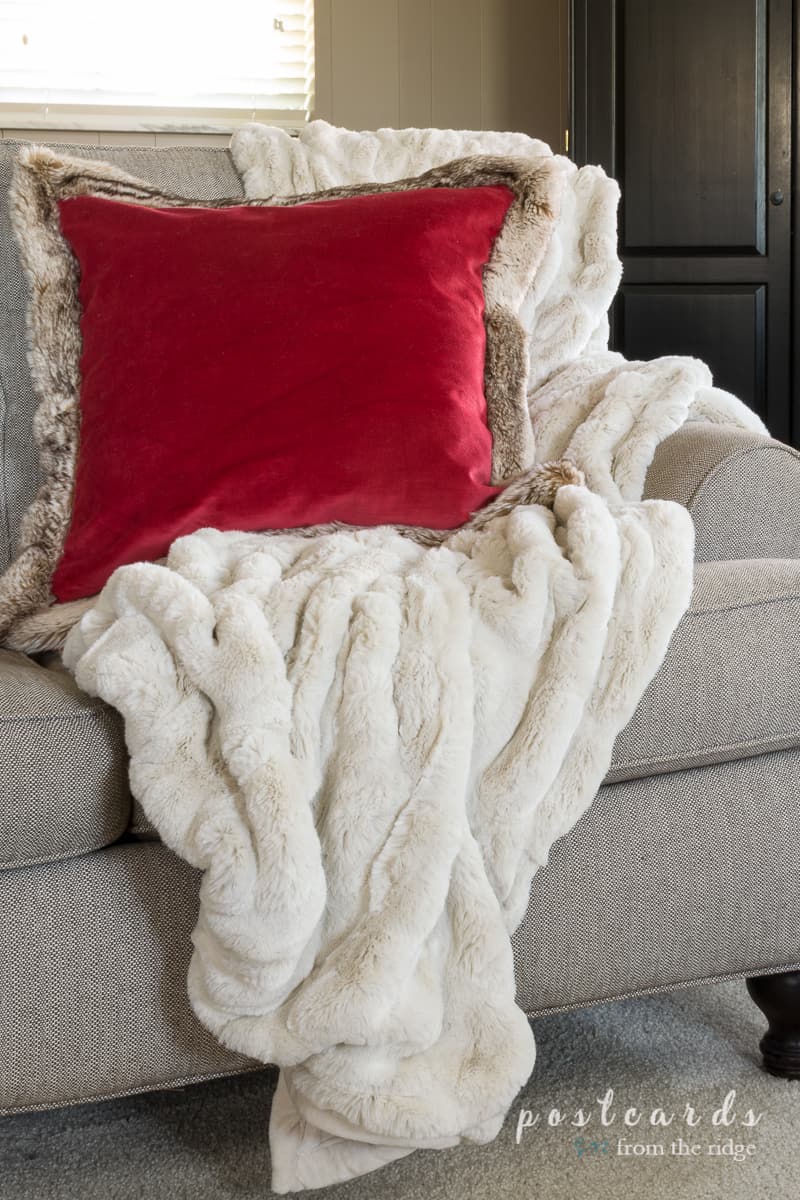 Our faux fur trimmed velvet pillows and the faux fur throw make this the favorite spot in the family room for movie night. Although it's so comfy here that it's easy to fall asleep and miss the movie altogether. That's usually a sacrifice I'm willing to make. 🙂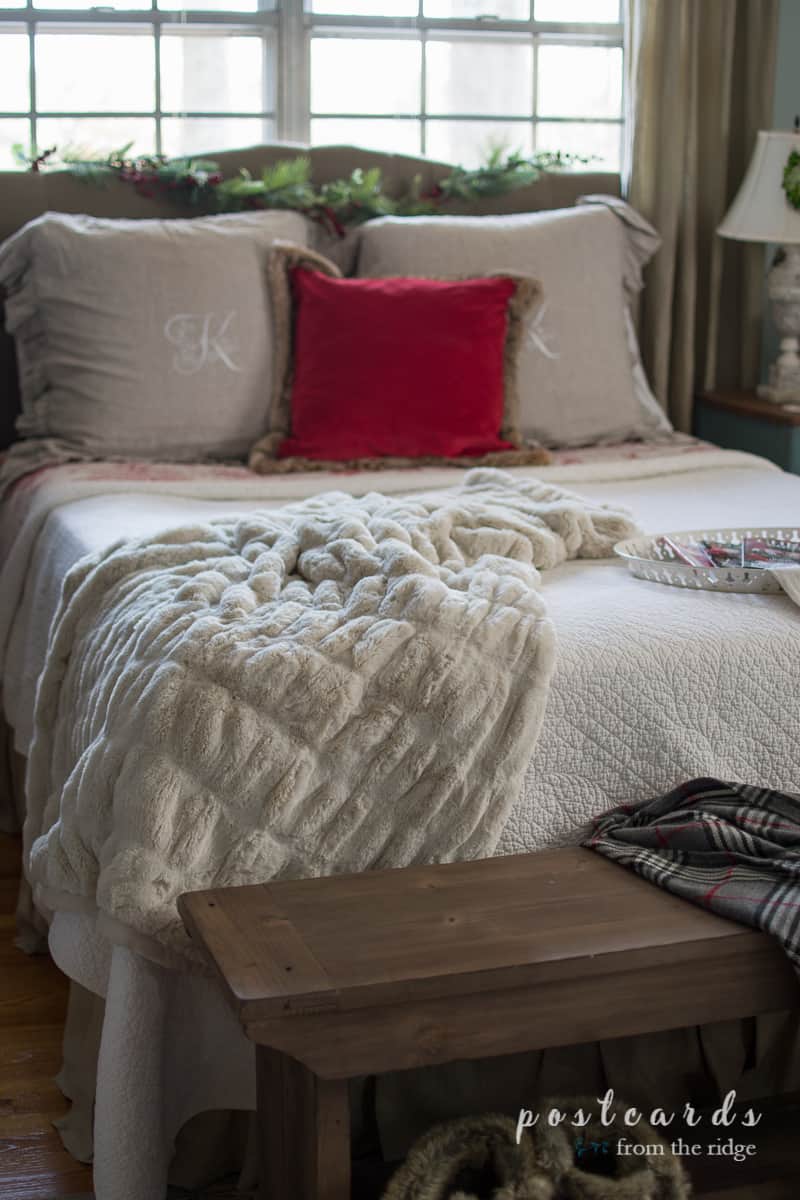 What are some ways you make your home cozy for Christmas and winter? If you need more ideas, the faux fur collection from Pottery Barn is a sure way to stay warm and cozy until spring arrives.
To see the complete collection in the Faux Fur Shop, go here ==> Pottery Barn Faux Fur Shop
Thanks for dropping by today. Stay warm and cozy!
Resources:
Faux Fur Trimmed Velvet Pillows
SHOP THE LOOK
Subscribe to updates so you won't miss out on any upcoming ideas for your home. The schedule for the next few weeks includes ideas for table settings, centerpieces, Christmas decor, recipes, and so much more. Click below to sign up.
XOXOX,
Angie
Sharing this post here:
French Country Cottage – Feathered Nest Friday
Craftberry Bush – Inspiration Friday