Creative Ideas for Organizing Craft Supplies + Many More Organizing Tips
Is organizing your craft supplies one of your goals? It is for most people, including me.
There are so many ways to organize craft supplies and other things. Whether you use boxes, baskets, bins or bowls, it's a great opportunity to get creative and show your personality.
I love to think outside the box and use items for something other than their intended purpose as storage, like picnic baskets, wooden crates, or as you'll see in this post, milk glass that I've picked up inexpensively over the past few years.
This post contains affiliate links for your convenience. If a purchase is made after clicking one of the links I might make a small commission. Your price does not change. For full disclosure, go here.
Thrifted finds are a great way to store and organize many things, including craft supplies. Almost all of the items used for storage in this room were found at yard sales, thrift shops, rummage sales, etc. Etsy and ebay are great sources for versatile containers too.
This craft room has been a work in progress for a long time now and I've shared some of the progress with you before. It's a space that needed an extreme room makeover and has come a really long way from what it used to look like using mostly paint to make some dramatic changes.
You've already gotten to see how the counter top got painted here, and how the floor got dressed up with stencilled faux rug here, and now you'll see some of the fun ways our craft supplies are organized using found items!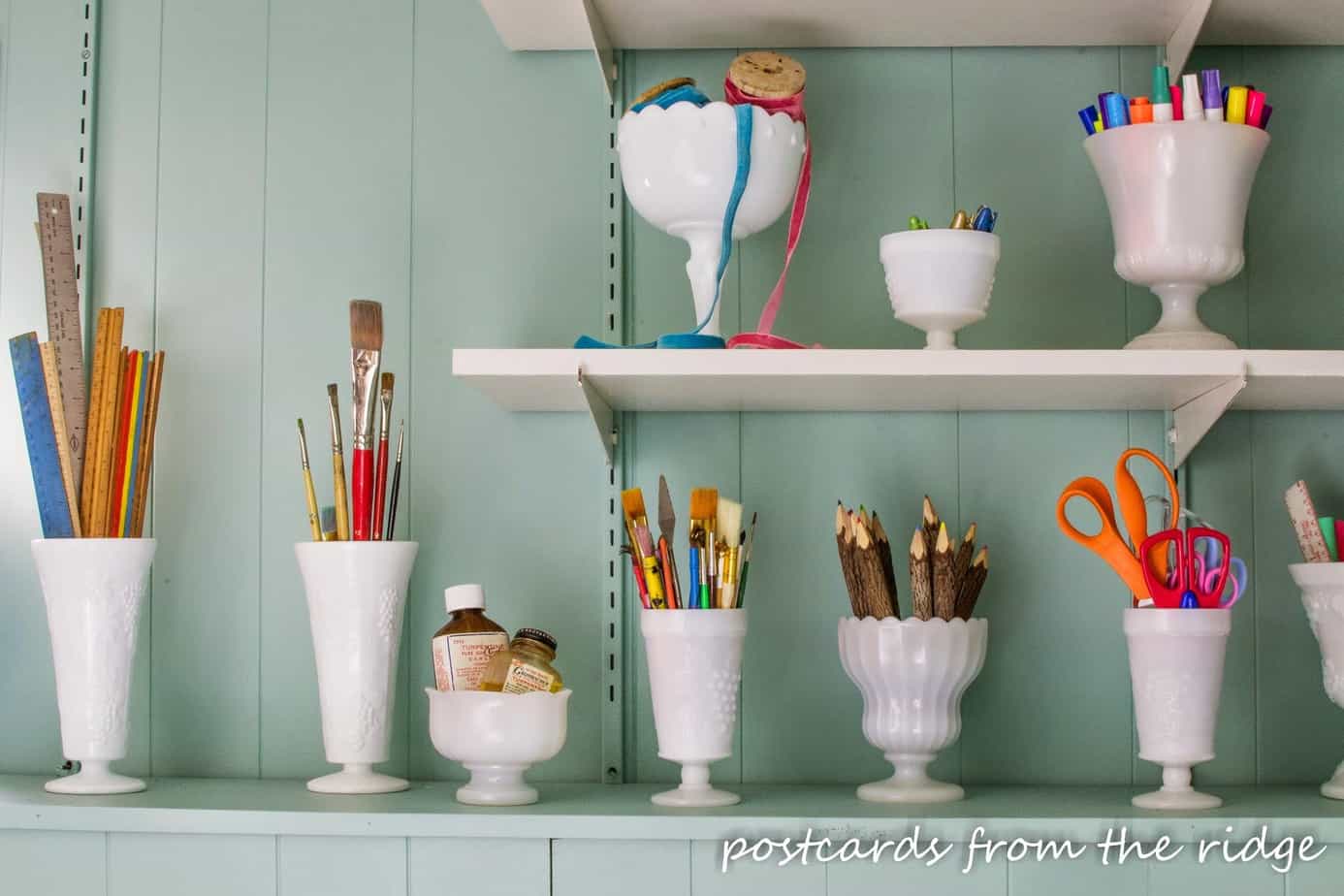 Vases, compotes, bowls, and anything that can be used for coralling all those supplies and can also make a fun statement allowing you to show your off your style.
A large mason jar is a great place to store spools of thread or other small items like buttons, trims and ribbons. (I love the old wooden spools of thread!) The old sewing machinge accessories box is fun place to stash things as well.
Different sizes make it more interesting and enable you to store a variety of shapes. The wooden spools of ribbon and markers fit perfectly in them.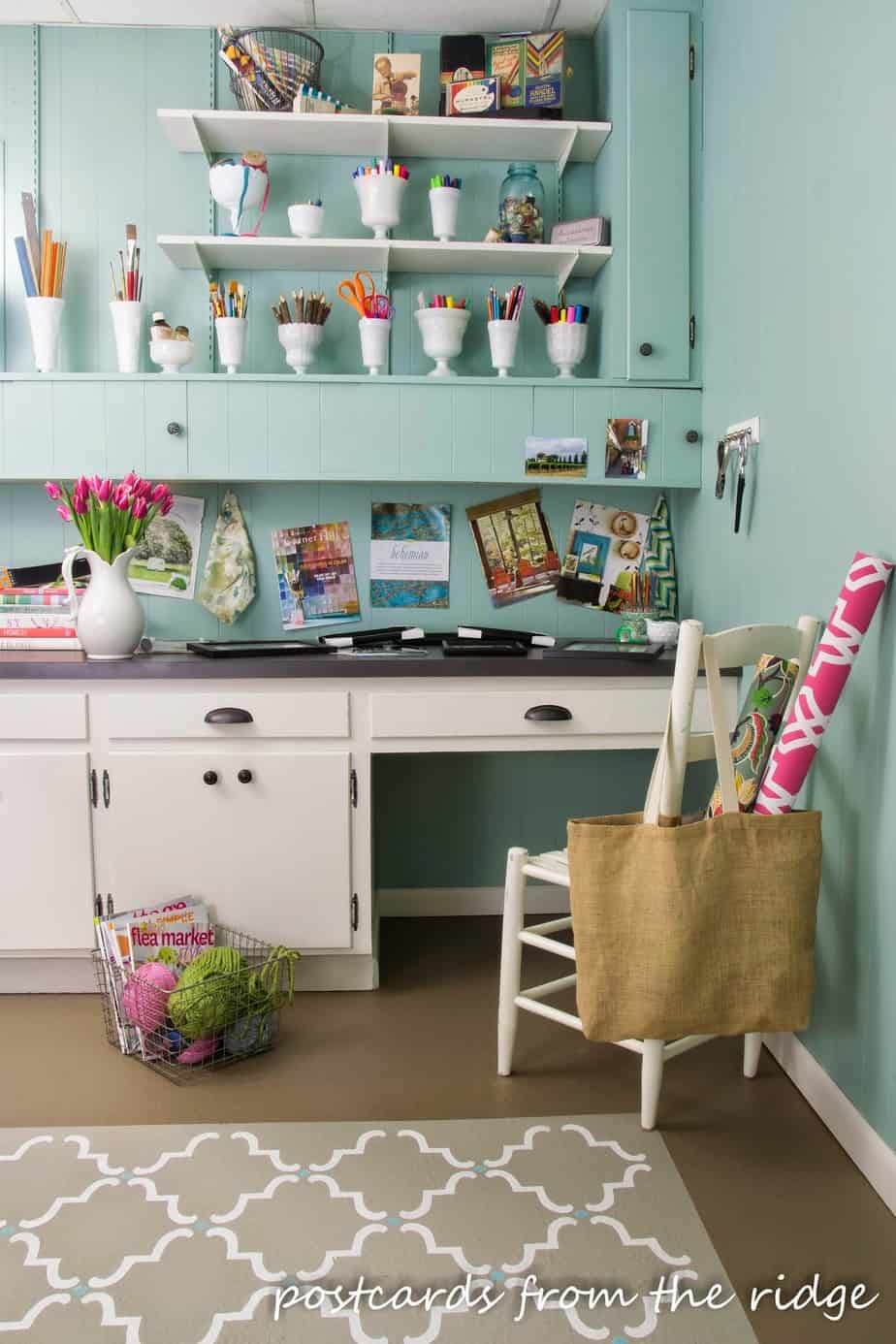 A wire storage basket is great for holding yarn or medium sized items. Paint color decks are stored on the top shelf in another wire basket with a handle.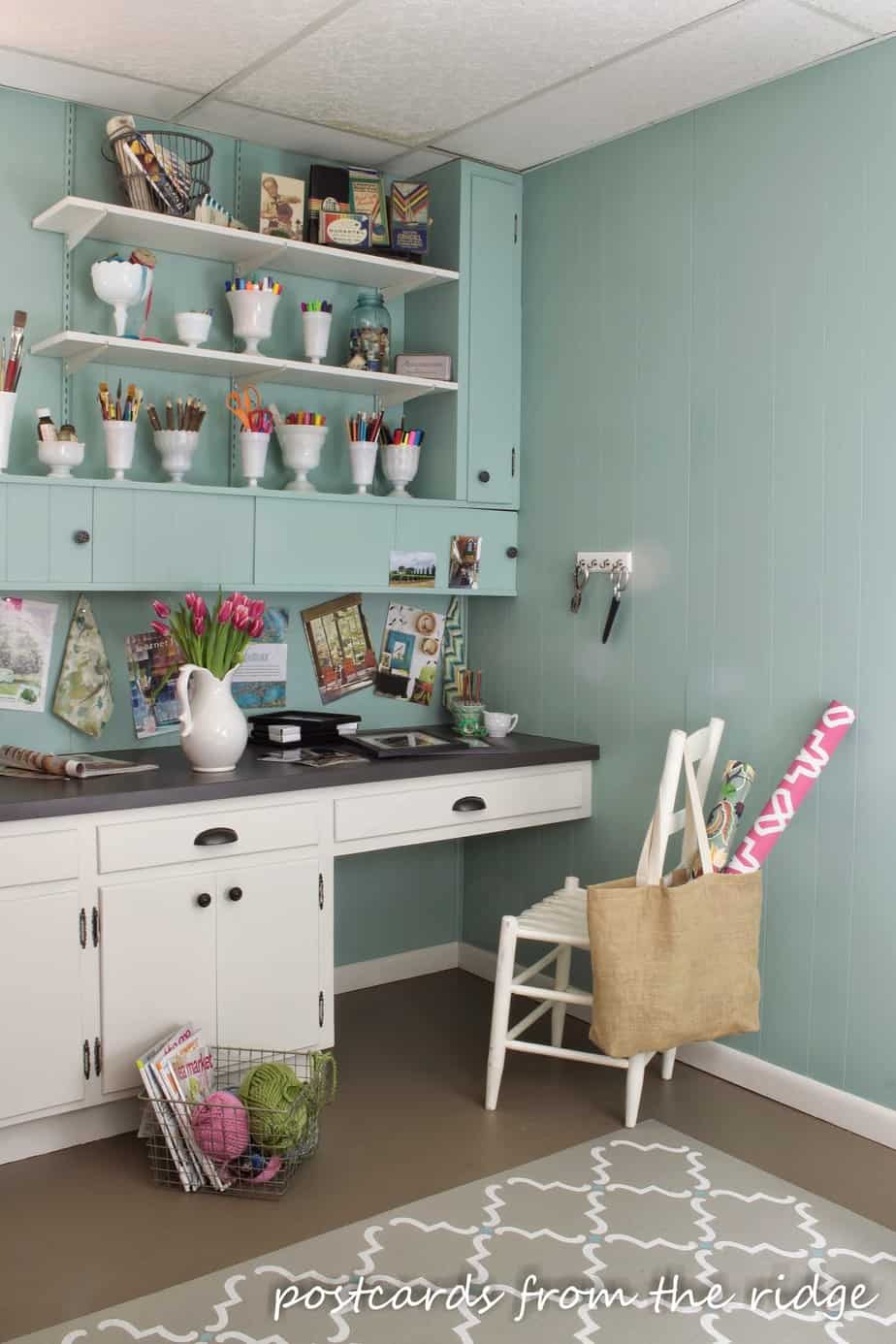 On the right wall, scissors and a hole punch are stored on a key rack.
While the old white ironstone pitcher isn't currently being used for organizing, filling it full of grocery store-bought tulips sure does inspire creativity. It could be used to store wooden dowels, long paint brushes, knitting needles, or yardsticks.
Remember the days before pinterest when we tore out pages from magazines that we loved? Some people (me) still do that even though they're on pinterest. The pages can be pinned to the wall or a bulletin board as added inspiration for upcoming projects, or just for something to dream about.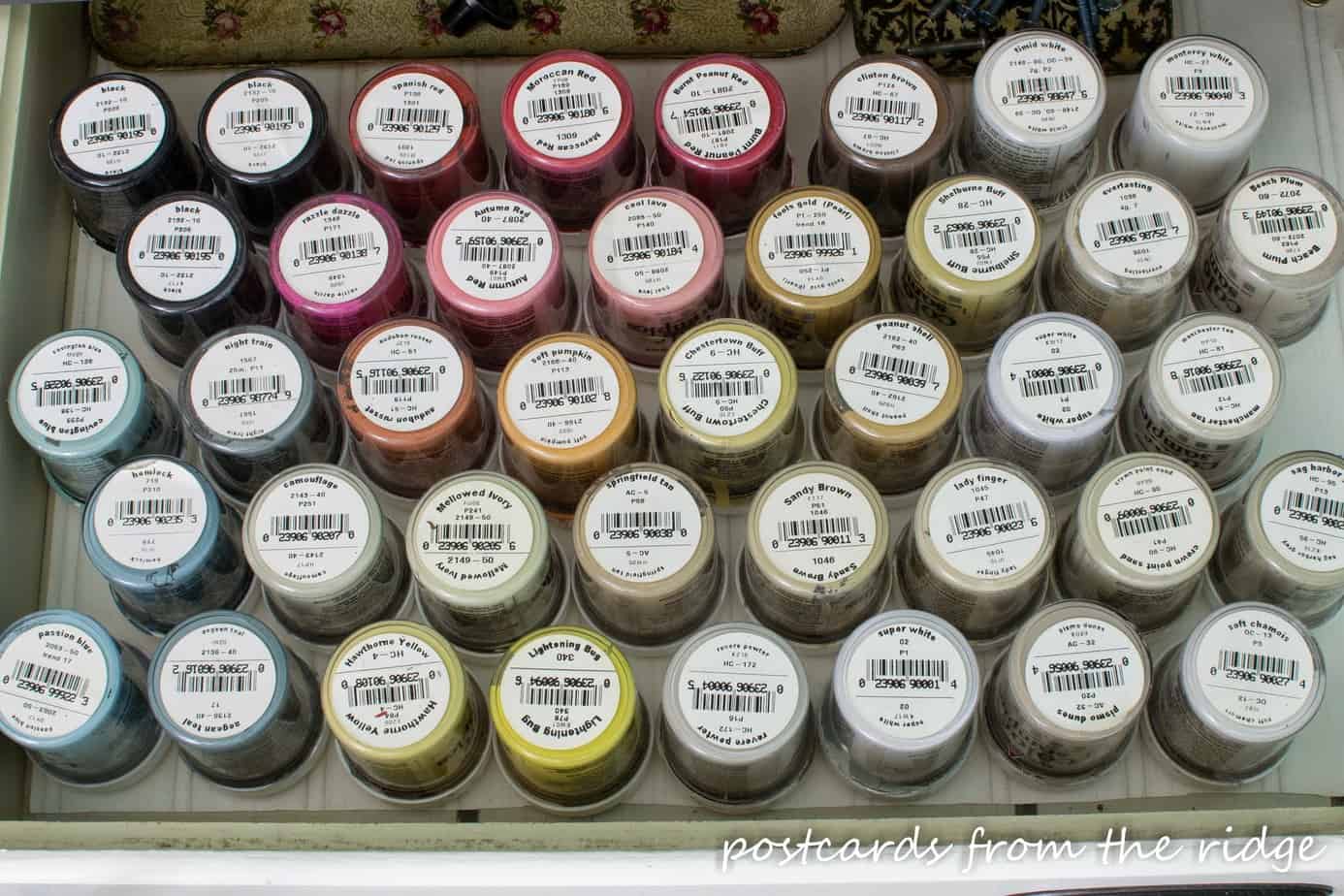 Small sample jars of paint can be stored upside down in desk drawers. This keeps them from drying out and allows you to see what color is inside.
A little McCoy planter with a glass flower frog on top is a fun way to store pencils.
Thumbtacks and clips are easily accessed from a small milk glass creamer.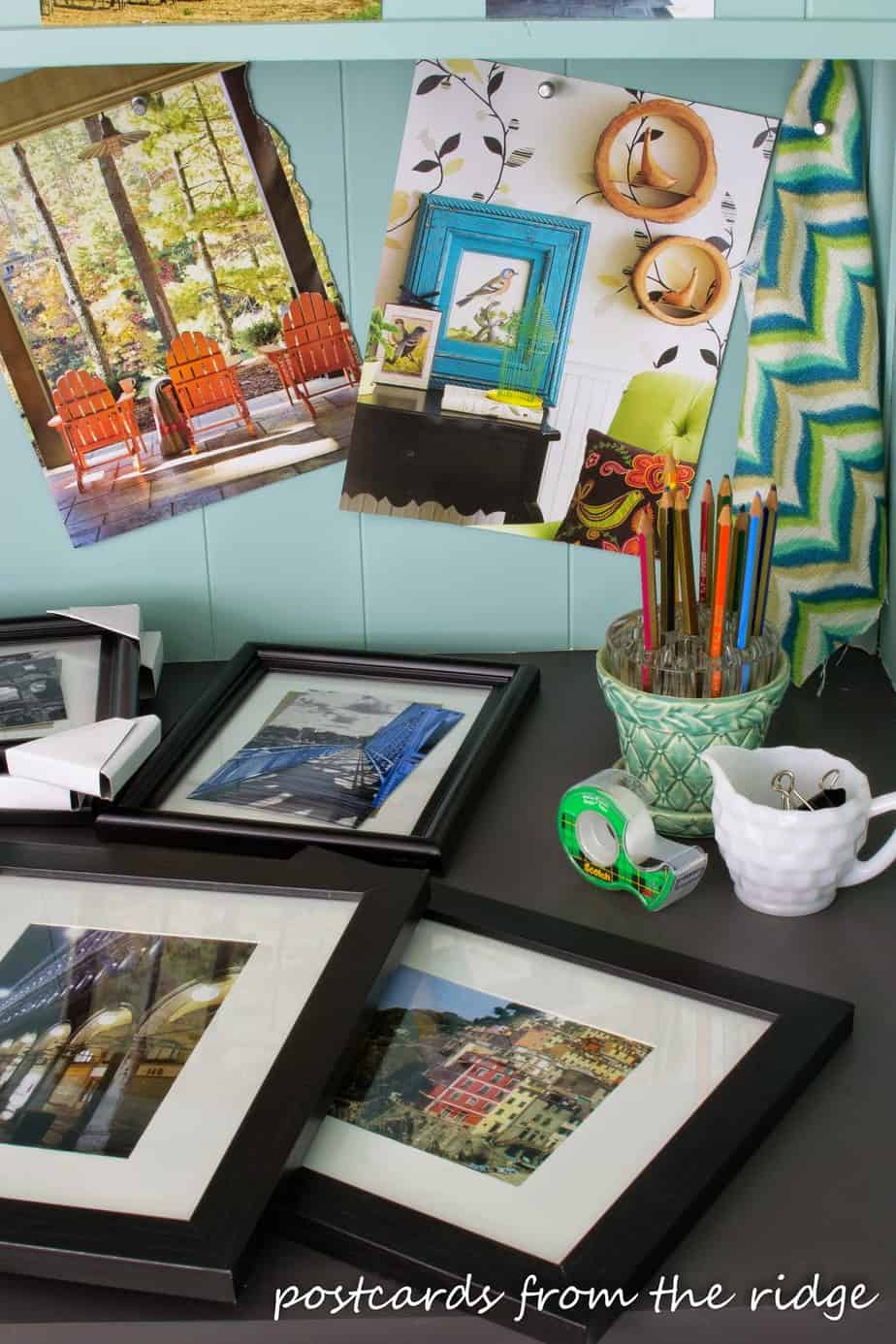 And speaking of being organized, we're currently organizing some of our photos and having them printed so we can frame them and create a gallery wall for our living room and hallway. Hopefully this project will be finished soon. Gallery walls take a lot of planning, printing, and framing!
Stay tuned for the completion of this project.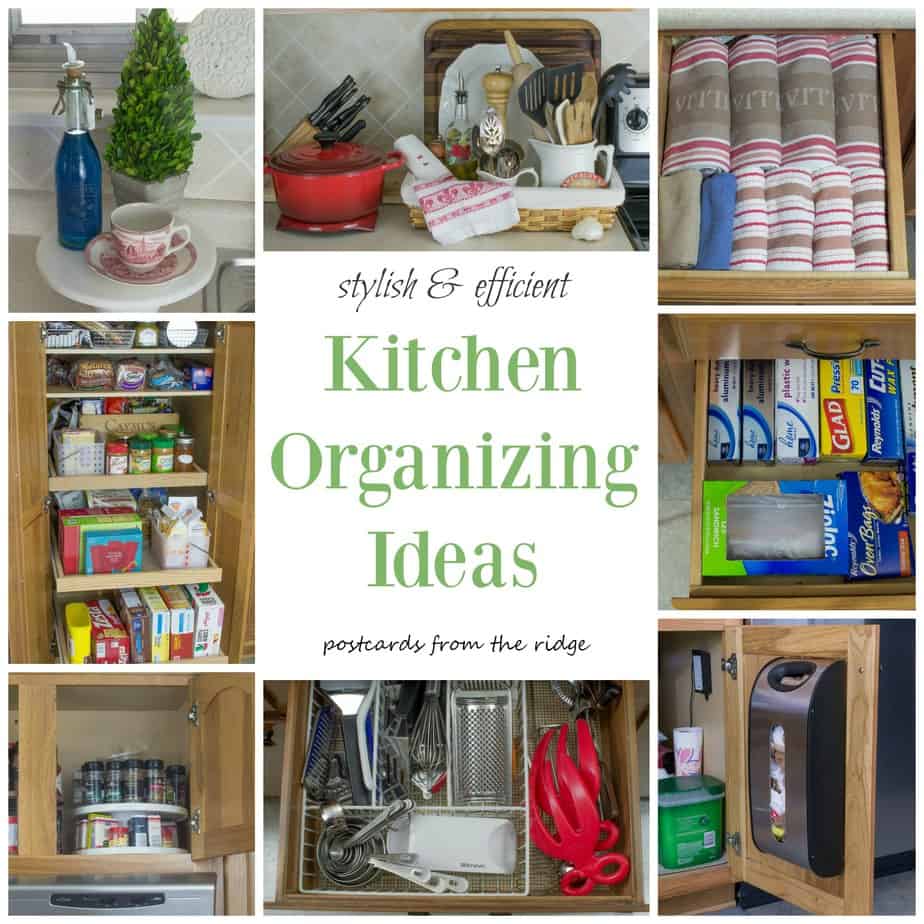 Need a few ideas for organizing your kitchen? I'm sharing 17 ideas plus links to 22 of your favorite bloggers in Ultimate Guide to Organizing and Cleaning here ==> Kitchen Organizing Ideas
Need some ideas for using found items to organize your jewelry? Go here for some fun tips that will help with that.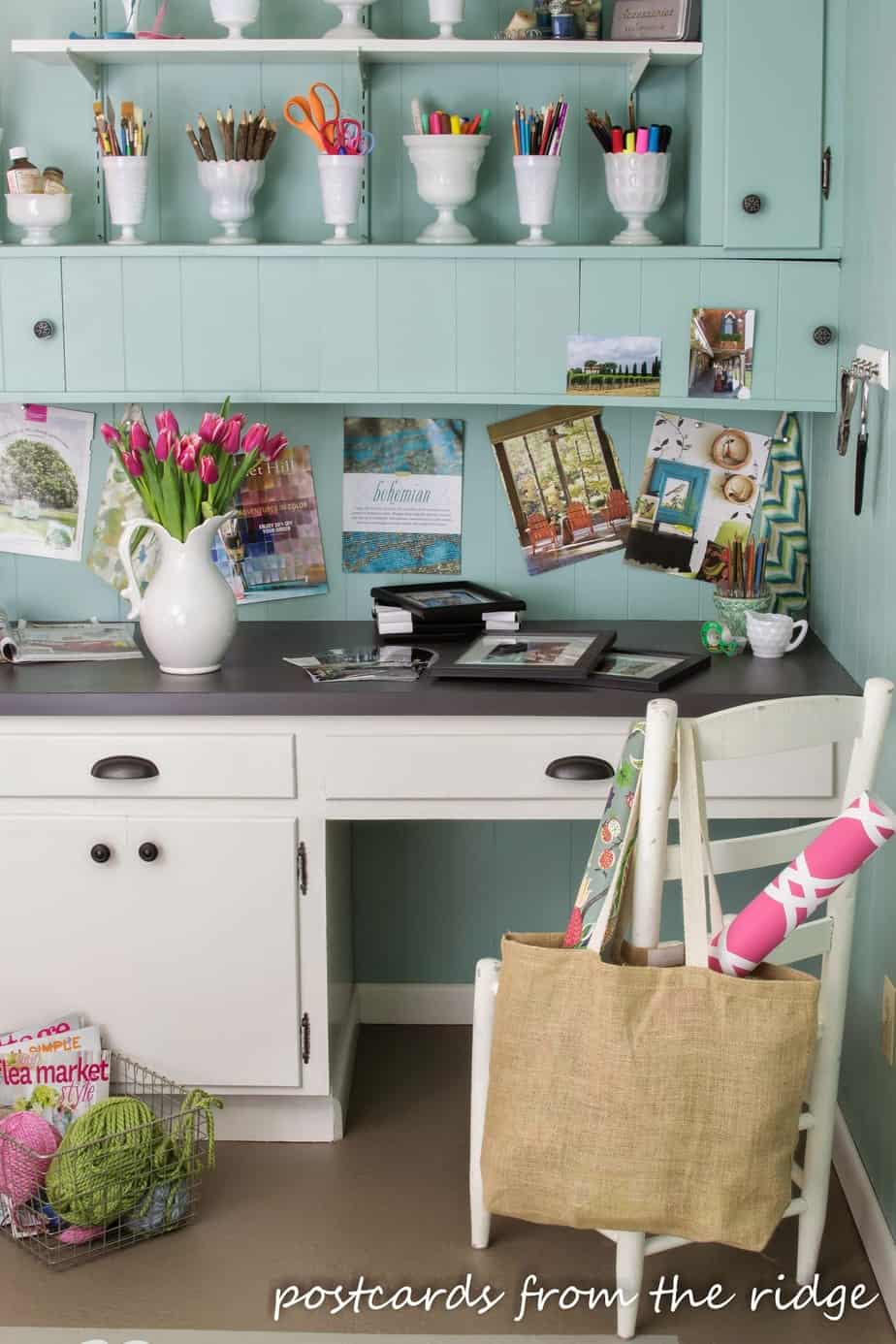 What are some creative ways you organize your things? I'd love to hear your ideas!
Milk Glass – Many varieties at good prices can be found here
Wall Color    Benjamin Moore Covington Blue Regal Select Eggshell Finish
Trim, Cabinet, and Shelf Color   Benjamin Moore Fog Mist Satin Impervo Waterborne
Floor Color   Benjamin Moore Rustic Taupe Latex Floor and Patio Finish
Rug  Custom Painted, find more info here
Drawer Pulls and Cabinet Knobs

  Lowes

Pink Wallpaper Sample in tote bag   Wallquest
Sharing at
Home Stories A to Z Tips & Tutorials
Proudly featured on Country Living "Ways to Decorate with Milk Glass"