Welcome to our Christmas Home!
Ho ho ho! And welcome to our home! Today I'm joining a group of my blogging friends for our Welcome Home tour where we're sharing front porches, entries, or any old way to make guests feel welcome. Since I'm sharing the inside of the house on Monday, today you get to see what our guests are greeted with as they walk up to our door.
Here on our front porch you'll find several vintage items since I'm a vintage junkie. I clipped the branches from various trees and bushes from the yard and added some clippings I got for free at the Christmas tree lot when we bought our tree. Holly, nandina, and magnolia make up the bulk of the branches. There's nothing like fresh greenery.
This post contains affiliate links for your convenience. If a purchase is made after clicking one of the links I might make a small commission. Your price does not change. For full disclosure, go here.
Be sure to visit all of my pals and see the great ideas they're sharing for welcoming guests. The links are at the bottom of the post.
I picked up a couple of rolls of the plaid ribbon at a discount store last week and added touches of it here and there. And those skates, well, there's not much ice skating around here, but they look pretty at the holidays! I found them at a rummage sale.
The Adirondack chairs were made by my brother-in-law a few years ago and the pillows get changed out seasonally. It's actually been warm enough recently to sit out here and have a beverage.
I usually have the 3 stars hanging at Christmas and also during the summer.
I'm laughing at my greenery in this shot. It looked much better before I rearranged it, I swear! I didn't notice it until I downloaded my pictures. Just imagine it looking nice, okay?
The dairy crate was a craigs list find and the merry Christmas sap bucket came from an estate sale.
I love my red front door. If you look closely, you'll notice that I have the storm door propped open so you can see the red door. I wish I could take off the storm door, but it's great for insulation. Replacing it with a full glass door is on my to-do list so the pretty wood door can be seen.
FYI, the paint color is Benjamin Moore Raspberry Truffle.
Come on in to the entry!
Welcome to our 1964 entry with the original slate floor. It will never wear out and I really like it.
Drop your bag and kick off your shoes while your here.
You should know that I have a serious addiction to vintage anything, especially Christmas ornaments. It's bad, and I probably need an intervention. But I love them so much! These are some of my favorite ones. They're very old and fragile so I don't put them on the tree for fear that they'll fall off and break. I love the cracks in them. I propped them up on some vintage aluminum jello molds I found at the thrift shop and they're standing proud!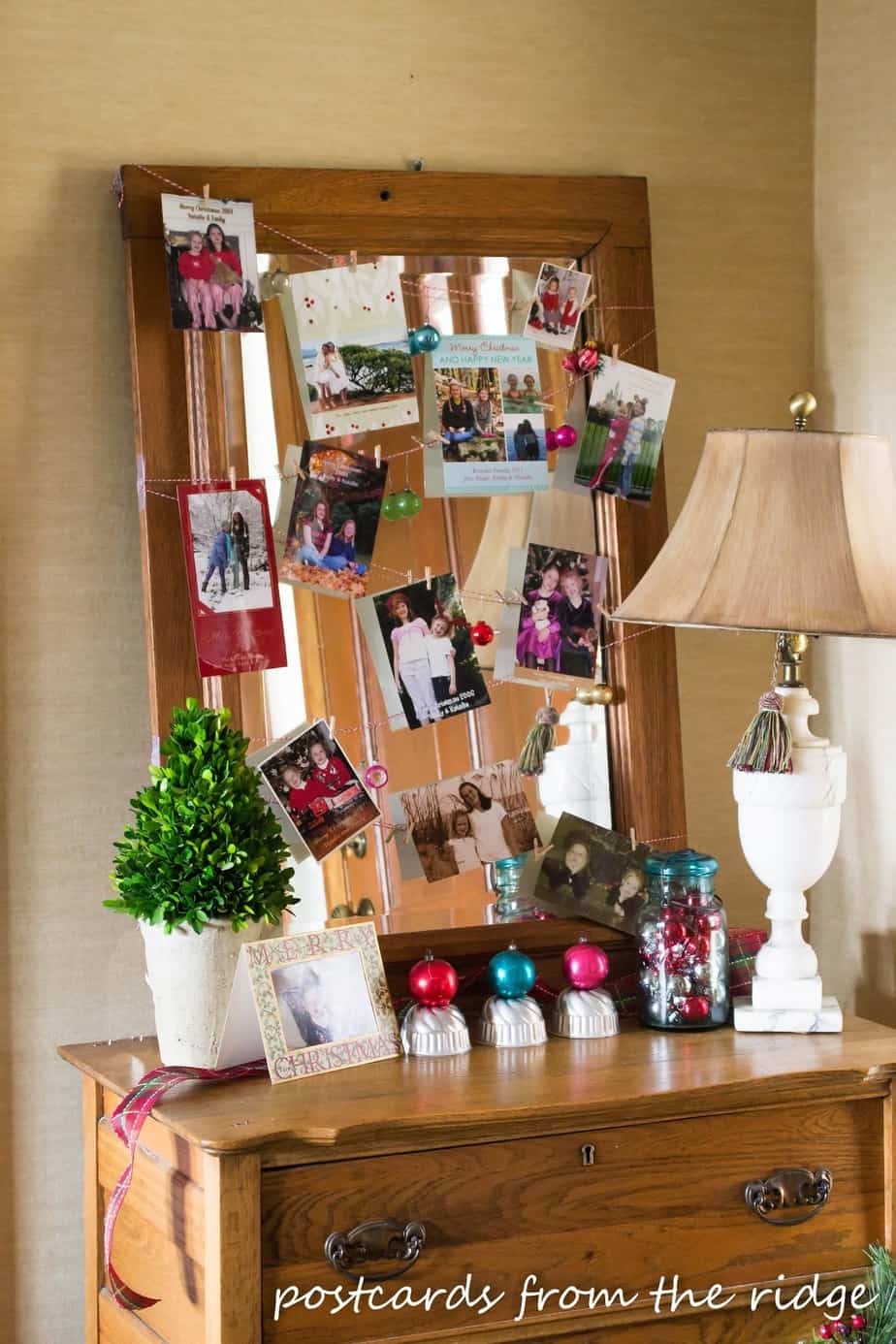 For the past 18 years, give or take a couple, we've sent out photo cards of the girls at Christmas. This year I hung them on some bakers' twine that I attached to the mirror. I added a few miniature vintage glass ornaments for a little pizazz.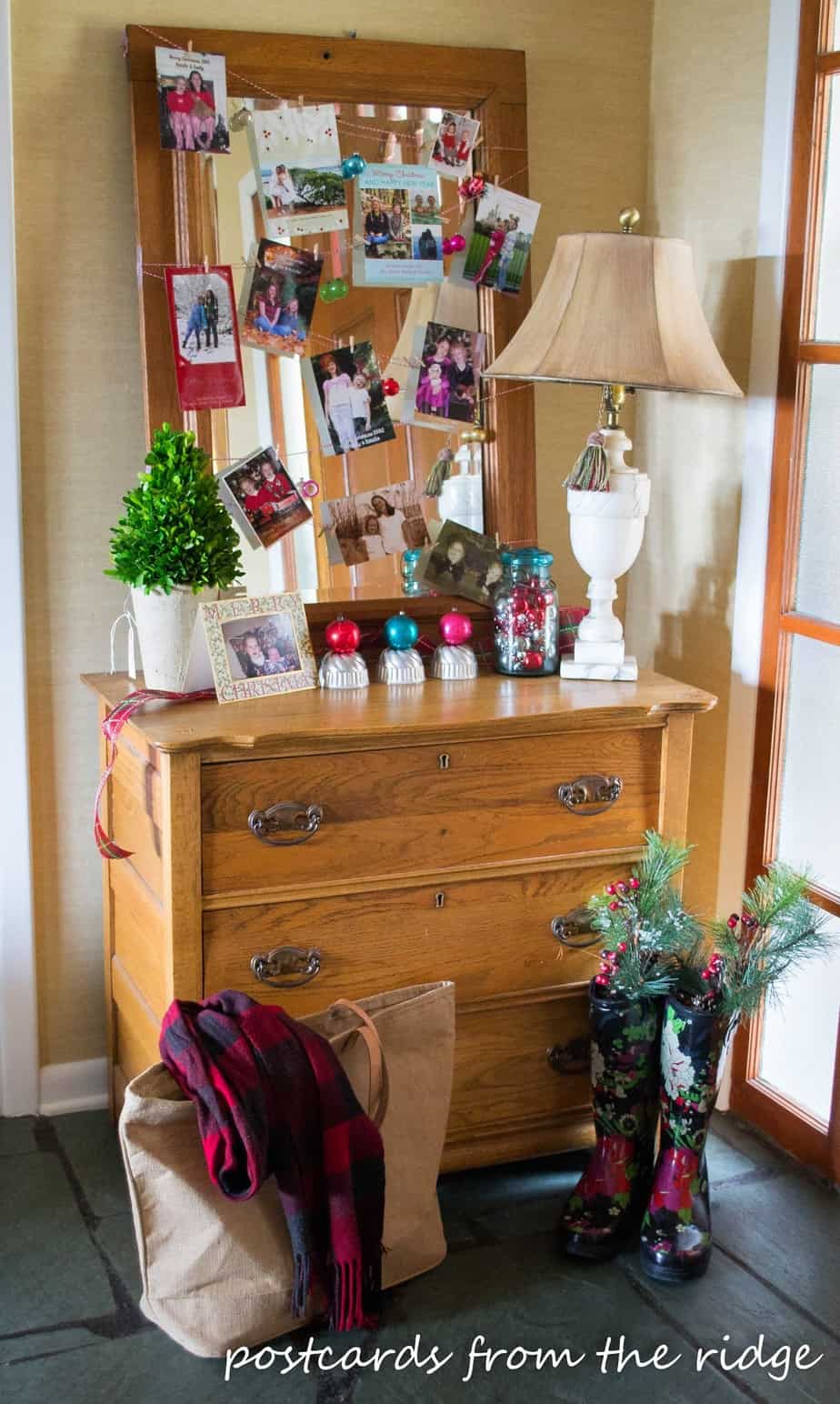 That's the entry! It's small but has just enough room for a dresser or table.
Stay tuned for a tour of other rooms of the house on Monday for our Home for the Holidays tour. And if you missed it yesterday, I shared a unique version of six geese a laying as part of a 12 days of Christmas tour. If you like Ryan Gosling, you want to see what I did. Go here for the scoop.
Here are the lovely and talented ladies on the Welcome Home tour. Drop by and say hi to all of them! And tell them I sent you!
Monday
Tuesday
Wednesday
Thursday
Friday