Benjamin Moore Shaker Beige ~ Favorite Paint Color
Hello, friends! It's been a few weeks since I posted a favorite color, but today I'm sharing our all-time most popular neutral at the paint shop, Benjamin Moore Shaker Beige HC-45.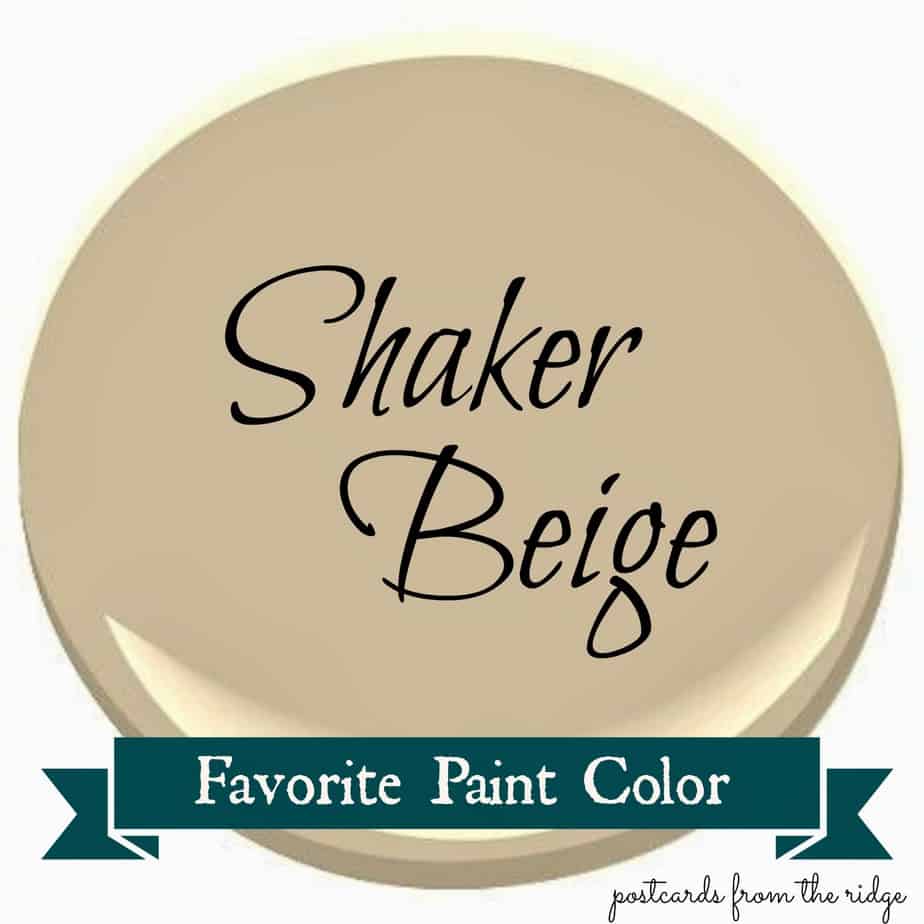 This post contains affiliate links for your convenience. I may make a small commission on products purchased with my link, but your price does not change. For full disclosure go here: Disclosure and Policies. Thank you for supporting my site.
What color is Shaker Beige HC-45
Shaker Beige a mid-tone neutral paint color with warm undertones. It's a popular beige color that's not too gray, not too yellow, not too pink, but more like coffee with cream. At least that's what my coffee looks like each morning, but I probably have as much cream as coffee in my cup!
Shaker Beige Kitchen
Isn't this a beautiful kitchen? I love the way the accent colors harmonize with the Shaker Beige in this room. I could definitely sip on my coffee with cream each morning here!
Traditional Kitchen by Rockford Interior Designers & Decorators Gallery Interiors and Rockford Kitchen Design
Traditional Kitchen by Wilmette Kitchen & Bath Designers JK Design
The trim is painted in Benjamin Moore French Canvas.
Another great kitchen here with Shaker Beige on the walls. It looks nice with the white cabinets, black counters and wood floors. And the lights over the island and the dark teal cabinet on the far wall are all gorgeous.
Benjamin Moore Shaker Beige Living Room
The lighting in this photo and the crisp white trim make the Shaker Beige look darker in this photo. It complements the wood tones, oranges, and grays beautifully.
Modern Living Room by Seattle Home Stagers Seattle Staged to Sell LLC
Shaker Beige Dining Room
This modern dining room looks stunning with the artwork, lighting, fireplace, and pops of color on the mantel. The Shaker Beige walls are the perfect backdrop for all of it.
Transitional Dining Room by Chicago Interior Designers & Decorators Tom Stringer Design Partners
Shaker Beige Family Room
Here's a cozy family room with Shaker Beige walls and dark brown furniture. Although I usually use more accent colors in rooms, I love the serenity of all the neutral shades in here. What do you think…too neutral or just right?
Traditional Family Room by Burnsville Design-Build Firms Highmark Builders
Another family room here that looks so comfortable. The Shaker Beige walls perfectly complement the stone fireplace and neutral decor. Any color throw pillows or a colorful area rug could be added for a pop of color.
Contemporary Family Room by Chicago Interior Designers & Decorators Michael Abrams Limited
Do you like Shaker Beige? Have you used it before? As I stated earlier, it's the most popular wall color for us over the past 20 years or so. It's the perfect warm neutral.
Thanks so much for dropping by my little space on the world wide web!