Open House ~ Fall Tour of our Kitchen
Hello, friends! Welcome to our kitchen! This is the first official tour I've done of the kitchen. I hope you enjoy it and get some good ideas for decorating for fall while you're visiting.
Although Thanksgiving is several weeks away, there's always, always, always something to be thankful for. Always.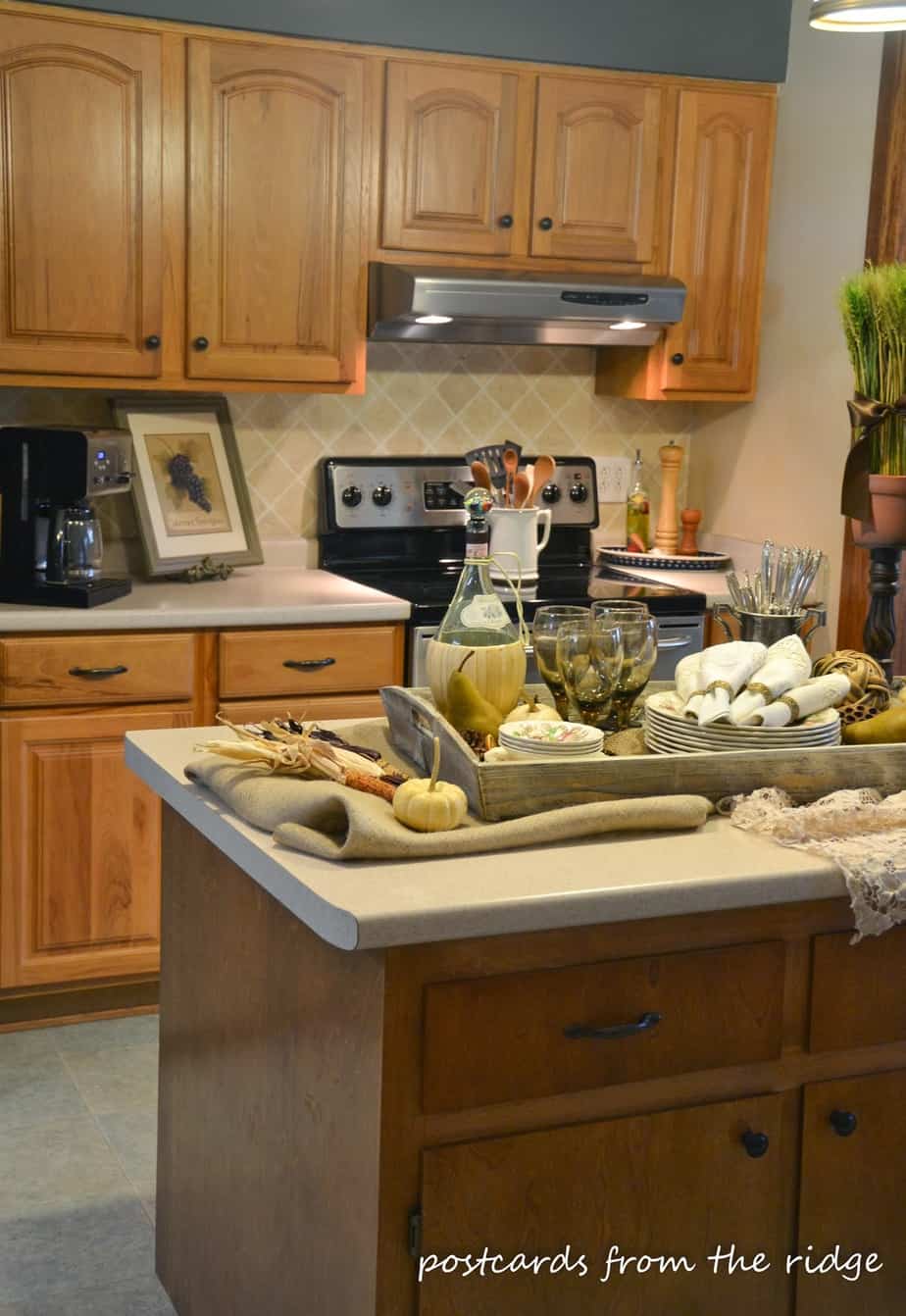 I'm thankful that we have a spacious kitchen where everything works the way it should, and all the cabinet doors close properly. You don't really want a tour of the inside of those, trust me. 🙂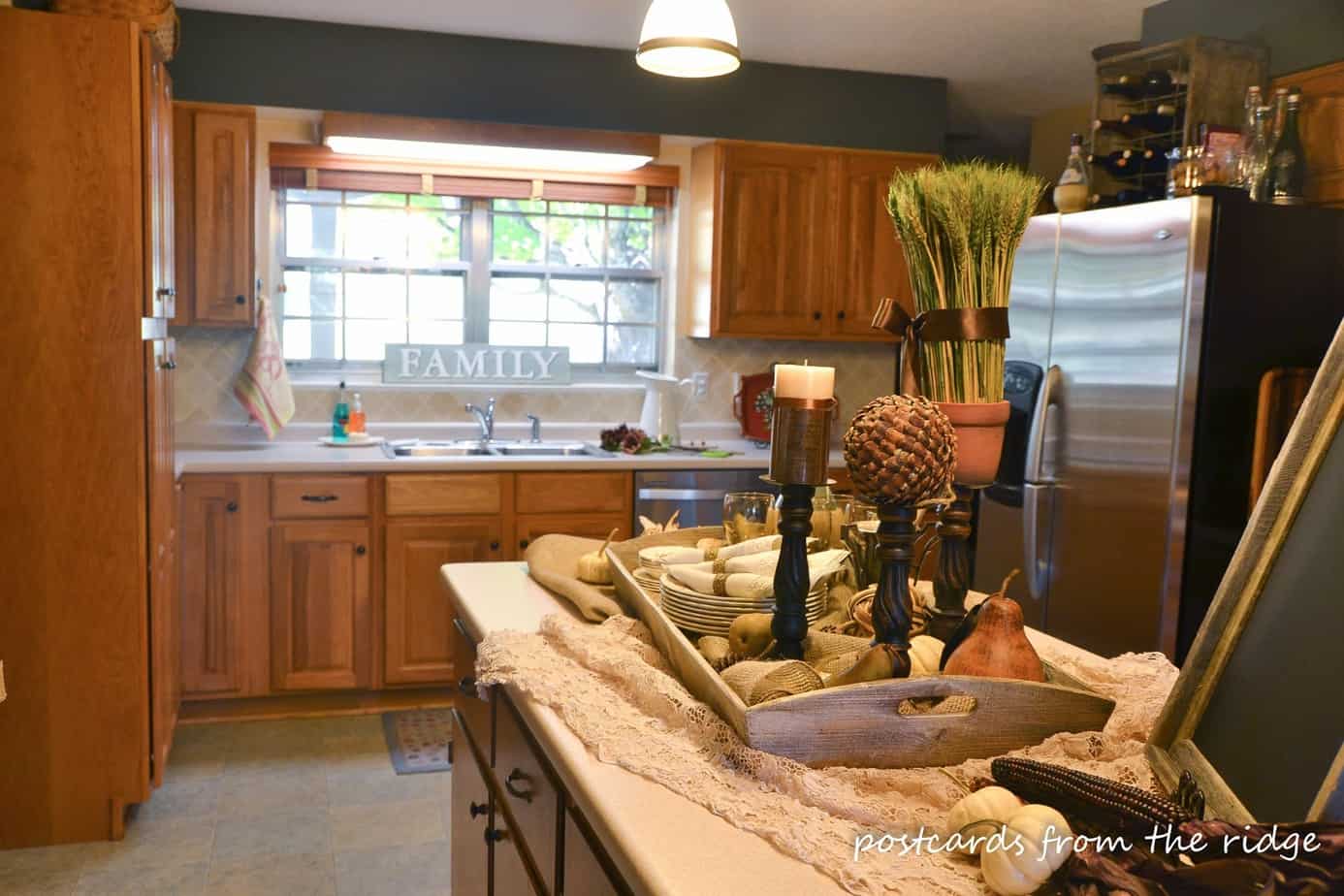 And I'm truly thankful for our island. It usually doesn't look quite this nice, but since I knew you were coming I decorated it for the occasion. Mail, school papers, and other things clutter the top of it most of the time. But again, I knew you were dropping by today so I corralled them elsewhere.
Over by the sink, I'm thankful for my little helping hand. I found this little milk glass cutie at an estate sale a couple of years ago. It's perfect for holding my watch and ring when I wash dishes.
And if you look closely here, you'll notice that the tiles are painted on the wall. I painted these faux tiles 6 years ago, not long after we moved in and removed the vintage early 90's wallpaper from the walls. I used pinstriping tape and several shades of paint to make the walls look like tumbled marble tiles. What do you think? Does it look like actual tile?
I'm also thankful for my collection of vintage dishes, napkins and silver. I don't get them out too often, but thought they would look nice on the island today.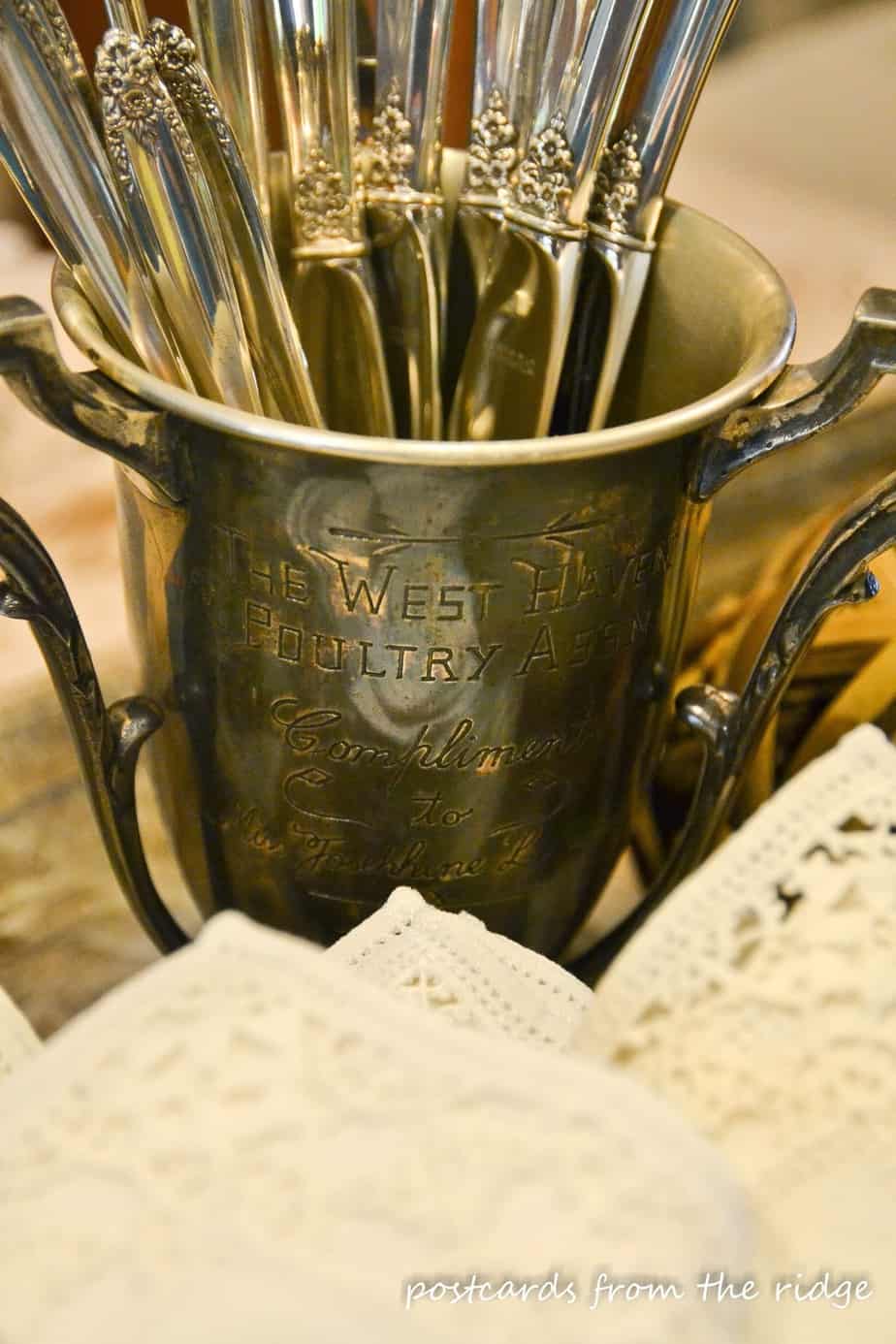 I'm thankful to have this trophy as a fun place to hold the silver ware.
Thankful and blessed. I really love using natural elements like Indian Corn and pumpkins in fall decor. The texture of the burlap and the wooden tray add a cozy vibe to the mix.
The greenish pears are also a favorite item of mine to decorate with in the fall. And the vintage lace adds a nice texture here.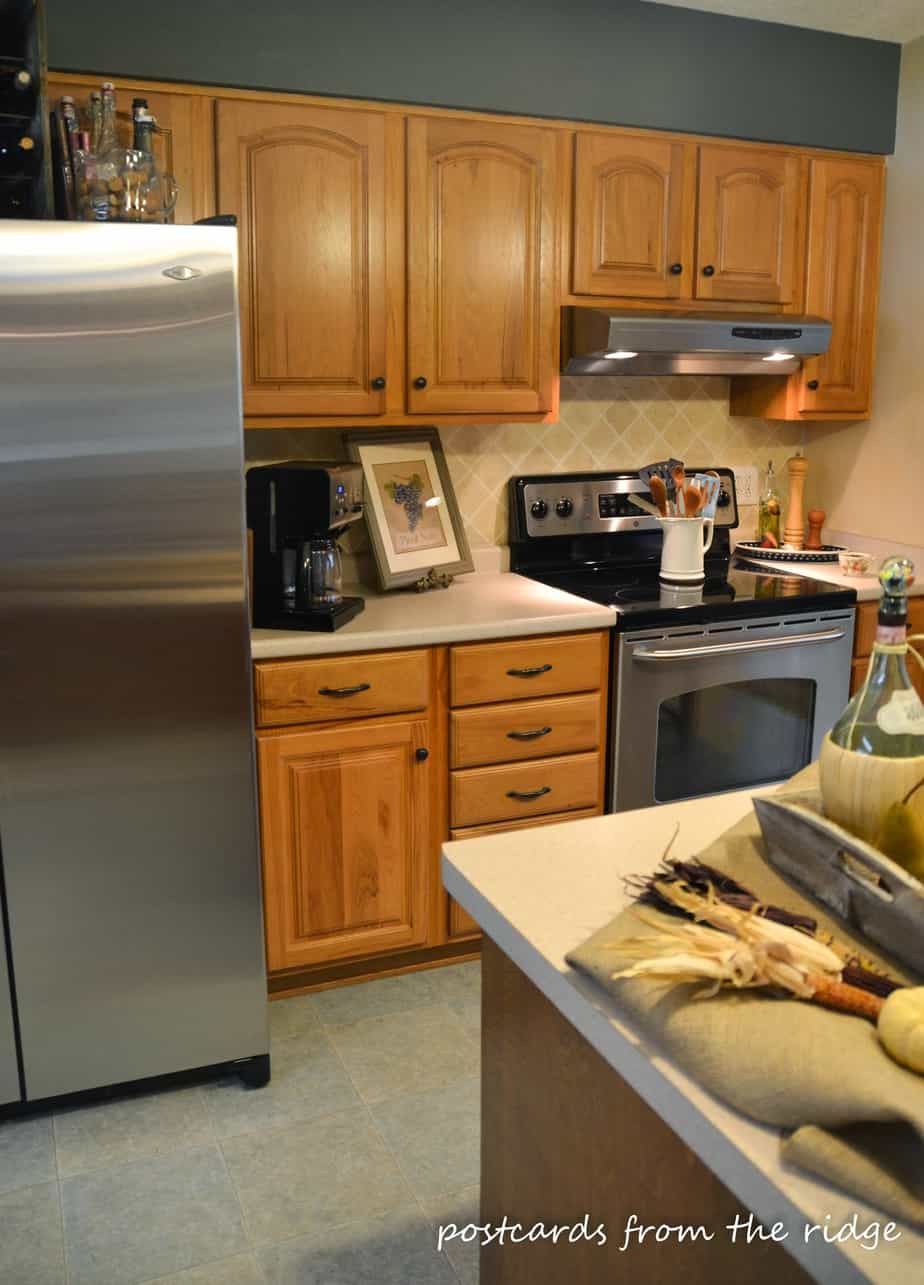 I cook several nights a week since we all really enjoy sitting down together at the dinner table.
If you're interested in knowing how I keep the glass cooktop clean, I've got a great tip for that here. And one for the stainless steel appliances here.
Who's ready for dinner?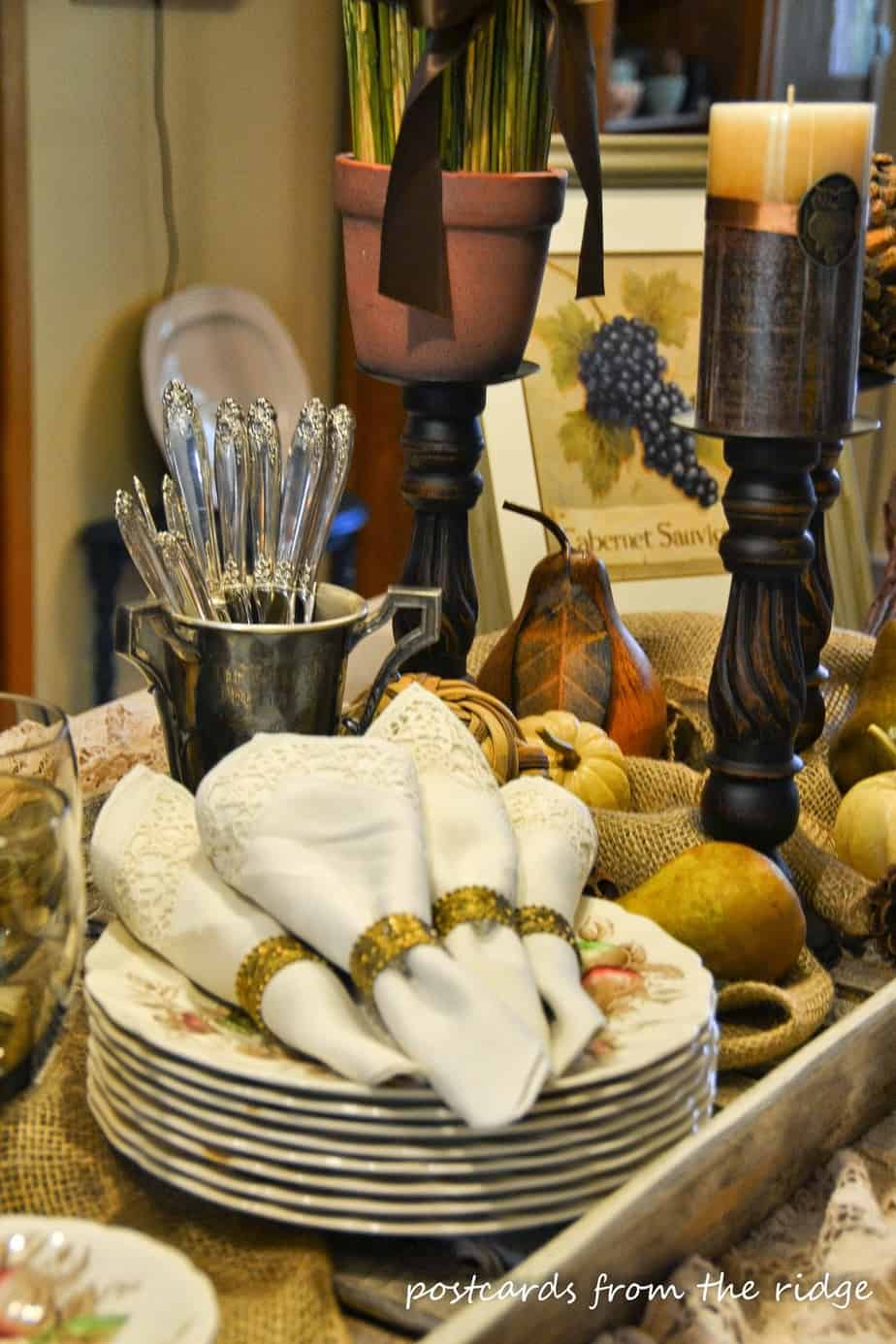 From this vantage point, you have a sneak peek into the breakfast room, which used to be the dining room. The previous owners did a remodel to the kitchen and knocked out most of the wall between the two rooms. This really opened up the space and made it seem much larger. The remodel meant that we don't have a formal dining room, but we're ok with that since dining rooms are rarely used in most homes.
I'll have a tour of the breakfast room very soon, so stay tuned for that.
Natural items, lace, and burlap. And thankful.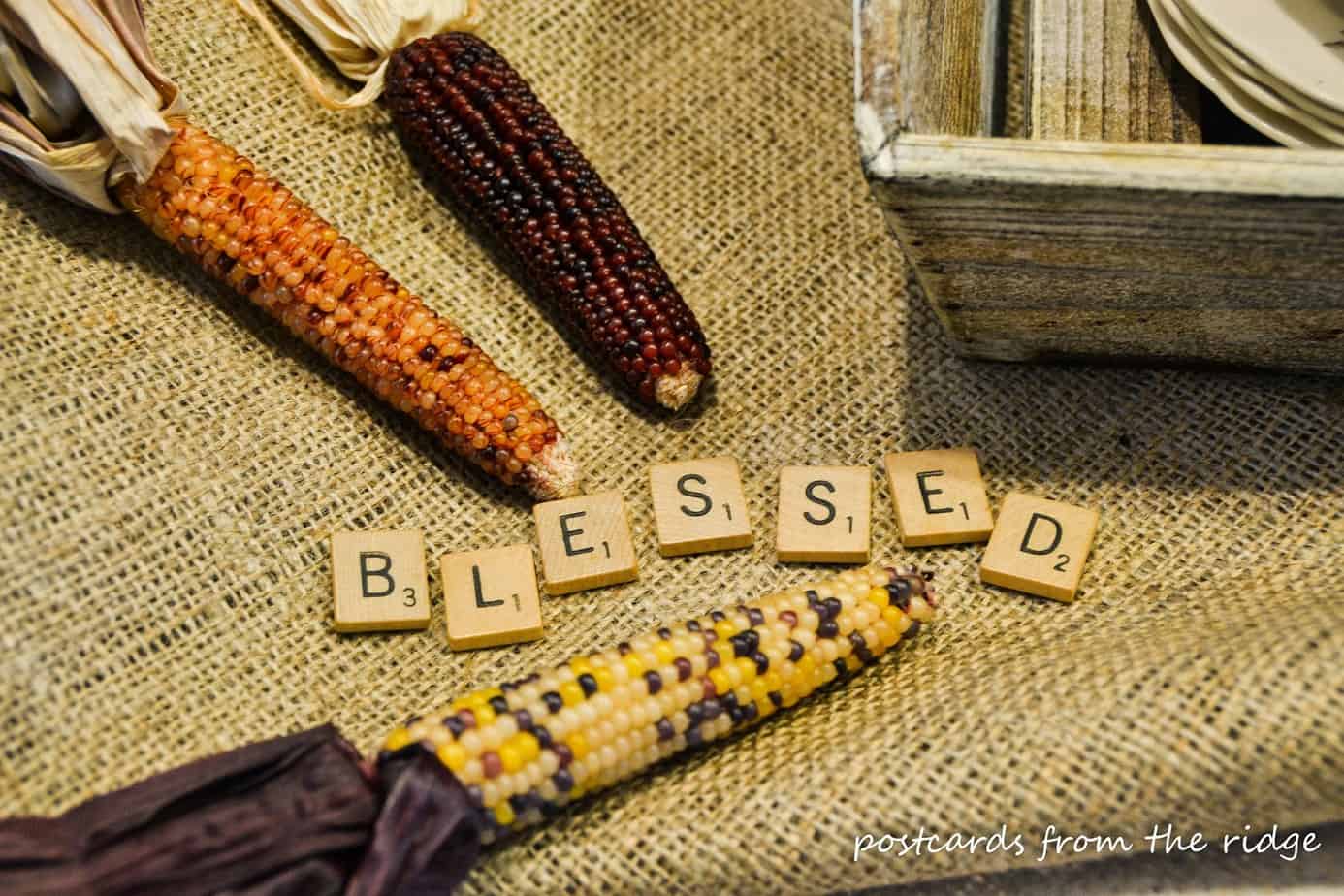 Blessed.
Thanks for dropping by and touring the kitchen.
For a peek at our family room, go here.
To see the living room, visit here.
Our guest room can be seen here.
The master bathroom is found here.
I'll be posting a tour of the breakfast room and master bedroom very soon, so be sure you're following me to get to see those spaces too. Scroll down for various ways to follow along.
Again, thanks for stopping by for a visit today. Let me know what you think of our kitchen.
XOXOX,
Angie
If you like my posts, I'd love it if you'd become a follower. You can keep up with my latest projects, tutorials, favorite paint colors, photos and tips many ways, including:
Email * Facebook * Hometalk * Pinterest * Twitter * Instagram