Holiday Tour ~ Guest Bedroom and Entry
I don't know about anyone else, but we don't have all of our Christmas decor up yet. We plan to get our tree on Saturday and spend the day getting it all prettied up for the season.
We had Thanksgiving at our house this year so there were lots of preparations that went into that. And some of our dear friends from Maryland spent Friday and Saturday nights with us so that meant that our guest room had to be ready. I repainted it a few weeks ago and then spruced it up for the occasion. It's the only room in the house that's completely decked out for Christmas and I thought it would be a good time to do a little tour.
Most of the items in this room were things we already owned. The bed was already in here, but everything else came from somewhere else in the house. Some of it was in our garage, which may be featured on "Hoarders" soon if we don't get it emptied out. The only thing that was purchased specifically for this space was the quilt and shams.
Welcome to our guest room!
I love the reflection of a Christmas tree in a mirror.
I usually just have a tiny 16″ tree in here, but I found this one at an estate sale a few weeks ago and thought it would be perfect for the corner of this room. It was already decorated. I love easy.
Here's a view of the room looking in from the hallway. It's the smallest room in the house so it was impossible to get a good shot. I put my collection of white mirrors in here to help make the space appear a little larger. I took pictures three different times and never did get great lighting in here.
I've been accumulating these mirrors over the last 15 years or so. Some are vintage, others are newer. The one on the left side didn't have a mirror in the back when I got it. It was just a wooden wall hanging, but I thought it needed to be a mirror so I had one put in by a local glass company,.
This desk was one of my mother-in-law's prized possessions and I always admired it in her home. We acquired it a couple of years ago but I just moved it into this room about 2 weeks ago. I think it's just perfect in this spot. I swear I actually heard it hum a Christmas carol when I moved it in here.
I love the detailing on it, and even like the old, smoky mirror. If this piece could talk, I'm sure it would have some great stories to tell.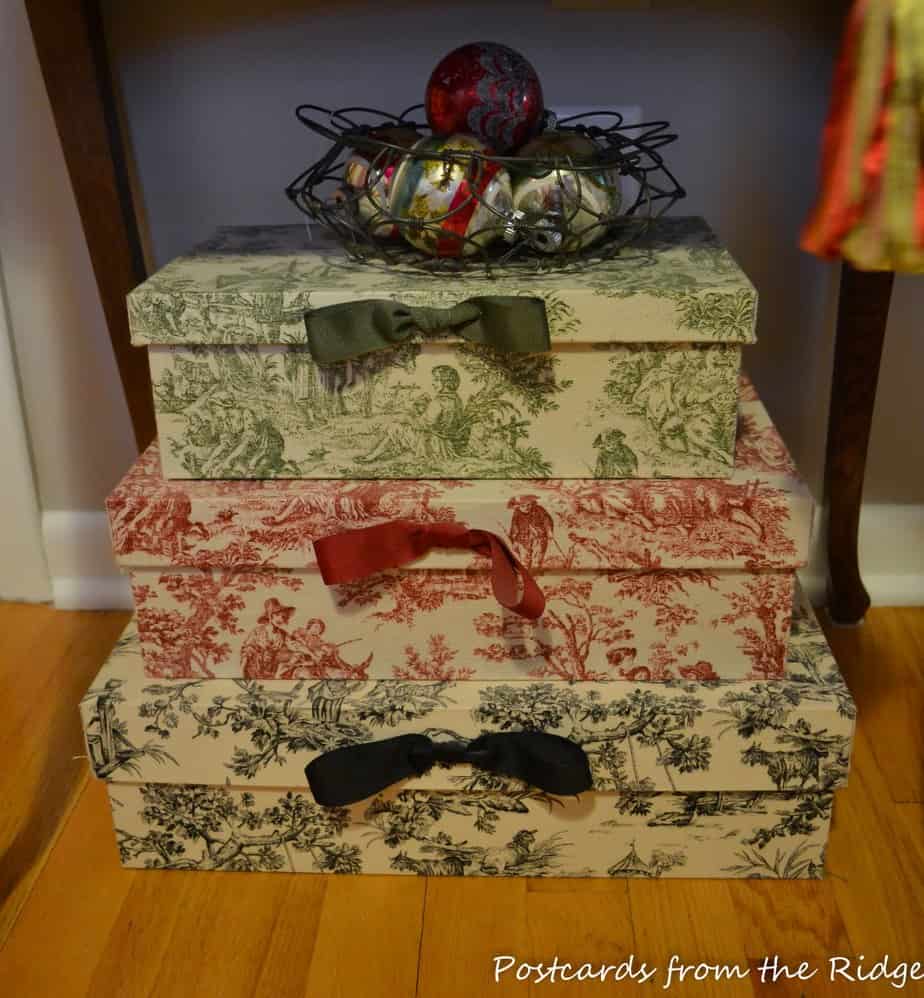 I'm a softie for toile, and stole these fabric covered boxes from my office and am now using them underneath the desk. They actually look kinda festive in their red, green, and black. The vintage shiny brite ornaments came from a yard sale. I got a whole box full for 50 cents. That was a happy day.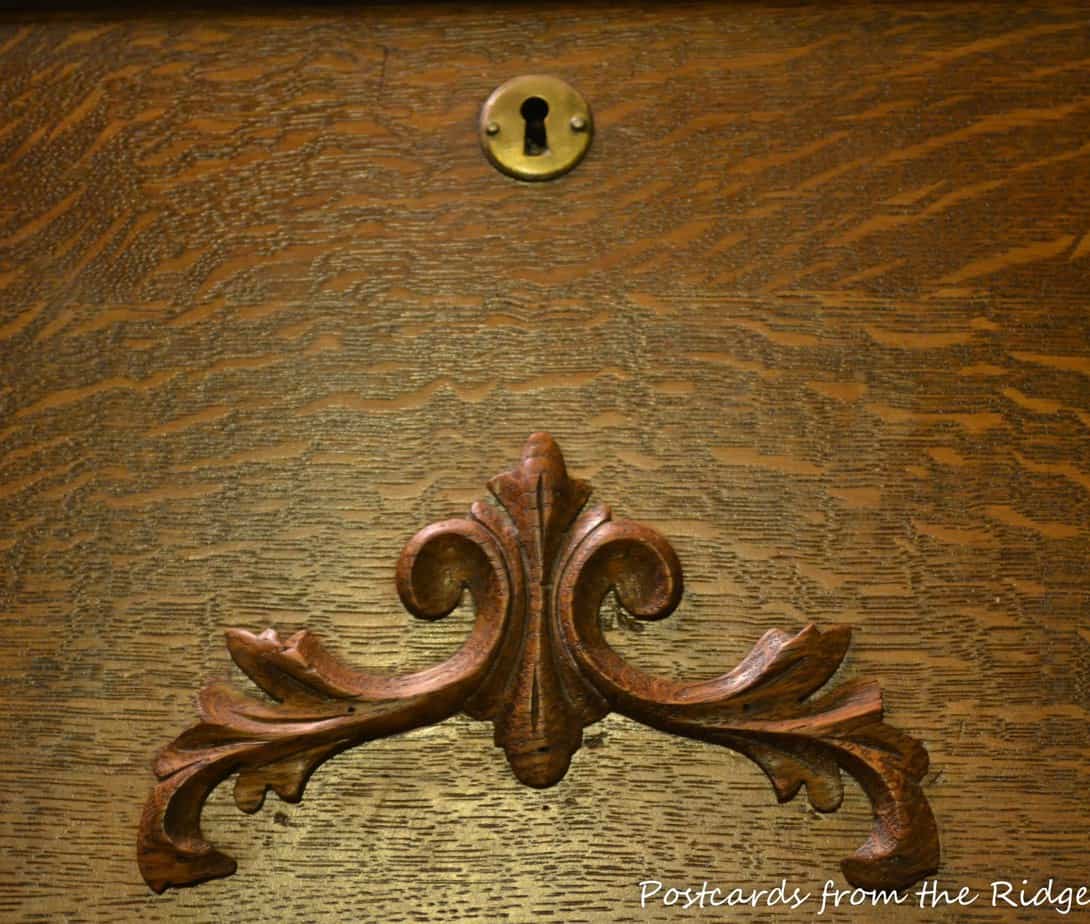 Close up of the detail of the desk. My mother-in-law had it refinished at some point. She would be proud of it now.
Another view of the bed. The quilt and shams were purchased a few weeks ago at Belk during one of those 50% + 20% plus free shipping super sales they're always having. I already had everything else in the room, except the linen Euro shams, which were bought on sale at Pottery Barn. My 13-year-old gave this room her seal of approval when she declared that it looks like a "Target room".
I adore mercury glass and linen and monograms. I could have these in every room in the house and never get tired of them.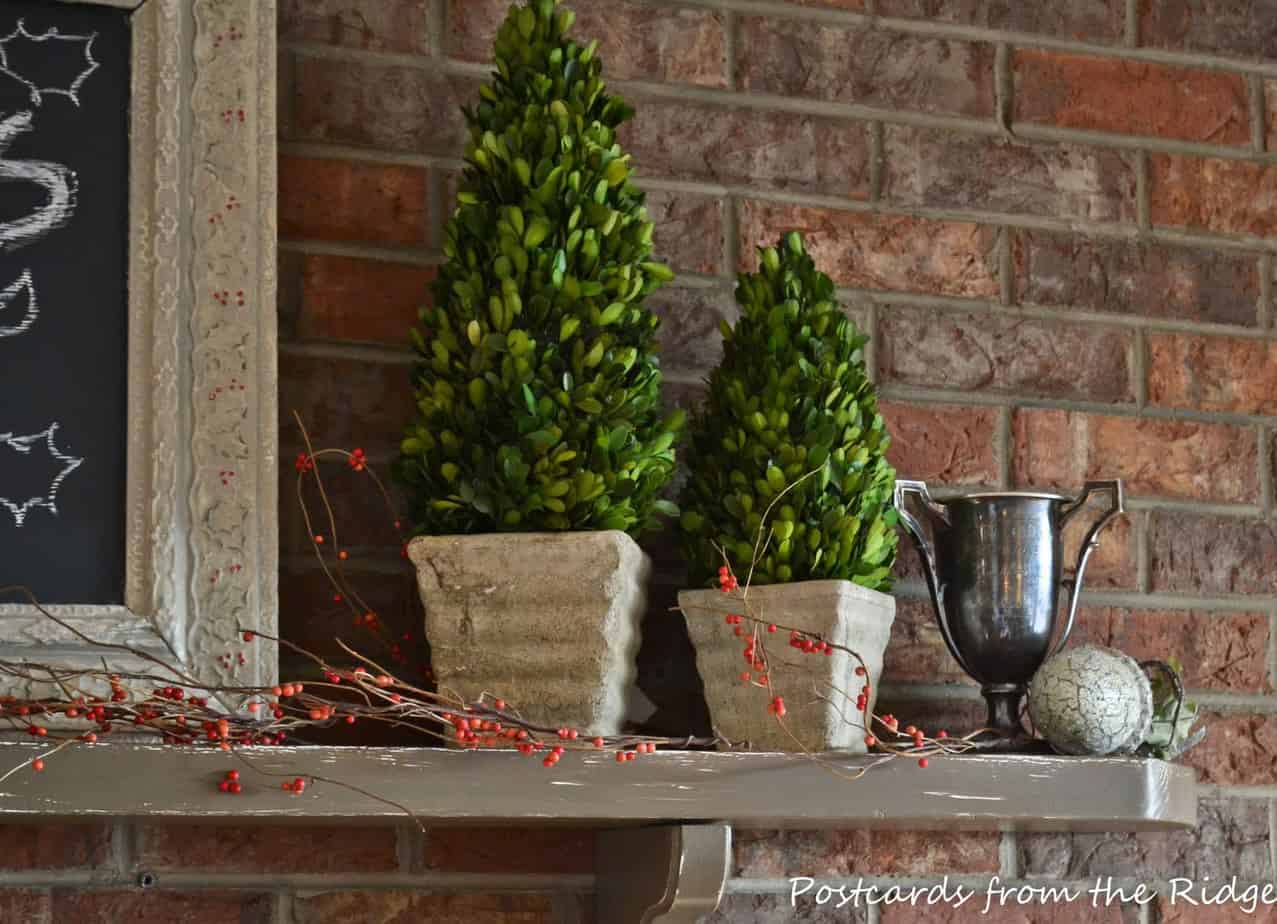 No I don't have a fireplace in the guest room! This is a sneak peek at the living room mantel. My holiday chalkboard is on the left. I'm trying to learn how to do those cool chalkboard letters. And not succeeding so far. But practice makes perfect, so I'm still trying. I'll have picture of this room after we put the tree up this weekend.
Our entry. It gets changed out pretty regularly. I always put pictures of the girls from Christmases past in this little picture tree that I've had for years. If you follow me on facebook, you might remember this piece of furniture. I posted a before picture of it a month or so ago. This is how it turned out.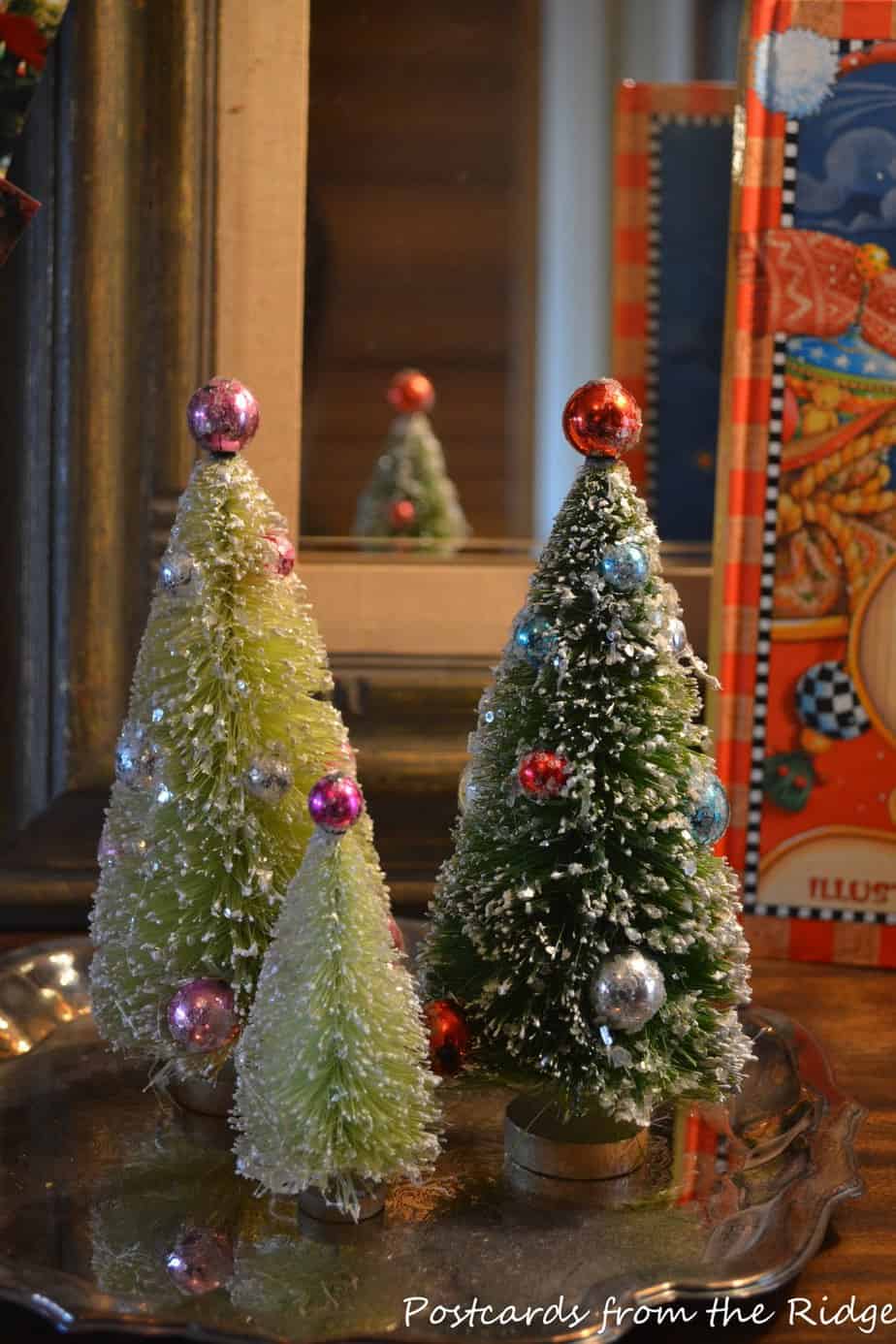 Tiny bottle brush trees. I think these are so adorable. Even if they do tip over sometimes and get glitter everywhere. They make me smile when I come through the front door.
That's about the extent of what we've got decorated around here. Stay tuned for updates as we add more.
Thanks for taking the tour!
Have a great weekend.
And by the way, today I'm thankful to have a real day off and have enough time to sit down and do a post.
XOXOX,
Angie
If you like my posts, I'd love it if you'd become a follower. You can
keep up with my latest recipes, projects, tutorials, photos and tips many ways,
including: