How to clean stainless steel appliances
Stainless steel appliances always look so good in the showroom. All
sparkly and shiny and pretty. And then you buy them, bring them home,
and very soon start cursing them for all those fingerprints that seem
to never go away!
We've had stainless appliances for
about 6 1/2 years now and I've actually grown to love them, although I
didn't at first. Yes, they are a magnet for fingerprints and smudges.
Especially when you have a family of four that spends lots of time in
the kitchen.
But it's really easy to get that showroom shine back. For a little while anyway!
After my previous post about how to make your glass cooktop sparkle,
I've gotten quite a few requests to share how I get our stainless steel
appliances to shine. So once again, I'm spilling my secrets.
As I stated in my post about cleaning the glass cooktop, I'm NOT a clean freak by any means. But I do like things to be clean and shiny every now and then. For at least an afternoon!
*disclosure – this post contains affiliate links. I might make a few cents if you purchase something you've seen in this post but your price does not change. This helps offset the cost of operating this blog and materials for the projects involved here. This post is not sponsored by any brand. Thank you for your continued support*
I've tried several cleaners over the past few years and the one that I've found that works the best and lasts the longest is called, appropriately, Stainless Steel Magic by Magic American. (NOTE: I've had mine for over a year since I don't have to use it very often, and I think the bottle now has an updated look.)
The other stainless steel cleaners and glass cleaner all left streaks on our appliances. And I really don't like streaks.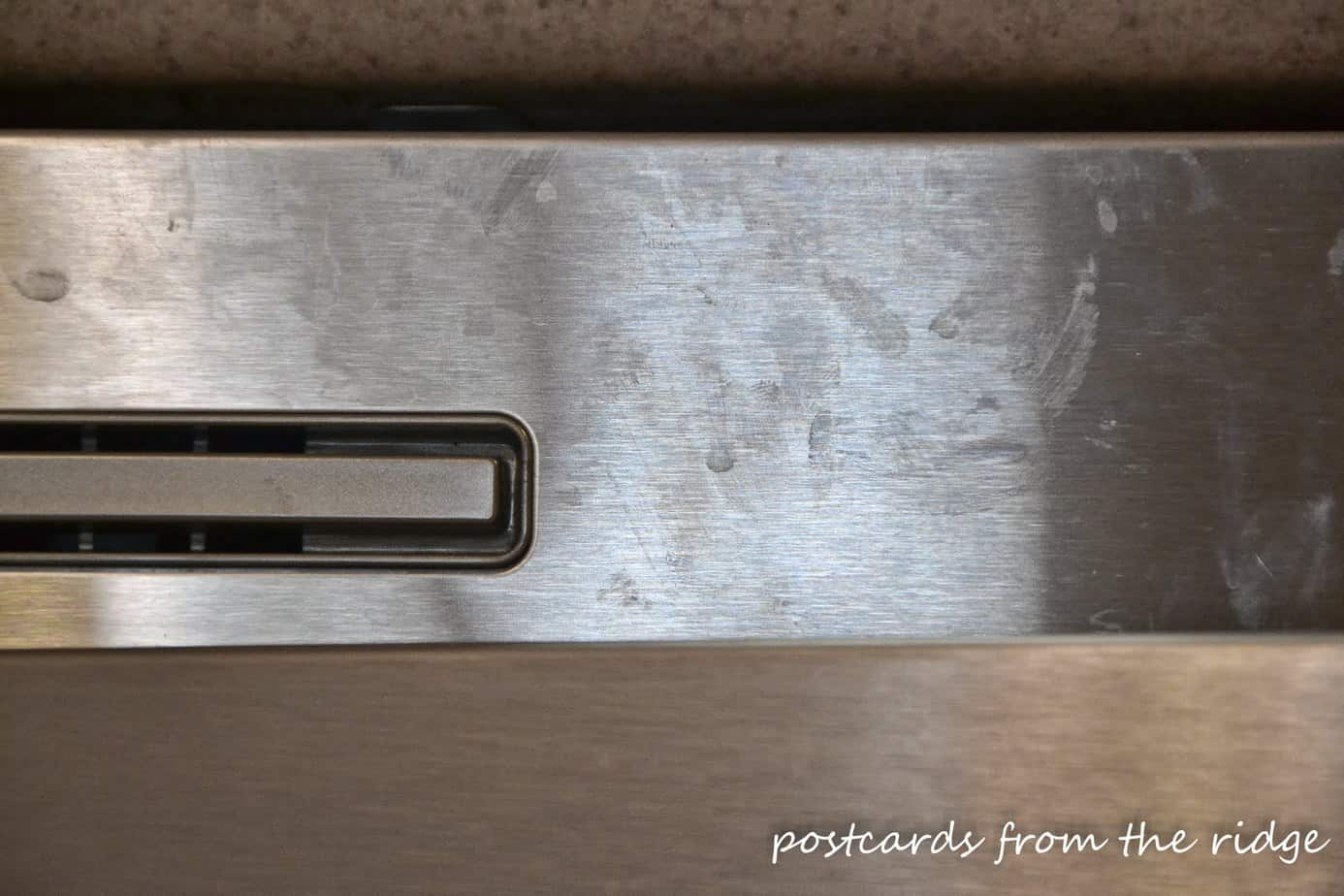 Above is a peek at what it looks like before I clean it. Welcome to the real world.
And after I clean it. Much better. And it doesn't take long at all!
Here's my routine:
1. Clean off any spatters or buildup of gunk with a damp cloth. Wipe off any excess water.
2. Shake the bottle well first, then spray the surface with the Stainless Steel Magic the same way you would spray glass cleaner on a window, not too much, not too little. The Stainless Steel Magic is a little thicker than glass cleaner and will cling to the surface better and not run.
3. Using a clean, soft microfiber cloth, wipe the cleaner over the entire suface. In most cases, wipe in the direction that the steel runs. I would say go with the grain, but technically stainless steel doesn't have a grain. You get the idea.
For our refrigerator and oven, it works better to to in the same direction as the "grain", but on the dishwasher it actually looks better to go in the opposite direction. Go figure. So just wipe in the direction that works best for your particular appliance.
4. Your cloth will become saturated with the cleaner. Just turn it and continue wiping the surface until it's all covered. You might have to go over stubborn spots again.
5. Allow the cleaner to sit on the surface for a couple of minutes, then buff/wipe the surface and remove any excess cleaner using another clean, dry microfiber cloth. Once again, in most cases, wipe in the direction of the "grain".
6. That's it. Toss the microfiber cloths in the dirty laundry and tell everyone how hard you worked to make that stainless steel look like new. Nobody has to know how easy it really is. It can be our little secret! 😉
How long does it last? That all depends on how messy your spouse/kids/pets/etc are, and the appliance. Mine are fairly messy, but the fridge stays looking pretty good for at least a couple of weeks. The dishwasher is the quickest to start showing fingerprints, sometimes in less than a week, most likely because our fingers are wet when we close the door after loading it.
In between cleanings, I just wipe off the appliances around the handles once or twice a week with a damp microfiber cloth. It only takes a minute to do, but it makes things look a lot nicer.
The cleaner has a built-in polish that repels fingerprints and smudges for a while, but they do return eventually.
Where do you buy it? I purchased my bottle at work. And along with everything else under the sun, you can find it on Amazon. A bottle lasts forever so it's definitely a worthwhile investment.
,
I also use it on our stove. If you want to find out how to make a glass cooktop so clean that it has a reflection, be sure to find out my secret for that here.
Coming soon, I'll share what I use to keep our glass shower door clean. The owner of the glass company that made our shower door let me in on his secret and I'm going to share it with you. I'm just waiting on a day with some sunshine so I can get some nice pictures of the bathroom. Stay tuned for that tip.
Let me know if you've used the Stainless Steel Magic and what you think of it. As I said, I've tried several, but this is my favorite. It really works.
XOXOX,
Angie

If you found this tip helpful, check out my other cleaning tips:
Other tutorials that I've written:
If you like my posts, I'd love it if you'd become a follower. You can keep up with my latest recipes, projects, tutorials, photos and tips many ways, including:
Email * Facebook * Hometalk * Pinterest * Twitter * Instagram
Disclosure:
The opinions in this post are mine, based on my own personal experience using the specific products mentioned here. I have not been paid by any of the brands mentioned to recommend their products. I am, however, an Amazon associate which means that if you purchase something from them after clicking a product link listed here, I might make a few cents from the sale. Please follow the manufacturer's instructions for any product you use.