25 Ideas for Home Offices You'll Love
Looking for ideas for home offices? Working from home doesn't have to be boring and drab. Here are some great ideas from my talented home blogging friends.
Ideas for Home Offices
Home office in an armoire
But first, here's a peek at my home office. It's not actually a full office, but is instead a corner of our family room where my work necessities are tucked away inside of a computer armoire. It's nice because I can close it off whenever we have guests.
Full disclosure, it's not always this tidy. In real life it has more papers and post-it notes. And I keep most of my craft items stored downstairs in my craft room/studio. You can tour it here: My Craft Room/Studio. And my printer and office supplies are in the closet just to the left of the armoire. It's here: Office Supply Closet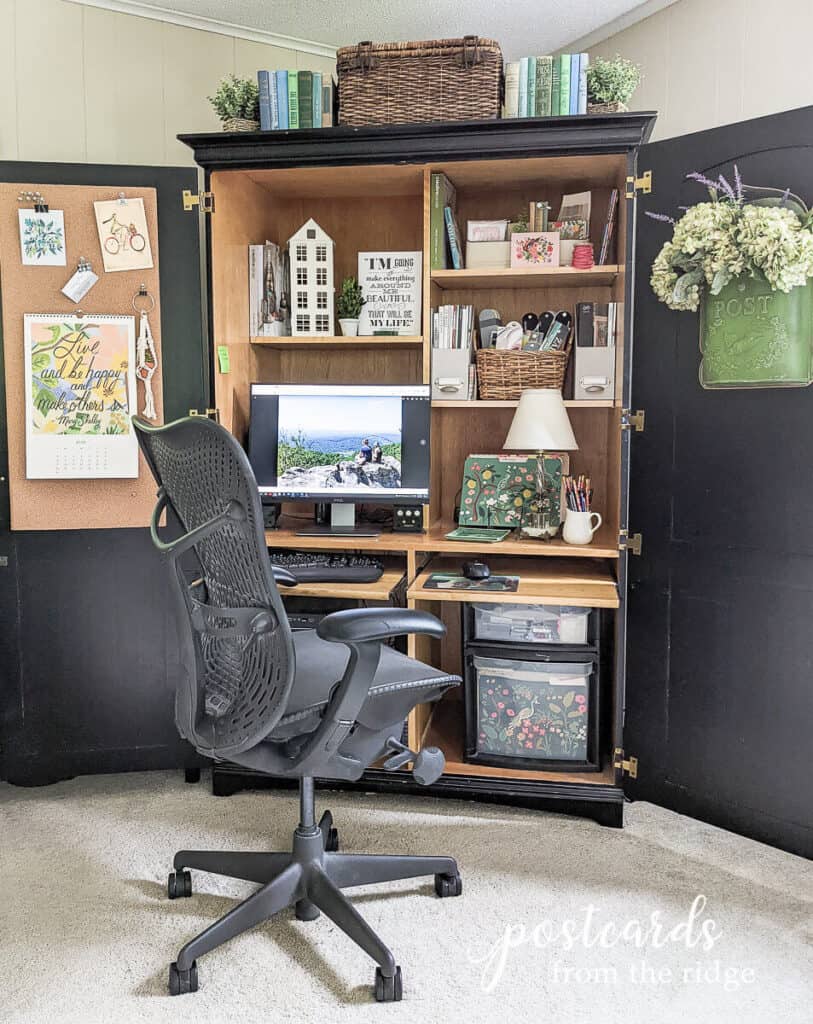 What should be included in a home office?
You don't need an entire room full of equipment or shelves for an efficient home office. These are the essentials for any home office but you can always add more if needed:
Laptop or desktop
Desk – this can be a small table, secretary, or any flat surface to work from
Filing system – you'll likely need at least a few folders and some type of filing system.
Organizers – papers and pens will need to be organized
Chair – a good office chair will keep you comfortable and productive. Choose function over style.
Additional items you might want for your home office:
Task lighting
Filing Cabinet
Printer
See some of my favorite home office items here: Home Office Items
How can I make my home office look good?
There are a variety of ways to make your home office look good. Here are a few of my favorites:
Use baskets, bins, and organizers to keep clutter at bay
Hang a bulletin board and add inspiring images
Use a pretty wall calendar
Display photos of your family or favorite vacation spots
Add some plants
Use a nice area rug
Make it personal with accessories that you love or that have meaning
Add a pretty lamp
Ideas for Home Offices from 25 Real Homes
Now let's tour some of my friends' home offices. There are so many great ideas and I'm sure you'll find some you can use in your home.
25 Inspiring Home Offices in Real Homes
Whether you're working from home or just need a place to craft or pay the bills, it's always nice to have a dedicated space. I asked some of my home blogging friends to share their offices and they really know how to make them look amazing. Here are some great ideas for office and work spaces including entire rooms, closet offices, under the stairs, and more. Plenty of creative tips to inspire you!
I hope you've found some ideas and inspiration here today that you can use. Leave me a comment below and let me know what your favorite tip was!