Cricut Maker – What is it and what can I do with it?
This is a sponsored post written by me on behalf of Cricut. All opinions are 100% mine.
Answers to the most-asked questions about the Cricut Maker
Hello, friends! Have you been seeing all the amazing projects people are creating with the Cricut Maker and are curious to learn more about it? Today I'm answering your questions about the Cricut Maker including examples of various of projects you can make, the different types of materials you can cut, how this machine is different than others, ideas for making money by using the machine, and various add-ons you might need along with their costs.
This post contains affiliate links for your convenience. For full disclosure go here.
I've had my Cricut Maker for a little over 6 months and have thoroughly enjoyed the different projects I've made with it. I have a list of many more projects that I want to make and hope to share them with you over the next few months.
What kind of projects can I make with my Cricut Maker?
The amount of things you can make with a Cricut Maker is amazing. It will be harder to decide what NOT to make than it will be to choose your project. Here are a few ideas:
Face masks – make your own custom face mask using the patterns in Design Space and your favorite fabric
Signs – create your own with vinyl letters or by making and using a stencil with paint
Pillows – hundreds of designs available in Cricut Design Space or create your own design
Organization – labels and tags for jars, boxes, baskets, tins, bins, and more
Party Supplies – cake toppers, table decorations, wall banners, and more
Cards – use the machine to draw or cut hundreds of designs
Wall Art
Personalized Gifts – mugs, bags, hats, tote bags, and so many more
Paper Flowers, leaves, houses, and so much more
Banners – paper or fabric wall banners and garlandes
Fabric projects like aprons, hair bands, pouches, flowers, and more
Puzzles
There are hundreds of projects in the Cricut Design Space ready for you to make. Or you can create your own unique project uploading your designs or using the vast selection of fonts, images, and more that are available to you in Cricut Design Space. It's easier than you think, and there are tutorials to help you learn how to use it.
Here's one of my recent projects. I used a leafy branch image and font from Cricut Design Space to create the simple label for my olive oil dispenser below. It took me about 20 minutes from the time I began my search to the time I had the label on the bottle.
Here's another easy project I made using the fonts and shapes from Cricut Design Space. A simple shape cutout of cardstock with a scroll design and bold letters helped me organize incoming mail and keep our counters from getting so cluttered.
My in-depth tutorial for this project is here: DIY Wooden Toolbox Mail Organizer
What types of materials can I cut with my Cricut Maker?
The Cricut Maker cuts over 300 different materials including the following:
Paper
Vinyl
Iron-On
Felt
Fabrics
Window Cling – perfect for car window monograms or signs
Wood
Stencil Material
Chipboard – this is great if you're project needs some extra dimension.
Leather
Foil
Kraft Board
Here's my very first project with my Cricut Maker. I used holly leaf shapes from Cricut Design Space and created this festive little felt holly wreath. It would have taken me many hours to cut out all of those little leaves. The Maker cut them perfectly and saved me so much time.
You can see the full tutorial here: How to Make a Felt Holly Wreath with a Cricut Maker
What makes the Cricut Maker different from other cutting machines?
I wrote a full-length post a couple of months ago discussing many of the differences between the Cricut Maker and the Cricut Explore Air 2 machines. You can see that post here: Cricut Maker vs. Explore Air 2
These are just a few things that differentiate the Maker from other cutting machines.
The Cricut Maker allows you to cut much more than paper, vinyl, and iron-on materials like you can with other machines. In addition to those basic cutting capabilities, you can cut and make projects with fabric, wood, leather, chipboard, corrugated cardboard, and much more.
It also has bluetooth capabilities and faster cutting speed than other machines.
And you can make patterns with the Cricut Washable Fabric Pen.
The engraving tip is exclusively made for the Maker and allows you to make intricately engraved dog tags (human or canine), name plates, inscribed art and decor, jewelry, monograms, and keepsakes
My personal favorite feature of the Maker is how nicely it cuts fabric with the rotary blade that comes with the machine. I used some scrap fabric for the floral hearts below and plan to make lavender sachets with them. I would never be able to cut fabric as crisp or evenly by hand.
How can I make money with a Cricut Maker?
If you're looking for a way to generate some income while using your creative talents, a Cricut Maker has many ways you can do that.
Etsy shop or shopify shop – open your own shop and offer your creations to a huge market. I recently wrote a post with some tips for selling items online and you can read it here : Ecommerce 101: How to sell items online
Face masks – create fun masks with your favorite fabrics and the patterns provided in Design Space
Party decorations and favors – birthday, retirement, graduation, wedding/baby shower, etc
Stencils – design and your own stencils and offer them for sale
Labels – pantry, linen closet, garage
Personalized Items like mugs, tumblers, water bottles, wine glasses, and more
Signs – wood personalized, seasonal
Beautiful custom throw pillows
Kitchen towels
Tote Bags
Hats
T-shirts
Car window decals
Using images from the Design Center and my Cricut Maker, Easy Press, Iron-On material and some pillow blanks, I made these fun pillows back in early February. You can easily make pillows and sell them.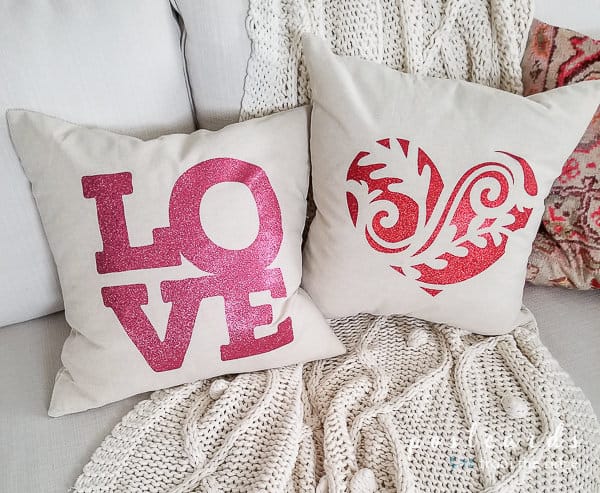 These are some ornaments I'm working on for our Christmas tree using patterned paper for some and balsa wood for others.
This little 3D art project was only took about an hour to create. I could have never cut those hearts out as precisely as my maker did. You can see the details here: Paper Heart Wall Art
Our basement bathroom floor got a stylish update with a stencil that I created using my Maker. See how I made it here: How to Make a Stencil with a Cricut Maker
What add-ons do I need for the machine and how much does it cost?
If you're just getting started with the Cricut, buying a bundle is the most cost-effective way to purchase. In addition to the maker, you'll receive mats, tools, materials, instructions, and everything you'll need to get started making amazing projects.
The bundle I recommend is this one: Cricut Maker and Essentials Bundle (currently on sale for $289.99)
from: Cricut
Depending on the type of projects you're interested in making, you may need a few additional items to get going with them. Or if you aren't interested in purchasing a bundle, you'll need to consider these as well:
Cutting mats – available with different levels of tack and different lengths for various materials. They range in price from $8.99 to $19.79.
Various blades – although the Maker comes with a rotary blade and a fine point blade, there are other special blades to cut fabric, balsa wood, and vinyl as well as ones that will give a wavy edge and perforated line. I used the knife blade (currently $27.59) to cut balsa wood in the shape of Tennessee. This project is still in the works, but you can see how nicely the blade cut through the wood.
 
Brayer/roller – this is helpful if you need to make sure fabric or felt pieces are adhered flat to the cutting mat. The current price is $10.19.
Easy Press – available in different sizes for different projects, this will make using iron-on materials so much easier. They currently range in price from $49.99 to $199.99.
Materials – vinyl, iron-on, infusible ink, paper, felt, leather, balsa wood
Other items to consider
After getting your machine and the basic items to get started, you might find the following items helpful:
Storage/Organization – various cases and organizers will help keep your craft area neat and tidy.
Organizer for blades and tips
If you're thinking about getting a Cricut Maker, I can definitely recommend it. Making projects is such a wonderful way to de-stress and express your creativity. And giving someone a project that you made with your own hands is always a special touch and very appreciated.
Let me know if you have any questions at all about the Maker or any other products from Cricut. I'll be happy to answer any of them.
Happy crafting!