Salty Caramel Pecan Pie – The Best Pecan Pie Ever
Salted Caramel Pecan Pie – A new favorite family recipe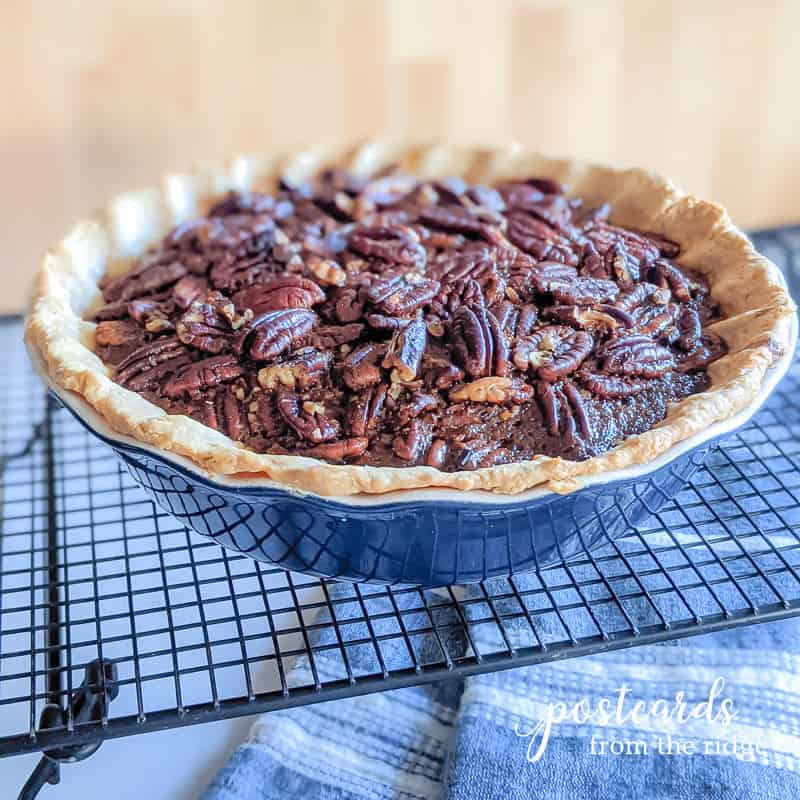 This post contains affiliate links for your convenience. If a purchase is made after clicking one of the links I might make a small commission. Your price does not change. For full disclosure, go here.
If you like pecan pie then you'll love this version. I've been baking pecan pies for nearly 30 years and tweaked them with salty caramel whisky and now they're better than ever.
It all started earlier this year when my husband and I took a weekend trip to The Buckhorn Inn, our favorite Bed and Breakfast in the nearby Smoky Mountains. Here's the view from the dining room. All the views are amazing.
The inn is completely charming and their food is heavenly, but that's not exactly where the idea for this recipe came from.
While we were there we did a little touristy shopping and sightseeing, including a visit to the Ole Smoky Moonshine distillery. We did a tasting of their products. It was mostly moonshine, which was fun and is a what they're famous for, but it also included their Tennessee distilled Salty Caramel Whiskey.
Oh. My. Goodness.
It tastes and smells like butterscotch with a kick and we bought some of it along with a few other flavors of moonshine to share with our family and friends (Apple Pie, Margarita, Eggnog, & Blueberry).
Yes, their marketing ploys worked well on us!
Flash forward to when I was preparing to bake my annual holiday pecan pies and wanting to tweak the recipe a bit. For years I added rum and it makes a really good pie. A couple of years ago I added Jack Daniels and it was really good, too. But neither of them can hold a candle to the version I made this year with the Salty Caramel Whiskey.
Overheard at one of our family gatherings where the pie was served:
"Oh my God. This is the best pie I've ever eaten."
"The only thing you need to bring from now on is this pie!" (directed at me)
And several more "Oh my God"'s were also overheard.
So I guess my family gives it a giant thumbs up, and that's a big compliment since we all love to cook (and eat).

Here's the recipe I used, which is adapted from my 25-year-old Southern Living cookbook.
Yield: one 9″ pieAuthor: Postcards from the Ridge
Salty Caramel Pecan Pie
Experience pecan pie like you've never had it before with the addition of Ole Smoky salty caramel whiskey.
prep time: 45 minscook time: 50 minstotal time: 95 mins
ingredients:
1/2 cup butter or margarine, melted (I always use salted butter)

1 cup sugar

1 cup light corn syrup

4 eggs, beaten

1 teaspoon vanilla extract

1/4 teaspoon salt

1 unbaked 9-inch deep dish pastry shell (or you can make your own or use refrigerated pie crust)

1 to 1 1/4 cups pecan halves *I highly recommend

Georgia pecans

. It's worth the extra expense*

3 tablespoons Ole Smoky Salty Caramel Whiskey
instructions
Preheat oven to 325.

Combine butter, sugar, and corn syrup; cook over low heat, stirring constantly, until sugar dissolves (about 20 minutes).

Let cool slightly, about 10 minutes

Add eggs slowly, whisking as you add them

Add vanilla, whiskey, and salt to mixture

Pour filling into unbaked pastry shell and top with

pecan halves

.

Bake at 325 for 50 to 55 minutes. Serve warm or cold.
Created using The Recipes Generator

Let me know if you try it and what you think about it.
Note – if you're not able to find the Ole Smoky Salted Caramel locally or just don't have time to search for it, it's available online here.
Keep up with the latest in home decor, tips for organizing, recipes, and much more by joining our subscriber list today.
Thanks for dropping by!