Salted Caramel Pecan Pie – The Best Pecan Pie Ever
This salted caramel pecan pie recipe is a wonderful twist of the classic version and is sure to get oohs and aaahs. Soon to be your family favorite!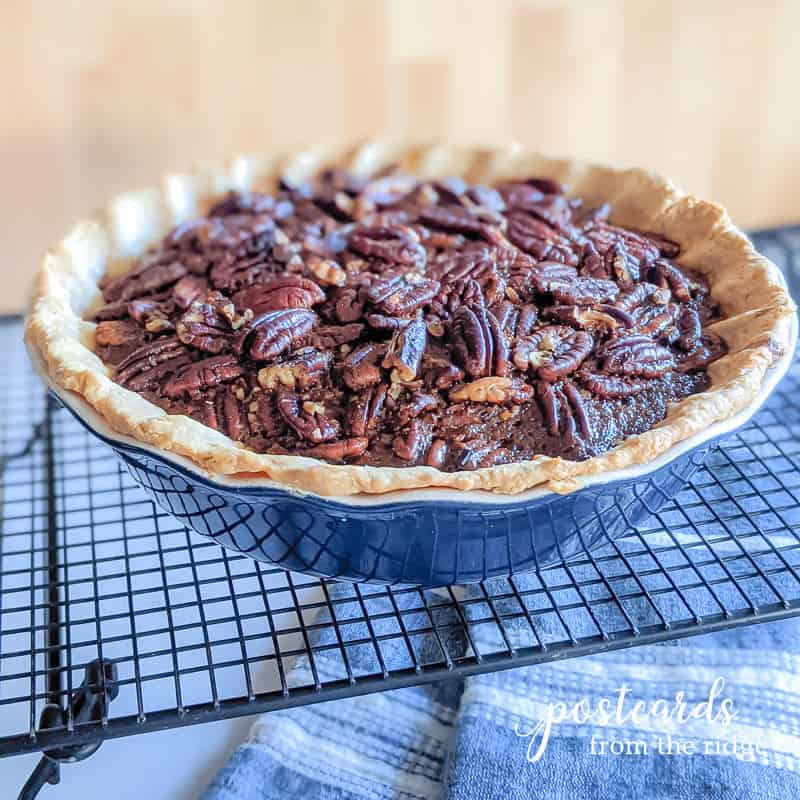 This post contains affiliate links for your convenience. I may make a small commission on products purchased with my link, but your price does not change. For full disclosure go here: Disclosure and Policies. Thank you for supporting my site.
Salted Caramel Pecan Pie
If you like pecan pie then you'll love this version. With just a simple addition to the classic pecan pie recipe it will have a salty, caramel, almost butterscotch taste.
I've been baking pecan pies for more than 30 years and came up with this variation several years ago. I'll never go back to the original. And even if I wanted to, my family would revolt.
Where it all began
It all started when my husband and I took a weekend trip to The Buckhorn Inn, our favorite Bed and Breakfast in the nearby Smoky Mountains. Here's the view from the dining room. All the views are amazing.
The inn is completely charming and their food is heavenly, but that's not exactly where the idea for this recipe came from.
While we were there we did a little touristy shopping and sightseeing, including a visit to the Ole Smoky Moonshine distillery. We did a tasting of their products. It was mostly moonshine, which was fun and is a what they're famous for, but it also included their Tennessee distilled Salty Caramel Whiskey.
Oh. My. Goodness.
It tastes and smells like butterscotch with a kick and we bought some of it along with a few other flavors of moonshine to share with our family and friends (Apple Pie, Margarita, Eggnog, & Blueberry).
Yes, their marketing ploys worked well on us!
Flash forward to when I was preparing to bake my annual holiday pecan pies and wanting to tweak the recipe a bit. For years I added rum and it makes a really good pie. A couple of years ago made Jack Daniels pecan pie and it was really good, too.
But neither of them can hold a candle to the version I made with the Salty Caramel Whiskey.
Overheard at one of our family gatherings where the pie was served:
"Oh my God. This is the best pie I've ever eaten."

"The only thing you need to bring from now on is this pie!" (directed at me)

And several more Oh-my-God's were also overheard.
So I guess my family gives it a giant thumbs up, and that's a big compliment since we all love to cook (and eat).

Here's the recipe I used, which is adapted from my 31-year-old Southern Living cookbook.
Pie Baking Recommendations
Salted Caramel Pecan Pie
Total Time:
1 hour
40 minutes
Pecan pie lovers will go nuts over this pie. It's a slight twist on the original and has a flavor that will have you asking for a second piece. It will soon be your family's favorite!
Ingredients
1/2 cup butter or margarine, melted (I always use salted butter)
1 cup sugar
1 cup light corn syrup
4 eggs, beaten
1 teaspoon vanilla extract
1/4 teaspoon salt
1 unbaked 9-inch deep dish pastry shell (or you can make your own or use refrigerated pie crust)
1 to 1 1/4 cups pecan halves *I highly recommend Georgia pecans. It's worth the extra expense*
3 tablespoons Ole Smoky Salty Caramel Whiskey
Instructions
Preheat oven to 325.
Combine butter, sugar, and corn syrup; cook over low heat, stirring constantly, until sugar dissolves (about 20 minutes).
Let cool slightly, about 10 minutes
Add eggs slowly, whisking as you add them
Add vanilla, Salty caramel whiskey, and salt to mixture
Pour filling into unbaked pastry shell and top with pecan halves.
Bake at 325 for 50 to 55 minutes.
Serve warm or cold.
Pie can be stored in the refrigerator for 3 or 4 days. But it probably won't last that long.
Notes
To prevent the edges of the crust from overbaking, use this protector that has over 7500 positive reviews: Pie Crust Shield
Oven temperatures can vary so your pie may need additional baking time. If the center of the pie jiggles when you wiggle it, continue baking the pie for 5 minute intervals until there's no jiggling. (technical terms, of course)
For a beautiful presentation, serve your pie in this pie pan that has nearly 1500 5 star reviews: Stoneware Pie Pan
For convenience, these pies can be baked ahead of time and frozen. Be sure to wrap the pie securely with plastic wrap and foil. Store in a gallon size freezer bag.
Nutrition Information:
Yield:

8
Serving Size:

1 slice
Amount Per Serving:
Calories:

546
Total Fat:

28g
Saturated Fat:

10g
Trans Fat:

0g
Unsaturated Fat:

16g
Cholesterol:

129mg
Sodium:

264mg
Carbohydrates:

70g
Fiber:

2g
Sugar:

62g
Protein:

6g

Let me know if you try it and what you think about it.
Note – if you're not able to find the Ole Smoky Salted Caramel locally or just don't have time to search for it, it's available online here.
More favorite classic dessert recipes:
Keep up with the latest in home decor, tips for organizing, recipes, and much more by joining our subscriber list today.
Thanks for dropping by!