Red Velvet Whoopie Pies with Cream Cheese Filling
Red velvet whoopie pies with cream cheese filling
Hello, friends! Are you hungry? If not, then you will be after seeing today's post, especially if you have a sweet tooth! I'm sharing a heavenly recipe for red velvet whoopie pies with a subtle yummy cream cheese filling.
This post contains affiliate links for your convenience. For full disclosure go here.
I'm joining with lots of my talented friends who are also sharing their favorite cookie recipes all week. Maryann at Domestically Speaking has organized a week-long parade of cookies that will leave your mouth watering. All of the links for the recipes are at the bottom of the post, so please be sure to visit all week and get some great recipes for the upcoming holiday season.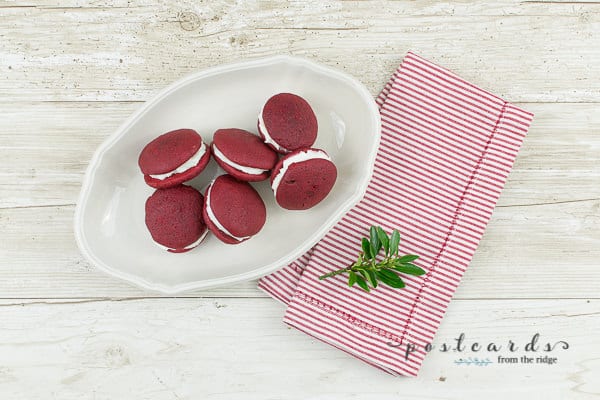 Red velvet cake has been a staple for special occasions in our family for years. It's originally a southern thing, but it's wonderful wherever you live. If you're not familiar with it, red velvet is basically chocolate with red food coloring added.
Not that there's anything wrong with plain chocolate, but the red looks so beautiful at Christmas and Valentine's day. Plus it still has the same delicious chocolate flavor.
I've made red velvet cake and red velvet brownies, but this was a new recipe for me and it's definitely a keeper. And I've seen recipes for whoopie pies before but was always a little intimidated. Rest assured that this recipe is super simple to make even though it looks like you spent all day making it.
I've made red velvet cake and brownies before but have never attempted to bake red velvet whoopie pies. Now that I now how simple they are to make, I'll be making them for special occasions. I'm also hoping to make some other flavors so stay tuned for those.
The recipe is originally from a 2010 Better Homes & Garden holiday recipe magazine that I've kept throughout the years. Let me know what you think of it!!
Yield: 40
Red Velvet Whoopie Pies with Cream Cheese Filling
This recipe for red velvet whoopie pies has a subtle vanilla flavor in the cream cheese filling. If you love chocolate and mint, you can substitute peppermint extract for the vanilla. Makes a beautiful and tasty food gift.
prep time: 10 Mcook time: 30 Mtotal time: 40 M
ingredients:
Whoopie Pies
1/2 cup butter, softened
1 cup packed brown sugar
2 Tbsp unsweetened cocoa powder
1/2 tsp baking soda
1/4 tsp salt
1 egg
1 tsp vanilla
2 cups all purpose flour
1/2 cup buttermilk
1 1-oz bottle of red food coloring
Peppermint-Cream cheese filling
6 oz cream cheese, softened
3 Tbsp butter, softened
1/2 tsp vanilla extract
3 cups powdered sugar
instructions:
How to cook Red Velvet Whoopie Pies with Cream Cheese Peppermint Filling
For the whoopie pies
Preheat oven to 375.
Line your cookie sheet with parchment paper. This keeps the cookies from sticking or getting too hard.
Add butter to a mixing bowl and beat on medium to high speed for 30 seconds.
Add brown sugar, cocoa powder, baking soda, and salt. Beat until combined, scraping sides of the bowl as needed.
Beat in egg and vanilla.
Using low speed on your mixer, alternately add the flour and buttermilk, beating just until combined.
Stir in red food coloring.
Spoon dough with a rounded teaspoon onto your cookie sheet, placing them 2″ apart.
Bake for 7 to 9 minutes or until edges are set. Cool on your cookie sheet for 2 minutes then transfer to wire racks to cool completely.
Spread filling on the flat/bottom side of one cookie then place another one on top of it to create a sandwich.
For the filling
Combine cream cheese, butter, and vanilla extract in mixing bowl. Beat until light and fluffy. 
Gradually add powdered sugar. If necessary, add milk, 1 tsp at a time, to make the right spreading consistency.
NOTES:
I used a cake decorator for the filling because I found it easier. You could also use an icing spreader or knife.
Created using The Recipes Generator
Now that you have cookies on your mind, here are my friends' holiday cookie recipes. They all look so yummy! Be sure to drop by and get the recipes for all of them. Keep scrolling for everyone's links.
Monday's Cookies
Christmas M&M Peanut Butter Cookie Bars
Santa's Whiskers Christmas Cookies
Tuesday's Cookies
4 Ingredient Peanut Butter Cookie
Wednesday's Cookies
Easy No Bake Peppermint Gingersnap Cookies
Easy Spritz Cookies (not pictured)
Thursday's Cookies
Christmas Surprise Cookie Recipe
White Chocolate Cranberry Cookies
Friday's Cookies