How to Convert a Reach-In Closet to An Organized Office Closet
You know that closet that you shove things into just to get them out of the way temporarily? I couldn't stand ours any longer and organized it last week. It needed to be tamed and reclaimed and I spent a few days converting it into an organized office closet and I'm so glad I did. It was totally worth the effort.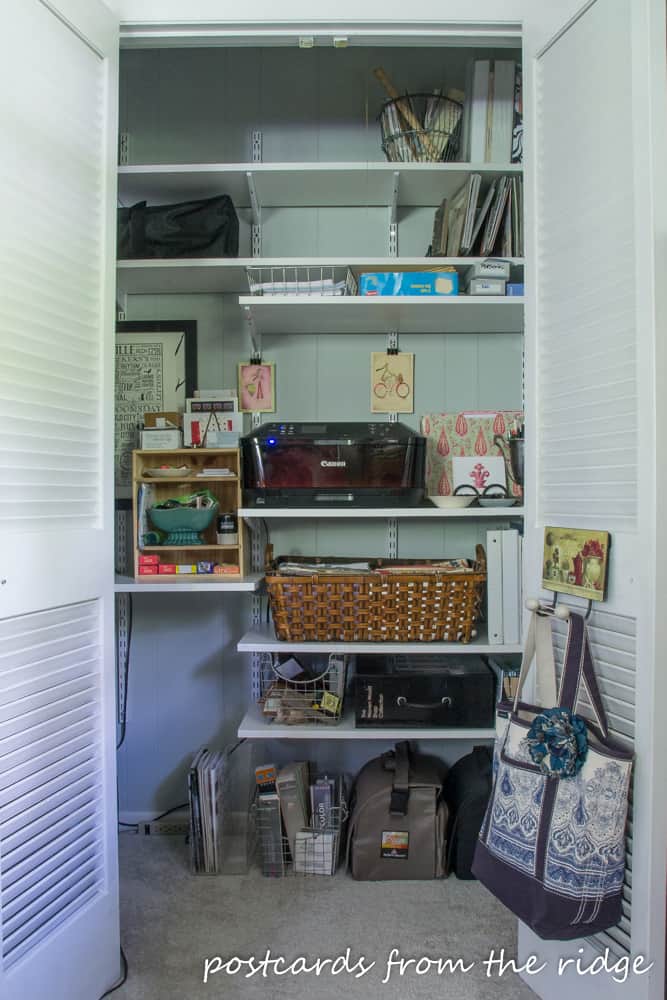 This post contains affiliate links for your convenience. I may make a small commission on products purchased with my link, but your price does not change. For full disclosure go here: Disclosure and Policies. Thank you for supporting my site.
Organized Office Close Tutorial
The ugly truth. Here's how bad it had gotten. Our 1960's home has ample space for us, but we just have too many things that we don't need and or have a good place to put away. And this is what happens…
Keeping it real here. I'm showing you this to demonstrate that you can take an overflowing, underutilized space and make it efficient and organized. It might take an afternoon or a few days, but it will be totally worth it, I promise.
I started by taking EVERYTHING out of the closet. Many papers were recycled or filed properly. Some things were donated. And things that we kept but don't need to have in this space have been relocated to better places.
We had been using some display shelves from our old store as shelving. Not bad, but we just had too much in them. Plus they weren't deep enough for the printer which I really wanted to move in here.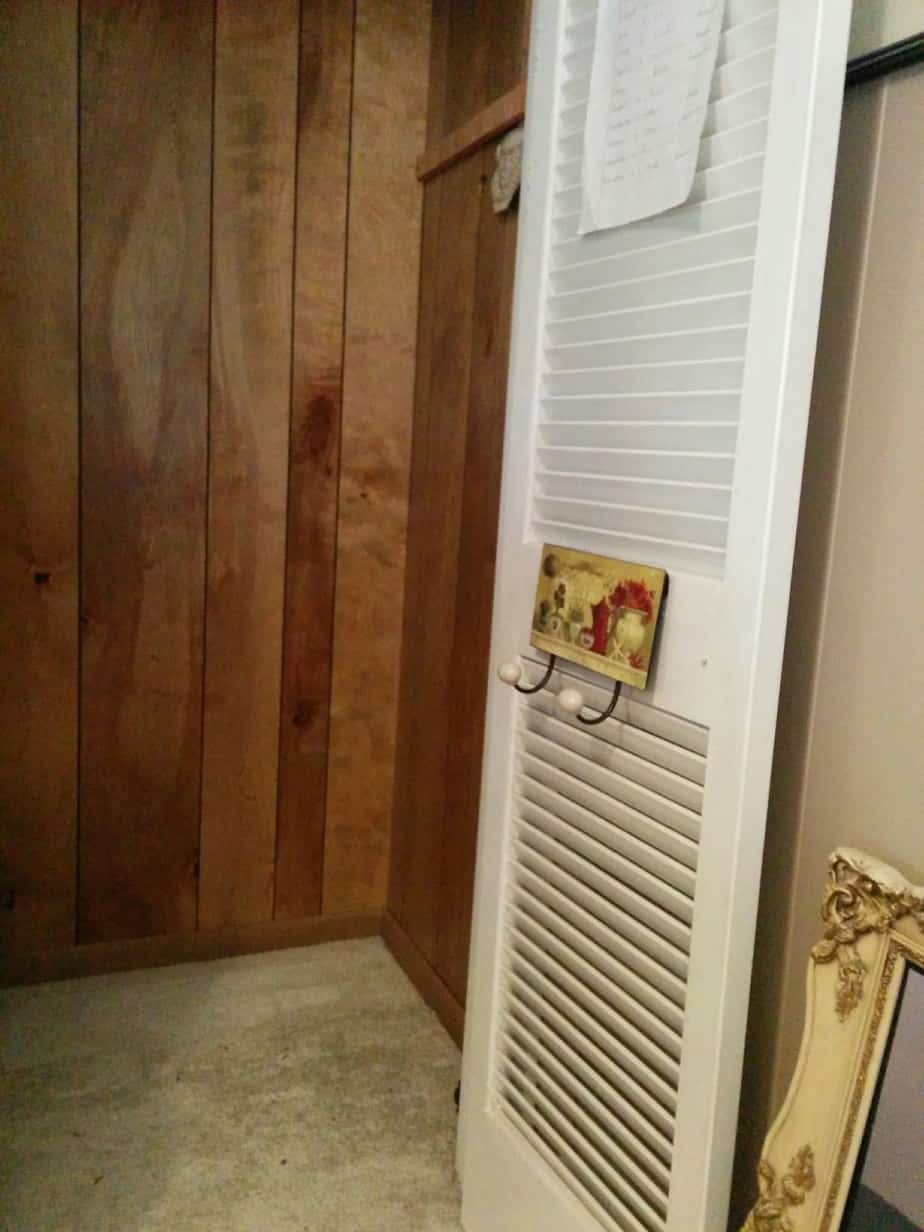 It's a good sized closet and had lots of potential for being a great place for the printer, shredder, supplies, and product samples for my local design consulting business.
After emptying it out, I did some caulking, priming, and painting and then installed shelving. I already had the paint and supplies in the garage.
The shelving that I used had previously been installed in one of my daughter's bedrooms 8 or 9 years ago. When she moved into a different bedroom a couple of years ago we converted the room to a guest bedroom and removed the shelving. It had been sitting in the garage unused and was perfect for this project. I got lucky there.
If you don't paint your closet this project will be much quicker. I wanted to lighten the space so I went ahead and painted ours.
Do you have paneling that you want to paint? Read this: How to Paint Paneling Like a Pro
If you're not painting, here's what you'll need for this project:
Note – the shelves I used are discontinued so I recommend using this instead: 48″ Closet Organization Kit
Drill
Anchor Screws
level
Various baskets, bins, and office supply organizers
Step Ladder
And here's the how-to:
Measure and plan your space and determine what size and quantity of shelves you need.
After getting all the shelving, brackets, tracks, etc, determine where you want to install the tracks. They need to be anchored to the studs in your wall.
Attach the tracks with heavy duty screws. You'll most likely need to drill a pilot hole before attaching the screw. Use your level to line up the track after installing the first screw, then install the remaining screws, checking to make sure everything is level. Repeat for each track.
Insert the brackets securely.
Place the shelves on the brackets.
Here are the details of our office closet plus some ideas for creative storage.
Use baskets and bins to group like items together
Create some shorter shelves for small items
Add a little personality with pretty notecards or artwork – I attached these note cards with magnets and binder clips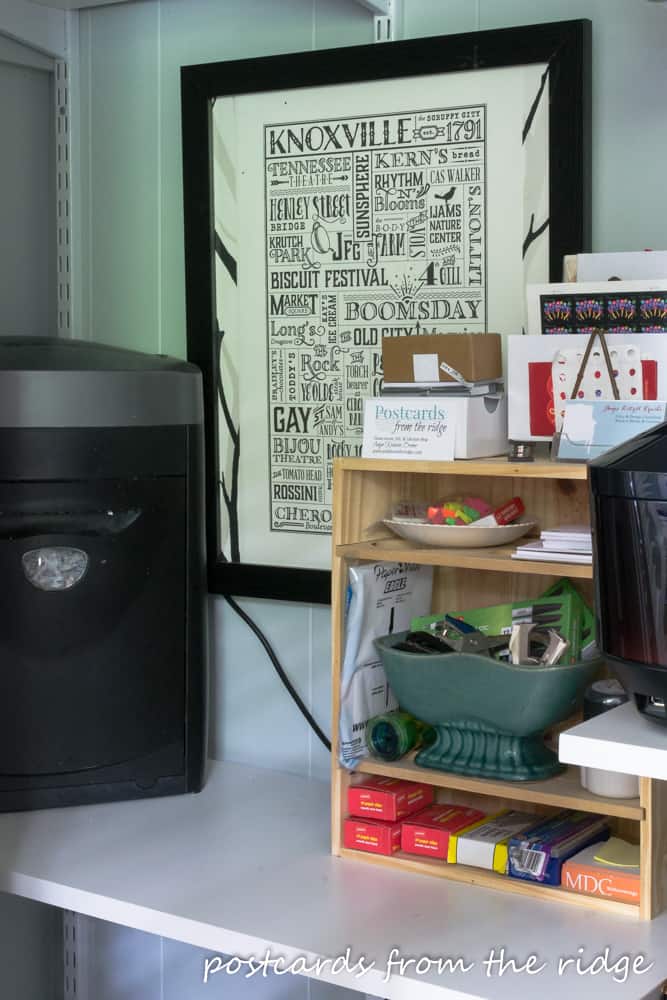 An old wine crate makes a great place to stash excess supplies
Use a pretty planter for various supplies like extra pens, hole punch, and staple pullers
A napkin holder is perfect for stamps, envelopes, and small paper items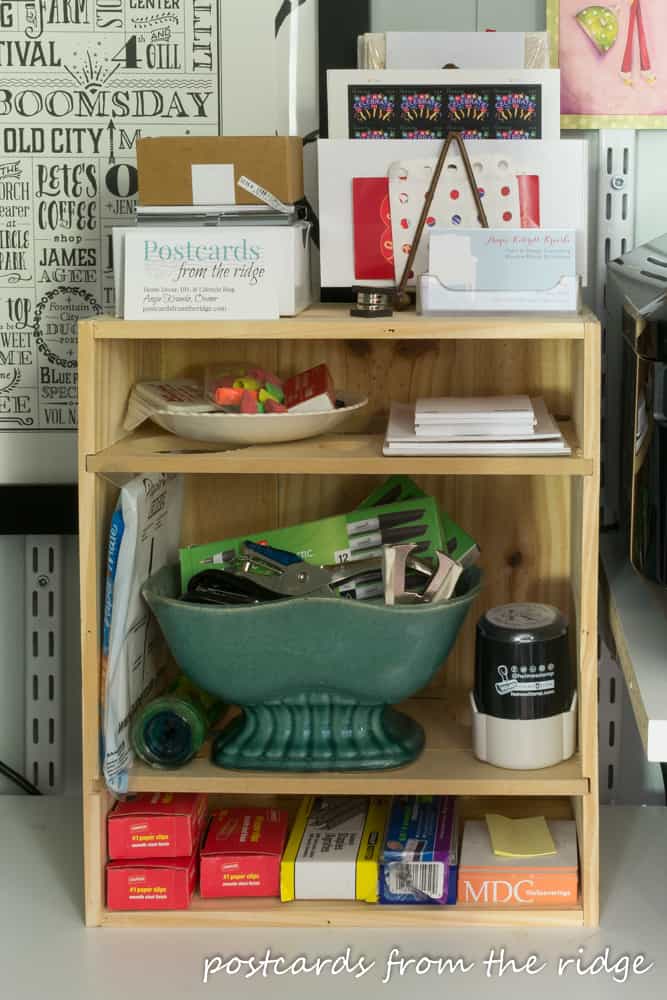 There are so many ways to get creative with your home office organization. What are some fun things you use for yours? I always love to hear your ideas.