Vintage Bohemian Farmhouse Style
Recently my oldest daughter asked me what I would call my decorating style. I had to think about it. You see, I like several styles and tend to mix things up a bit when decorating our house. And I've noticed that my style has been changing a bit lately…evolving. So I told her my style was eclectic with a blend of farmhouse, vintage, and even a bit of bohemian style mixed together. What can I say? I like what I like. And I use things regardless of their era or style.
This post contains affiliate links for your convenience. If a purchase is made after clicking one of the links I might make a small commission. Your price does not change. For full disclosure, go here.




Today I'm participating in a blog hop about "My Home Style" with 19 other home bloggers, hosted by Stephanie at Casa Watkins. I'm sharing examples of my mix of styles and how you can recreate some of it in your home. For lots of different styles and ways to make them work in your home, be sure to visit the other bloggers at the bottom of the post. If you're coming over from Flourish and Knot, welcome!
I like to compare home decor to cuisine. There are so many flavors to love. Why limit yourself to only one? At our house we love Italian, Greek, Chinese, Mexican, American, German, Thai, and many more foods. And it's somewhat the same with our decor. Sticking to only one style would be a bit boring for us. For example, on the mid-century bar cart above, there are vintage seltzer bottles and a wire farmhouse egg basket. Three styles blended together.
My mantra for home decor is if it speaks to you, use it. Decorating rules were made to be broken. It's your home so you should love everything you see in it. Here on our living room sofa I have a boho throw and a drop cloth slipcover. There's also a vintage camera and a canvas made from a photo I snapped with my phone in Florence, Italy on the table behind the sofa. And a grouping of DIY artwork hanging on the wall (go here to get the simple tutorial). I like blue and patterns so it works for me. I also added an "autumn" pillow for fall.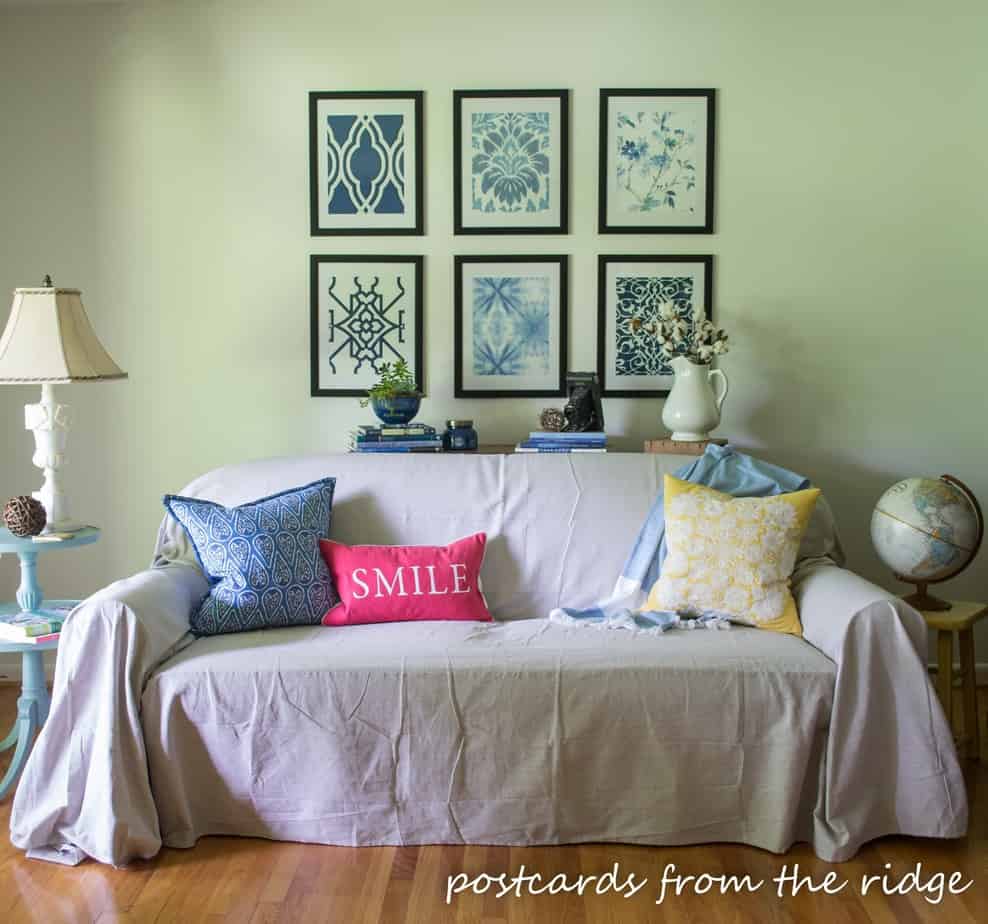 Here's how it looked before fall. A white ironstone pitcher with cotton branches for a farmhouse vibe, a vintage alabaster lamp, and a funky globe. Quite an eclectic mix for sure. By simply changing out the pillows and a few of the accessories the space has an entirely different vibe.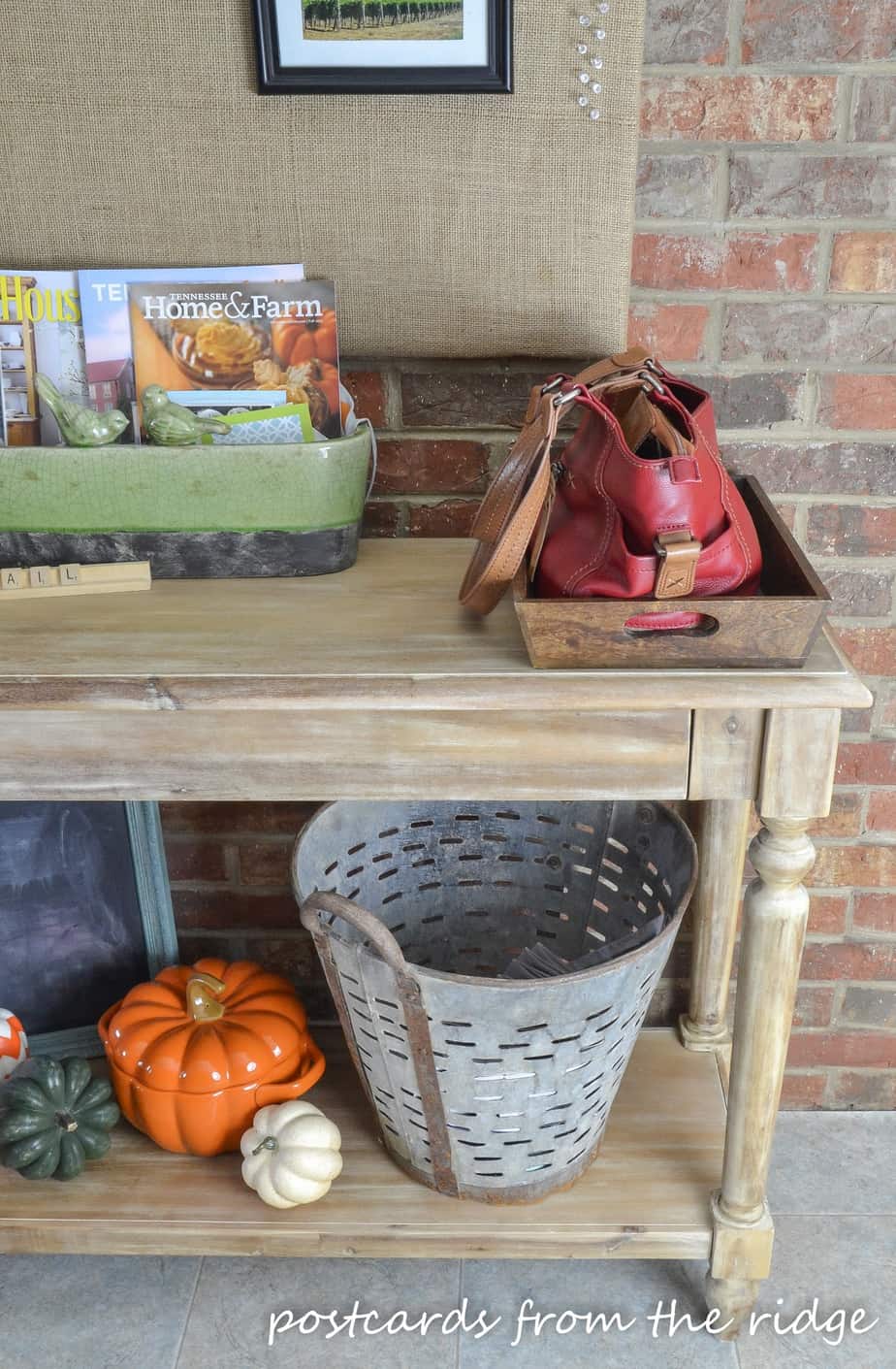 In our kitchen I recently added a foyer table to our command center. It has a bit of a farmhouse look. I use the vintage olive basket to catch papers that need to be recycled. I added the orange pumpkin casserole dish for some color. And I'm using a ceramic planter to corral our mail. Repurposing items is something I love to do. What are some unique ways you've found to use items for something other than what they were made for?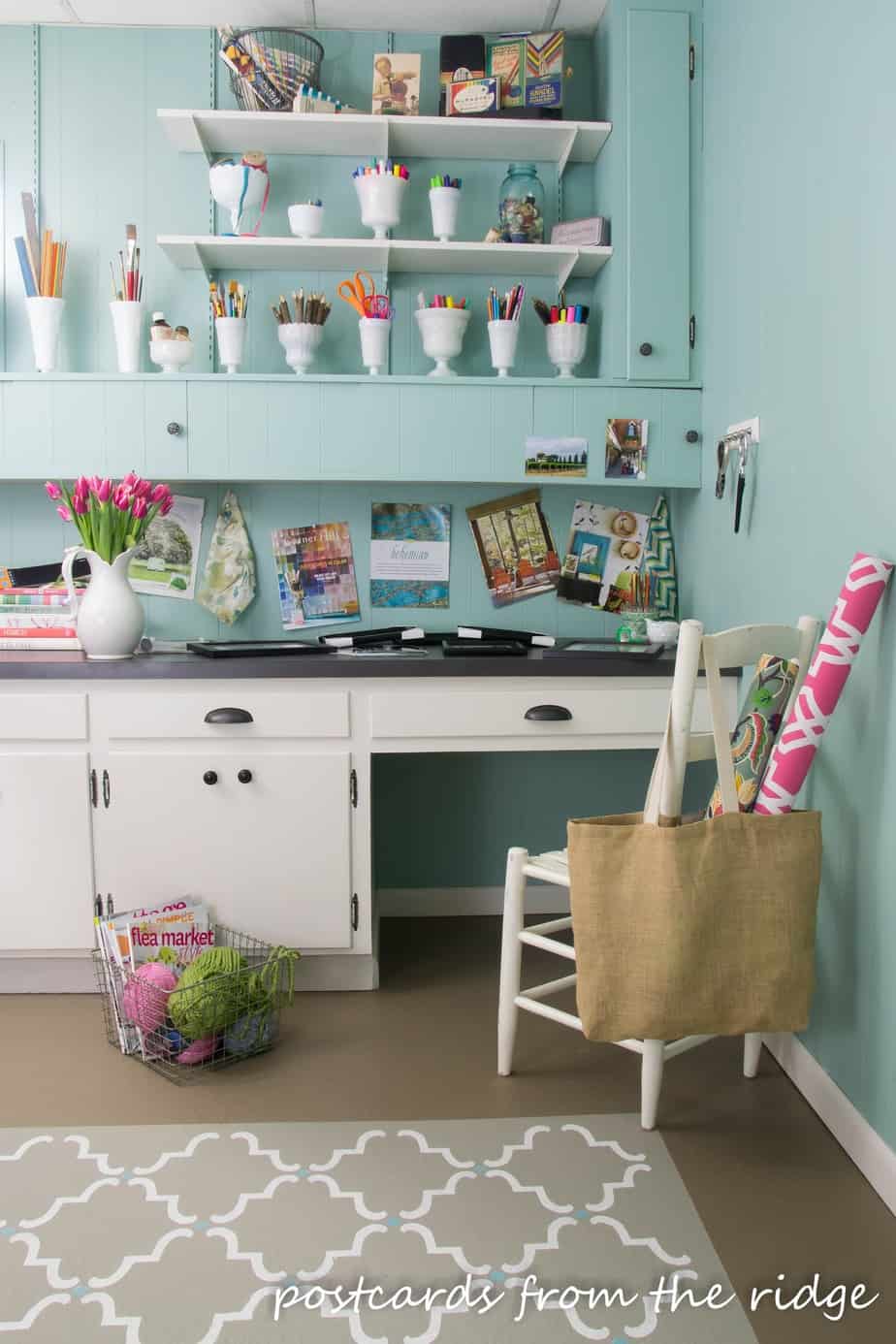 In the craft studio I use vintage milk glass to hold various supplies. There's also a vintage mason jar that holds wooden spools of thread and a white ironstone pitcher with flowers that have the farmhouse look.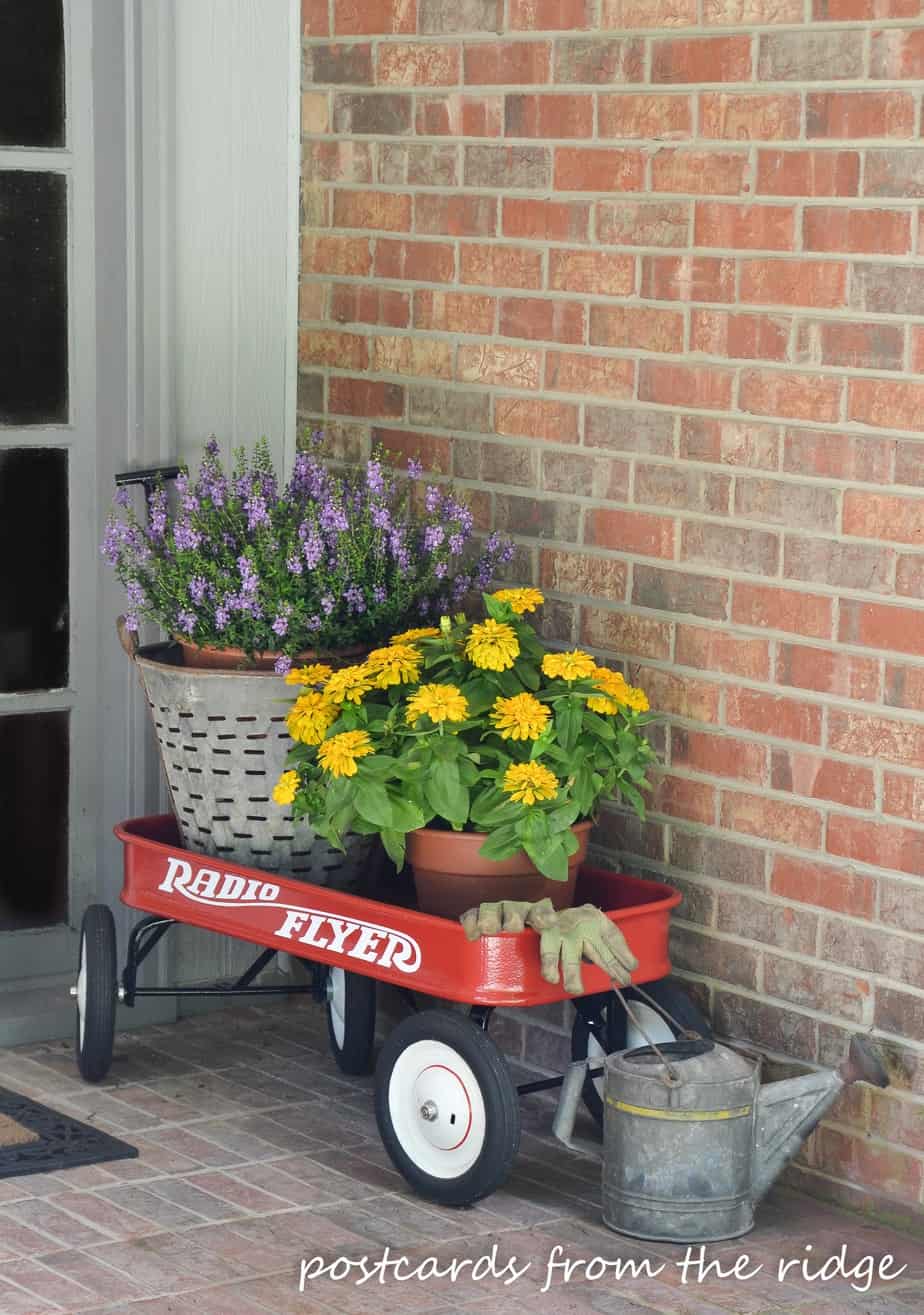 A vintage themed greeting from our summer front porch included my father's old red wagon, a vintage olive bucket (the same one that's now in the kitchen), and an old watering can.
Over in the breakfast room the summer table has a farmhouse vibe and is set with white dishes that we received as wedding gifts over 24 years ago. I use them almost daily and love them because they go with everything. I added a pitcher of fresh flowers on the vintage wine barrel lazy susan and some blue and white toile placemats for color. I'll be changing these to fall colors in the next week so stay tuned for that. Do you still use your wedding dishes?
The master bedroom has a farmhouse feel as well. A neutral upholstered headboard paired with basic linen curtains, shams, and bedskirt with the ivory throw make it easy to change out the duvet and accent pillows. During the holidays I add some red accents to the room like throw pillows and quilts. The vintage alabaster lamps go with whatever colors are used in here. The night stands are actually vintage desks that I snagged at an estate sale and painted. They're perfect as night stands!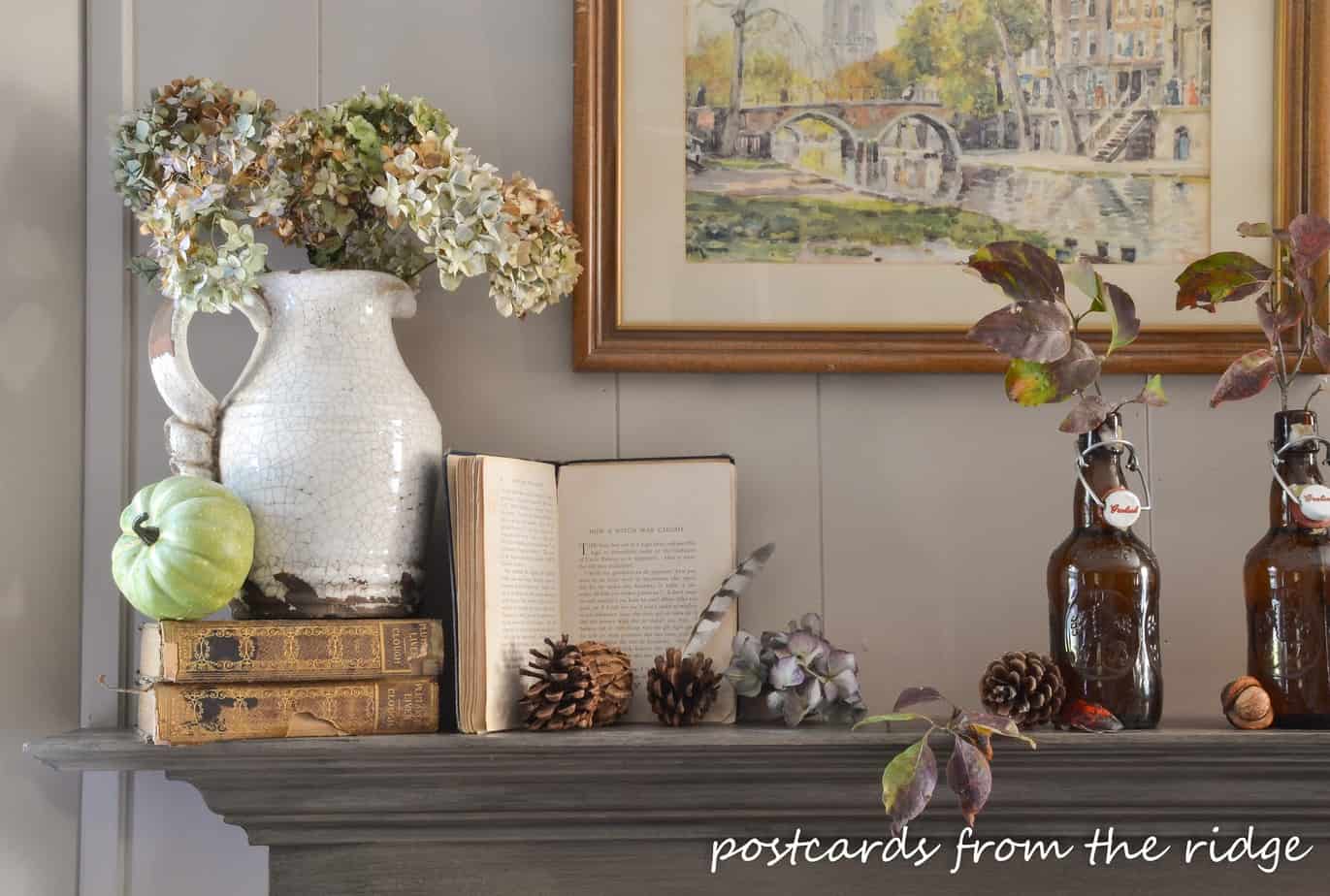 Our family room mantel is my most eclectic one yet, mainly because of the vintage German beer bottles I used as stem vases. I like the amber color and the shape of them. I also added some vintage watercolor prints I found a few years ago at a thrift shop. To see more of the mantel and learn the story behind the bottles, go here.
Farmhouse pitcher with vintage books give the mantel a cozy feeling.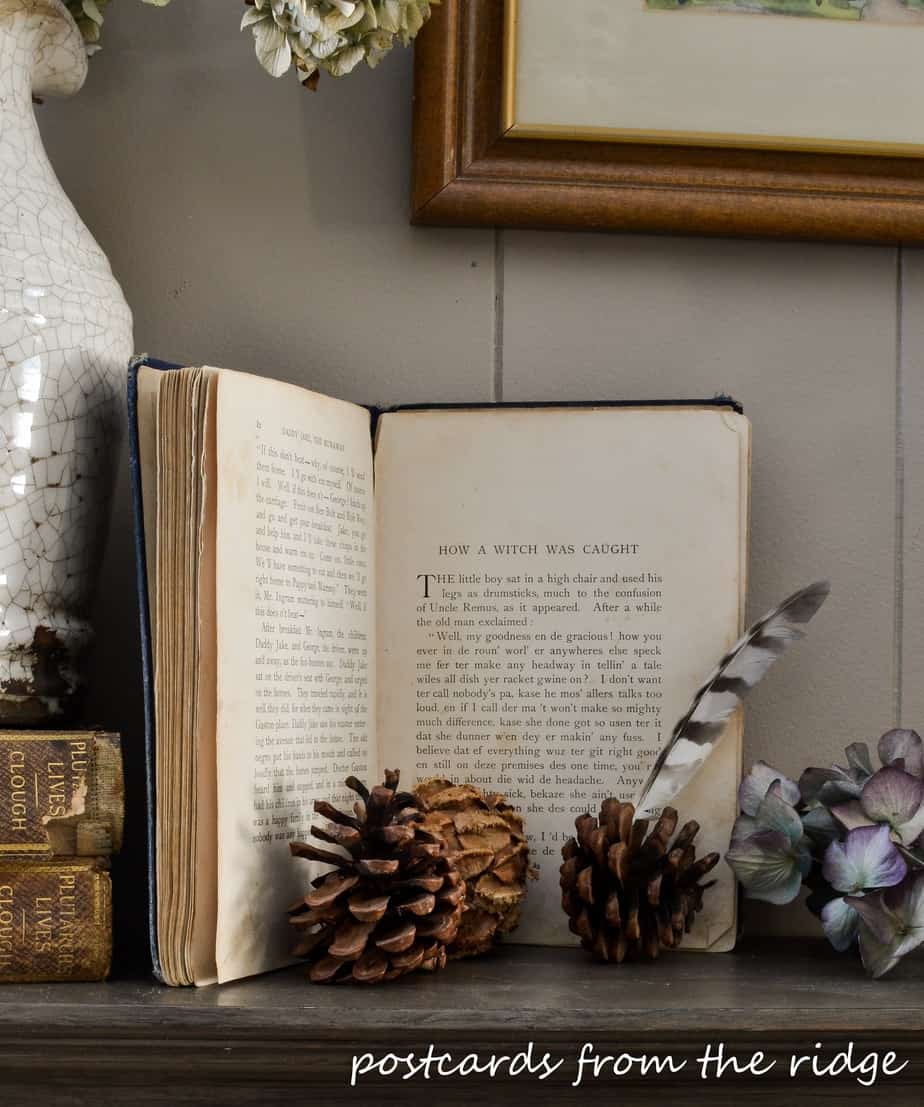 I love to add natural elements into the decor mix as well. The little striped feather came from our back yard.
The mid-century office chair was a freebie and I liked the color and shape so it was added to the family room mantel as well. Old books, dried flowers, and a vintage wooden crate and copper boiler finish off the area. Another eclectic space with a mix of vintage, farmhouse, and more.
What styles do you have in your home? Do you mix them up or stick to just one?
Now it's time to visit my friends' homes and see their styles. Click on the links below to find tons of inspiration. Don't forget to check back here tomorrow and visit the bloggers sharing their style then.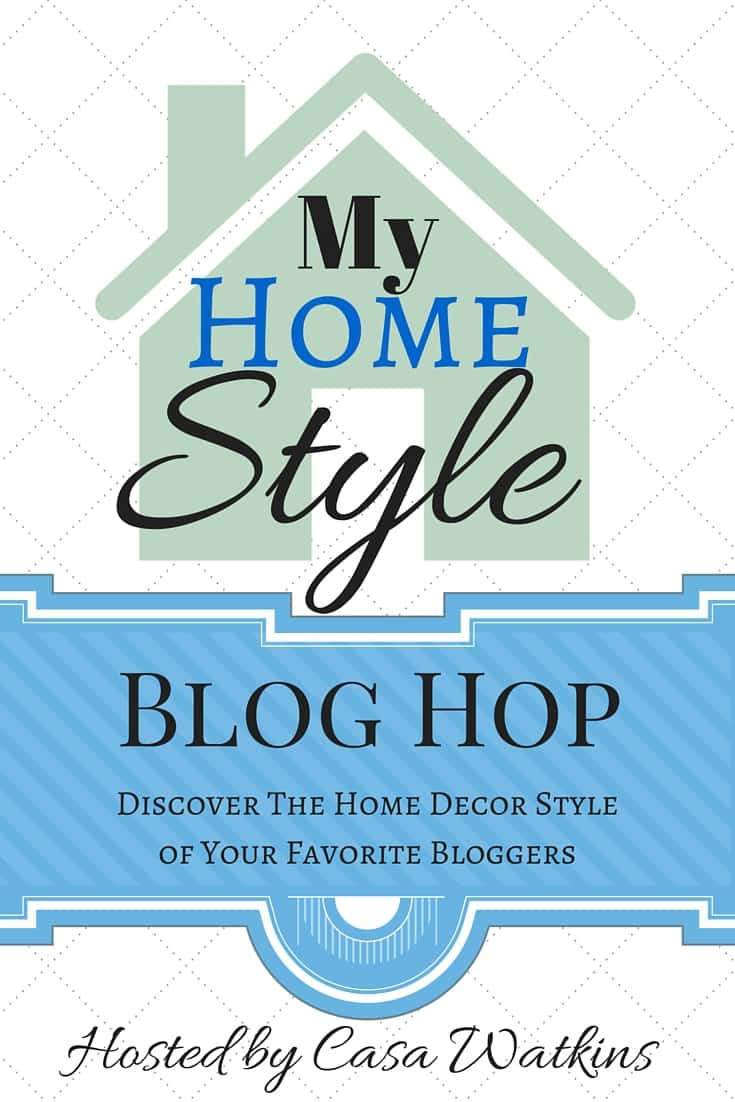 Tuesday:
Wednesday:
Coming up on Thursday:
XOXOX,
Angie
If you're new here, sign up for email here or follow along here so you don't miss a thing:
Email * Facebook * Hometalk * Pinterest * Twitter * Instagram

For handy tips and tutorials, go here.


To see my painted projects, go here.

For tasty recipes from my kitchen, go HERE.
For some simple tips for capturing a great photo, go HERE.
Go here to learn about having an online design or color consultation.
And go here for dozens of photos, ideas and favorite paint colors.
Thanks so much for dropping by my little space on the world wide web!