12 Days of Christmas…with a fun twist
Welcome, friends! 'Tis the season to be……overcommited! Can I get an amen?


With stars in my eyes and twinkles on my toes (or something like that) I decided it would be so much fun to sign up for several wonderful blogger holiday tours. And while they are definitely fun, they're lots of work too.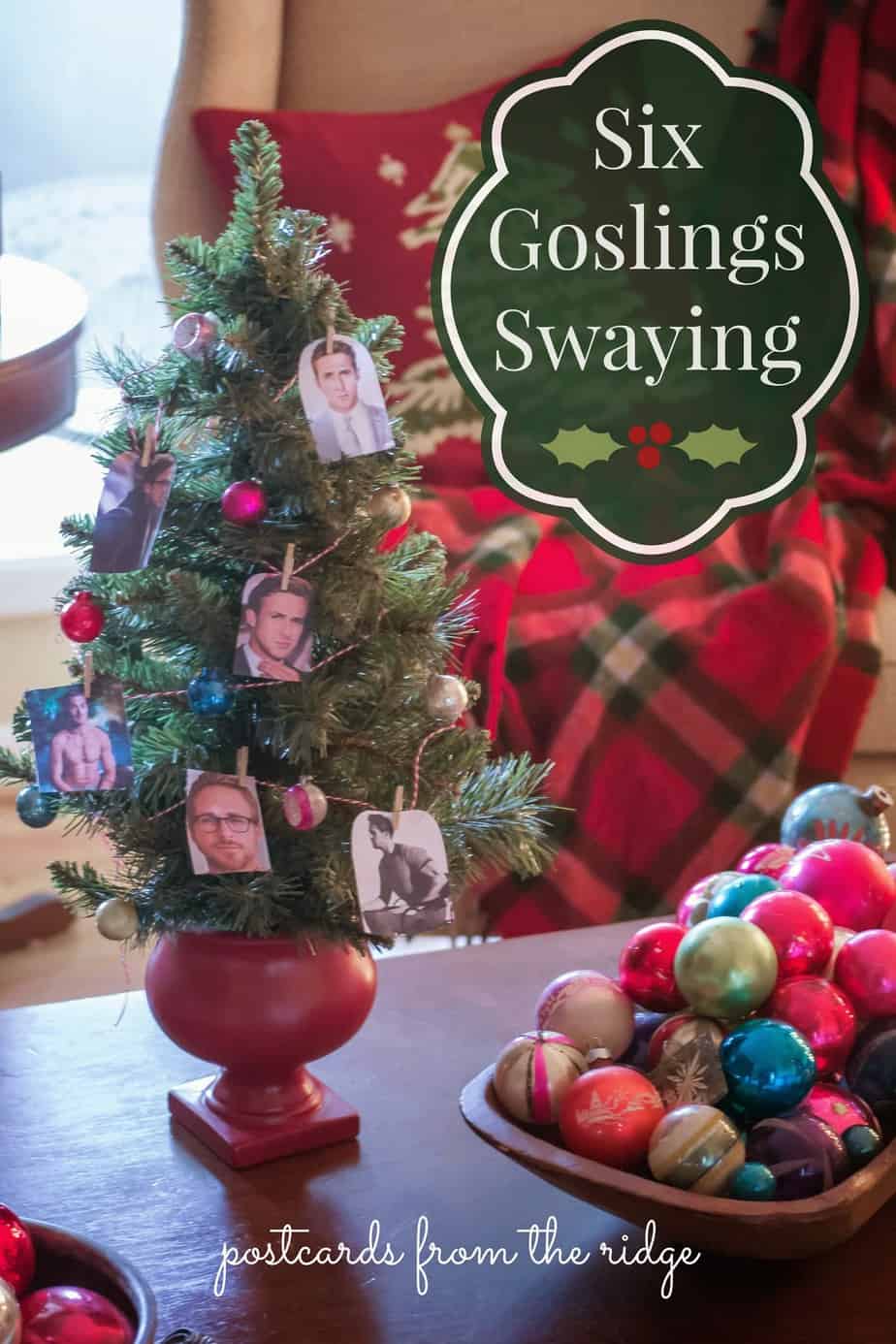 Today's post is part of a blogger tour with the 12 days of Christmas as the theme. Some of my best blogging buddies are on this tour with me. And as fun as it sounds, six geese a laying is a tough one to blog about. I signed up a little late and the dancing ladies and milking maids were already spoken for. As well as the lords and the drummers. When life gives you geese….well, think Goslings. Keep reading to learn the story behind what we made. You're gonna love it and you're gonna laugh.
After going on an unsuccessful wild goose chase looking for geese at 3 local stores over Thanksgiving weekend, it was time to get really creative. What did I do? I asked my super creative teenage daughters for their input, telling them the theme could be loosely interpreted. What did they say? GOSLINGS!! Of course they did. They're young ladies who are fans of Ryan Gosling. So I have to give them total credit for this idea, although we had to tweak it as we went.
BEHOLD, the Six Goslings Swaying, or the Six Goslings Garland, or whatever you'd like to call it. We really had fun with this one.
If you want to make this fun project yourself, the supplies are simple enough. You'll need 6 photos of Mr. Gosling. The girls picked these out and printed them. Plan A was to insert them into clear glass ornaments, which we did, but the pictures didn't want to unroll, so Plan B is what you see here today.
You'll also need twine, clothespins, and a small tree, although you could just string it up wherever it makes you happiest.
The first thing I did was wrap the twine around the tree and attach the photos with clothespins. Is this a simple project or what?
As nice looking as he is, the tree needed something more, so I added some mini glass bulbs from my vintage ornament collection.
That's more like it. You could also add a small strand of lights if it makes you happy.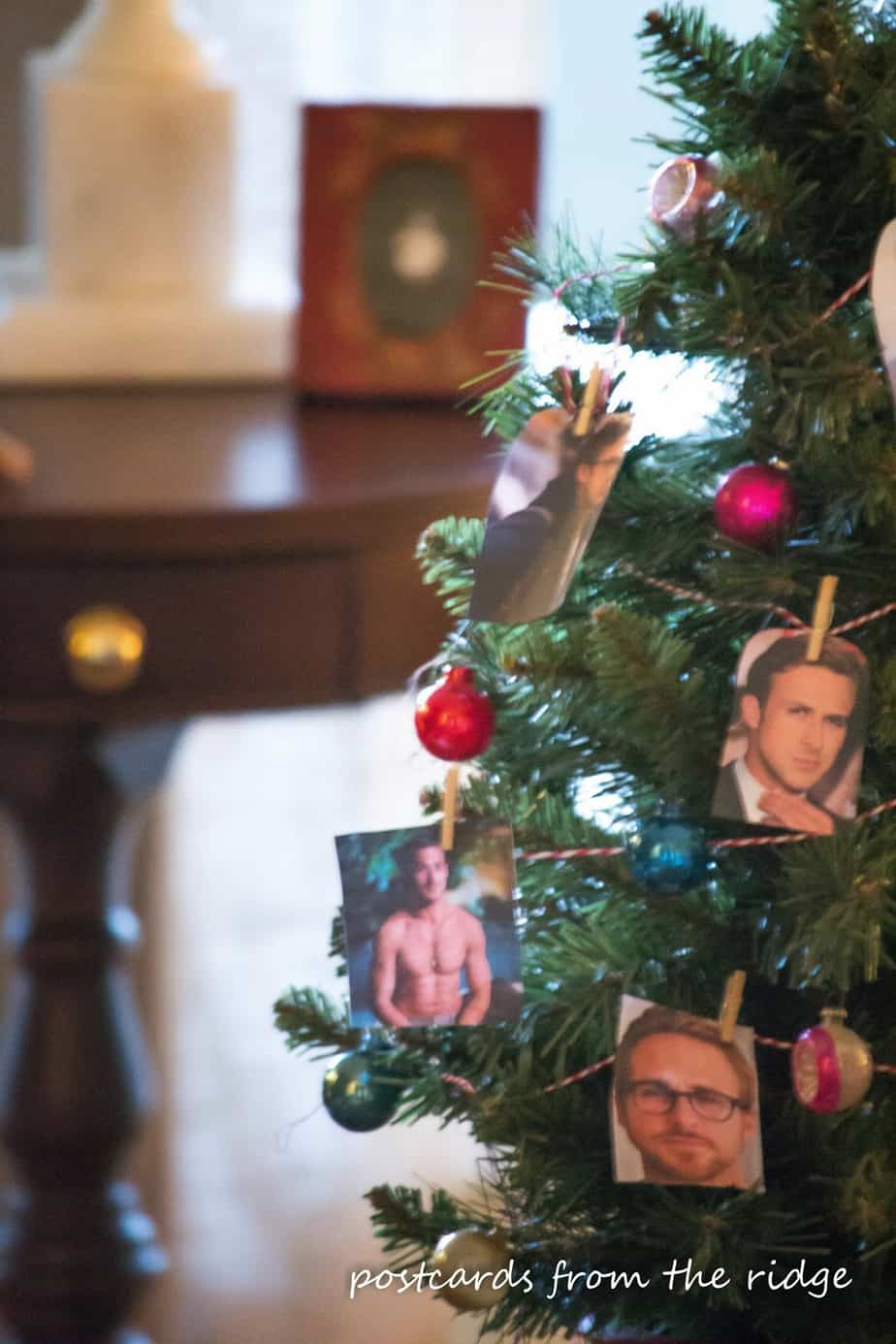 He is pretty cute, isn't he?
I think it makes a nice table top decoration, don't you? Although my oldest will probably be putting it in her room when she comes home from college in a couple of weeks. We tried to get it finished before she went back to school after Thanksgiving so she could take it with her, but it just didn't happen. I texted her a picture of it and she said it's perfect.
My youngest likes it, but she's got a bigger crush on some young actor named Dylan something. O'Brien? I just can't keep up these days!
Here's what's coming in the next week. I'll be sharing our front porch and entry tomorrow as part of a Welcome Home tour.
And I'll be sharing the inside of the house next Monday as we kick off the Home for the Holidays tour.
If you're not already subscribing to email updates, click here to add your name so you can keep up with the tours. I don't post more than twice a week, so your inbox definitely won't be flooded by me. You can unsubscribe at any time. And of course it's free.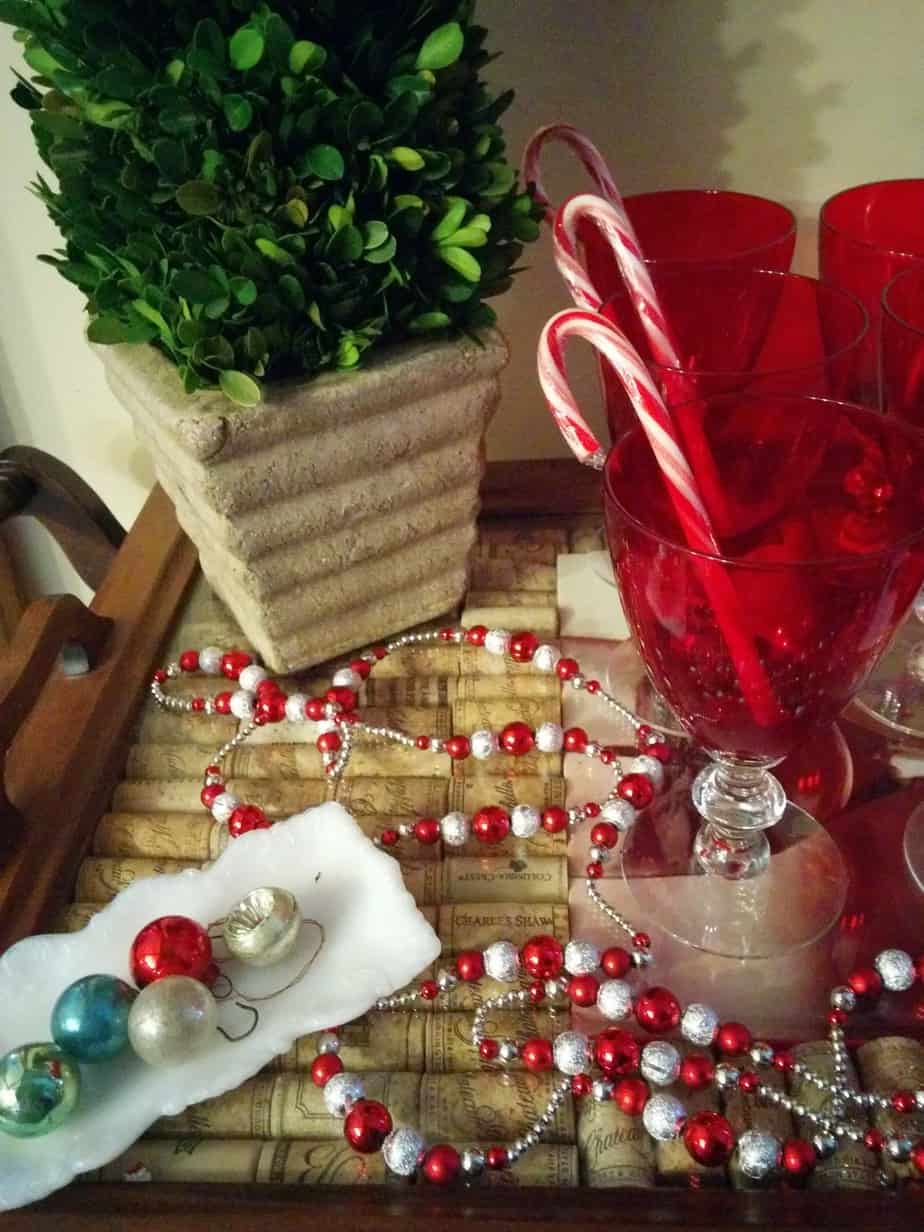 If you follow me on instagram, you saw this glimpse of our tea cart that grew up to be a bar cart. Milk glass, vintage ornaments, wine corks, boxwood, vintage red glasses…these are a few of my favorite things that will all be part of our Christmas tour, with vintage being the key word.
Now for the other 11 days of Christmas tour, keep reading until you get to the end of the post. There have been some great ideas so you'll want to be sure to visit all of them.
Stay tuned over the next few weeks because I'll be sharing a Christmas home tour, holiday crafts, DIY projects, cookie recipes, a sneak peek at a Nashville show house, and more! It's going to be very busy here in the ridge! If you're new here, sign up for email here or follow along here:
Email * Facebook * Hometalk * Pinterest * Twitter * Instagram

For handy tips and tutorials, go here.


To see my painted projects, go here.

For tasty recipes from my kitchen, go HERE.
For some simple tips for capturing a great photo, go HERE.
Go here to learn about having an online design or color consultation.
And go here for dozens of photos, ideas and favorite paint colors.
XOXOX,
Angie
MONDAY December 1st
{Partridge in a Pear Tree}
Simply Fresh Vintage
Petticoat Junktion
{Two Turtle Doves}
Confessions of a Serial Do-it-Yourselfer
TUESDAY December 2nd
{Three French Hens}
{Four Calling Birds}
WEDNESDAY DEC 3rd
{Five Golden Rings}
{Six Geese-a-Laying}
THURSDAY December 4th
{Seven Swans a Swimming}
{Eight Maids a Milking}
FRIDAY December 5th
{Nine Ladies Dancing}
{Ten Lords a Leaping}
SATURDAY December 6th
{Eleven Pipers Piping}
{Twelve Drummers Drumming}