Any Jack Johnson fans out there in bloggyland? I love his music and his laid back surfer mentality. I was listening to the Jack Johnson station on pandora yesterday as I cleaned house and occasionally checked in on the workers in our master bathroom.
And I was hoping, waiting, wishing.
This post contains affiliate links for your convenience. If a purchase is made after clicking one of the links I might make a small commission. Your price does not change. For full disclosure, go here.
Hoping my shower tile gets installed today.
Waiting on the truck that's delivering it from Ohio.
Wishing it was already here.
Hoping everything goes as planned today and there are no more delays.
Waiting for the tile to be installed so I can call the guy from the glass company to come and take final measurements for the door.
Wishing I could just fast forward a couple of weeks and enjoy our own bathroom again.
Hoping that my patience doesn't start to leave me.
So my question for you DIY-ers is this: How do you do it? How do you stay sane? If you're doing projects with your husband/significant other, how do you not hurt them? Oops. That was more than one question.
We're not even doing the labor on this remodel and I've been wondering all of these things. I now have a whole new respect for those of you who take on major remodeling project like a bathroom or kitchen remodel and don't kill someone or go around shooting out the street lights.
You are my heroines. 🙂 Super-stars, that's what you are. Maybe heroin is involved. Or maybe just lots of wine and meditation.
Anyhoo, I've been doing my (very) small part on this remodel by re-vamping an existing mirror along with a couple of other items. I'll be making a window valance after the room is tiled and the vanity is in place and I can decide what kind of fabric it needs.
Here's a preview of the mirror I repainted:
And here's what it looked like before:
A little metallic paint, wax, sandpaper and elbow grease makes a big difference.
Here's my inspiration piece from Ballard Designs.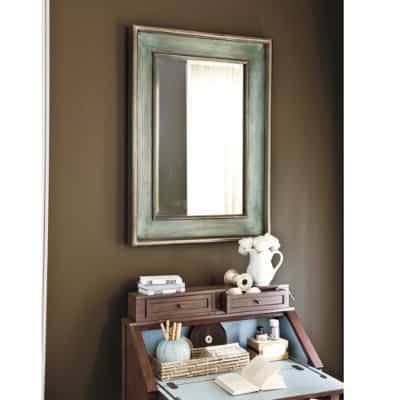 Not too far off, but mine has more detail and is real wood instead of composite. And I already had it. Theirs costs $199. Mine cost zero. Except for the paint and elbow grease.
FYI, I used Benjamin Moore Night Train, this metallic paint, and this wax,
Here's what the bathroom looks like this morning.
So now all I have to do is hope. Wait. Wish.
I think I can handle it. With a little help from my friend Jack Johnson.
And possibly some assistance from Julio Gallo.
Or maybe even Don Corleone.
Just kidding on that last one.
I hope you have a great weekend and a very lucky Friday the 13th.
Thanks for stopping by.
XOXOX,
Angie
If you like my posts, I'd love it if you'd become a follower. You can
keep up with my latest recipes, projects, tutorials, photos and tips many ways,
including: