DIY Glass Bottle Dish Soap Dispenser Giveaway
Glass bottle dish soap dispenser giveaway
This post contains affiliate links for your convenience. For full disclosure go here.
Hello, friends! And happy new year! It's been a little quiet here because of the holidays and then being hit with the crud, but I'm so happy to be posting again. And you'll also be happy with today's post because there are lots of giveaways happening!
The Thrifty Style Team ladies are each giving away an item that they've created with something that was free, thrifted, second hand, or a bargain. There are some real goodies and they"re all at the bottom of the post, so be sure to scroll to the bottom and visit everyone to enter each individual giveaway.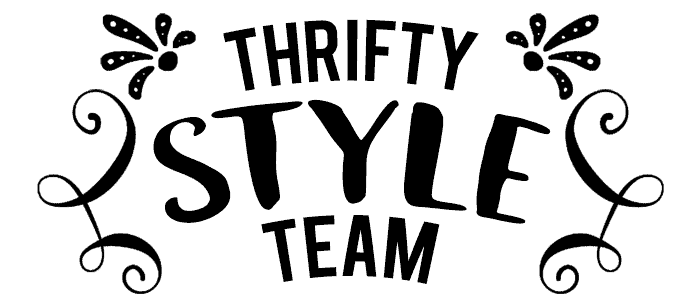 As a reminder, once a month I join with this talented and super creative team of thrifty sisters that's led by Julie at Redhead Can Decorate.
We all share ideas for decorating with items that are second-hand, freebies, thrifted, etc. There are always so many great ideas.
A while back, I shared how to make a pretty dispenser for liquid dish soap. It could also be used for olive oil, vinegar, syrups, spirits, or anything else similar.
You can see my original post here → Upcycled Glass Bottle Dish Soap Dispenser
For my giveaway, I'll be sending a lucky reader the bottle that's pictured below. It's not exactly the same as I made in the original post, but it's still so much prettier than the bottles that dish soap comes packaged in. I use one just like it every day in my kitchen and love it.
If you want to make one for yourself, it's a super simple project and only requires a few simple tools and this liquid dispenser spout. You can use any soda bottle, beer bottle, wine bottle, or any that has the same size opening.
How to enter the giveaway
To enter the giveaway for my dispenser bottle, simply leave me a comment below and let me know what you would use it for; dish soap, oils, vinegar, etc.
A winner will be chosen at random and contacted via email, so make sure your email address is part of your profile when you comment.
If the winner doesn't reply within 48 hours, a new winner will be chosen.
Contest is only open to residents of the continental US.
Update: A winner has been chosen! Congratulations to Melanie H!
Each blogger is hosting a separate giveaway, so you'll have to enter for any item that you're interested in.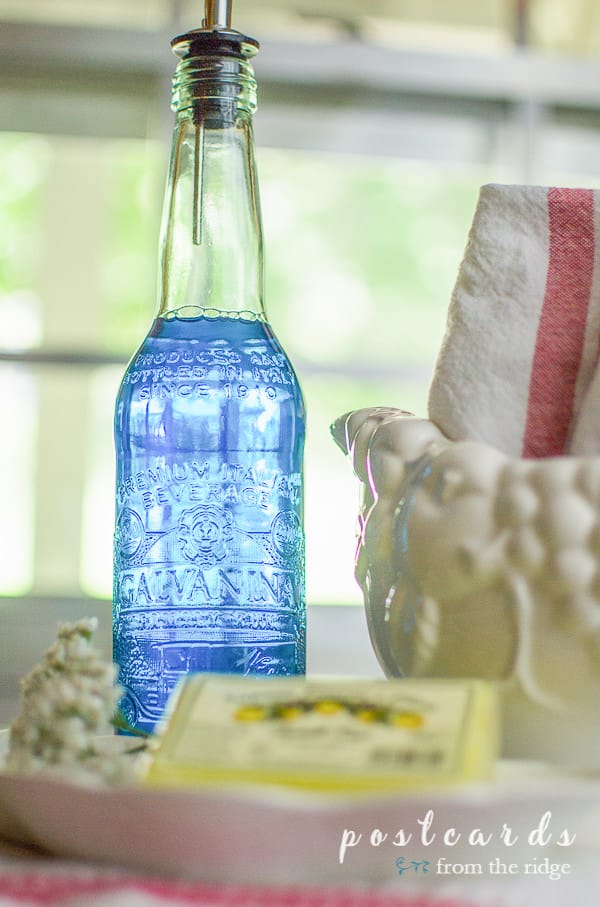 Here are all of the goodies that will be given away. The links are below so be sure to visit everyone to enter their giveaway right after you leave a comment here. Good luck!
THRIFTY STYLE TEAM HUGE HOME DECOR GIVEAWAY
Salvage Sister and Mister – 15 Beginner Chalk Board Tips
Chatfield Court – DIY Butcher Block Cutting Board
DIY Beautify – Winter Dining Room Decor
Cottage at the Crossroads – Rag Wreath Giveaway
2 Bees in a Pod – Honey Bee Glass Jug Pitcher Giveaway
Postcards From the Ridge – DIY Glass Bottle Dish Soap Dispenser
The Creek Line House – Handpainted "Be Kind" Sign and Grey Velvet Pillow Cover
The How To Home – Glass Apothecary Jars Giveaway
I Should be Mopping the Floor – Nine Ways to Style a Dough Bowl
Redhead Can Decorate – Huge Home Decor Giveaway
What Meegan Makes – Thrifty Style Team Giveaway
Bliss Ranch – Fake Porcelain Tags
Unskinny Boppy – Leather Leaf Earrings