12 Ways to Decorate with Christmas Trees
12 ways to use Christmas trees all around the house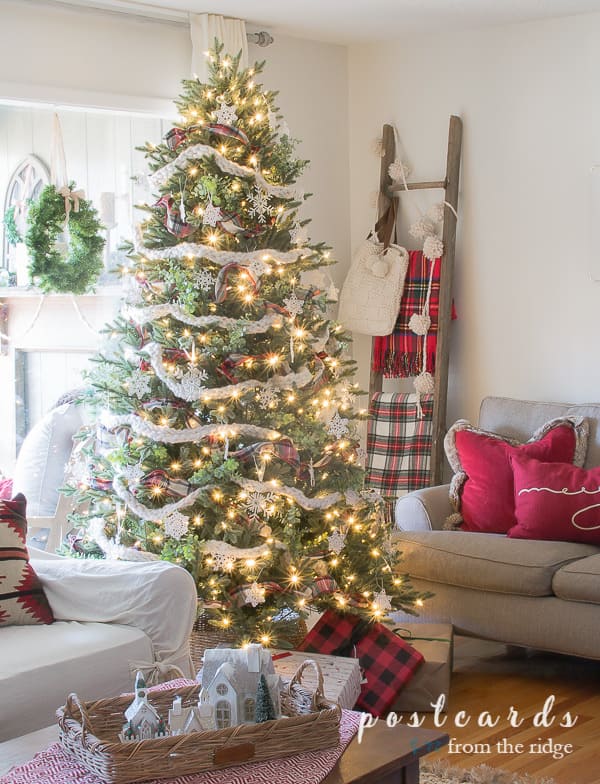 This post contains affiliate links for your convenience. For full disclosure go here.
12 Ways to use Christmas Trees
Hey, friends! Is there anything that symbolizes the Christmas season more than a Christmas tree? Not in my opinion. Putting up the tree is a special tradition in most homes that's eagerly anticipated by young and old. And in addition to a traditional tree, there are many other ways you can add trees to your holiday decor.
Today I'm joining a fun Christmas tree blog hop hosted by my friend Susie at The Chelsea Project blog. There are 12 home bloggers on tour, and we're sharing our trees and some creative ideas for decorating them. All of the links are at the bottom of the post so be sure to drop by and visit everyone for some great ideas.
In addition to our main tree, we have smaller trees scattered throughout the house. I'll show you some different places to use them and some creative containers to put them in. A few of my images are from my early days of blogging so please forgive my less than stellar photography on those.
1. Traditional Living Room Tree
We always have our main tree in our living room, in front of our wall of windows. Did you grow up with a Christmas tree in front of a large window too? I always enjoy seeing other people's tree at night through their windows. Sometimes it feels a little stalker-ish, but I think most people like to allow others to enjoy them. Hence, putting them in front of a window!
I usually change our decor a little each year. This year we have a snowy winter lodge look on the main tree. It's decorated with a cozy, chunky knit garland, wide flannel wired ribbon, and crocheted snowflakes.
We had a real tree for many years and I always loved the fresh pine scent. Last year we broke down and bought an artificial pre-lit one from Costco and I have to say that I love it. It looks very real, and no more struggling to put the lights on it. I added some faux baby eucalyptus branches from my little shop for some variety in texture and colors.
2. Next to our family room fireplace
I have trees all over the place this year. I added my alpine rustic tree to a woven basket and placed it next to our family room fireplace. The mantel and hearth got a makeover earlier this year and I wanted to dress it up for Christmas. The slim tree works great next to the mantel.
3. On the Deck
Don't forget the outside spaces of your home for the holidays. I added this vintage mantel to the deck a few months ago and decorated it for the holidays a couple of weeks ago. Like the family room mantel, I added a small tree next to it. The tree has a rustic look with pine cones and really makes the space so much cozier.
4. Tucked underneath a desk or table
Empty spaces underneath tables and desks are a fun and unexpected place to add small trees. Our little entry table had just enough room for me to add this small tree inside a little red Santa sleigh.
5. In a red wagon
Our front porch always has my dad's old red Radio Flyer wagon on it. It's fun to decorate any time of the year, but especially at Christmas. This year I added a slim tree in an old ice cream churn along with some colorful vintage thermoses.
6. On a mantel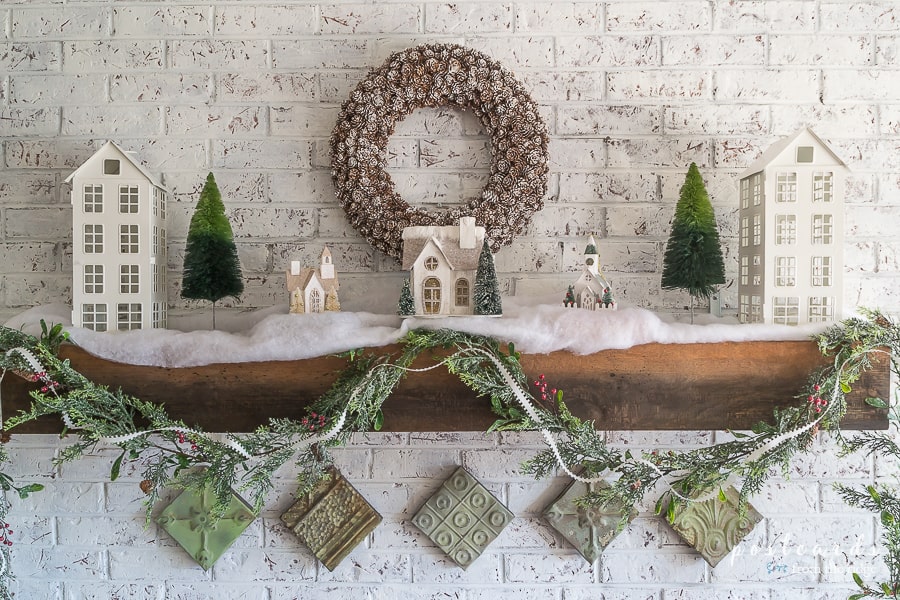 This is one of my favorite mantels I ever decorated. A couple of years ago I had a snowy winter theme and used some large bottle brush trees on the mantel. They're a great way to add a pop of color to a mostly white mantel.
7. In a hutch or on a shelf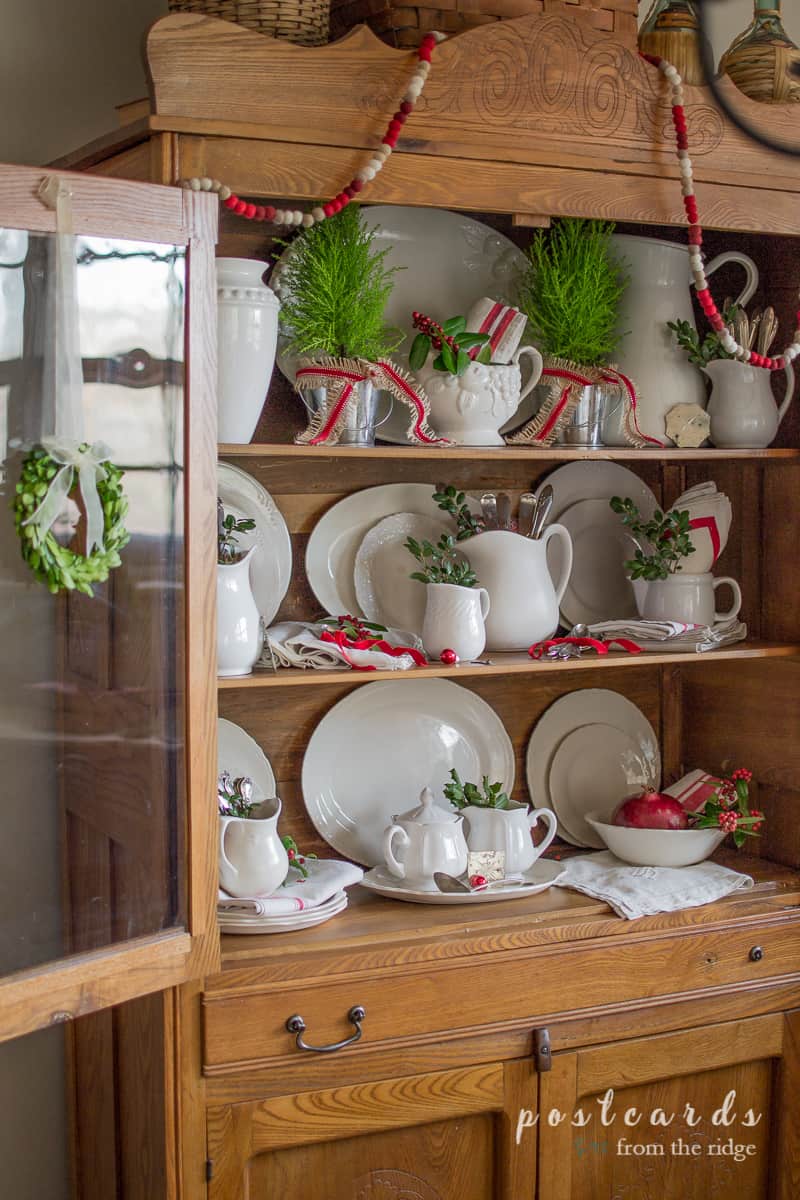 I love adding little trees to our old hutch for Christmas. These little lemon cypress trees are the perfect size and add a fun pop of green. You can usually find these are local nurseries or florists.
8. On the porch
I love to add little trees to the front porch too. This rosemary topiary makes a great little porch tree. It would be perfect for a kitchen too. I got this one at Costco, but our grocery store also sells them around the holidays.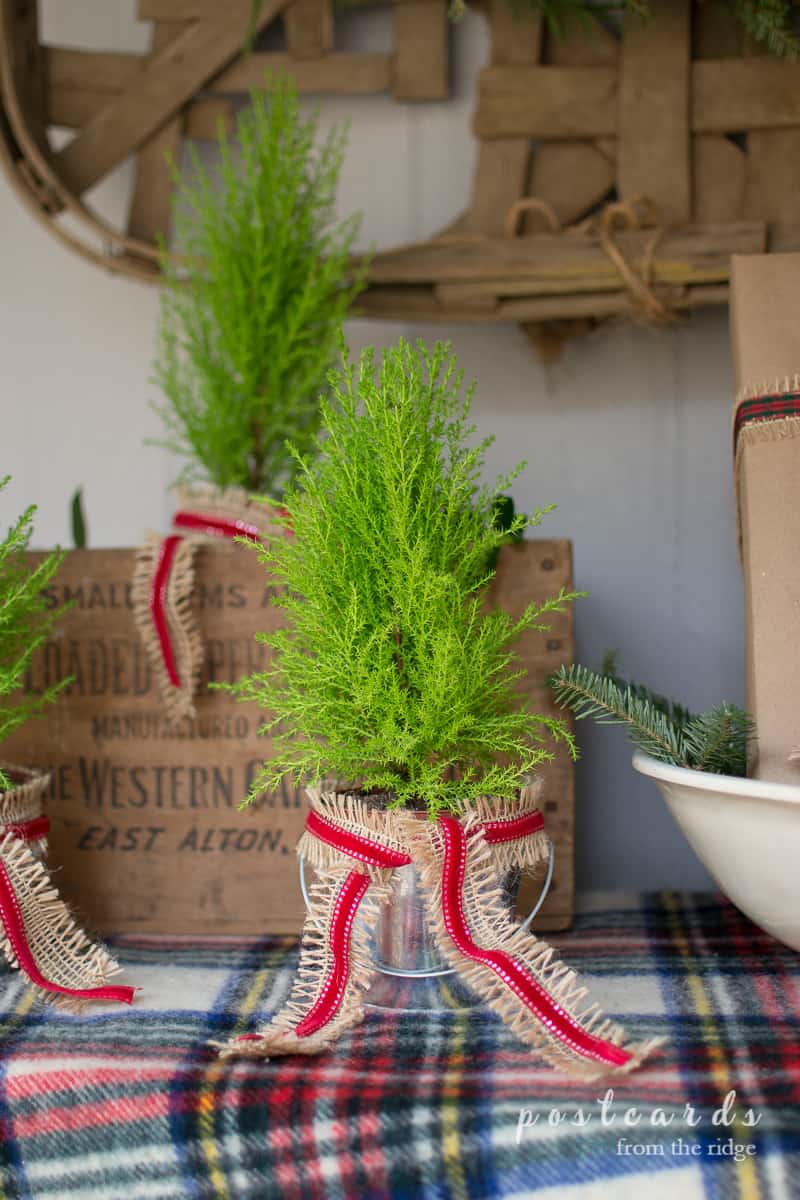 9. On a hot cocoa cart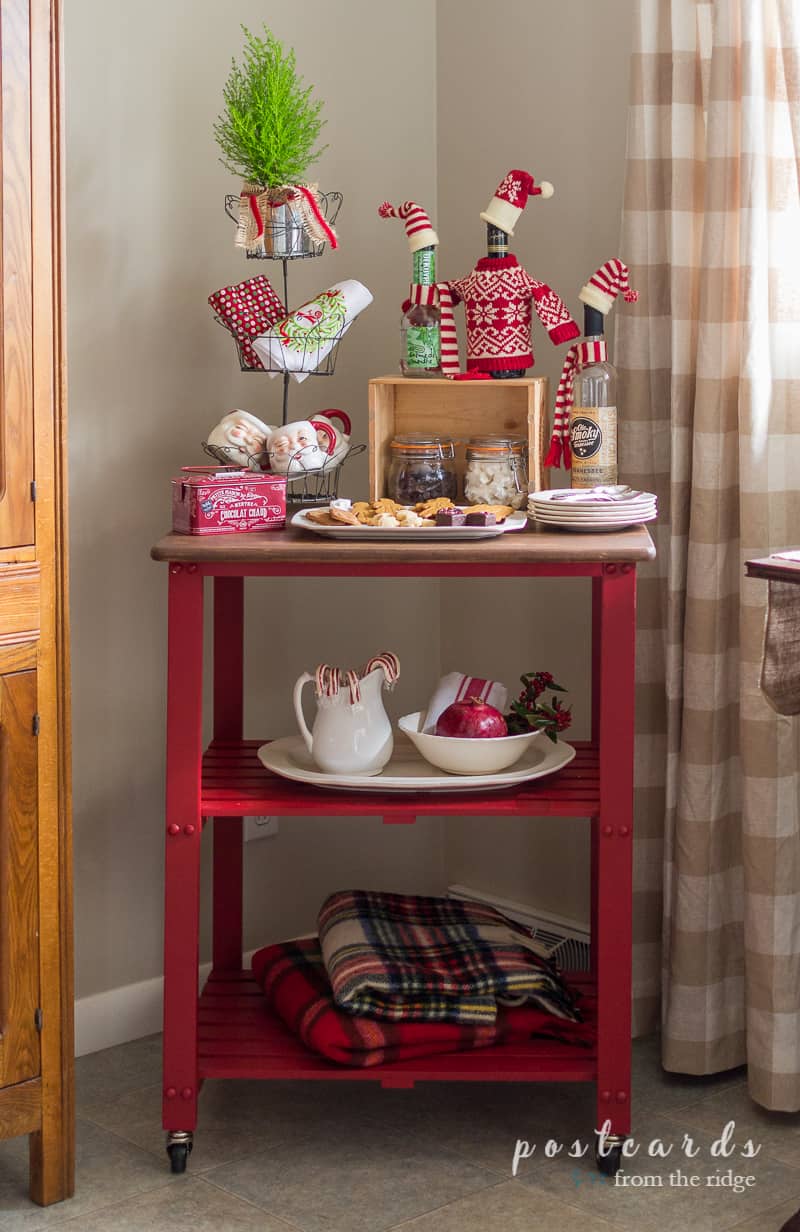 A cocoa cart is always a fun thing to have during the holidays. I added a little lemon cypress tree to my most recent one. I put it in a little galvanized bucket and wrapped some ribbon around it to dress it up.
10. On a hearth
Don't forget the front of your fireplace! Little trees look great there too. These came from a local nursery. They usually sell them for fairy gardens but I thought they would be ideal for the hearth. I love the way they contrast with the chunky knit stockings.
11. On a pedestal
I also like to use little trees on pedestals. This tree was on my hearth last year, but would be nice in the kitchen as well. I got it from our grocery store.
12. In the kitchen with small flatware
This is from several years ago, but I thought it was such a fun little tree. I used baby forks and spoons and sugar spoons. I also hung a little silver baby cup and added some small silver ornaments. The girls loved it.
And my very favorite trees are any that are lit up at night. 💓🎄
For more Christmas tree inspiration, please visit these fabulous bloggers. Simply click the blog name below each picture to access the link.
Chelsea Project ||| Atta Girl Says ||| 2 Bees In A Pod ||| JenRon Designs
The Crowned Goat ||| Hearth and Vine ||| Postcards from the Ridge ||| Savvy Apron
Adams and Elm Home ||| Nourish and Nestle ||| Sweet Parrish Place ||| Remodelandolacasa