A visit to Chip & Joanna Gaines' Magnolia Market and 5 things to know before you visit
A visit to Chip and Joanna Gaines' Magnolia Market
This post contains affiliate links for your convenience. For full disclosure go here.
I did it. I visited Chip and Joanna Gaines' Magnolia Market, bakery, garden, and their original little shop a few miles away. But it wasn't actually a planned trip. It was kind of impromptu.
How did that happen since we live nearly 1,000 miles away? Well, earlier this month my husband and I drove 15 hours from east Tennessee to Austin, Texas to help our oldest daughter move for her new job there.
As we drove away, I was feeling sad about her living so far away. Wanting to cheer me up, my sweet husband asked me if I'd like to visit the Magnolia Silos since we would be driving right through Waco anyway. Of course I would.
I thoroughly enjoyed our visit and snapped lots of pictures and wanted to share what I saw with any other Fixer Upper fans who've ever wondered what it's like there.
The Magnolia Market at the Silos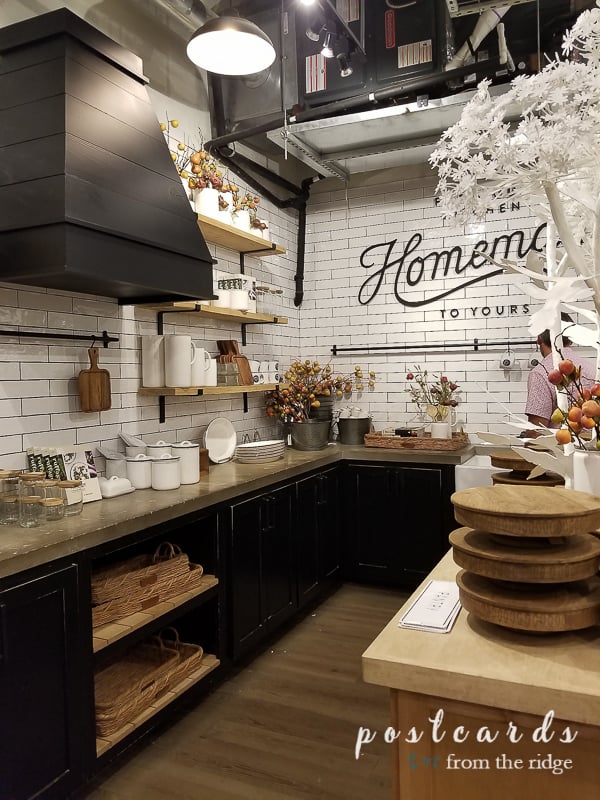 The Magnolia shop has a front building that's sort of like a showroom. It has areas set up somewhat like you'd see in a home. The kitchen area has subway tile, concrete counters, black cabinets, and open shelving.
There's also long wall with several mantels decorated for the season. Everything you would need to recreate each look is located in the shelving next to the mantels, made to look like built-in bookcases.
Lots of eye candy and great ideas. They really know how to show off their merchandise.
I think the one below was my favorite mantel. I love the colors and those mirrors with the different shaped raw wood frames.
This mantel with the books is so original.
A very interesting area is this arched opening. There are actual books embedded in the walls.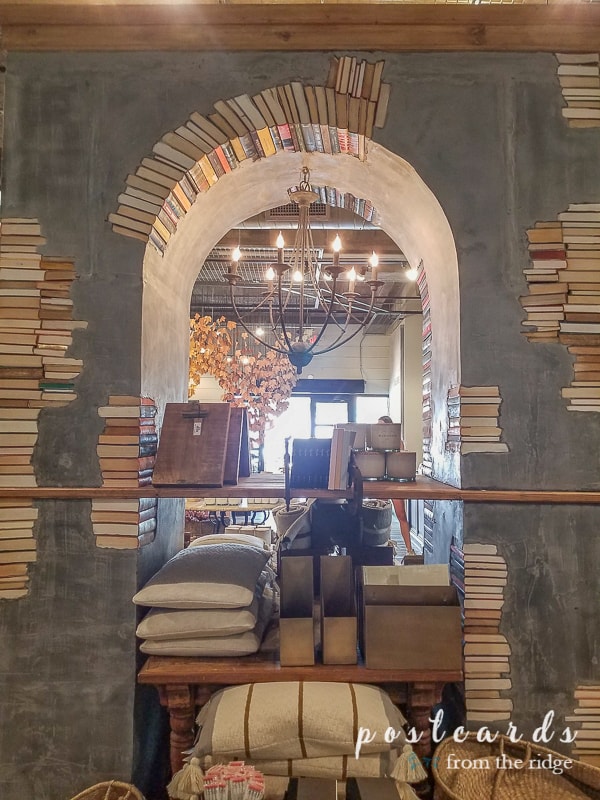 Another favorite area of mine was the flower shop area. It's set up like a street vendor with a cart full of flowers.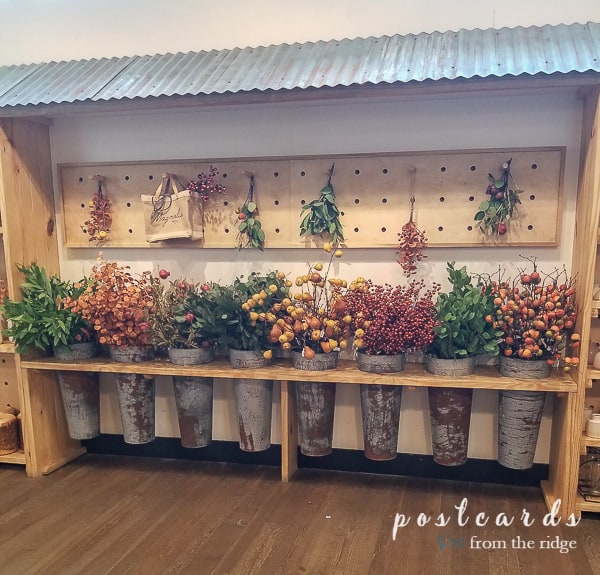 And they were all very realistic looking.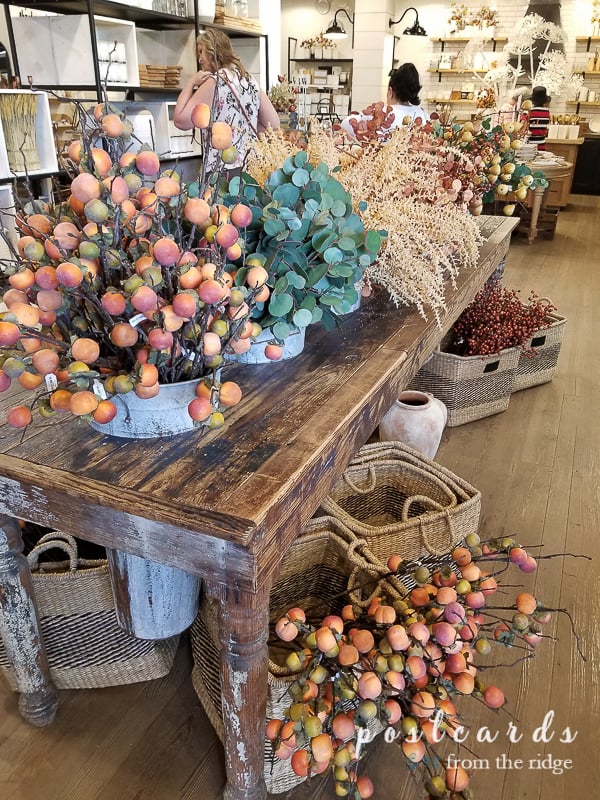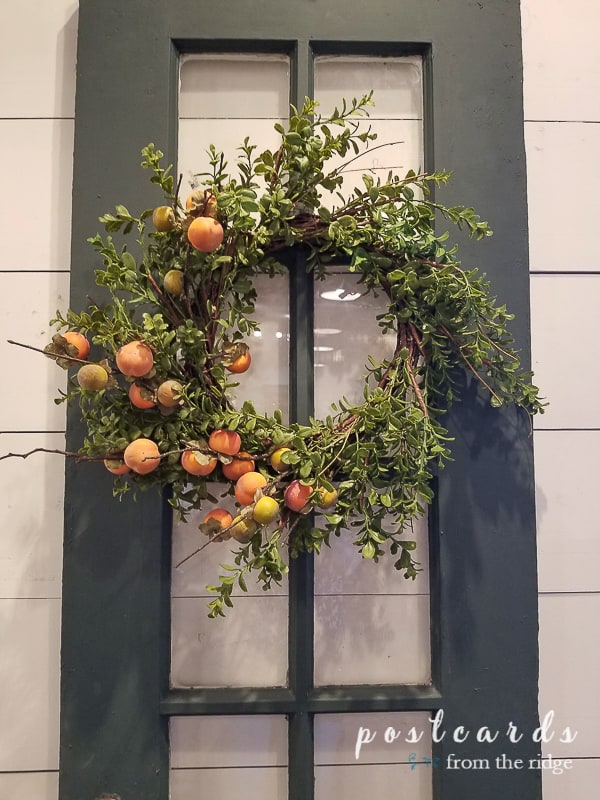 If you walk through the front area and down a few steps there's another area that's mostly merchandise and not as much of a showroom. Lots of pretty items are located there too.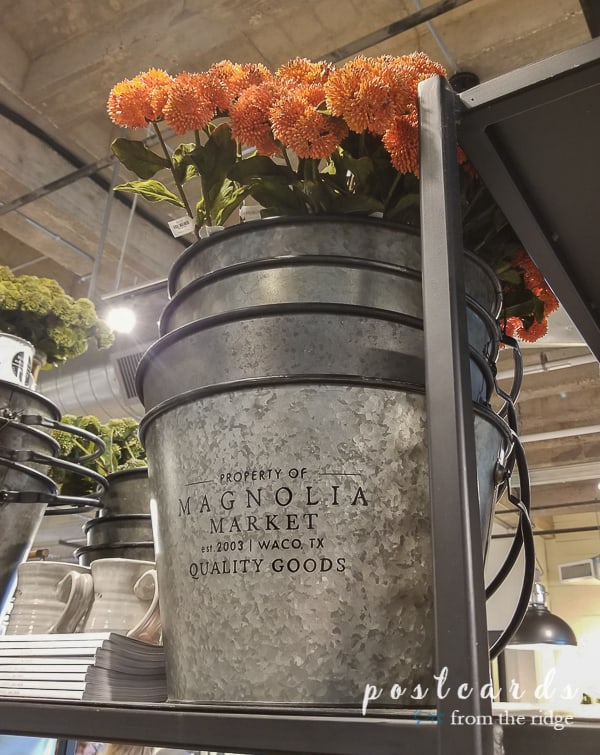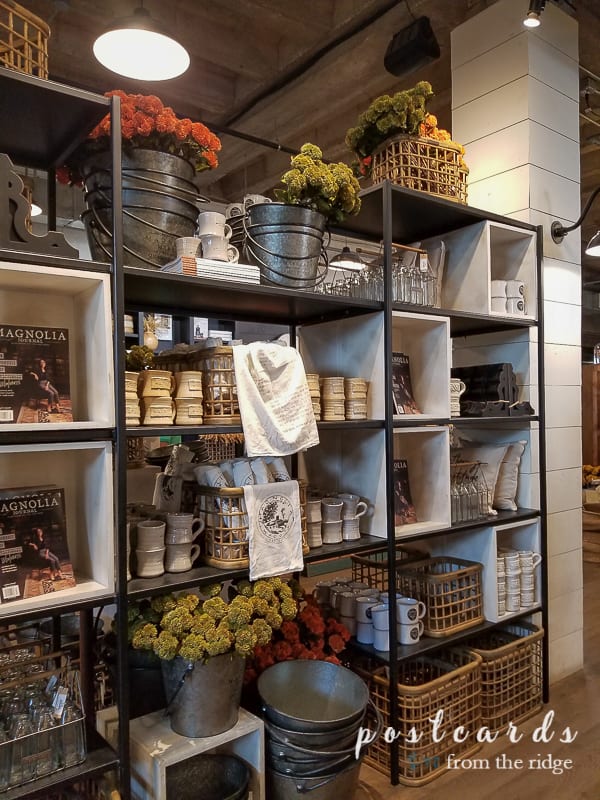 The Garden
The outside area is just as inspiring as the inside. I enjoyed walking around the garden area and getting ideas for sprucing up the yard back home.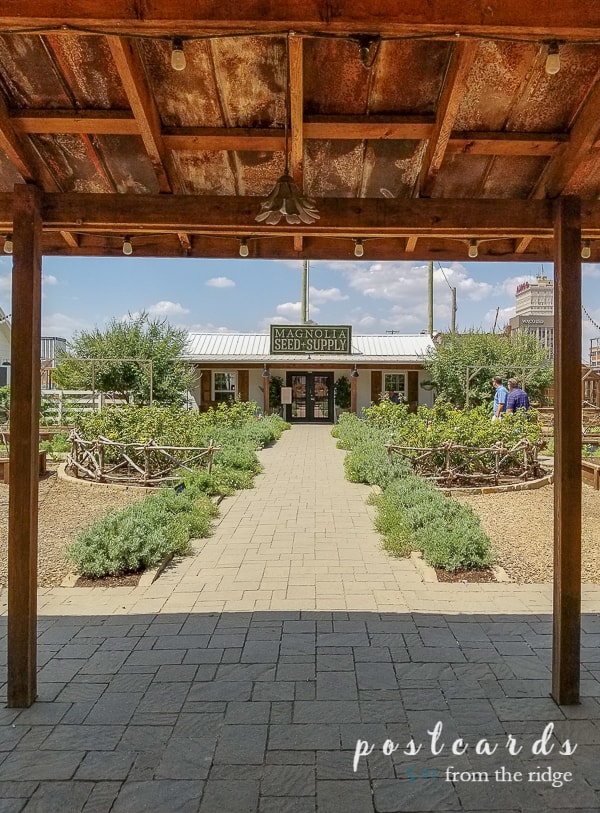 The raised beds and a little garden shed with a cupola made me want to come home and plant a garden.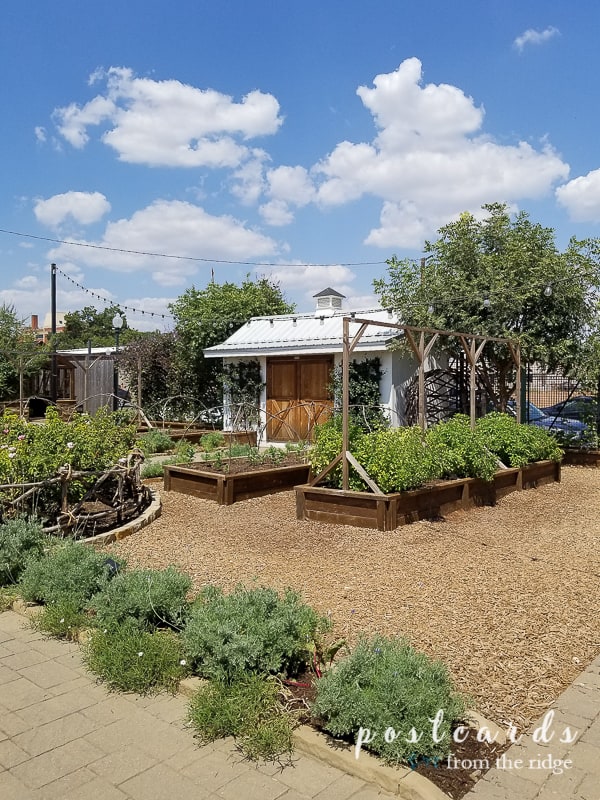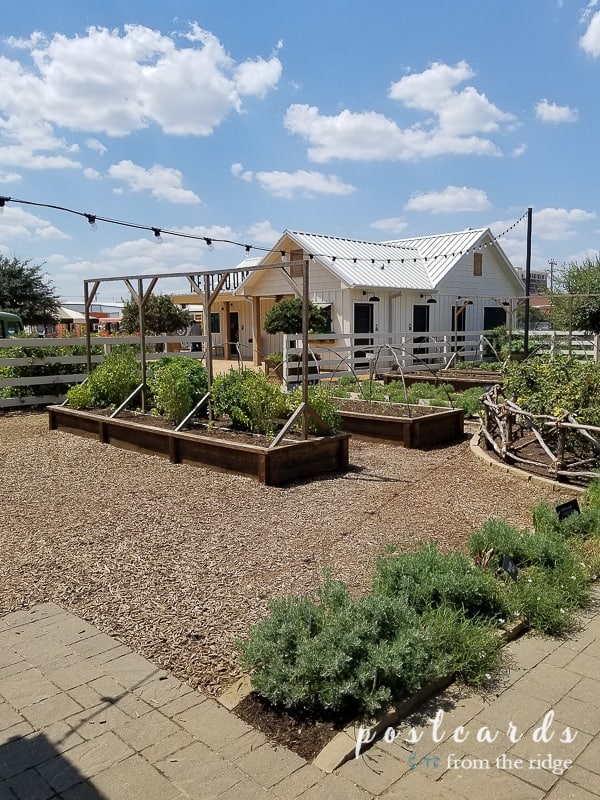 There were little nooks to sit and relax in the shade also. This one had a charming bench made from woven willow, I think.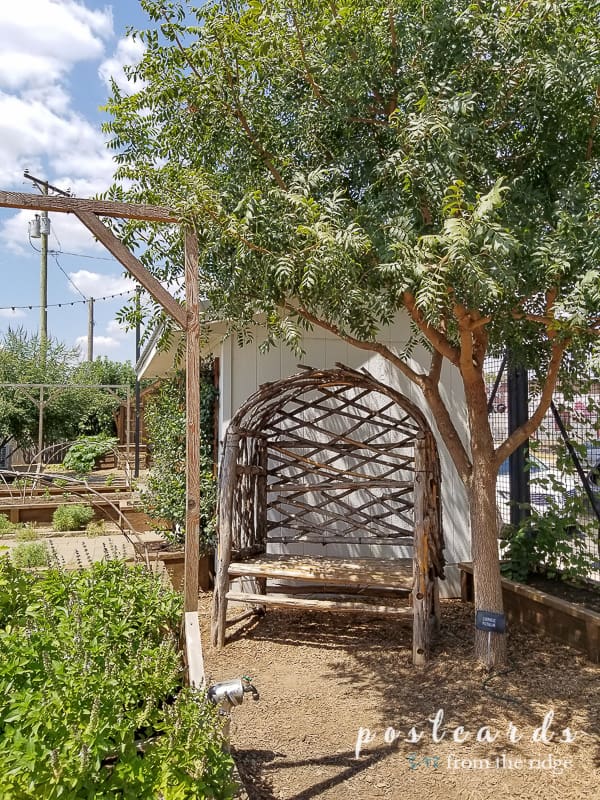 And what kid wouldn't love to hide out in this tee pee? The mushrooms were fun too.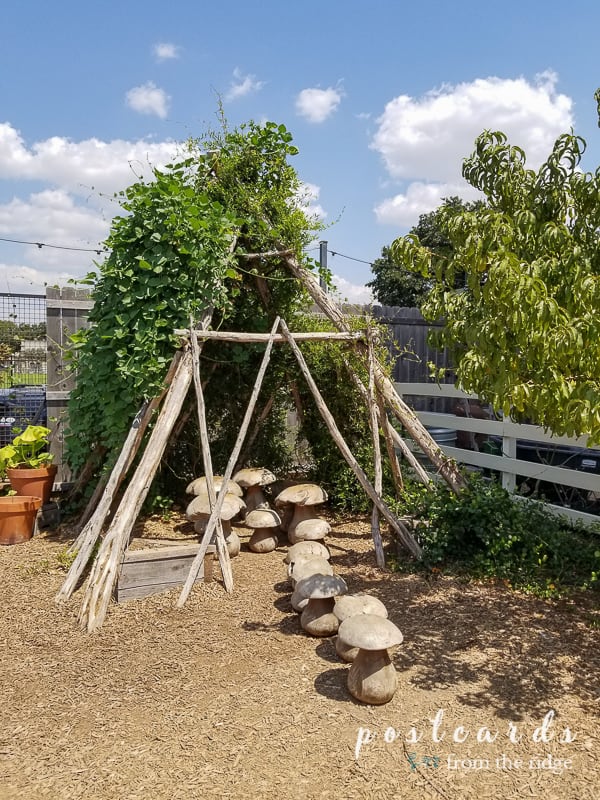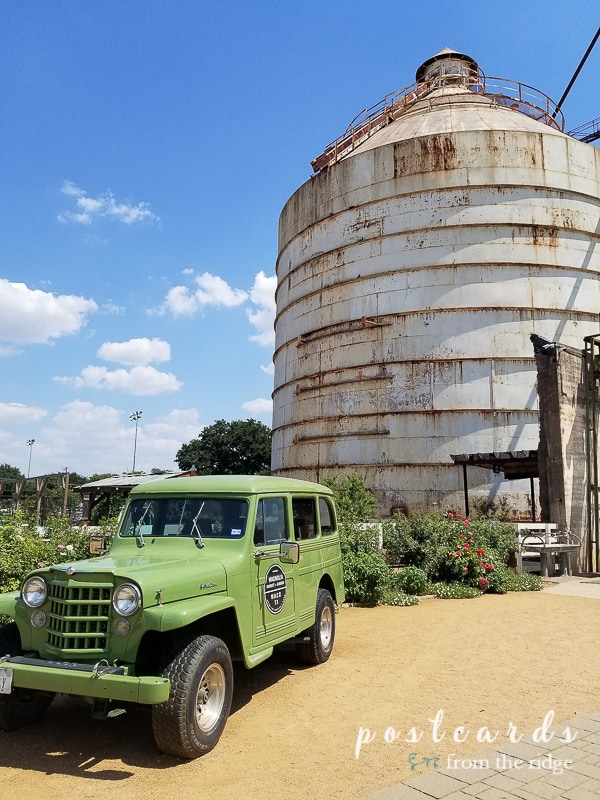 There were also a few of these rustic wooden bench swings. We sat on this one for a while and rested our feet while sipping on some cold water. Texas is hot, y'all.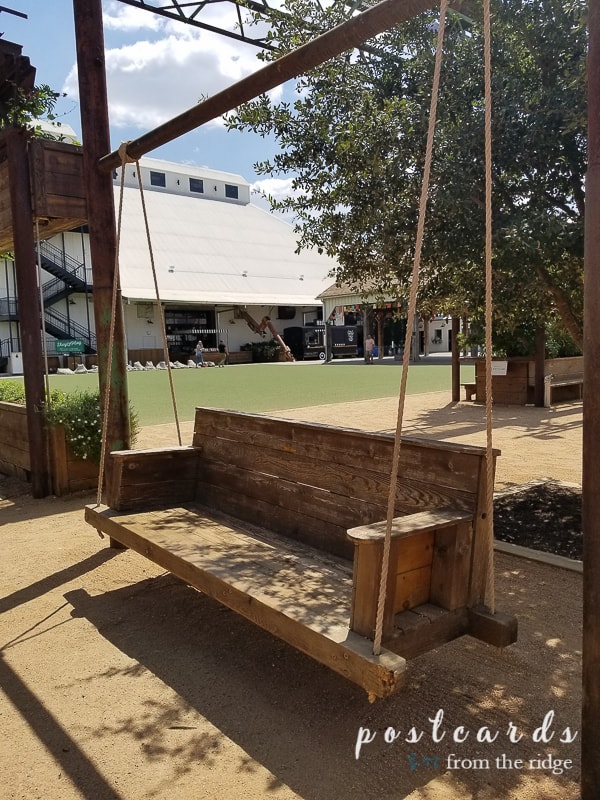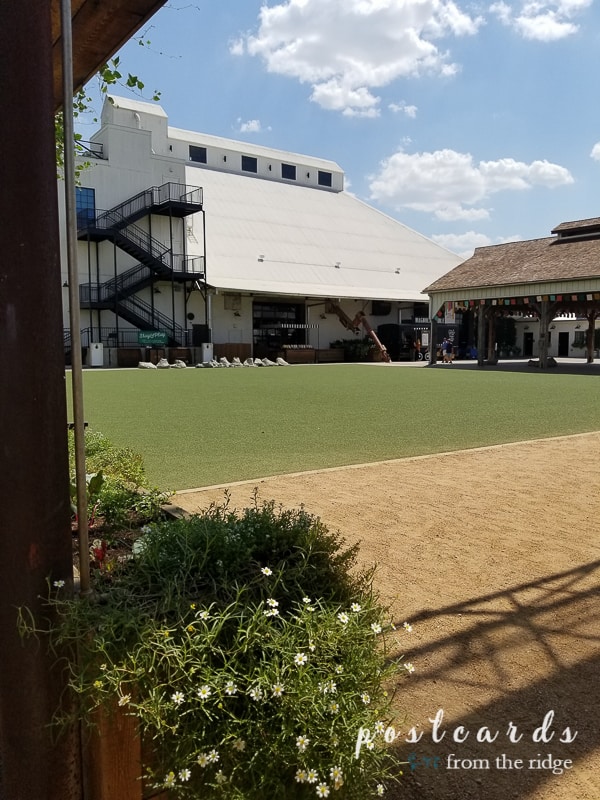 Back near the garden area there is a row of food trucks so you don't have to worry about going hungry.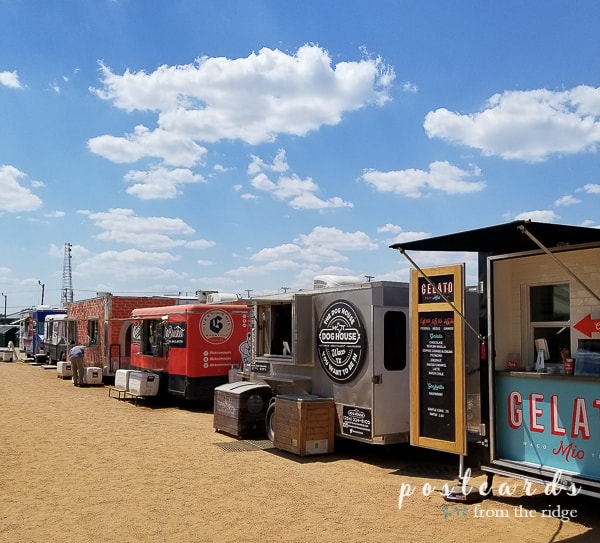 The Magnolia Bakery
Who doesn't love giant cupcakes and pastries?
The bakery was cute and charming and had a large variety of cupcakes, cookies, and croissants.
I got a strawberry cupcake and ate it before I thought to take a picture of it, lol. It was very sweet but was moist and tasted great.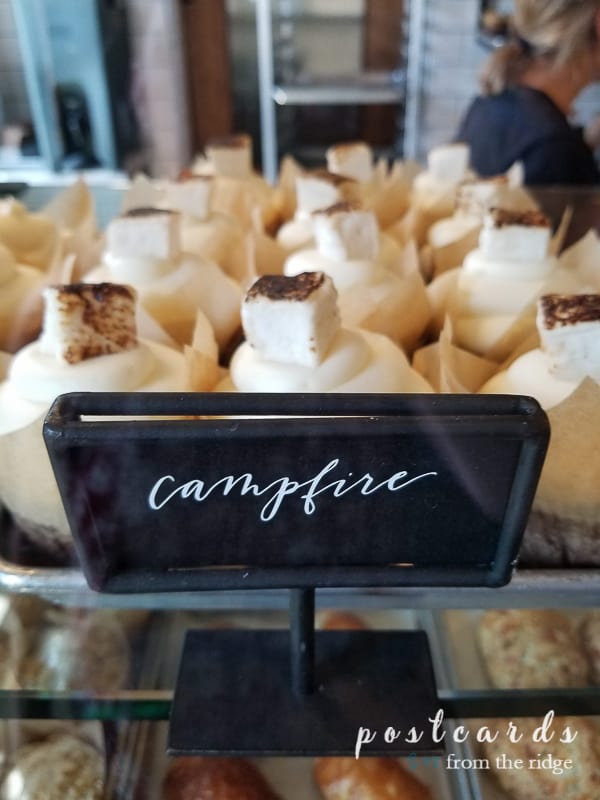 The Original Magnolia Shop
Before Chip and Jo had the shops at the silos, they had a little shop several miles away in an old house that had been remodeled.
The original Magnolia shop is still there but now it's where they have their sale items. We visited in early fall and the little shop had mostly spring and summer items at good prices. The flowers were very pretty and I love how they had them displayed.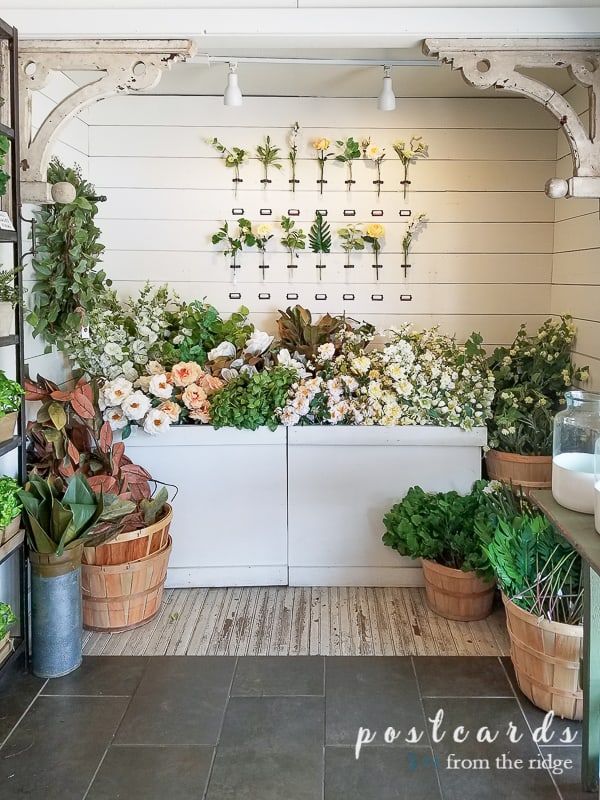 Lots of faux greenery and vases were there as well. I'm sure the merchandise changes depending on what they're trying to sell out of. The prices were pretty good on everything there, I thought.
The best prices were on the items located outside in a covered area.
When we were there it was mostly garden items but again, I'm sure it varies depending on when you visit. It's worth visiting though because the prices are good there.
What I came home with
Are you wondering what I bought while I was there? Of course I got a few pretty goodies. Here's a look at some of my finds.
I got this woven tray which is the perfect size for our living room coffee table.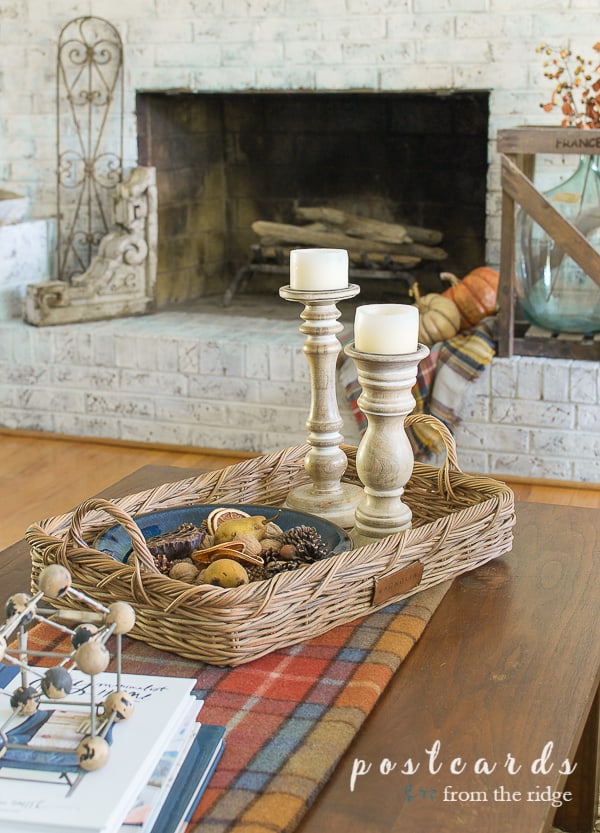 The sienna eucalyptus branches really caught my eye for fall, so I also got a few of those.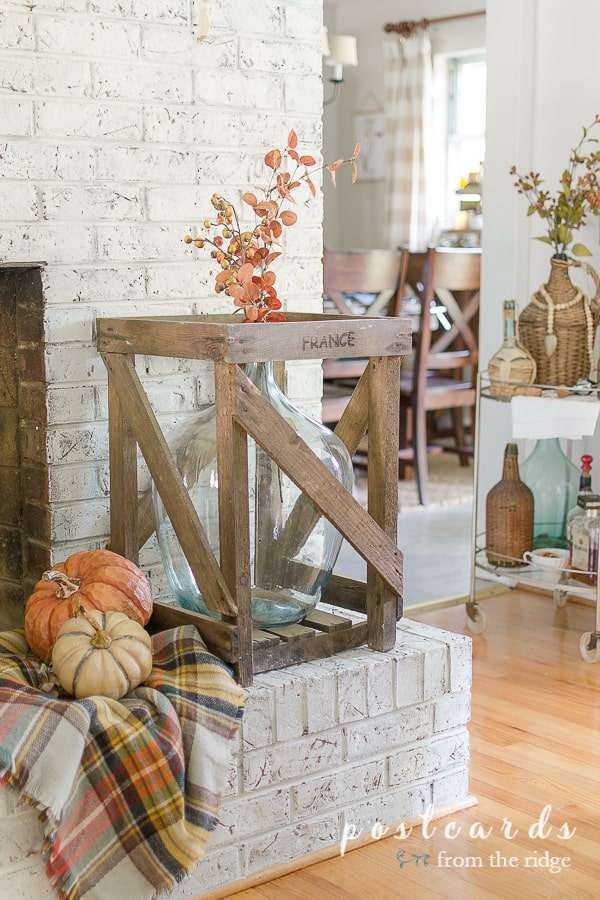 The berries and wheat stems also came from there. I love the muted colors for fall.
To see more of my fall fireplace decor and fall decor ideas from 28 other bloggers, go here → Fall Ideas Tour
I also got a burlap and jute shopping bag while I was there. It was rather expensive and I like it, but wish I would have saved some money and got one from here → burlap and jute tote bag instead. It's the same bag, just without the Magnolia logo.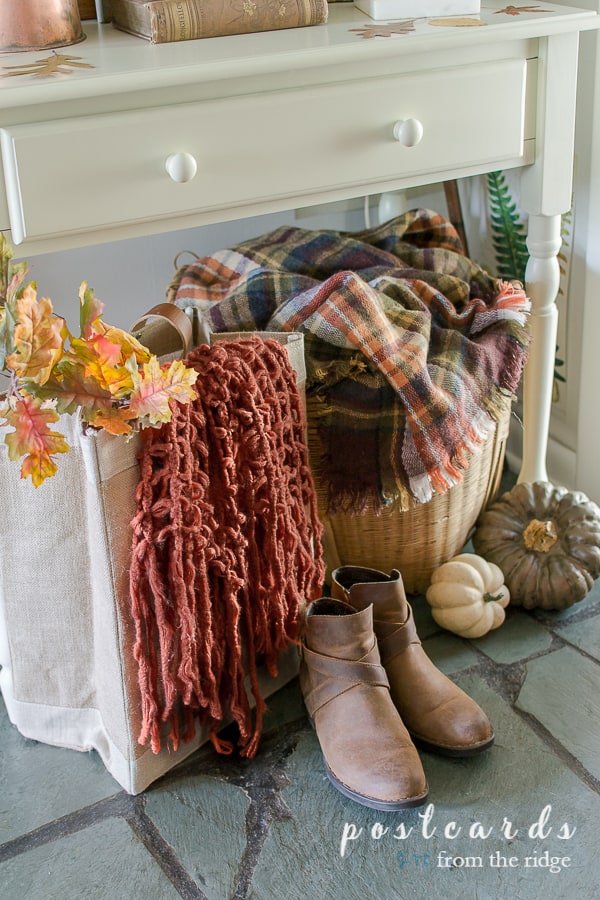 To see more of our entry, tiered tray, and bar cart styled for fall, go here → Fall Entry, Bar Cart, and Tiered Tray.
What to know before you visit
Are you planning a visit or wanting to go to the Magnolia Silos market? Here are a few things to know before you visit:
It's usually hot. Unless you're there sometime in November through March, dress light and stay hydrated. We were there in early September and it was blazing hot.
It's crowded. Bring a large dose of patience. If you can visit during the week and in an off season then it won't be as crowded. We were there on a Thursday and it wasn't too bad, but there were lines of people both in the shop and the bakery.
Wear comfortable shoes. You'll probably be on your feet for a while, so wear something that won't be too uncomfortable.
You won't find anything cheap. This is more of an experience than a bargain hunt so don't be surprised if you see prices that are high. Not exorbitant, but kind of like Pottery Barn prices. But most of the items I saw seemed to be good quality just as you would expect.
Chip and Jo probably won't be there. Sure, they own the place, but they own several other businesses as well and are also busy starting their own television network so they have other people running the shops for them. The do make appearances there a few times a year.
So that's a wrap up of my visit to Chip and Joanna Gaines' Magnolia shops in Waco, Texas. Would I go again? Sure. I don't think I'd make a special trip to Texas just for that, but I'm so glad we dropped by as we were driving through. It's only a few miles off the interstate and definitely cheered me up. If you're planning on going there for a visit, you can find some nice places to stay nearby here → Waco, Texas lodging.
Have you been there before? What did you think? Leave me a comment below and let me know that or what your favorite part of my visit was.
shop Magnolia Home items