How to Get the Best Family Photo Cards for the Holidays
With the holidays just around the corner, many people are already thinking about Christmas cards and wondering if they have a nice photo to use with it. Taking a family photo can be challenging but with a little planning and the right equipment it's much easier. There have been many years that we've scrambled to get a photo for our cards but this year we planned ahead and already have a few good pictures to choose from.
This post contains affiliate links for your convenience. If a purchase is made after clicking one of the links I might make a small commission. Your price does not change. For full disclosure, go here.
I'm no expert or professional photographer, but here are a few simple tips to help you with your holiday card photos.
1. Make it fun.
If you're stressed out about it, everyone else will be too. Have a good time and make it an adventure. Whether you're in the back yard, in front of the fireplace, or venturing out to a beautiful spot, have fun with it.
For our photos, we went to a local dairy farm where my daughter works. Most cities usually have public areas and parks that make great backdrops for photos. Be sure to get permission if necessary.
2. Use the right equipment.(And expect curious onlookers.)
A tripod and a wireless remote will make things much easier. Whether or not your camera is a DSLR, a tripod and remote will make your pictures sharper.
If you want to use your phone for your photos, use a small tripod like the one found here. They're great for small cameras too. For iphones, there is a wireless remote found here. For other phones, set the camera timer and hurry to your spot if you're going to be in the photos.
3. Take lots of photos.
The more people you have (and the younger they are), the more difficult it is to get a good photo. We took well over 100 photos and only a few of them turned out well.
If you have multiple lenses, try shooting with a few of them for different poses. I brought a couple of lenses in my camera bag but only used one of them.
4. Get outdoors if possible.
Everyone looks better in natural light, and an hour or two before dusk is the best time for photos. For the best color, use and editing program like Lightroom for your images. It will make a world of difference.
5. Try different backgrounds.
I took this shot by the fence as we were leaving the farm. It was completely impromptu and was the best one of the day.
For tips on getting different perspectives and capturing a great shot with any camera or phone, go here.
6. Trust Minted with your cards.
Once you decide on your favorite photo, head over to Minted to see hundreds of options for your holiday cards. The photo of our girls was my favorite one.
One of the best features at Minted is their Find it Fast option. Simply upload your favorite images and you can see how they look in the various photo options. It makes the selection process so much easier and faster. Here's a screenshot of how it looks in just a few of the pressed foil cards. Isn't that cool?
I'm leaning towards the pressed foil, but there are so many options that I haven't made a final decision yet. We'll take a family vote on my favorite three.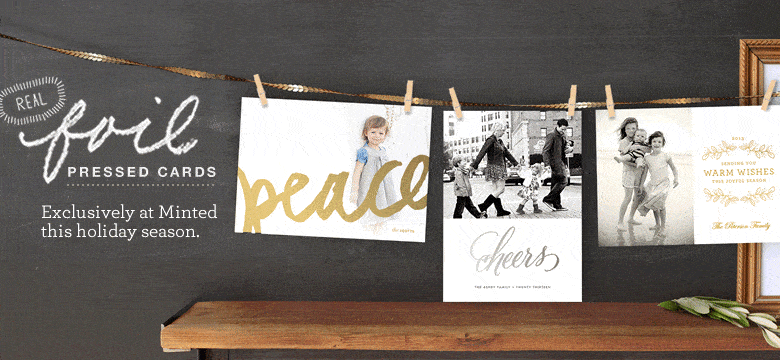 Here are a few more examples of the pressed foil cards. Aren't they festive?
The final decision is the style of envelope addressing you prefer. Your friends and family would love to have this in their mailbox.
Have you started thinking about your cards yet?
*I was compensated for this post with product and/or payment from Minted. All opinions and text are mine. I only work with and recommend quality brands and products that you can trust.*
Thanks so much for dropping by my little space on the world wide web!
XOXOX,
Angie
Also found here: