8 Great Ways To Display Your Vacation Memories
Have you ever thought about how to display your vacation souvenirs? Taking a trip is something you look forward to for months, maybe longer. And the memories from a good vacation can help get you through a dismal day. Today I'm sharing some creative ways to display your memories and souvenirs.
This post contains affiliate links for your convenience. I may make a small commission on products purchased with my link, but your price does not change. For full disclosure go here: Disclosure and Policies. Thank you for supporting my site.
How to Display Vacation Souvenirs
After it's all said and done and you've returned home and unpacked all that dirty laundry, preserving the memories of a good trip is a wonderful way to relive it all again. Since vacation time doesn't come around too often you'll want an easy reminder of treasured times with your travelling companions and the fun that you had. There are several great options for keeping the memories alive all year round.
We've done this before and it's very simple. Just upload your photos, make a few clicks to add them to the digital book, and receive your hard copy in just a few days. There only $9.99 HERE.
Remember that amazing sunset or architecture photo you snapped? Turn it into a canvas and hang it on your wall to enjoy year round! It's easier than you think.
Just upload your photo, choose the size, and receive your canvas in a week or so. It takes as little as 5 minutes. No messy craft supplies needed!
3. Banner made from vacation souvenir maps
Keep a few of those free tourist maps and create a banner with them. I made this one for our oldest daughter using an old atlas and cut the triangles highlighting the places we've visited. You can get the full tutorial here: How to Make a Map Bunting
Create a custom personalized photo collage like the ones above with your favorite photos. I love the one with the stamp on the corner.
I ordered our Christmas cards from this same company and the quality is incredible and I can highly recommend them. Go here to see all the fun photo collage options they offer: photo art gifts. They'll even frame it for you for a little more! Easy as pie.
5. Display Vacation Souvenirs in a Memory Jar 
Fill a pretty mason jar with some of your travel finds and label it with the year and place you visited. From Martha Stewart
6. Personalized Shadow Box 
You can create your own unique shadow box using your photos and mementos. I couldn't find the original source for the Paris shadow box above, but you can use this tutorial from picmonkey to create the backdrop like the one I made for Venice. Put it in a frame and add your memorabilia for a simple shadow box.
You can find a shadow box frame for a good price here.
7. Hand-Stitched Map 
This is a simple way to remember your route. Frame it and hang it on the wall for some fun artwork.  From Martha Stewart.
8. Travel Keepsake Boxes 
If you travel a lot and want to keep your mementos neat and tidy but close at hand, this is a great idea. Simply stencil the name of each place you've visited on wooden keepsake boxes and place your treasures inside.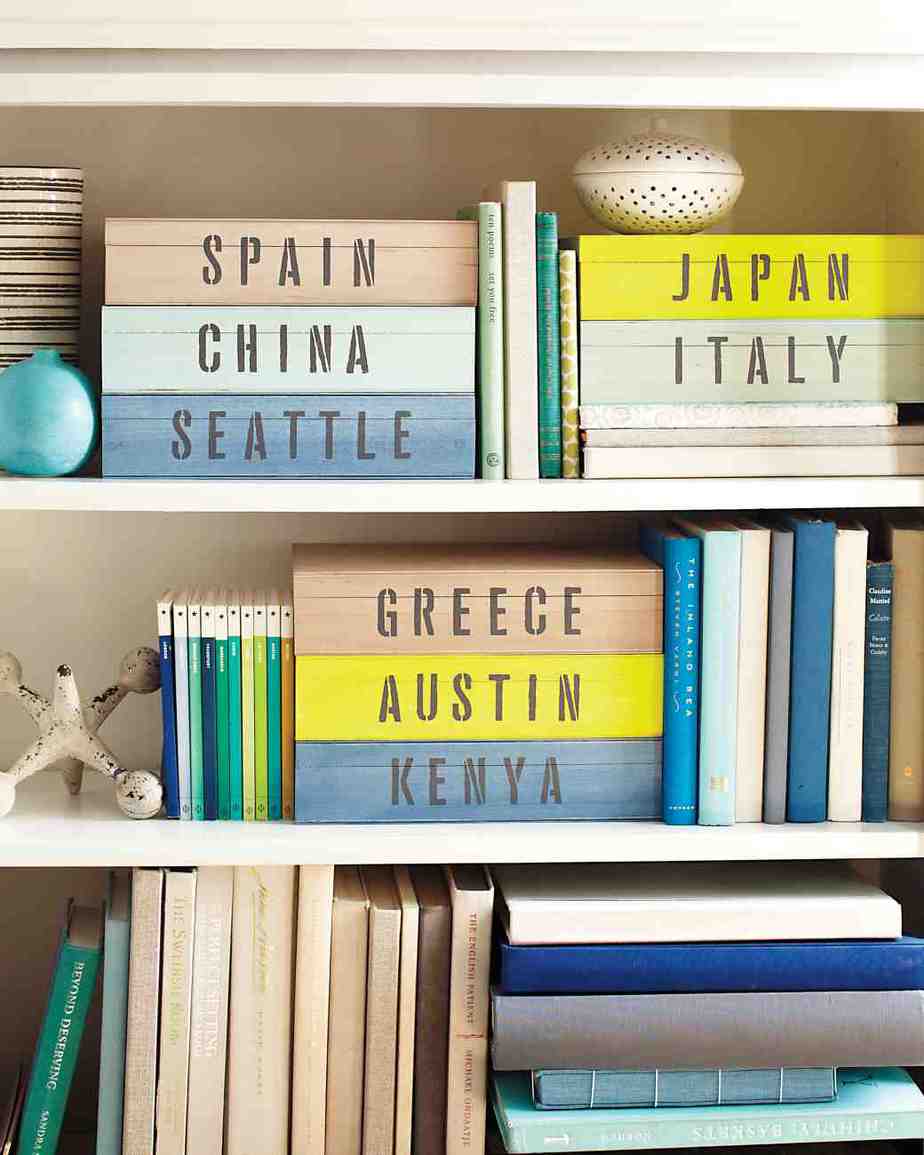 The boxes can be found here and the stencils are here.
These are just a few of the dozens of great ways to display you travel keepsakes. You can get as crafty and creative as you want! What are some ways that you display your travel memories? I'd love to hear your ideas!