Sweater Pillow and Music Sheet Bird Ornaments ~ Secret Santa Blogger Gift Exchange
Merry Christmas! Okay, okay. I realize it's still a few weeks until Christmas but I've already received my first Christmas present and given one as well! Why? Well, some of my blog friends and I signed up for a Secret Santa Gift Exchange and today is the big reveal! We sent a gift to one blogger and received one from our Secret Santa blogger. How fun is that? AND, each gift had to be hand made with a tutorial so you can recreate it. To see all of the posts, click on the links found at the bottom of the post. There are some truly talented ladies on this tour!
For my project, I actually made 2 things. A holiday sweater pillow and some music sheet bird ornaments for Christy at Confessions of a Serialy DIY-er.
I must admit, I had a really hard time deciding on what to make her. She shared some of her favorite things in a recent post and one of the things she loves is birds. I scoured pinterest and the internet for some easy bird projects and came up with the music sheet ornaments. But after I made them I felt like they weren't enough, so I also made a fun holiday pillow from a sweater.
Here are the supplies I used for this project:
Sweater
pillow form
sewing machine
needle and matching thread
scissors for cutting fabric
straight pins
snowflake ornament
Velvet ribbon
*disclosure – this post contains affiliate links. I might make a few cents if you purchase something you've seen in this post but your price does not change. This helps offset the cost of operating this blog and materials for the projects involved here. This post is not sponsored by any brand. Thank you for your continued support.
I used a sweater that I had picked up at a thrift shop a couple of weeks ago for about $4. The first thing I did was wash it and then I let it air dry so it wouldn't shrink.
Next, I cut off the sleeves and the top of the sweater, leaving enough to fit around the pillow form and allowed 1″ extra for the seams. I'll probably use the sleeves for a wine gift bag.
I turned it inside out and hemmed one end with the sewing machine and left the other end open. Then I inserted the pillow form, turned under the raw edges and pinned them together, as shown below. Next, I hand sewed it closed. It took about 5 minutes for that part.
The next thing I did was layout the design of the velvet ribbon and attached with a generous amount of fabric glue.
I didn't care for the unfinished edge on the "O", so I attached a small snowflake ornament in the middle of it with the fabric glue, disguising the end of the ribbon.
Here's the pillow, ready to ship to Christy. She let me know when she got it and said it goes great with one of her recent projects, a red and white painted chair! Woot!
Now for the paper bird ornaments. I was inspired by this post, but she used book pages and added legs. I loved the look though. I also used the template from the post, found here.
For the paper bird ornaments, here are the supplies needed:
Music sheets – I used some from old music books I found at an estate sale
Bird template – I used the one here
Xacto knife
Mod Podge
Brush to apply to Mod Podge
Glitter
Twine or string to hang them
hot glue
Scissors
First I traced the bird shape onto the music pages using the bird template that I had cut out with my scissors.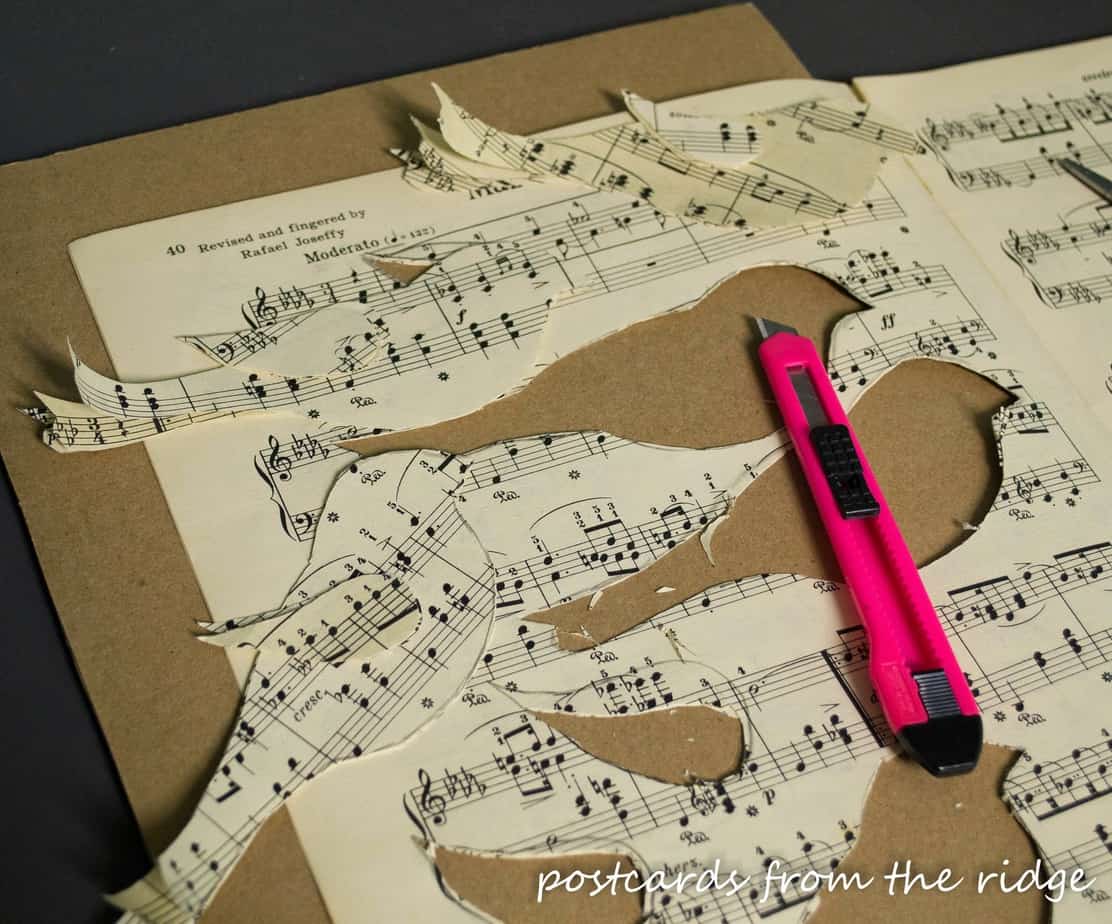 Next I cut through 3 pages with a sharp blade so I would have a layered look. Then I drew and cut out the wings. I didn't use a template for those.
Next, I glued the wings and body together using a dab of hot glue between each layer.
Then I brushed Mod Podge onto the wings and sprinkled on some irridescent glitter while it was still wet.
I used a pencil to slightly curl the tail and wings.
The last thing I did was attach the twine to the back to hang them.
Here's the finished project. I promise they look much better in person. My camera was not cooperating with me for this project. This was a really easy project that even a novice crafter like me can do!
Now I get to show off what I got! My Secret Santa was the lovely and talented Jeanette at Snazzy Little Things and she sent me these pillow covers that are AMAZING! They're so nice that I almost hated to show you what I made for Chrsty! What do you think? Aren't they awesome? I'm so happy with them.
Head over to Snazzy Little Things to get the how-to for these beauties! And if you love these as much as I do, she's launching an online shop where you can purchase them for yourself. They'd make great gifts!!
Don't forget to scroll down to see all of the gifts and visit the site for the how-to for each one. I feel like I'm in the presence of super stars with these ladies!
Stay tuned over the next few weeks because I'll be sharing a Christmas home tour, holiday crafts, DIY projects, cookie recipes, a sneak peek at a Nashville show house, and more! It's going to be very busy here in the ridge! If you're new here, sign up for email here or follow along here:
Email * Facebook * Hometalk * Pinterest * Twitter * Instagram

For handy tips and tutorials, go here.
To see my painted projects, go here.

For tasty recipes from my kitchen, go HERE.
For some simple tips for capturing a great photo, go HERE.
Go here to learn about having an online design or color consultation.
And go here for dozens of photos, ideas and favorite paint colors.
XOXOX,
Angie