Union Jack Dresser with Handmade Rope Drawer Pulls
Hello, friends! I hope you're getting a taste of Spring-like weather in your neck of the woods. It's been a little warmer here and we're so glad.
I've been finishing some projects and today I'm revealing what might be my favorite painted piece of furniture to date. Although I nearly sent it to the burn pile before I finished it.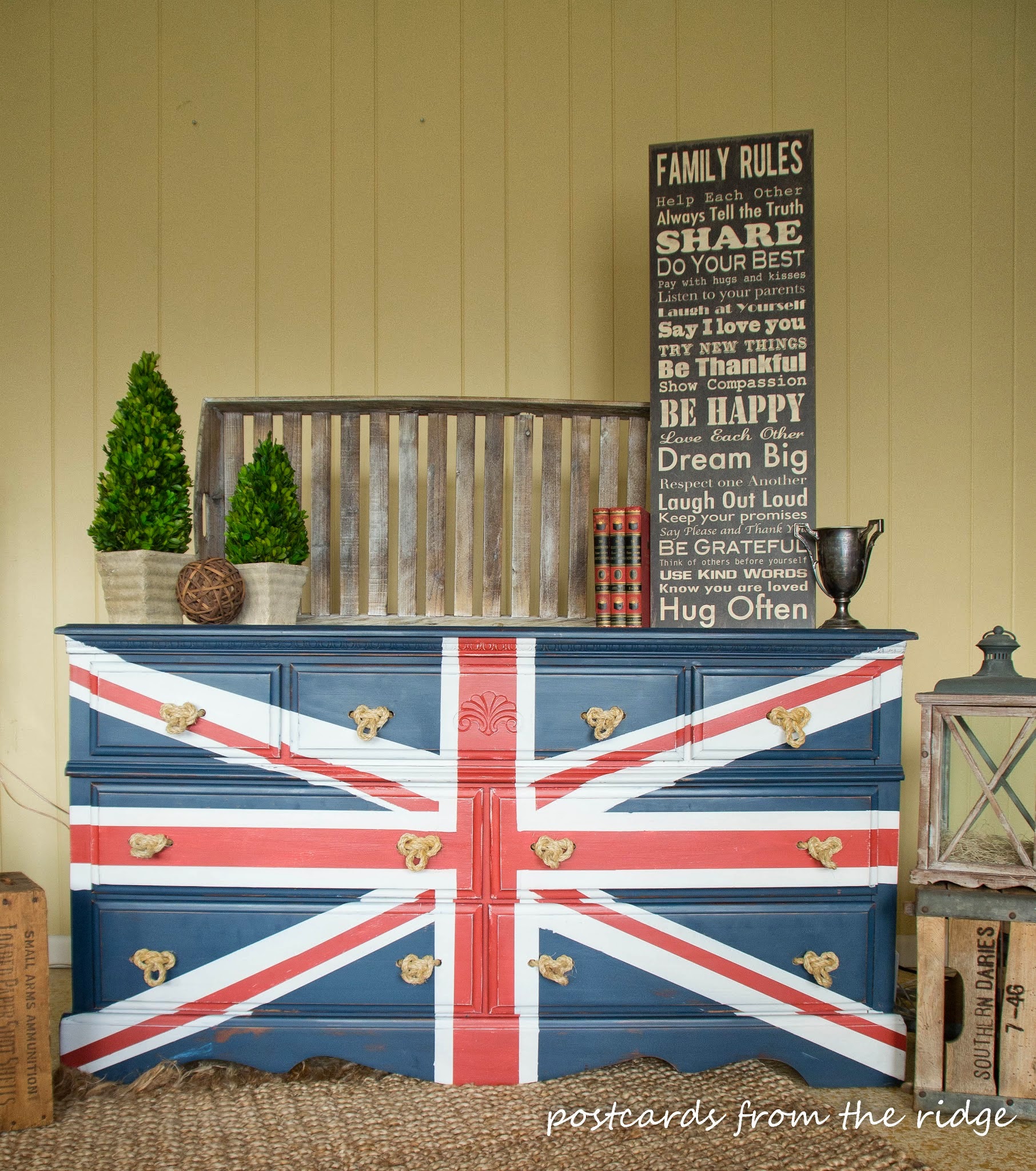 Meet Queen "B", named such because of her English style and her uncooperative attitude. If you've ever painted a Union Jack flag on a piece of furniture that wasn't flat, you know exactly what I'm talking about.
I won't tell you how many hours I spent on this piece. But by the time I finished, I had to bring it home from the shop instead of selling it because I had invested too much time in it.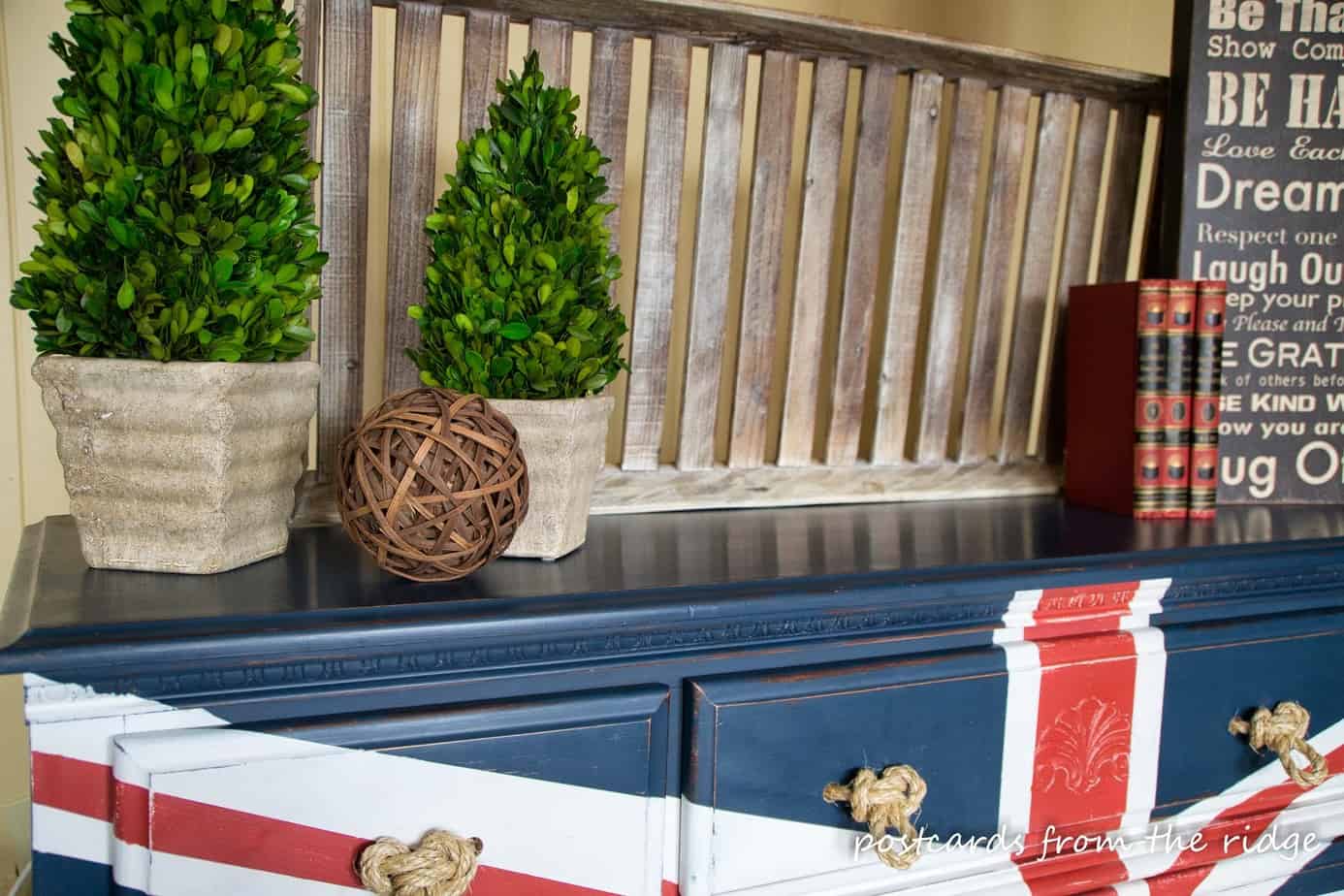 Besides, I really liked it and my family did too, so it's now living in our basement.
I was going for a Ralph Lauren, old blue jeans look with this piece.
I wanted it to look like it had lived some life, which it definitely had before I rescued it from the thrift store.
I also gave it an American twist by using Williamsburg colors from Benjamin Moore.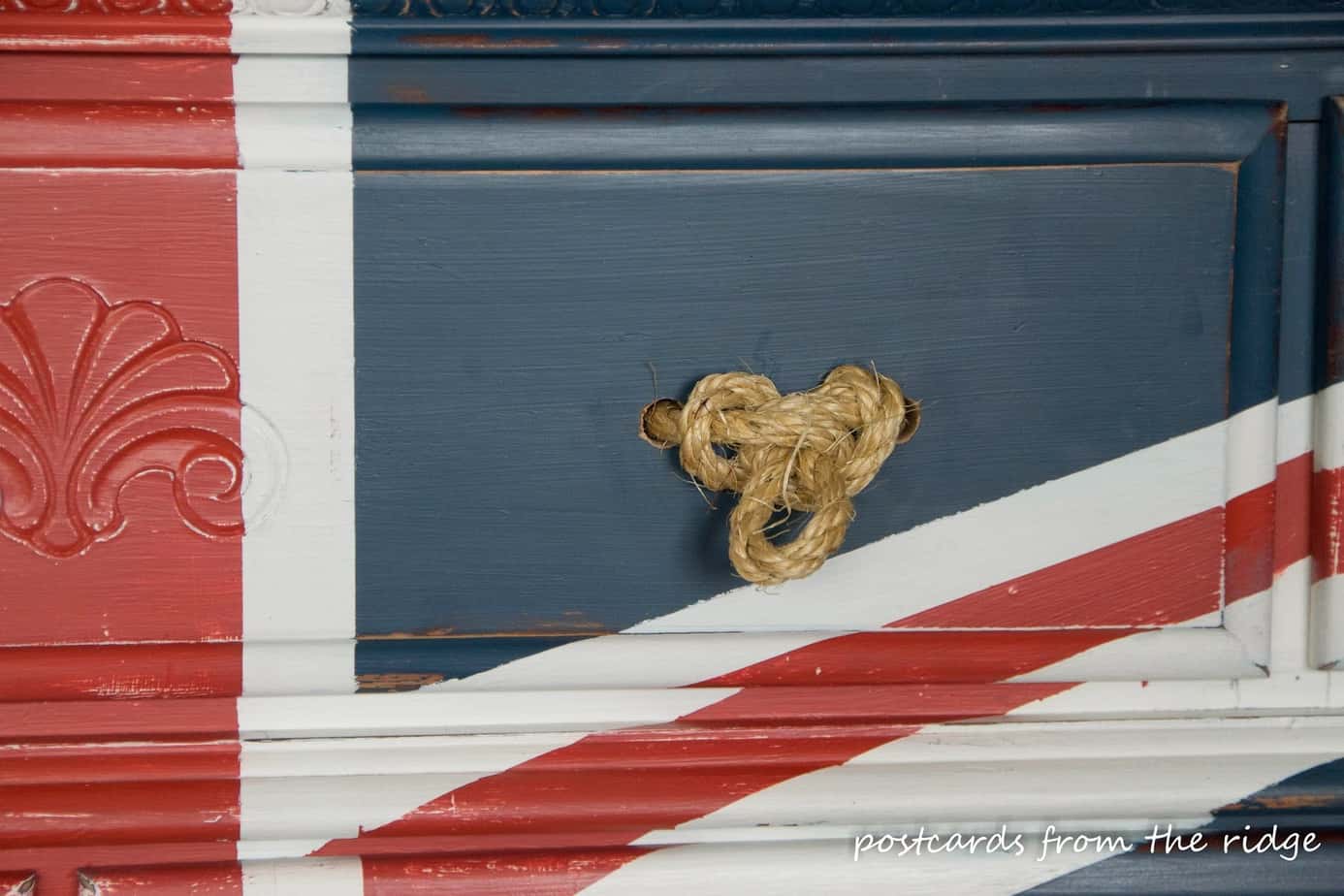 The colors I used were Washington Blue, Harwood Putty, and Cochineal Red.
I didn't love the shiny brass fancy pulls that were on it so I created my own from sisal rope.
I gave it a good distressing too. I wanted the layers to show through.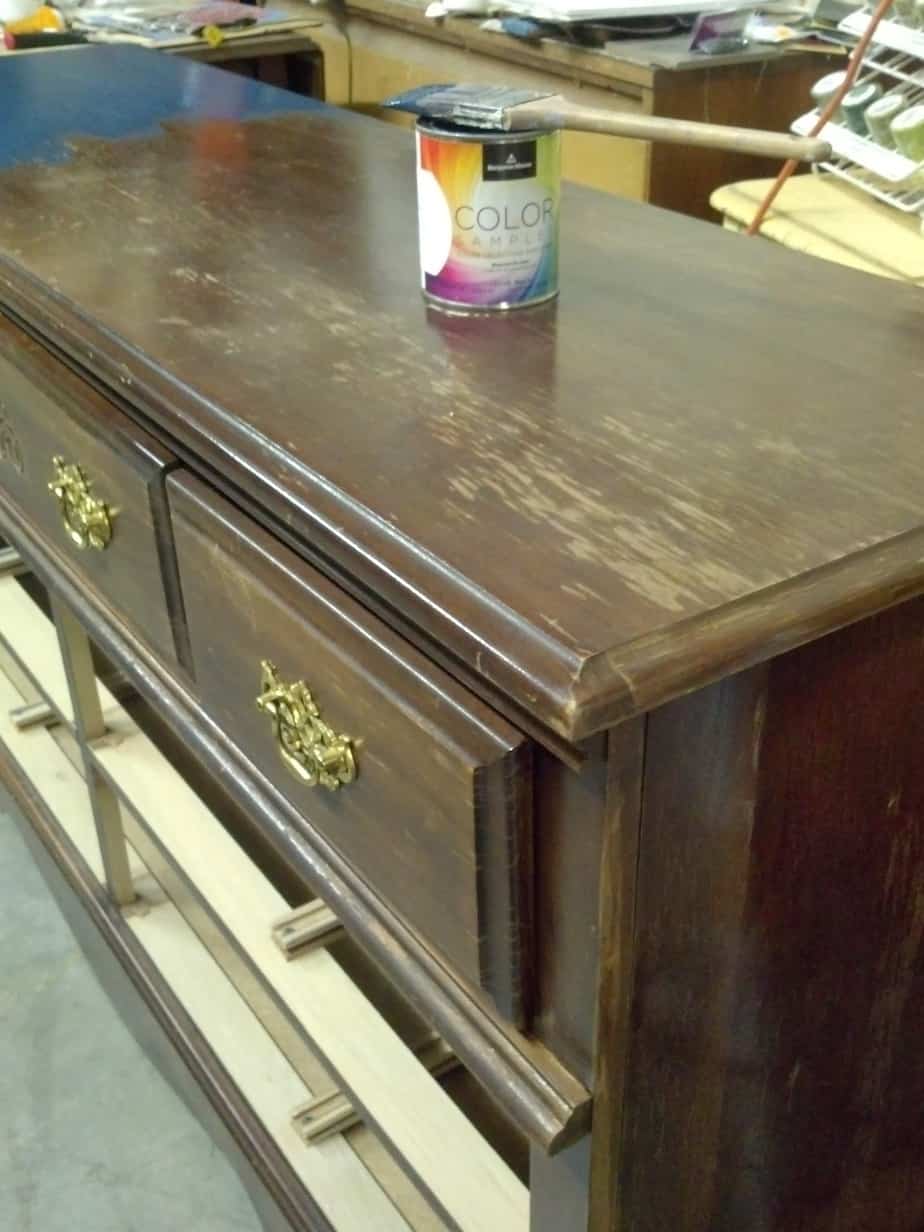 As you can see, it was in pretty rough shape when I rescued it.
The finish on the top was flaking off and it wasn't something that could be refinished.
After I painted the base coat, the taping began. There was a lot of taping and retaping.
I used probably half a roll of Frog Tape for Delicate Surfaces. I had a little bleed through, but mostly where there are contours or carved areas and I didn't have the tape pressed all the way in there.
The painting is mostly finished here. Right before I got to this point I seriously considered just burning the whole piece because I was so ready to be done with it! It took quite a bit more time and patience than I usually devote to a thrifted piece fo furniture. I took a deep breath and a few days off from working on it and then pressed on to get it done.
The top and edges were lightly distressed.
Some of the intricate detailing shows up here.
After I finished painting and distressing it, I sealed it with Clapham's beeswax. I love that stuff. No odor and goes on like softened butter.
Everything didn't line up perfectly, but that's fine with me. I'm not perfect either. 🙂
So that's my latest completed piece of furniture.
What do you think? I wasn't sure how the rope handles would look, but I really like them.
And my 17 year old daughter said it reminds her of the "Pirates of the Caribbean" and watched that movie as soon as we brought the piece home.
Thanks so much for dropping by. Have a lovely weekend.
To see more of my painted projects, go here.
XOXOX,
Angie
If you're new here, I'd love for you to follow along and see several other upcoming projects, including a stenciled chest of drawers, a new kitchen faucet, and much more. You can follow here:
Email * Facebook * Hometalk * Pinterest * Twitter * Instagram


Sharing this project here:
Miss Mustard Seed's Furniture Feature Friday
Disclosure:
The opinions in this post are mine, based on my own personal experience using the specific products mentioned here. I have not been paid by any of the brands mentioned to recommend their products. I am, however, an Amazon associate which means that if you purchase something from them after clicking a product link listed here, I might make a few cents from the sale. Please follow the manufacturer's instructions for any product you use.