Fall Mantel ~ Vintage Farmhouse Style
Hello, friends! Remember my last post where I revealed my traditional version of the fall mantel? Well, today I'm showing you a vintage farmhouse version involving ironstone!


I've got a moderate collection of ironstone pieces that I've found at yard sales, thrift stores and rummage sales. The platter above was found at the local Goodwill store, and the pitcher came from a yard sale. Each was less than $5. That's my kind of price.
Here you can see the full view of the hearth and mantel. The lighting in here is challenging, so it's hard to get a good photo.
I've had everything in this photo for a while now, except the chalk board. I made it last week from a yard sale frame and some chalkboard paint. I also painted the frame in a nice turquoise shade. It's supposed to be for sale in my retail space. I might just keep it. 🙂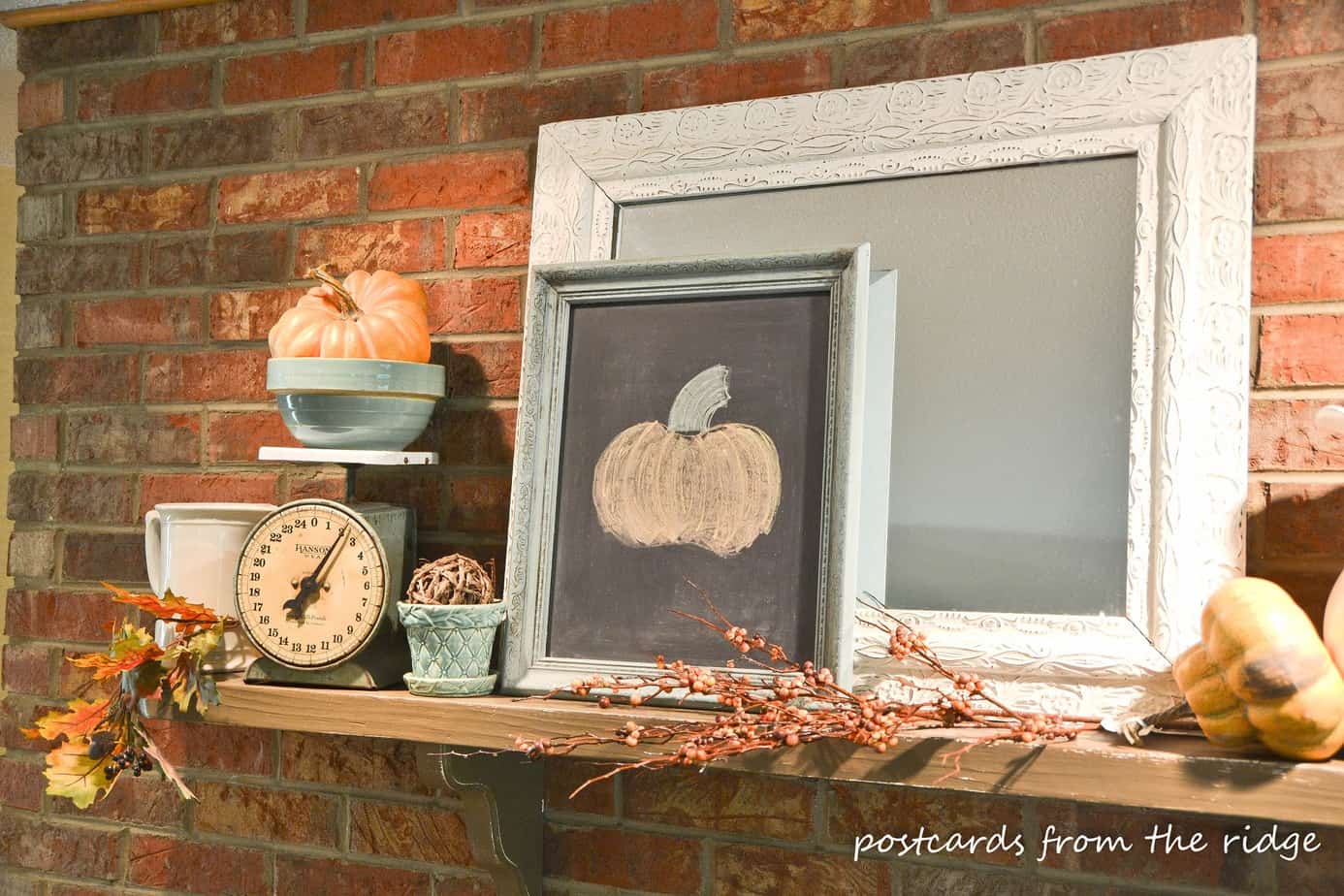 The scales are from an estate sale, and the mirror was found at a flea market many years ago. The faux pumpkins are "borrowed" from my retail space. I really should return them so I can sell them. Really, I should.
What is it about metal letters that draw me to them? Maybe it's my magnetic personality or something, but I can hardly resist them. 🙂 I found this one at Hobby Lobby a couple of months ago. The pear came from HomeGoods. I just love pairing turquoise and orange. I actually did a post on using these colors together. You can see it here.
Chippy old iron gate, lavender, and a vintage copper basin thingy. What's not to love here?
Another final view of the whole mantel. What do you think? Do you prefer the vintage farmhouse version or the traditional version?
But wait, that's not all! I've got one more style that I tried out on the mantel. It's really different, and really playful, but tons of fun! Watch for the reveal in the next day or so. I think you're going to enjoy it. I know I did.
Update: Go HERE to see the third fall version of this mantel.
Interested in seeing some or our Fall decor from years past? Go here to see it!
Thanks for stopping by!
XOXOX,
Angie
If you like my posts, I'd love it if you'd become a follower. You can keep up with my latest projects, tutorials, photos, recipes and tips many ways, including:
Email * Facebook * Hometalk * Pinterest * Twitter * Instagram