Vintage games and how to use them in your decor
Hello, friends! If you want to see a really fun mantel and fireplace, keep reading! So far I've shown you 2 versions of our fall mantel and fireplace decor, the traditional version and the vintage farmhouse version.
Now I'm going to show you something that's a little more whimsical: How to decorate the mantel and hearth with vintage and games and gameboards.
This style definitely isn't for everyone or every house, but it would be great for a den or basement or a young couple.
I've been hoarding collecting vintage games and gameboards for the past 10 years or so. Most of the vintage games have come from yard sales or estate sales. The reproduction game board is from Wisteria. I usually have it hanging on the wall in our basement, but decided to try it out on the living room mantel for something different.
I think it needs something else on the mantel, but am not sure what it's missing. Any ideas? I really love the big board, but it's a little large when next to the other items.
On the hearth I stacked a few boxes and game pieces. I love the nostalgic feeling of all of it. Am I the only one who grew up having Monopoly marathons? I'll bet I'm not! But I actually didn't play Parcheesi very much.
I completely forgot that I had these cool dominoes until I was rounding up items for this version of the mantel. They're heavy and really nice. Again, I'm really loving the nostalic feeling of it all. Does anyone still play with dominoes?
These little wooden game pieces go with the Backgammon board that's sitting down on the hearth. They just don't make game pieces like that anymore!
Confession time: I'm very competitive when it comes to playing games. And I really like to play Scrabble. Anyone else? And who doesn't love to play Yahtzee!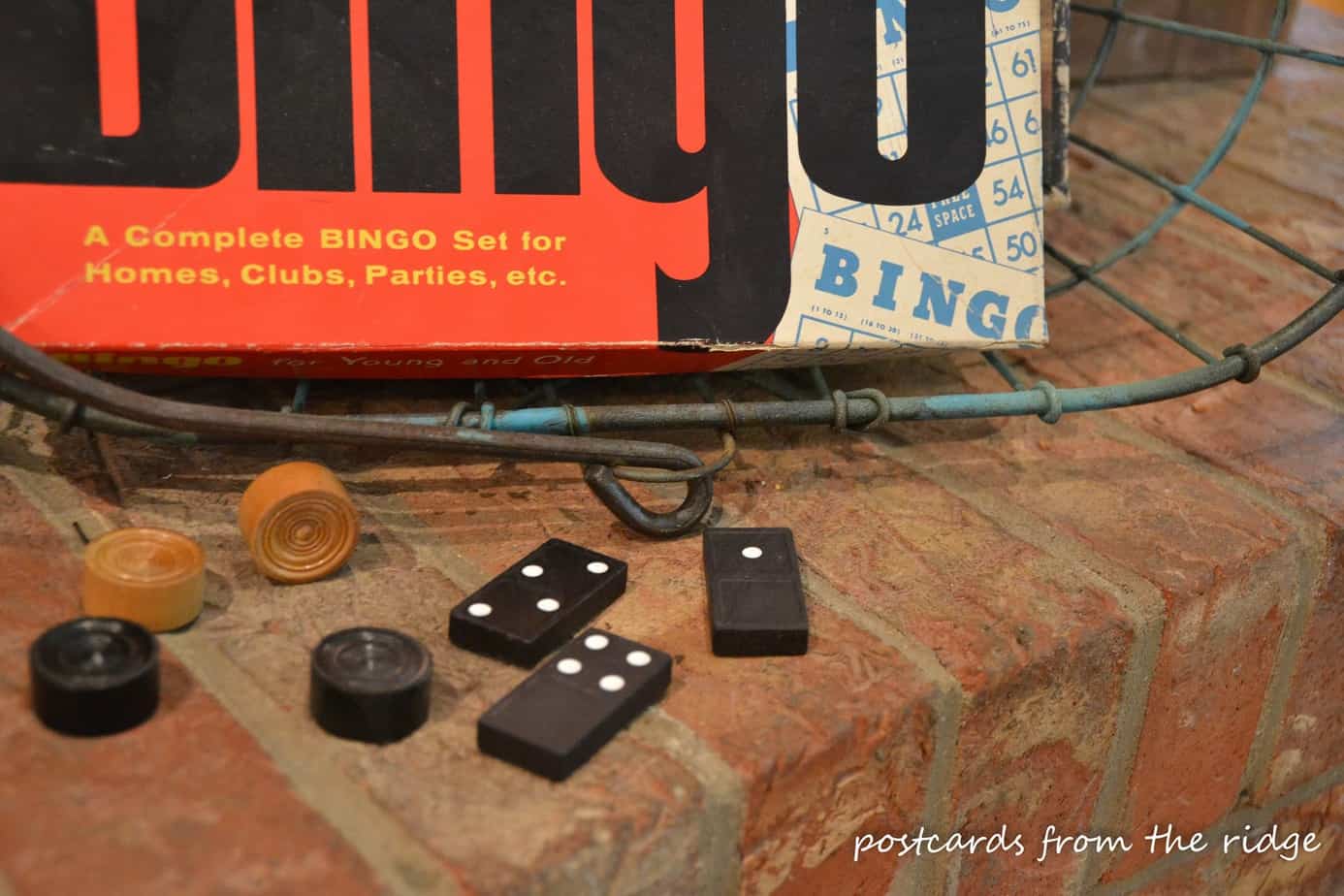 I also forgot that I had this vintage Bingo game. Maybe that's a sign that I need to stop "collecting". Yeah, right! That's probably not going to happen!
I love the old Trouble game. We played it a few times after I first found it, but haven't played it in a couple of years. I think it's time to restart our family game night after being reminded of all these fun games we have!
So, which mantel do you like the best?
Mantel #1 ~ Traditional Style (Click here to see it)
Mantel #2 ~ Vintage Farmhouse Style (Click here to see this style)
or Mantel #3 ~ Whimsical Style
Let me know which one is your favorite!
Check back to see what I ended up with! I'm sure the suspense has you on pins and needles! Haha!
Interested in seeing some or our Fall decor from years past? Go here to see it!
Thanks for stopping by!
XOXOX,
Angie
If you like my posts, I'd love it if you'd become a follower. You can keep up with my latest projects, tutorials, photos, recipes and tips many ways, including:
Email * Facebook * Hometalk * Pinterest * Twitter * Instagram
DISCLOSURE: This post contains Amazon links. I am an Amazon associate which means that if you purchase something from them after clicking a product link listed here, I might make a few cents from the sale.