Classic Strawberry Ice Cream Recipe
Classic Strawberry Ice Cream Recipe
This post contains affiliate links for your convenience. For full disclosure go here.
Hip hip hooray! It's strawberry season! And there's nothing better than fresh, sweet, local strawberries.
Our youngest daughter agrees and went strawberry picking a few days ago with some friends and she brought back 3 gallons of fresh strawberries. After making strawberry preserves, strawberry cake, strawberry shortcake (do I sound a little like Forrest Gump?), and just eating lots of them raw, I still had lots of the sweet berries leftover.
I decided to make a batch of strawberry ice cream with some of them and my oh my, am I ever glad I did. It's heavenly! And I'm sharing the simple recipe with you here today!
It's an old-fashioned, rich & creamy, delicious version. Perfect for a warm afternoon snack or dessert!
If you like homemade ice cream, you might also like my peach ice cream recipe. It was my most popular post last year!
If you love peaches and cream then you'll definitely want to try it. The batch I made didn't last through the day!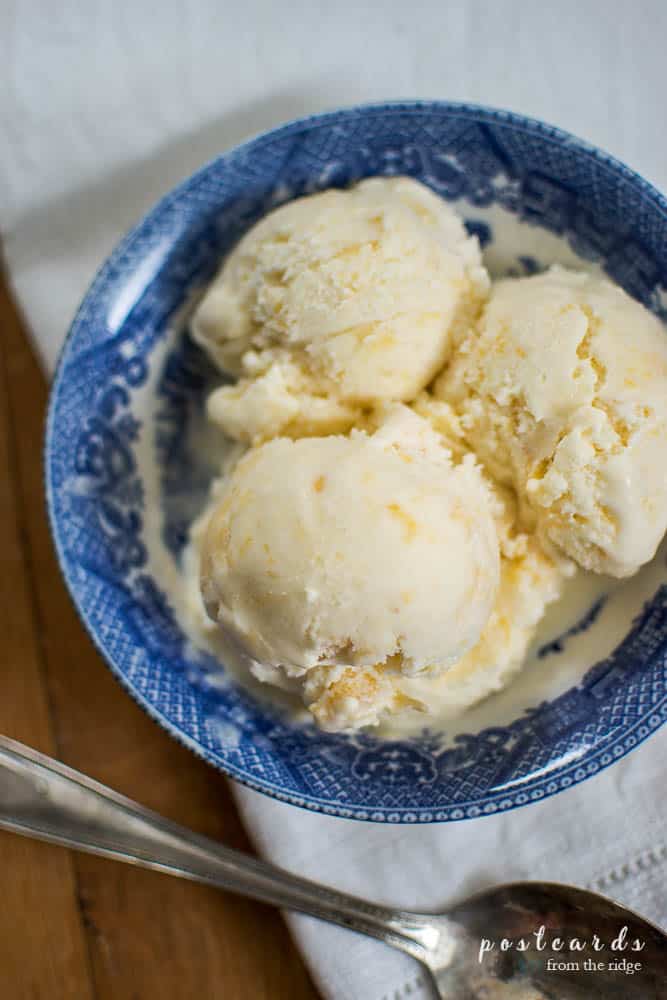 *For both of these recipes I used our Cuisinart Ice Cream maker.
Yield: 10 1/2 cup servingsAuthor: Postcards from the Ridge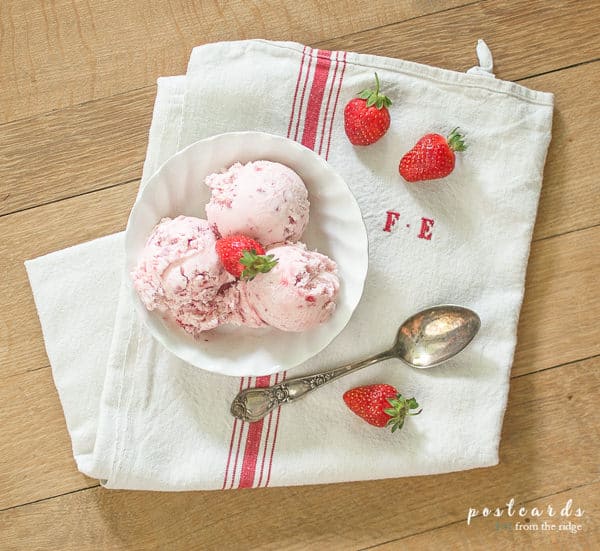 Classic Strawberry Ice Cream
This creamy, classic homemade strawberry ice cream will soon become one of your favorite summer treats.
prep time: 15 minscook time: 20 minstotal time: 35 mins
ingredients
1 3/4 cups fresh strawberries, hulled (frozen strawberries may be used if necessary)

3/4 cup whole milk

2/3 cup sugar

a pinch of salt

1 1/2 cups heavy cream

1 1/2 teaspoons pure vanilla extract
instructions
NOTE – Be sure to chill the freezer bowl 8 hours or overnight

Put the strawberries in a medium bowl and mash them with a potato masher. You could also use your food processor and pulse until they're as rough or finely chopped as you wish. Set aside.

In a medium bowl, us a whisk to combine the milk, sugar, and salt until the sugar is dissolved. You can also use a hand mixer for this, set to low speed. Next, stir in the heavy cream and vanilla. Stir in the reserved strawberries with all their juices. Cover and refrigerate 1 to 2 hours, or overnight.

Turn on your ice cream maker, pour the mixture into the frozen freezer bowl and let mix until thickened, between 10 and 20 minutes. The ice cream be soft and creamy. If you want a firmer consistency, transfer it to an airtight container and place in the freezer for about 2 hours. Remove from freezer 15 minutes before serving.
Created using The Recipes Generator
Let me know if you make of these homemade ice creams and what you think!
Thanks so much for dropping by.