15 Things to see in Seattle and The Pacific Northwest
Top places to visit in Seattle and surrounding areas in Washington & Oregon
We just got back from an EPIC vacation in the Pacific Northwest. I say epic because the hubs thinks he's Clark Griswold and likes to visit everything within a 500 mile radius. I'm serious…we put 2,000+ miles on our rental car in 9 days and I'd be lying if I said it wasn't too much. It was amazing and overwhelming and exhausting and exhilarating. And I'm not sure I'd do all of this in one trip again, but here are some great places to visit in Washington & Oregon.
This post contains affiliate links for your convenience. For full disclosure go here.
Favorite Places to visit in Washington & Oregon
If you love visiting national parks then you'll want to visit the Pacific Northwest. Depending on how long you stay and how much driving you're willing to do, you can visit several parks. Here are our favorite places from the trip, including parks and other places.

Seattle
There's so much to do in Seattle. Shopping, eating, sightseeing, and more. There's truly something for everyone. As a bonus, the weather in July is phenomenal (but the traffic is nightmarish).
You have to visit Pike Place Market and the waterfront area. There's so much happening there with lots of food and fun events. It's iconic Seattle.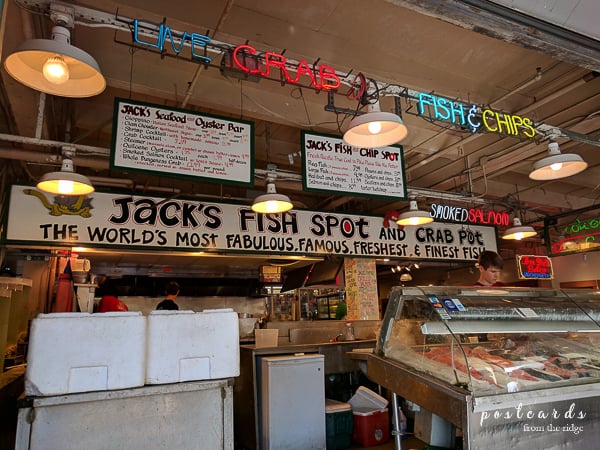 Craving some fish? They've got you covered.
Are you a flower fanatic? Then you'll love it here.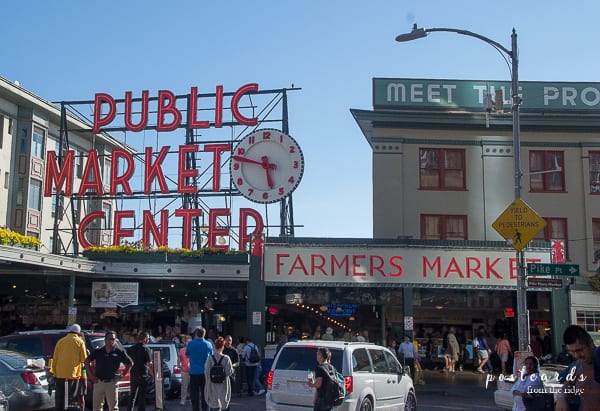 It gets really crowded but if you go early or late it's not as bad.
My 17-year-old and I rode this and the views are spectacular. If you're afraid of heights you might want to avoid it but it's definitely worth it otherwise.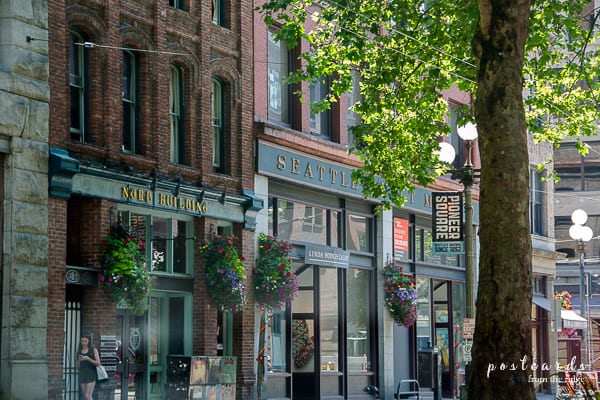 There are all kinds of charming shops around town. And the hanging flower baskets are everywhere. So pretty.
The Gum Wall
It's gross and artsy at the same time. My daughter thought it was really cool.
Hop on the monorail for a quick ride to the Chihuly museum for a boatload of glass eye candy.
The colors and patterns in this glass art are simply amazing and you'll definitely be inspired.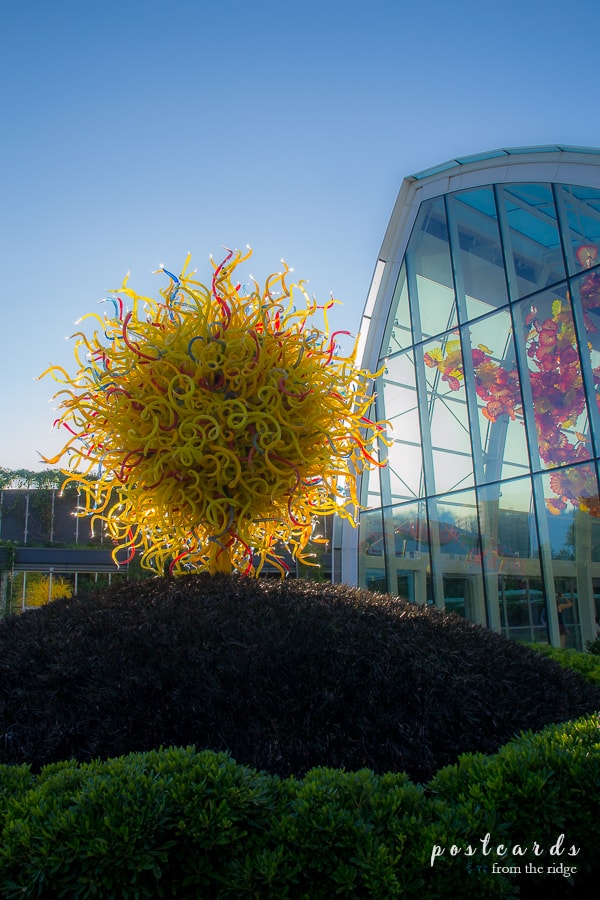 Another must see, the Space Needle gives you an unmatched view of the city and surrounding areas. We went at sunset and it was beautiful. Be prepared to wait at least an hour to go up, but there are interesting photos and tidbits of history on the wall next to the line.

Where we stayed:
Motif –

great location, complimentary wine during happy hour, parking garage, gorgeous decor. The staff was very accommodating and allowed us to check in early and leave our rental car in the garage for a couple of hours after we checked out. Highly recommend them.


Where we ate:
Wild Ginger – Our group had Potstickers, Angkor Wat Chicken, Seven Flavor Beef, Mandarin Chicken, Ginger Martini.
Cupcake Royale – We shared the Salted Caramel, Lemon Drop, and Strawberry 66 flavors. All were excellent.
Le Panier – a great little French bakery and sandwich shop next to Pike Place Market. We had sandwiches and shared a chocolate eclair and a Josephine strawberry and creme dessert.

Olympic National Park
We visited the park in mid-July and there were all kinds of beautiful wildflowers blooming. The best months to visit are July though mid-October.
Hurricane Ridge was one of our favorite stops on the entire trip. The views are breathtaking.
Admit it, you want to start singing "The hills are alive with the sound of music" after seeing this, don't you? I may or may not have sang it myself when I saw this view.
Memory making is what it's all about.
Make the drive to Lake Crescent and you won't be disappointed. It's a blue, deep, glacially carved lake and it's surrounded by mountains. You can kayak, hike, camp, fish, and picnic here.
Where we stayed:
Olympic Lodge – The nicest place in town, it's about a 10 minute drive to the entrance to Olympic National Park and not too far from Crescent Lake. It's a warm, cozy, lodge with a huge stone fireplace in the lobby.
Where we ate:
The Whistling Frog – conveniently located on the ground floor of our hotel, we had a wonderful breakfast here. They ONLY serve breakfast but it's fresh and tasty.
Sequim, Washington Lavender Fields
We drove through here on our way to Oregon and stopped by Purple Haze Lavender Farm. The lavender was in full bloom when we were there so we were able to get some amazing photos. There's also a nice little shop that sells lavender products including oils, soaps, lavender bunches, as well as ice cream and drinks. The lavender lemon ice cream was great.
One of the highlights of the area, Mt. Ranier is a must see. The visitors center looks like a large Swiss chalet and the mountains are like no other. The tallest peaks were covered with clouds the day we visited but we still saw many beautiful snow covered peaks. Wildflowers are also blooming here in July.
Oregon Coast, National Parks, and areas of interest
Cannon Beach
This is a small and beautiful beach on the Oregon coast with lots of pretty homes to stay at. We only stopped here long enough to grab a bite to eat and take pictures of the sunset on the sea stacks (giant rocks). I wish we had spent more time here as it had a great vibe.
Where we ate:
Oceanside Beach
Another nice beach on the Oregon coast, Oceanside is very small, laid back, and low key. We only stayed for one night but enjoyed the nice view from our large windows facing the ocean.
Where we stayed:
Tillamook Cheese Factory & Visitors Center
Just a few miles away from Oceanside Beach is the Tillamook Cheese Factory and Visitors Center. They offer free samples of their delicious cheese and they sell ice cream as well. As you can see, they give very generous portions! The visitors center has all kinds of food items and souvenirs. It's a really fun place to visit.
Crater Lake National Park
It's quite a drive to get here and is in the middle of nowhere, but it's jaw-dropping. The bluest lake you'll ever see, it's filled with only melted snow and rain.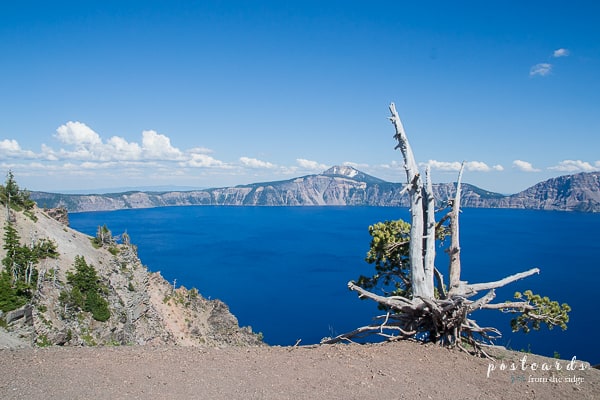 There was a volcano here thousands of years ago and it basically imploded, leaving a giant crater. No streams or creeks empty into the crater so the water stays clear. It's also the deepest lake in North American. Go see it if you possibly can.
Mt. Hood, Oregon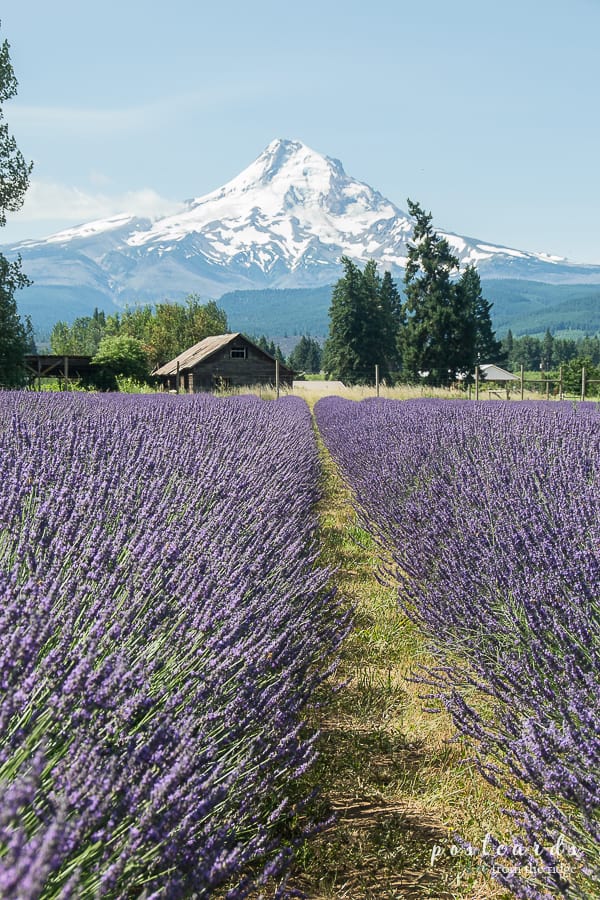 Wow. You'll say that a lot when you visit this area. We have mountains near our home but they're older, less dramatic, and not usually covered in snow. Especially in mid-July.
We made a visit to Lavender Valley and snapped some gorgeous photos with Mt. Hood in the background. The lavender was in full bloom when we were there and looked and smelled like heaven.
With a wine tasting room and acres of flowers and fruits, this is a wonderful place to drop by for a visit.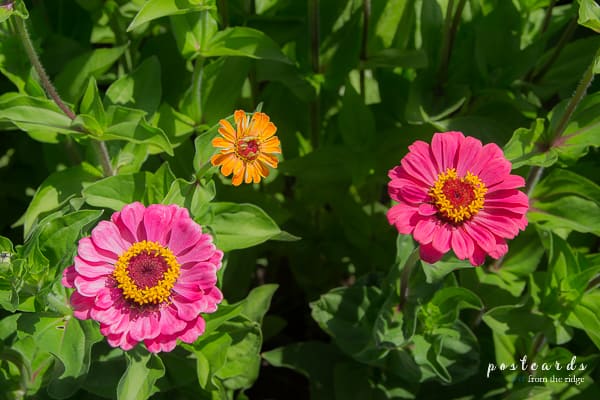 Located in the Hood River Valley, it offers beautiful views of Mt. Hood.
Literally right off the interstate, this is an amazing sight. You have to see this if you visit the Columbia River Gorge area.
Where we stayed:
Columbia River Inn – overlooking the beautiful Columbia River Gorge and the Bridge of the Gods, this is a really nice place to stay. Free breakfast at a real restaurant is included.


Where we ate:
What we didn't do but wish we could have
Wineries. There are dozens of wonderful wineries in the region. We were focused on national parks and scenic places on this trip but hope to revisit and go to some of the wineries in the PNW.
Ferry Ride. There are several islands in the Seattle area, including the San Juan Islands, that you can ride a ferry to. It was highly recommended by some of our friends, but we didn't have time for this.
Whale watching. No need to go all the way to Alaska. You can whale watch in the Seattle area. We'll definitely be doing this on our next trip.
What are your favorite things to do in the Pacific Northwest?
For some fun, creative ways to preserve your vacation memories, go HERE.