Add Some Wow to Your Walls with Joanna Gaines' New Wallpaper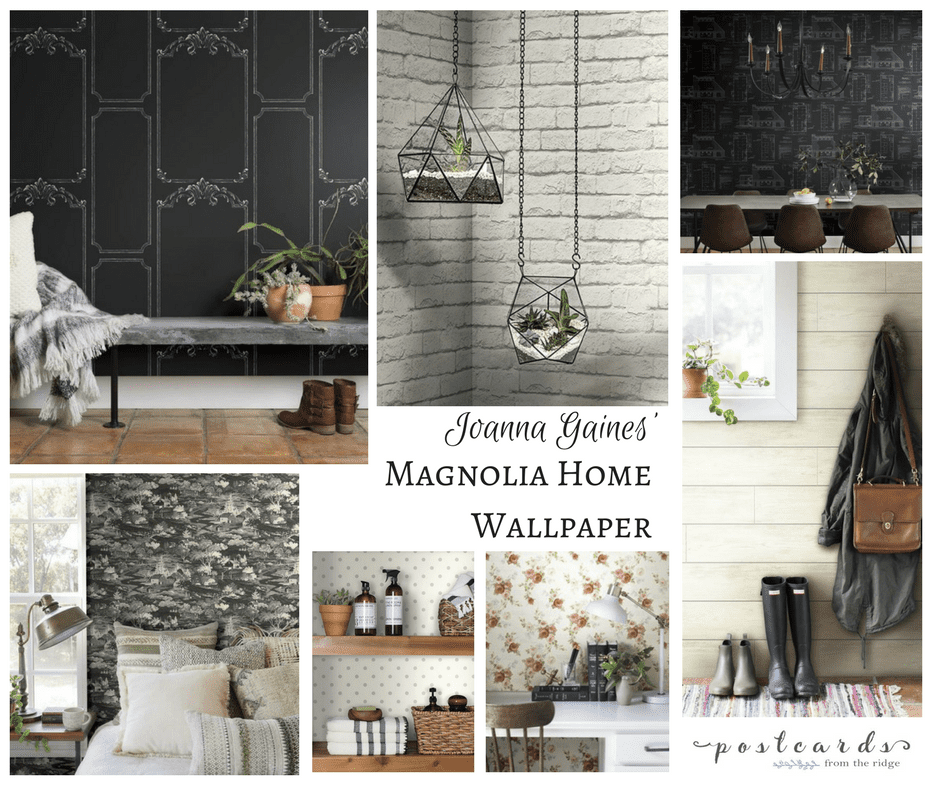 Joanna Gaines Magnolia Home Wallpaper
If you haven't considered using wallpaper in a while or ever before, you might change your mind after seeing these beautiful new designs from Joanna Gaines' Magnolia Home Wallpaper. Not only are they pretty in color and design, they're also completely removable (except the grasscloth) in large strips. They're perfect for an accent wall, powder bath, or any space you want to add some classic prints and colors.
Having sold wallpaper for 30 years, there's a soft spot in my heart for it. There's nothing else like it to make a room feel cozy and warm. I've rounded up some of my favorites and put them together on idea boards and am sharing them here today.
To help you get the signature Fixer Upper look, you can also shop for the exact home decor items pictured or very similar ones underneath each photo. Take a scroll down the page and let me know which look is your favorite!
Blue-Gray Wallpaper from Joanna Gaines Magnolia Home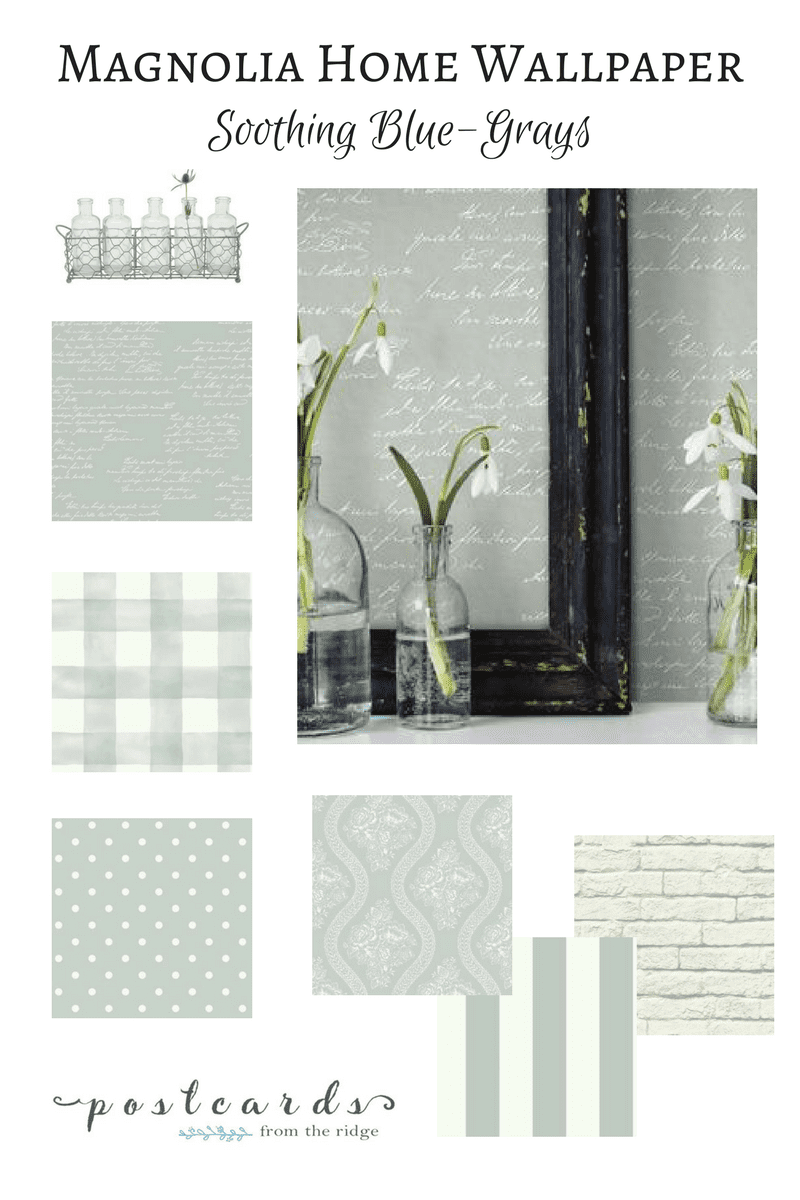 This post contains affiliate links for your convenience. For full disclosure, go here.
The soft blue grays of these patterns would add a soothing and comfortable element to any space. They're sure to make a room cozy enough you'll want to stay a while.
The script would be pretty in a bathroom or on an accent wall. And that check would be perfect for a laundry room. The bricks…any entry, backsplash, or accent wall would look nice with it on the walls. They look so real!
Shop this look here:
Rose and Green Wallpaper from Joanna Gaines Magnolia Home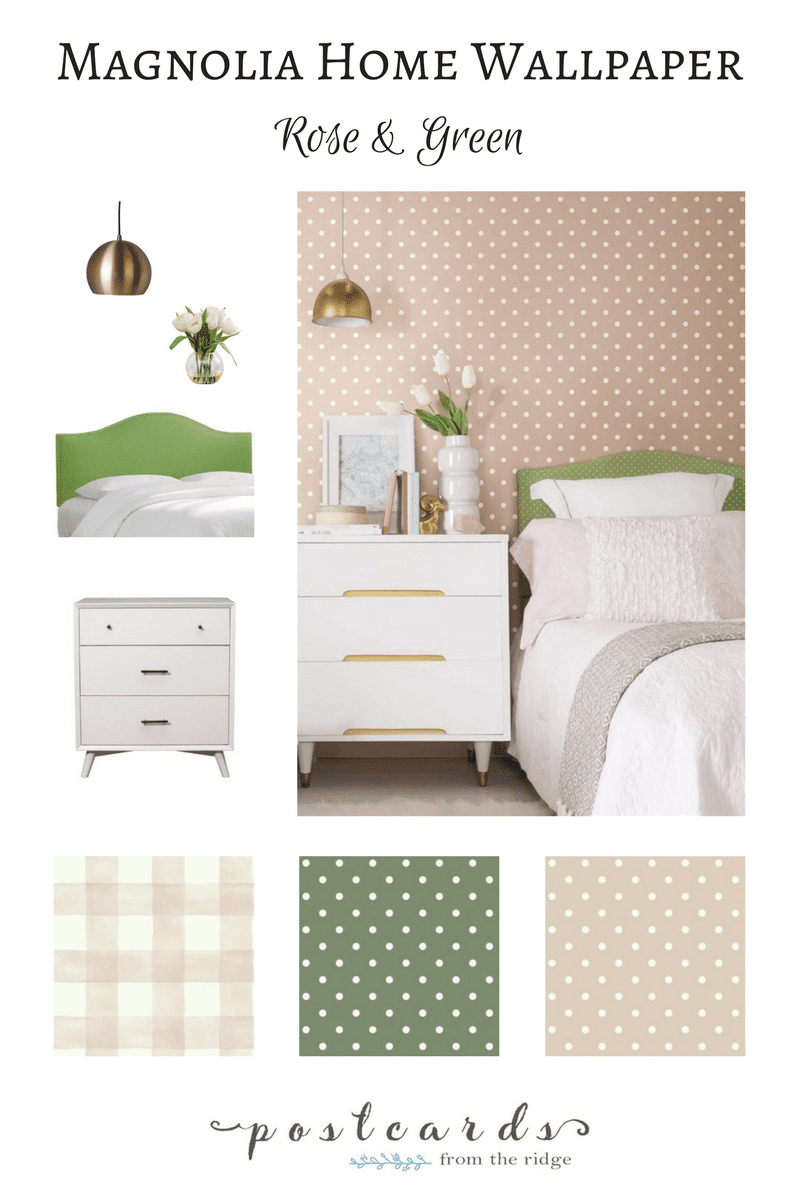 These rose and green patterns would be great in a girl's room or any space you want to add a feminine touch.
Shop this look here:
SHOP THE REST OF THIS LOOK
Shiplap Wallpaper
This shiplap wallpaper is the perfect way to get the farmhouse look without all the saws and nails. Easy up, easy down, completely washable, and it goes with everything. I'm trying to figure out where I can hang this paper because I love it. 
Find it here: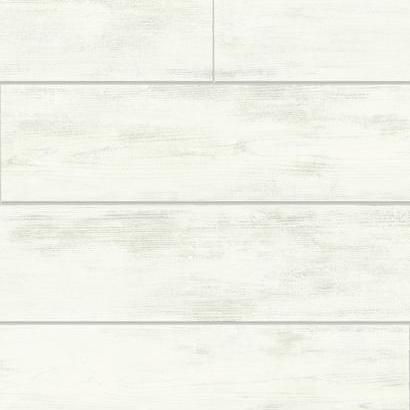 shop this look
Earth Tones and Gray Wallpaper from Joanna Gaines Magnolia Home
Earthy and warm, these designs might make your home so comfy that you never leave the house. That newspaper print would be fun in a bathroom, laundry room, or closet. And the coverlet floral print would look gorgeous in a bedroom, dining room, or master bath. The other patterns could go almost anywhere. Which one is your favorite?
Shop this look here:
Gray and Cream Wallpaper
Cool and calming, these neutral grays and creams would go with any style and accent color. I'd love to use the magnolia print in a bedroom or living room. And there's that brick wallpaper again. It's so realistic looking! Where would you use it?
Shop this look here:
Black and Cream Rose Wallpaper from Joanna Gaines Magnolia Home
This is my favorite look of all, with the charming floral, wrought iron bed, and walnut nightstand. I could see this in our house for sure. It would like great accented with some black buffalo check fabric as well.
Find these patterns here:
SHOP THE REST OF THIS LOOK

Soft Gray Wallpaper
Add a touch of timeworn romance to the room with this old fashioned magnolia wallpaper. Designed to look like botanical sketches, it makes the perfect accent wall in this dreamy bedroom. It would also look great in a dining room or master bathroom. It's available in 2 colors.
Shop this look here:
SHOP THE REST OF THIS LOOK
Are you ready to add a little wallpaper to your home after seeing all these designs? I'm trying to decide which one to use and where to put it, but definitely have this on my to do list now.
Be sure to pin it for future reference.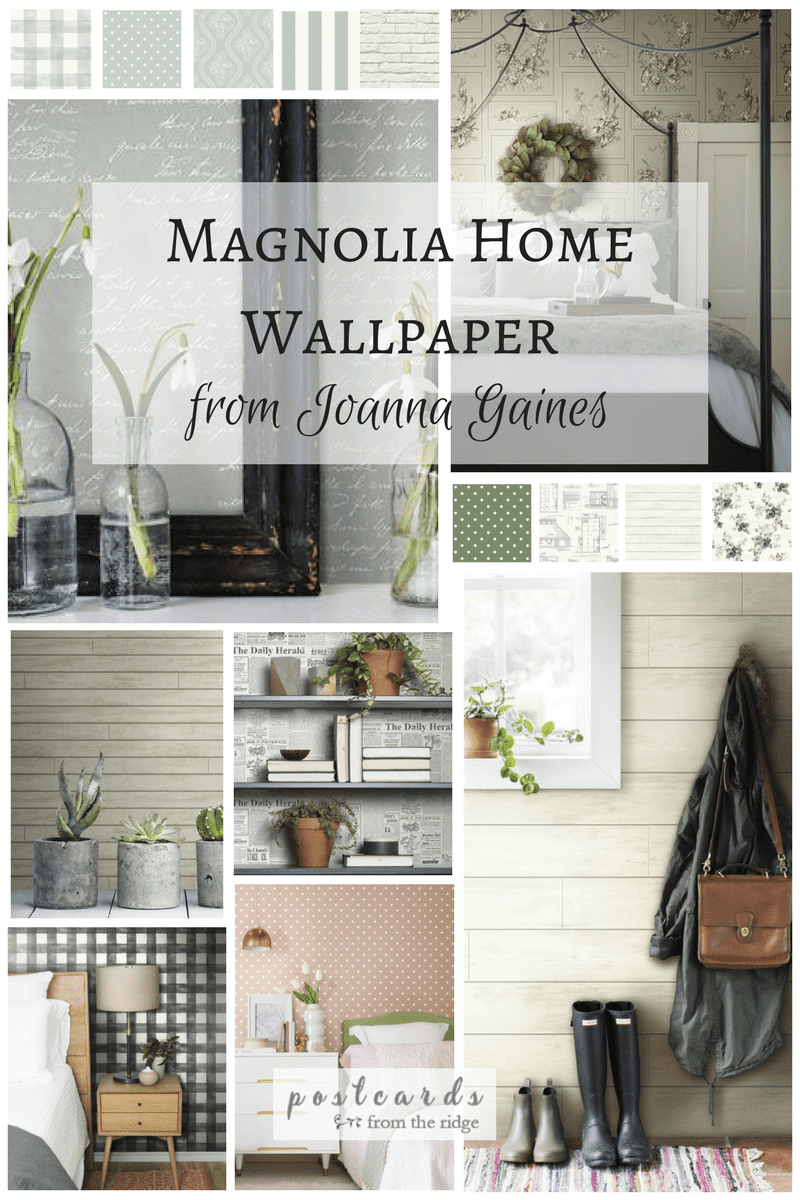 Here's a peek at my most recent room makeover which just happened to involve a similar brick wallpaper.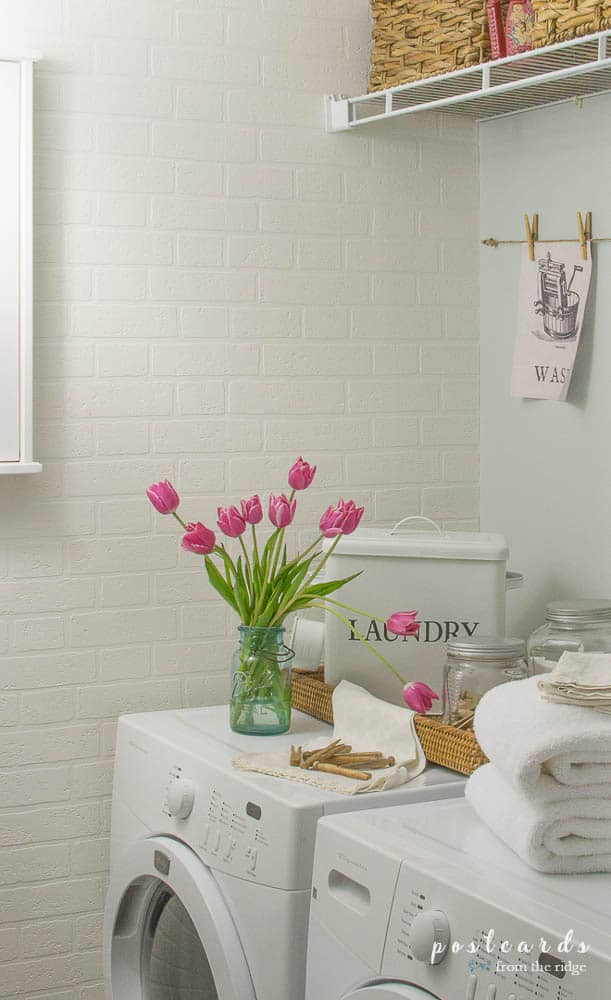 See more of it here: Laundry Room Makeover
Here are more great looking wallpapers plus tips for where to use the different varieties.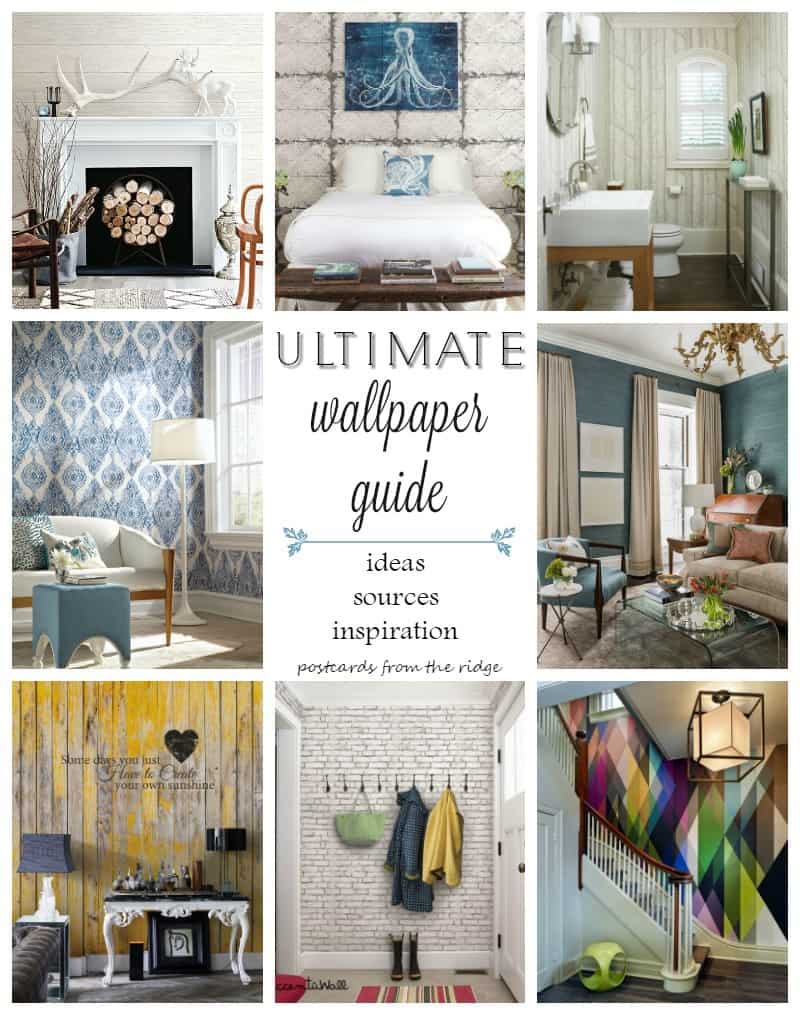 See the Magnolia Home rug and home decor collection here.