Wallpaper 101 – Designs & Terminology
Wallpaper designs and all the terminology you need to know before buying
Have you noticed? Wallpaper is making a huge comeback. You've probably seen beautiful wallpaper designs on popular decorating shows and all across social media. And it's definitely not your grandmother's wallpaper. But there's lot of confusing terminology associated with it and hopefully I can help with that!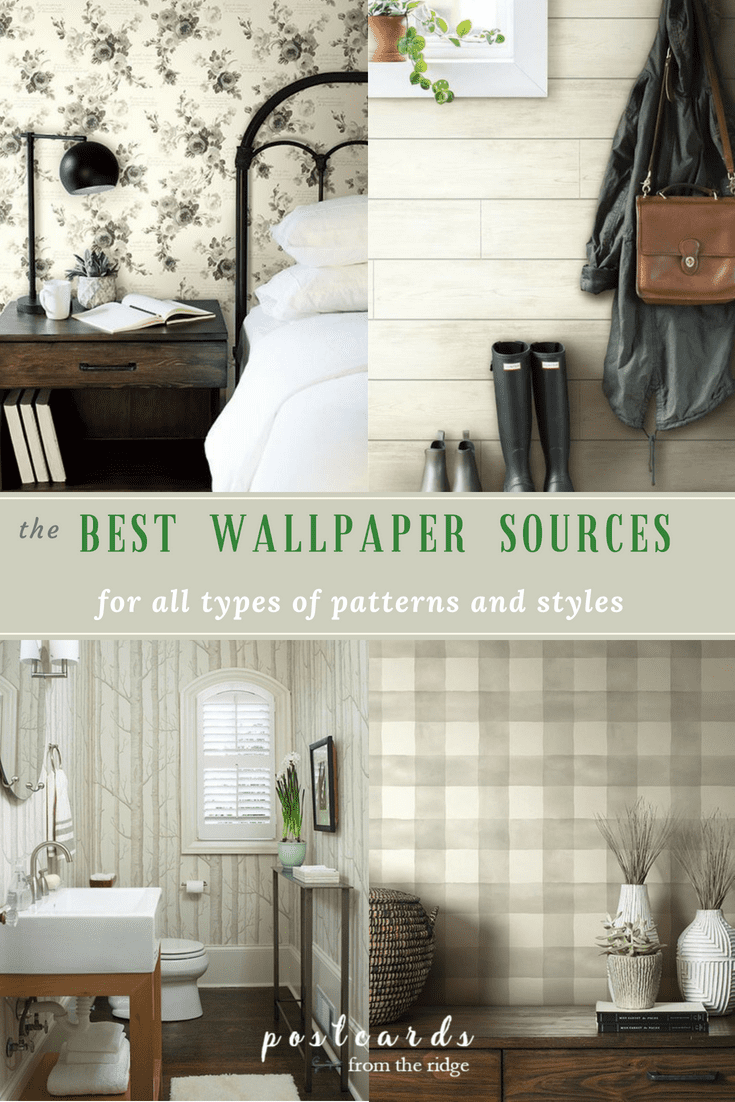 Wallpaper is not the same as it was even 20 years ago. Today there are some amazing wallpaper designs and some papers that are actually easy to remove. If you've ever tried to remove wallpaper, you'll definitely appreciate that!
In my previous retail career my husband and I owned a paint and wallpaper shop in Nashville. I sold wallpaper & paint to homeowners (and lots of other home improvement things) there and in my parents' shop for over 30 years . I'm a Certified Wallcoverings Consultant since 1993, a designation I received after completing a training program covering everything there is to know about wallpaper!
All that to say that I've learned a lot about wallpaper and am sharing some favorite wallpaper designs here today along with some tips and terminology and various types of wallpapers.
This post contains affiliate links for your convenience. For full disclosure go here.
First let's start with different types of wallpaper. There are actually many varieties, but let's stick to the basics and where they should or shouldn't be used.
Main Types of Wallpaper & Terminology
Vinyl coated Wallpaper
This type of paper can be used anywhere in the home. It's a paper that's coated with a liquid vinyl during the manufacturing process. It's washable and is usually prepasted.
When you're ready for a change it can usually be removed with a steamer or chemical wallpaper stripper as long as the walls were properly primed before the paper was hung. I have used and recommend this wallpaper primer: Best Wallpaper Primer
Pros and cons of vinyl coated wallpaper
Pros
Most common type and readily available
Usually the least expensive type of wallpaper
Comes pre-pasted many times
Easy to install
Washable
Cons
Can be difficult to remove if not installed correctly
Best places to use vinyl coated wallpaper
Entryways
Dining rooms
Powder rooms
Bedrooms
Solid vinyl wallpaper
Solid vinyl wallpaper is a heavier weight, more durable type of wallpaper that is usually unpasted. It's more durable and washable than the lighter vinyl coated wallpaper.
There are woven and non-woven types of solid vinyl. The woven backed vinyl wallpapers often have a textured surface and are great for disguising fingerprints and surface dirt. Non-woven usually has a smoother surface and looks best on smooth walls.
There are different weights with the heavier ones being suitable for high traffic areas in commercial spaces. Some of the commercial wallpaper comes in large 54″ bolts, and is sold by the yard.
Pros and Cons of Solid Vinyl Wallpaper
Pros
Very durable
Can hide slight flaws in your walls
Easiest to remove. Typically comes down in entire strips if walls are primed properly
Cons
Usually unpasted
Not as many designs to choose from
Best Areas to Use Solid Vinyl
Hallways
Kitchens
Bathrooms
Laundry Rooms
We have a commercial grade faux grasscloth textured vinyl in our entry and down the main hallway of our home. It's been there 10+ years and doesn't show one bit of wear. (similar one found here)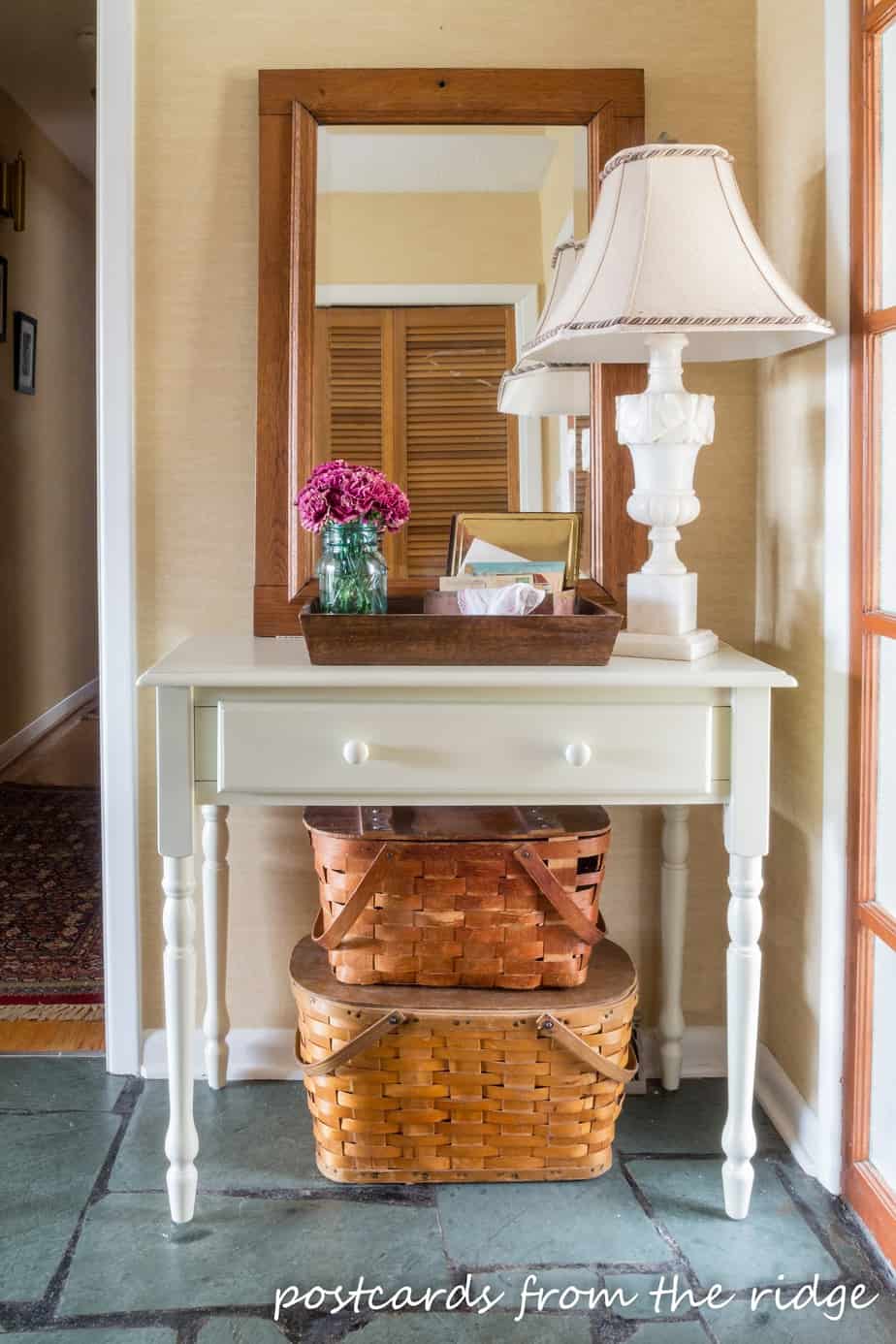 Grasscloth
Made from natural reeds and grasses, this type of wallpaper gives a beautiful texture and timeless look. It comes in wide 36″ rolls to minimize the number of seams since you can't actually match the pattern.
It's not washable or water resistant, so it shouldn't be used anywhere like a bathroom. And FYI, it's prone to stain from water and fade from direct sunlight. On the plus side, it's easy to hang because it doesn't have to be matched at the seams.
Pros and Cons of Grasscloth Wallcovering
Pros
Timeless and elegant textures
Nondescript pattern will go with any style of decor
Available in wide rolls
Can be painted if you decide to change colors (must be primed first)
No pattern matching at the seams – easy to hang
Earth-friendly – made from reeds and grasses and doesn't contain a lot of unsustainable materials
Cons
Not durable or washable due to the natural materials it's made from
Pattern can't be matched at the seams so they will be noticeable
Must be pasted
Not easy to remove
Best Areas to Use Grasscloth
Dining Room
Living Room
Bedroom
Back of bookcase
Guest bedroom
Phillip Jeffries Grasscloth found here
Paintable Wallpaper
Usually this type of wallpaper has a texture or raised pattern of some type and is great for hiding flaws in your walls. And since it's paintable you can make it any color you want. We have a paintable textured paper lining the back of our family room bookcase, seen below. (found here)
Murals
A mural is a large photo or scene that usually comes in panels. It's applied to the wall like large rectangular pieces of a puzzle and can make a dramatic, beautiful accent wall.
Other wallpaper terminology
Prepasted – has a water-activated paste on the back of the paper. Follow the instructions on the roll.
Unpasted – Paste must be added to the wall or the back of the paper, according to the instructions. The easiest way to apply it is with a paint roller.
Peel and stick – self explanatory.
Pretrimmed – most papers are pretrimmed. Some high end, hand painted ones might not be. If you're using one of these you'll definitely want a professional to install it.
Strippable – can be removed with a wallpaper stripper or wallpaper steamer. (if the walls were primed properly before the paper was installed)
Peelable – when ready to remove it, the top layer will peel off and the paper backing will remain on the wall. The good news – it's usually pretty easy to remove the paper backing with warm water and a scraper.
Dry strippable – the best words for wallpaper. This means you can remove it in complete strips when you're ready to change it (as long as your walls are prepped properly before it's installed.)
Washable – can be wiped down with a soft rag and a mild detergent and water mixture.
Scrubbable – can be washed with a mild detergent and a soft scrub brush.
Double roll – most wallpapers are packaged and sold in "double rolls". It can be confusing because sometimes it's priced by the single roll. If that's the case, you'll have to order in mulitples of 2   (2,4,6,8,…). Always check the size of the roll and ask if you have questions.
Run Number, Batch Number, or Lot Number – this indicates when the paper was made, and you always want your rolls of paper to have the same pattern number and run/batch/lot number. If they're made at different times, the shading could be slightly off and it would be noticeable in the middle of the wall. TIP – If you have different run numbers, have them meet at the seams in a corner or over a window or door and any difference in shading won't be as noticeable.
Pattern repeat or pattern match – the indicates how often a pattern repeats itself on the roll. You'll need to allow extra if the repeat is large because you will have to waste some of it by making sure the pattern matches at the seams.
Tip – ALWAYS, ALWAYS, ALWAYS prime your walls with a primer made to go underneath wallpaper before you install any wallpaper. If not, it probably will never be able to be removed. And that would be so sad! (I have used and recommend this primer)
Best Sources for Wallpaper Designs
And now for some serious eye candy.
Favorite Wallpaper Designs
There are so many amazing wallpaper designs these days…so much better that it was even a decade ago. Here are just a few of the thousands of beautiful wallpapers available today. Sources known are listed below each photo.
Faux Tin Wallpaper Design for a Bedroom Accent Wall
faux tin tile wallpaper // octopus tryptich (similar)
Faux tin ceiling tiles! Can you imagine having these on your ceiling? Oooh. It would be great in a bedroom, small bathroom, or a vintage style kitchen.
Faux Brick Wallpaper Design
I had to do a double take here this because I thought this was real brick. I can think of so many ideal places for this wallpaper…accent wall, mudroom, backsplash… Found here.
Faux Wood Plank Wallpaper Design in a Bedroom
Want to create a coastal look with worn boards on the walls but don't want 1,000 nail holes? This wood planked wallpaper is ideal for that type of project.
Faux Shiplap Wallpaper Design in a Farmhouse Bathroom
Or you could hang this new wallpaper from Joanna Gaines for the look of the smaller shiplap, no nails required! Found here.
Bird Wallpaper Design on a Bedroom Accent Wall
The wall behind a bed is a perfect place to use wallpaper and create a wonderful backdrop. We have an off white background version of this wallpaper in our basement bathroom and just love it. Found here.
Bathroom with Tree Wallpaper Design
For nature lovers, how about branches or leaves? I've admired this tree wallpaper for years and would love to have it somewhere in our home. Photo from kerrisdale design. Wallpaper available here.
Filigree Wallpaper Design in Bathroom
This gray trellis wallpaper looks great in this black and gray themed bathroom. You could use any color with it.
Living Room with Grasscloth Wallpaper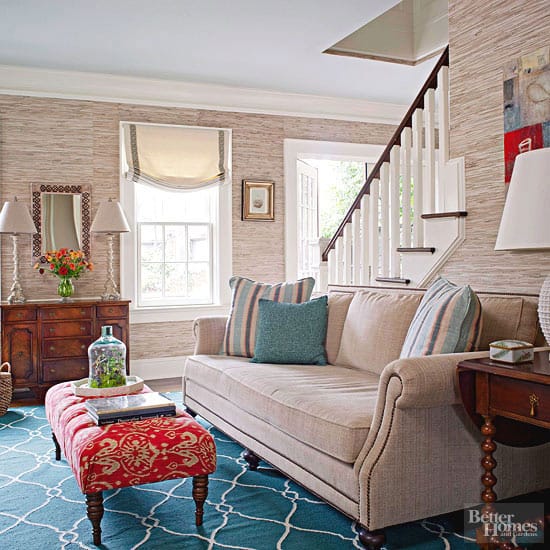 The neutral grasscloth in this living room is the perfect subtle backdrop for the furnishings and artwork.
Cloud Wallpaper Design in Living Room
Make a statement with a dramatic mural on an accent wall. Wouldn't this be great in a bedroom as an accent wall? Found here.
Bathroom with Beautiful Bird Wallpaper Design
From my domaine, this bird wallpaper adds just the right amount of pattern and color to this small bathroom. I love the airy feeling of it.
Classic Black and White Toile Wallpaper Design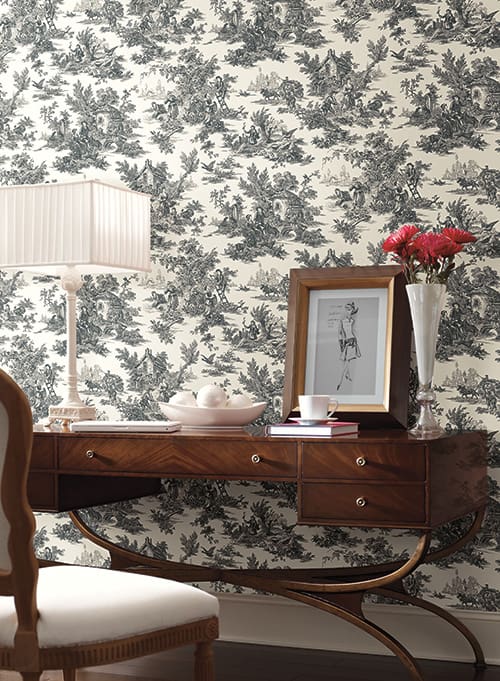 Toile prints will never go out of style and this black and white one is a true classic. Found here.
Block Print Wallpaper Design on Living Room Wall
From Fixer Upper, this block print type wallpaper looks great as an accent wall behind the fireplace. Such a great improvement from the before photo! Found here.
If you're renting or need temporary wallpaper, peel and stick wallpaper might be a good idea.
Ceiling with Paintable Wallpaper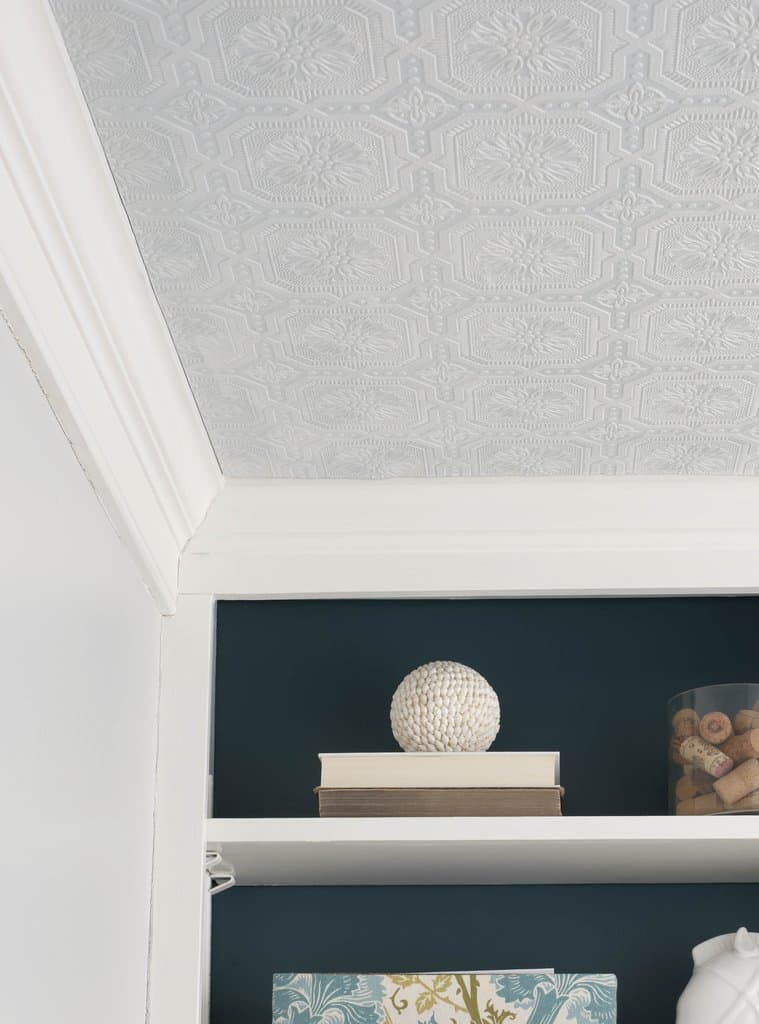 paintable faux tin ceiling wallpaper
This faux tin ceiling paintable wallpaper looks amazing. It gives a texture and dimension to the ceiling that you could never get with paint. Image from Young House Love. Paper found here.
Do you have any wallpaper in your house? Where would you like to use it?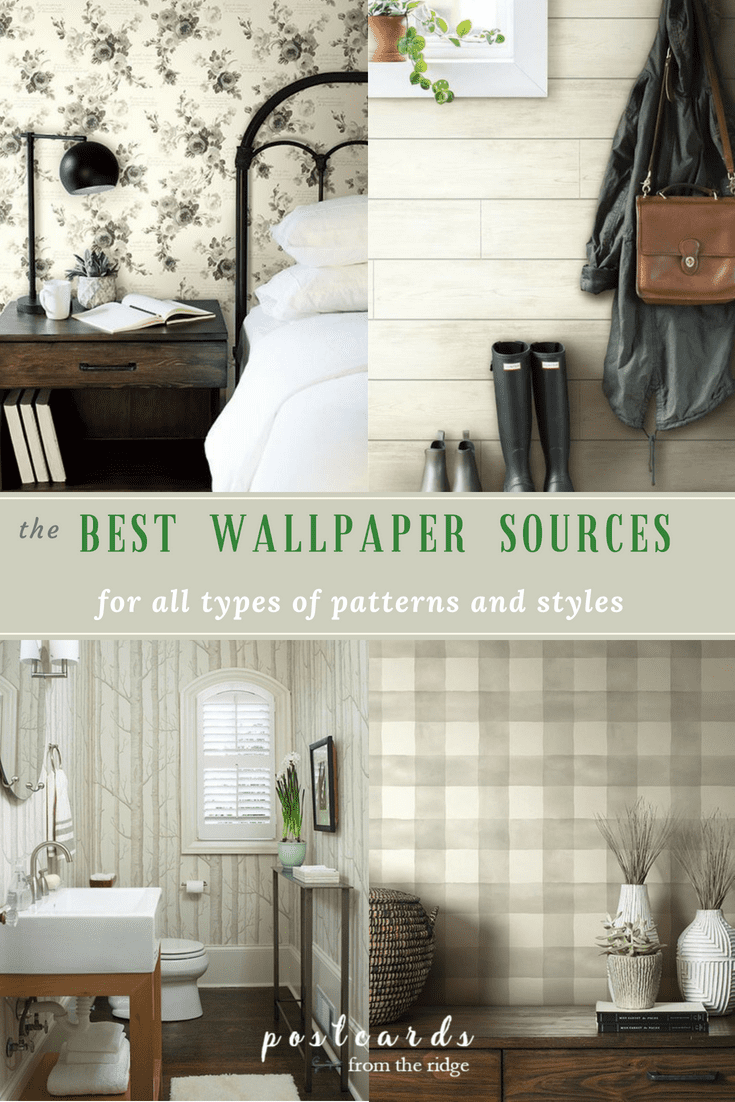 CLICK FOR SOURCES:
floral wallpaper | shiplap wallpaper |
tree wallpaper | buffalo check wallpaper