Low Budget Laundry Room Makeover Week 2
See the progress of our laundry room makeover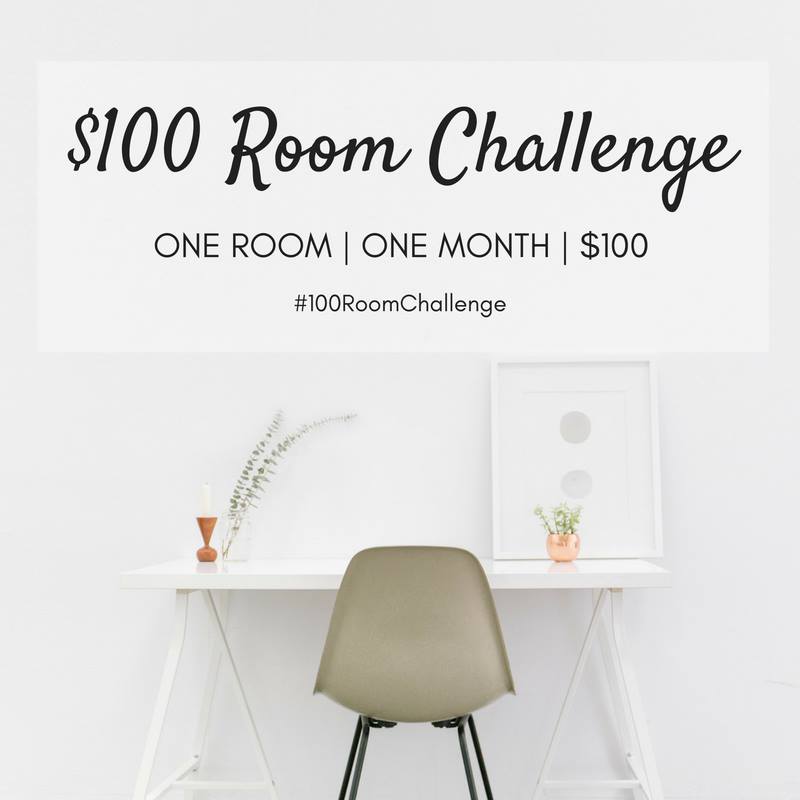 It's been uber cold here and that's always a great time to stay inside and do indoor projects. It burns calories and keeps me warm. Win, win for me! I've made lots of progress in our tiny laundry room low budget makeover. In case you missed last week's post, I'm participating with a couple dozen home bloggers in a $100 Room Makeover Challenge, organized by Erin at Lemons, Lavender, & Laundry, and am giving our little laundry room a facelift.
This post contains affiliate links for your convenience. If a purchase is made after clicking one of the links I might make a small commission. Your price does not change. For full disclosure, go here.
You can see the before photo of the room and the original plan in last week's post here WEEK 1.
I tweaked the plan slightly because the I didn't like the rug I ordered. The design was cut off in a weird way and made it look unfinished so I'm sending it back. I found another one that I like even better for this space. Here's the updated plan.
Sources:
Wall Paint – Benjamin Moore Quiet Moments, eggshell finish
Trim color – Benjamin Moore White Dove, eggshell finish
Plus, I've created some fun vintage looking artwork for the walls and you can see a preview of it on the updated plan. I'll share more info with you about that soon so stay tuned!
Here's how the progress has gone up to this point:
In this photo you can see how I've started to cut in with the wall color. I removed everything except the washer and dryer. It's no fun at all trying to work around them, but it's easier than disconnecting everything and moving them out into the kitchen. I'm working on it alone and don't want to move them.
More progress here, with the walls painted and the back/accent wall getting primed for wallpaper.
Buh-bye yellow, hello freshness.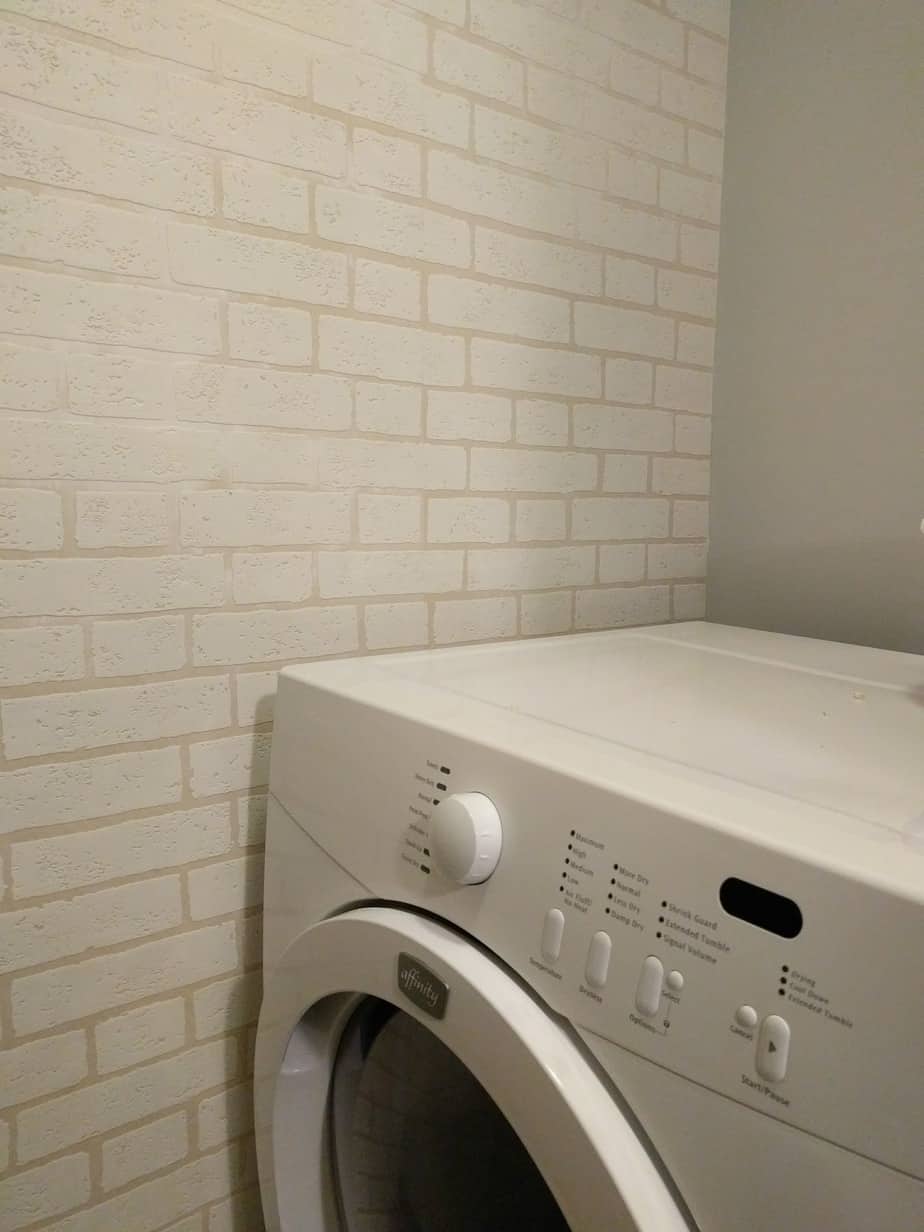 I finished hanging the wallpaper and made a how-to video while I was at it. It needs to be edited but I'll share it as soon as it's finished. So if you're thinking of wallpapering an accent wall but are intimidated by the whole process, you're in luck!
Here's the to-do list for the project:
✓ Remove shelves, baskets, drying rack, and everything except washer and dryer
✓ Patch nail holes and sand them when dry
✓ Prime accent wall for wallpaper
✓ Install Paintable Brick Wallpaper
If necessary, paint the wallpaper (I might leave it unpainted if I like the way it looks)
Prime and paint wood door and surrounding trim
Reinstall shelf over the washer and dryer, wall mounted drying rack, ironing board rack
Add artwork and baskets
Bring laundry supplies back into the space
Add rug and accessories
Celebrate with a glass of wine and a massage
How'd you like that last bullet point? I think it's my favorite one and definitely think I'm going to deserve a massage when it's all over with.
Next Wednesday you can see another update a closer look at the vintage-inspired artwork I created online.
Be sure to scroll down and see the updates of all the $100 Room Makeover Challenge at the bottom of the post. Everyone's projects look so great!
And sign up for updates by entering your email address below so you won't miss any upcoming progress reports.