Starbright Farm – Beautiful Home Tour
Hello, friends! Today I have a very special treat for you on the blog as part of the new Sunday Open House series. (To see last week's tour go HERE.) It's a 3-for-1 farm tour that includes an amazing stone farmhouse plus the guest house and barn.
And it's owned by a professional photographer so the photos are simply stunning. It's the stuff pinterest was made for. Get settled in a take a tour of this lovely place but be warned, it will make you want to move to Maryland!
This post contains affiliate links for your convenience. I may make a small commission on products purchased with my link, but your price does not change. For full disclosure go here: Disclosure and Policies. Thank you for supporting my site.
All the photographs were taken by Helen Norman, the owner. Her photos have appeared in various publications such as Country Living, Country Home, Anthropologie, Southern Living and Garden Design and more.
You can view her photography site here. Helen and her husband bought the 150 year old farm 22 years ago and have been working to restore it ever since.
I contacted her about featuring the place she was happy with the idea. She informed me that there is also a 130 acre organic vegetable farm on the property, currently farmed by her brother.
She said that in the upcoming year they will be beginning their own farming with their son Peter who studied agriculture at UVM. They are also in the process of developing value added product and are in the early phases of getting permission to host Farm to table dinners in the 150 year old restored barn.
So there are many things to love about Starbright Farms in addition to the beauty of it.
Now let's see what all the fuss is about! Feast your eyes upon this dreamy setting and the homes and barn that are what dreams are made of (for me anyway).
Love gorgeous wall art? Grab my free printables!
Beautiful wall art doesn't have to be expensive. As a subscriber, you'll have access to all of my free printable art.
Enjoy!
Starbright Farm Tour
The barn (more pictures at the end of the post)
Is this not the dreamiest fall dinner setting you've ever seen? The lighting, flowers, and location are perfect.
photo by Helen Norman
Such a beautiful setting and it's set up for a lovely fall dinner, al fresco style.
The Main House
Helen's curated collection of furniture and decor is stunning.
Her antique ironstone platters and dishes are timeless and classic.
The old stone walls are such a beautiful backdrop to her antique mirror. And don't you love her old stone sink?
Helen's living room has soft, cozy slipcovered furniture with warm woods and casual fabrics.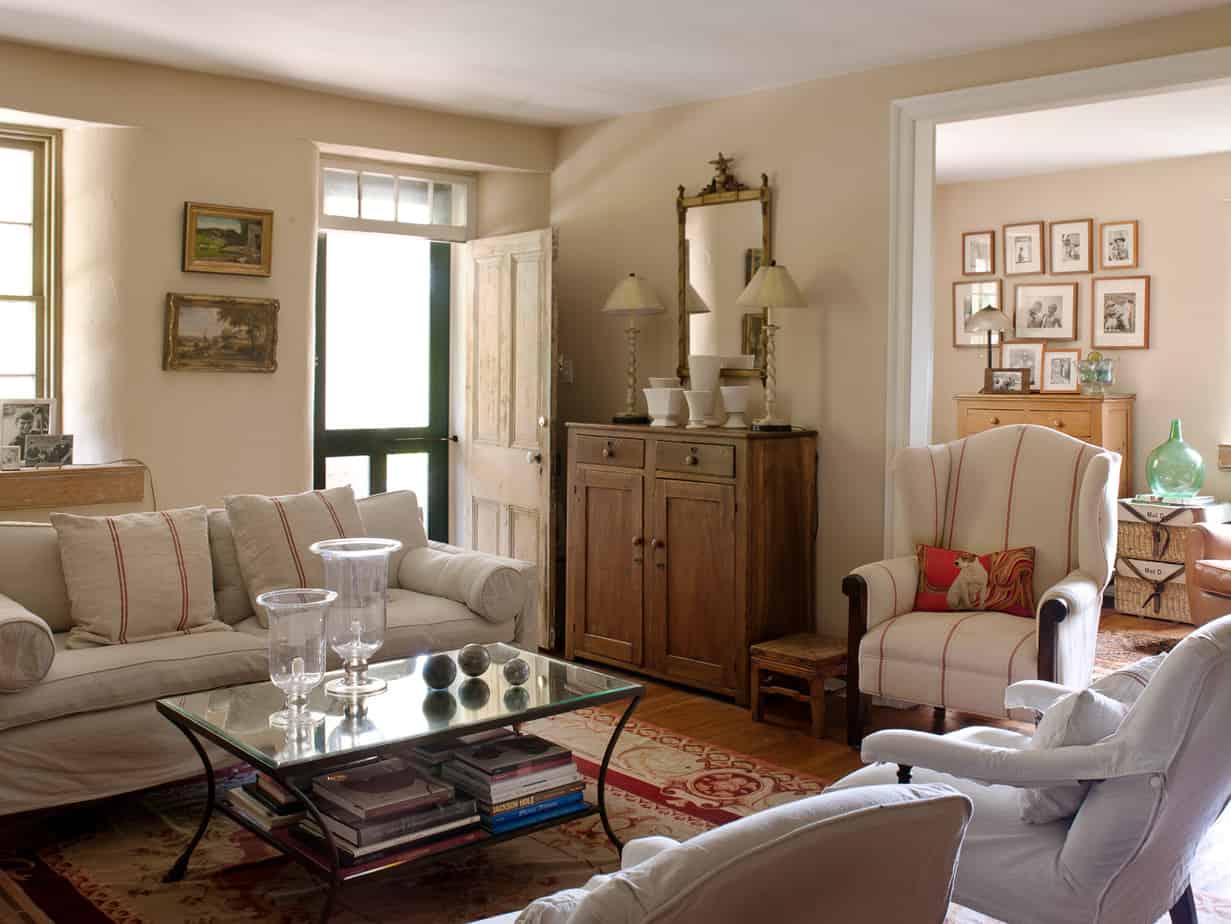 And the old wood mantel is full of charm and character.
The collection of glass cloches adds a distinctive flair to the mantel in the dining room. And the blue paint is stunning.
The kitchen with the soft olive green cabinets looks like a chef's dream. The wide plank wood floors are beautiful.
Here's another amazing sink. And I love the antique brass faucets. And her collection of vintage mixing bowls is amazing.
I'll bet the pretty pup is happy to clean up any crumbs that hit the floor.
Perfect patina on the kitchen island.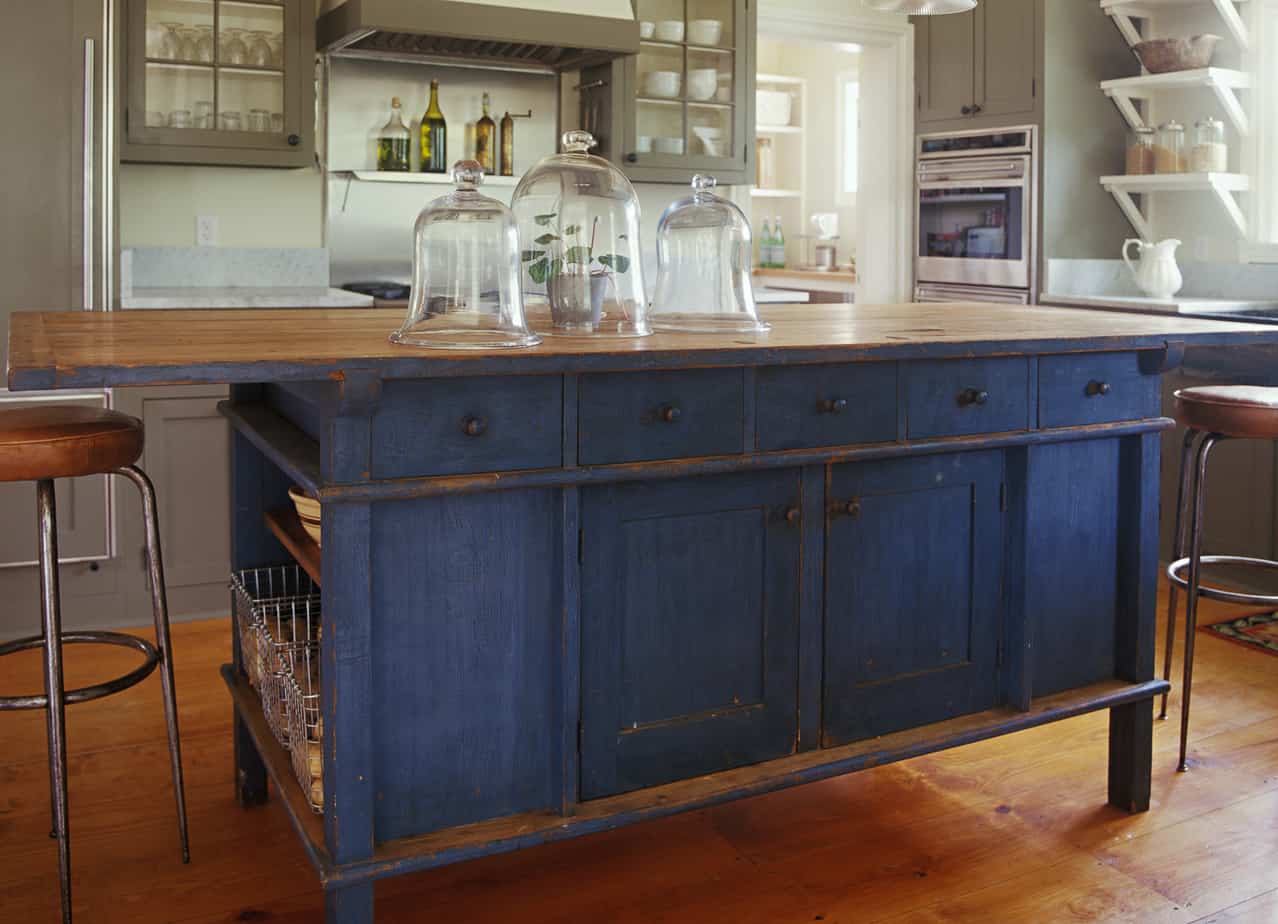 Her butler's pantry is so tidy with everything organized in glass jars and baskets.
The bathroom has a beautiful claw foot tub and a fresh light blue color on the walls.
The perfect place to retreat after a hard day's work.
The marble counter is such a classic. And the beadboard walls are timeless.
The master bedroom is so charming with the four poster bed and soft quilts.
The old stone walls and the wide plank floors give the place such warmth and character.
Wouldn't you love to sit here and watch the sunset?
The slipcovered furniture is practical and pretty.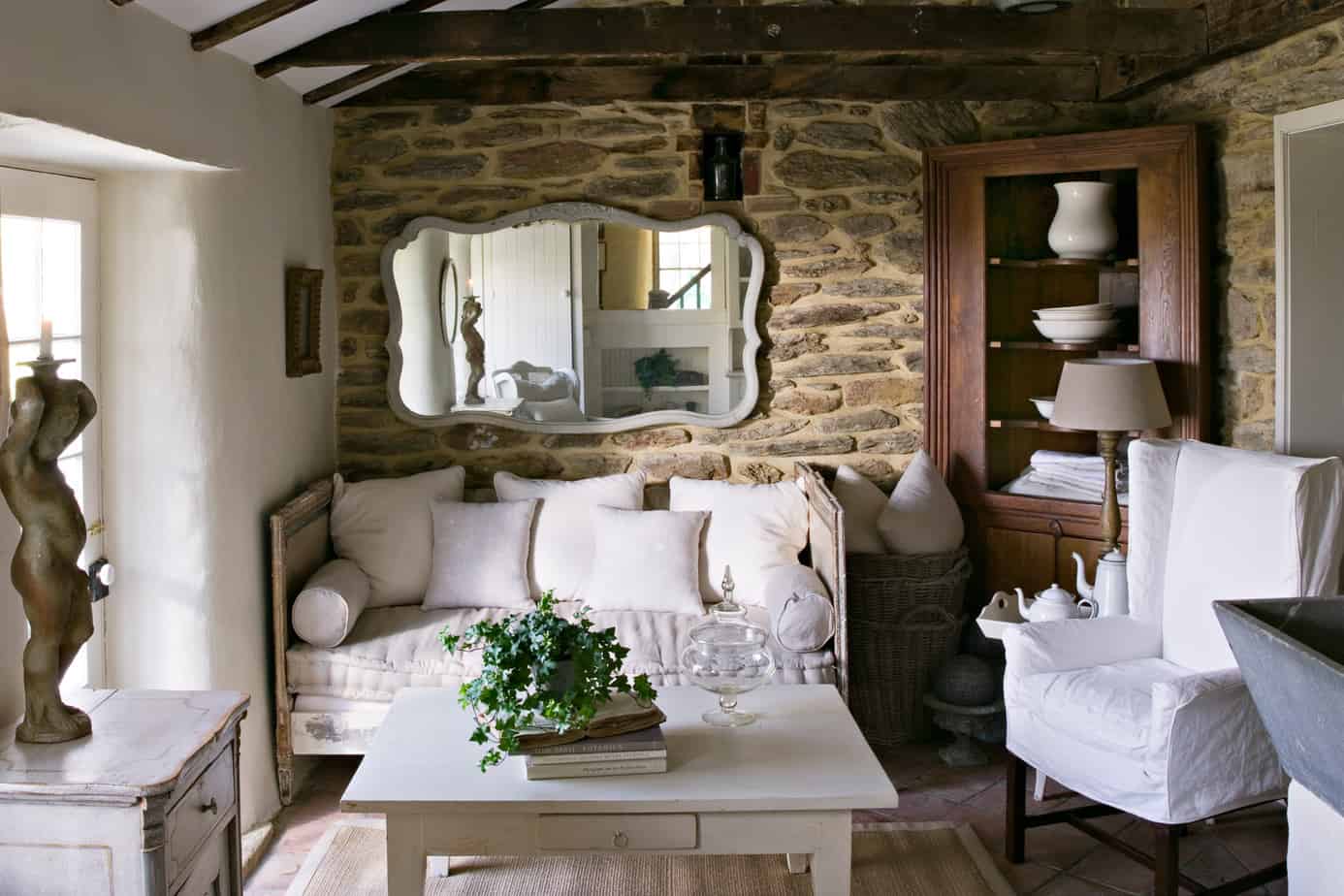 On the exterior, the old stone is maintenance free and will stand the test of time.
It looks like a painting in the snow.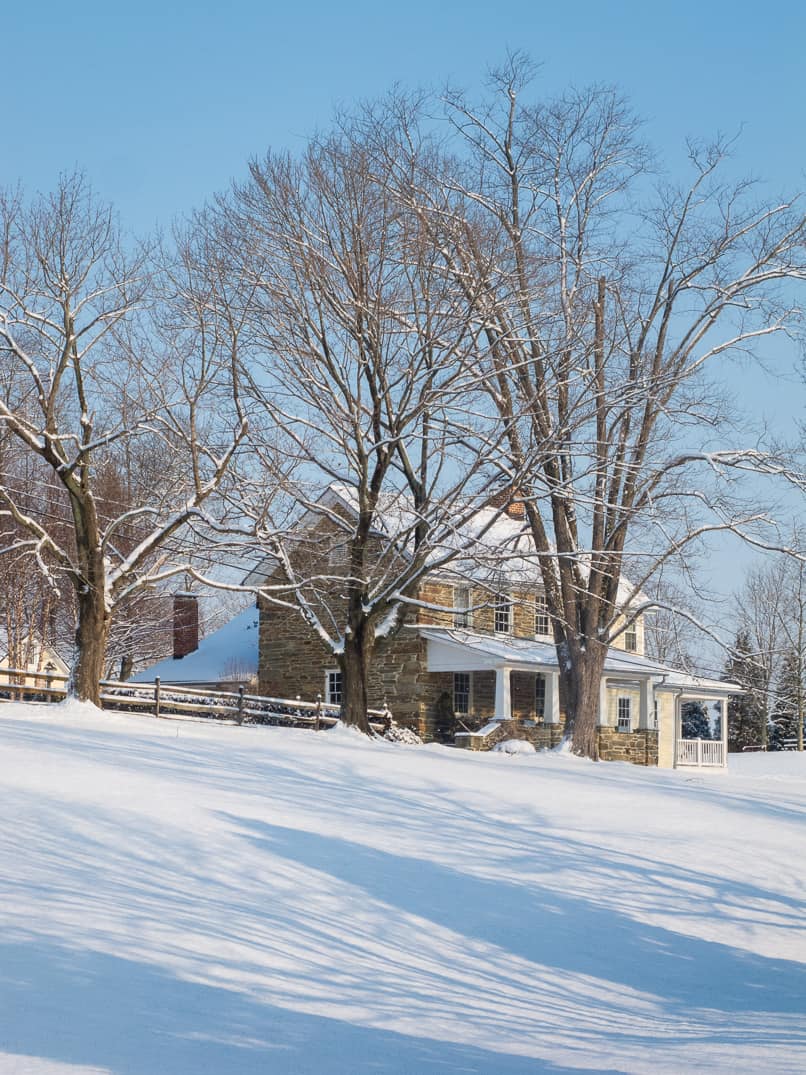 The Guest House
The guest house is as charming as the main house with several bedrooms for lucky visitors to relax and unwind in.
The floors and empire dresser in this bedroom are gorgeous. And that ceiling is amazing!
Another charming bedroom with fresh blue accents, wood floors, and bead board walls. The blue and quilt is gorgeous.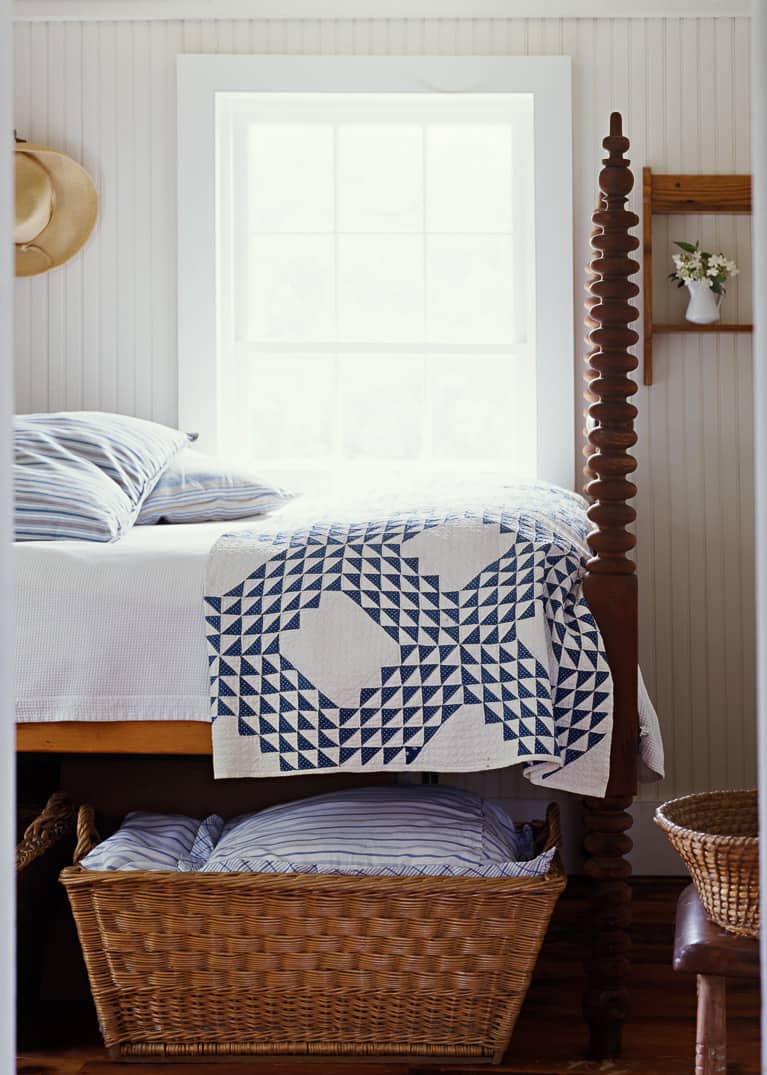 A landing zone upstairs makes a nice place to sit and read a magazine or book.
The main level has beautiful stone floors and cozy slipcovered furniture.
photo by Helen Norman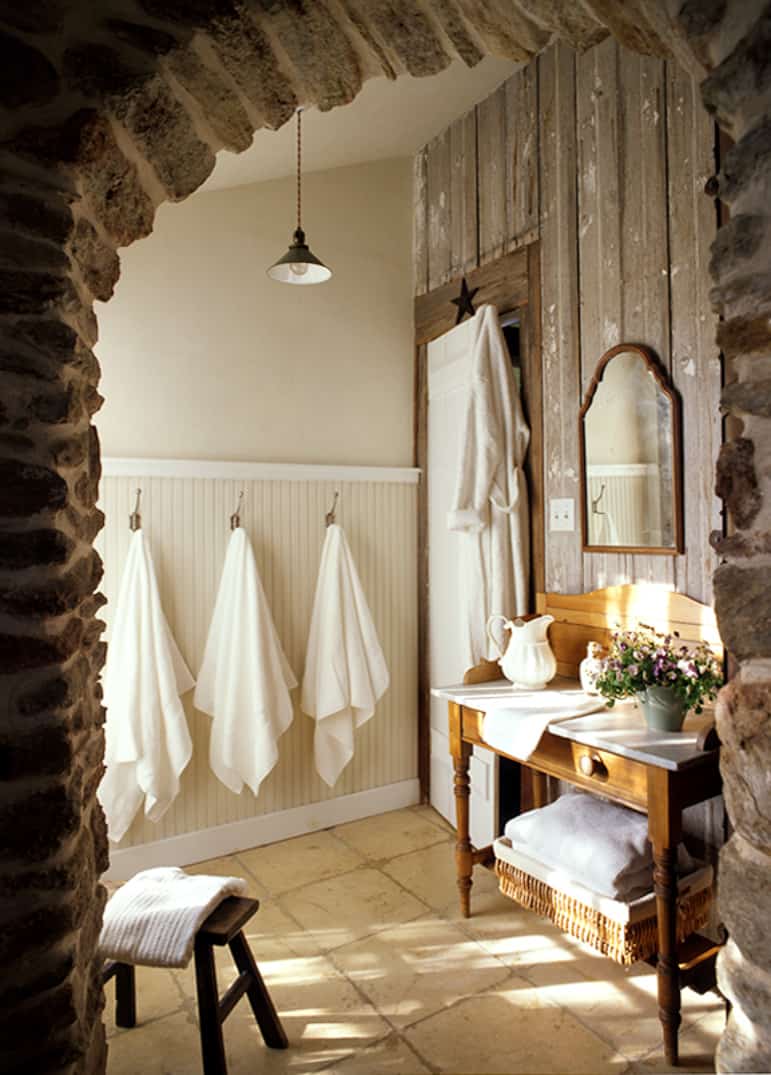 photo by Helen Norman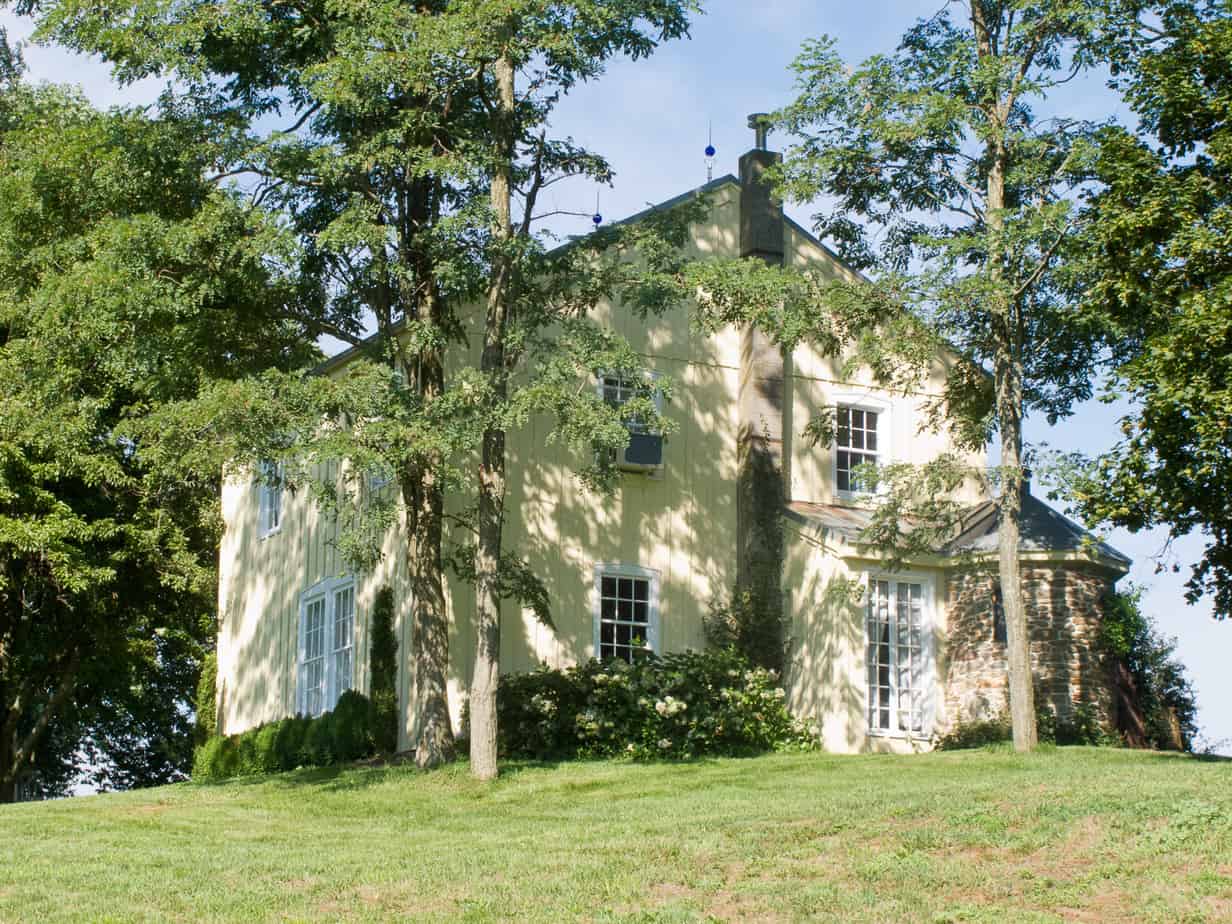 This picturesque patio would be a dreamy place for enjoying a bite to eat. Look at that view!
The Barn
Doesn't this make you actually want to do laundry?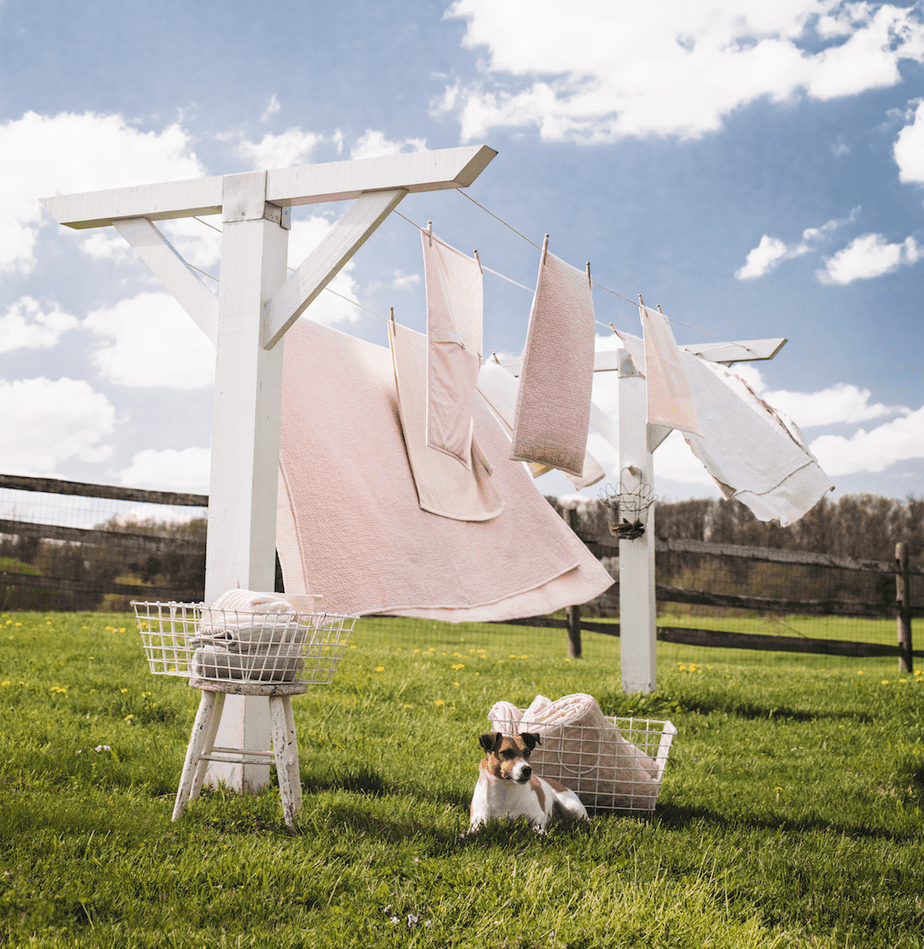 To see more, be sure to visit Starbright Farm here. And follow them on instagram here. You can also follow Helen on instagram here. Her photos are truly inspiring.
Thanks for letting us feature your farm and beautiful photography, Helen!
So what do you think? Are you ready to move to Maryland now? I know I am. Tell me what your favorite part of the tour was in the comment section below!
If you enjoyed this tour be sure to subscribe to updates so you don't miss the upcoming ones.
And to see last week's tour, go HERE.