Postcards from The World's Longest Yard Sale.
This past weekend I checked off something from my bucket list…the Highway 127 yard sale. Also known as the world's longest yard sale, it stretches from Alabama to Ohio. And there was a lot to see.
Today I'm sharing a few snapshots of my favorites like the vintage blue child's rider above. Come along and see all the treasures!
This ice cream truck was so much fun! Who doesn't love homemade ice cream in August?
There were lots of these beautiful old blue mason jars.
Vintage wooden crates were aplenty as well.
Architectural remnants were easy to find.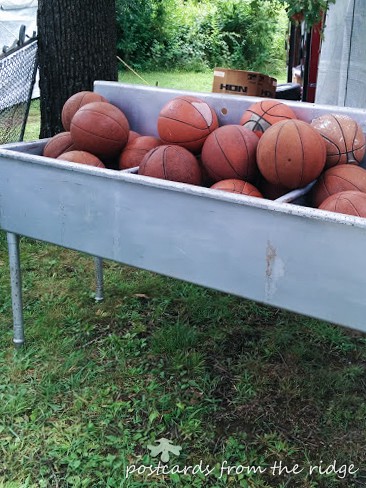 And you just never know when you'll need extra basketballs, right? This was the first time I had seen a collection of used basketballs in an old industrial sink, but there was a little bit of everything.
These colorful vintage table cloths were so fun.
Coca cola memorabilia was seen in several spots.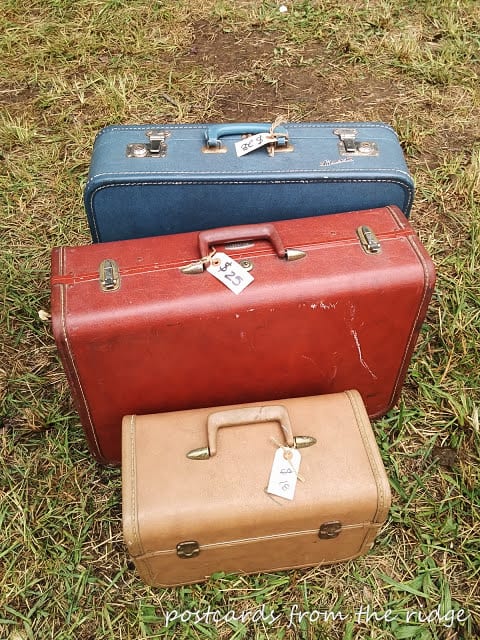 I loved these old suitcases. The colors were so pretty.
Old tin ceiling tiles would make great wall hangings.
These brackets were huge!
We saw several booths with painted furniture.
Here's a snap of the traffic. Bring an extra large dose of patience if you come.
Pyrex lovers paradise.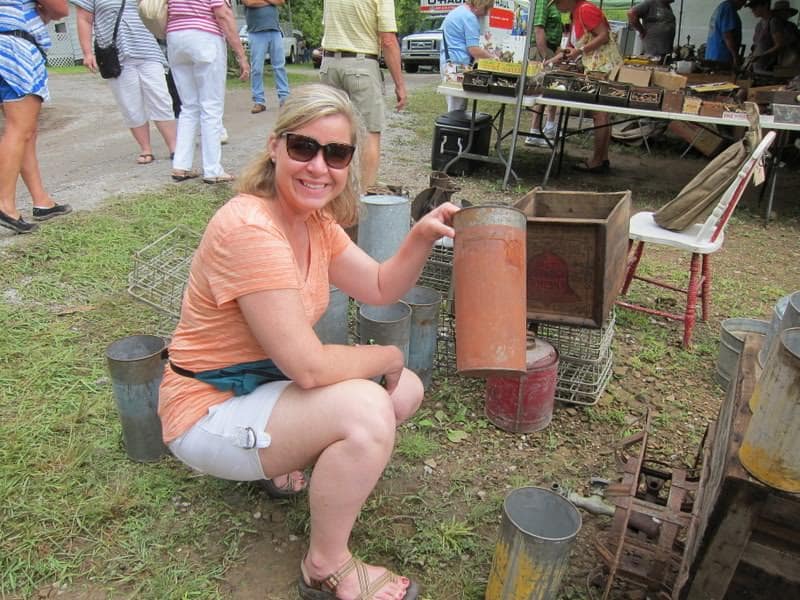 Me and one of the vintage sap buckets that I bought. I'm planning to use them with my fall decor soon.
Here's a peek at how I used them. You can see the rest of them HERE.
My junkin' buddy Kathy from Petticoat Junktion. We stayed out of trouble for the most part. 🙂
That concludes the tour. Have you ever been to the world's longest yard sale? What's the best thing you've found there or at any yard sale? I'd love to know!
If you love vintage items but can't stand the crowds or live far away, Etsy is a great place to shop. You don't even have to leave your house! Go HERE to see what's currently being offered.
Want to learn how to make the most of yard sales? Go here to learn more. (affiliate link provided for your convenience)
Thanks for visiting with us.
XOXOX,
Angie
If you're new here, sign up for email here or follow along here so you don't miss a thing:
Email * Facebook * Hometalk * Pinterest * Twitter * Instagram

For handy tips and tutorials, go here.


To see my painted projects, go here.

For tasty recipes from my kitchen, go HERE.
For some simple tips for capturing a great photo, go HERE.
Go here to learn about having an online design or color consultation.
And go here for dozens of photos, ideas and favorite paint colors.