Ideas for using turquoise as an accent color
Hello, friends! Thank goodness spring has finally arrived here! I've been refreshing our decor and adding a few spring touches lately. I took these photos on a recent sunny day and after looking at them I noticed a definite theme….TURQUOISE. I hadn't realized that I have touches of turquoise in almost every room of our house.
In the family room, the candles and letter "K" add touches of turqouise. There are also some squares in the granny square throw that have some turquoise.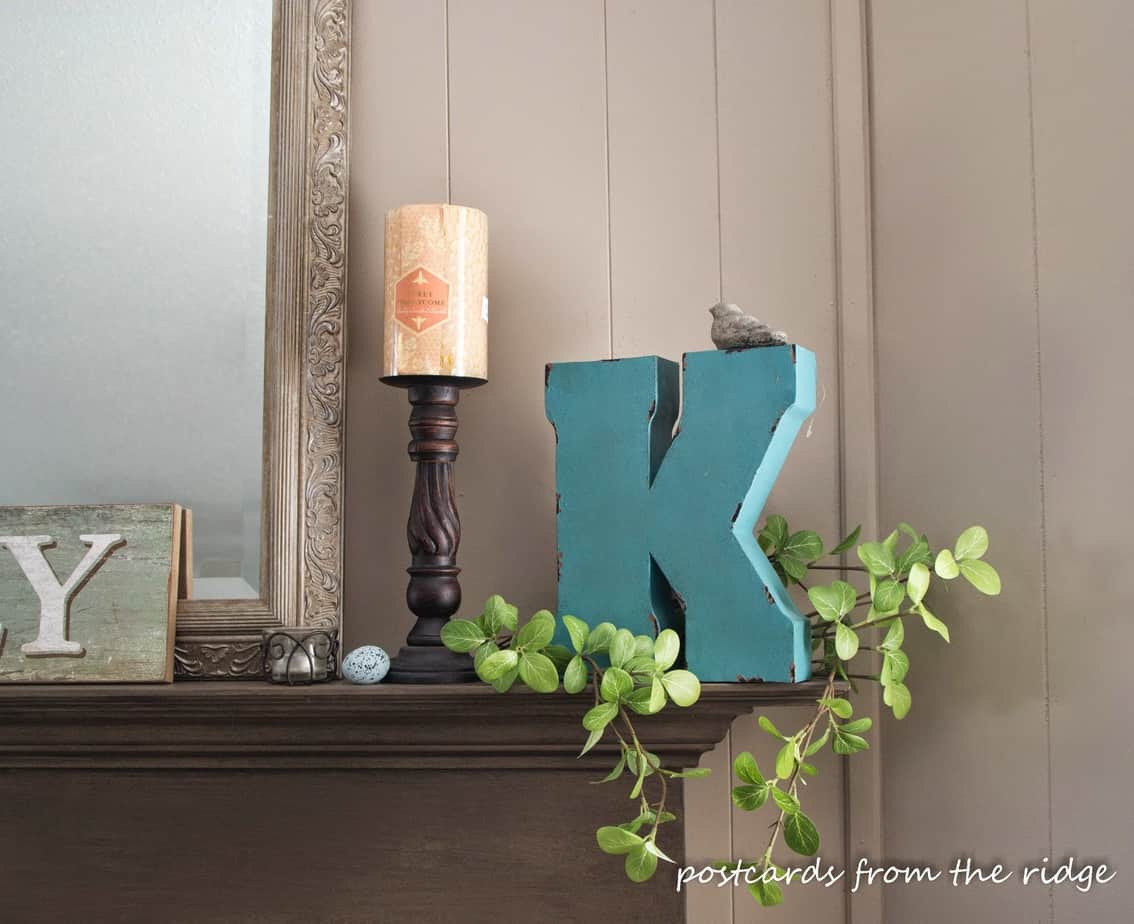 I added a little bird and some bird eggs, along with some faux greenery that I picked up at Target.
I think I have preserved boxwood topiaries in almost every room as well. What can I say? I like what I like!
I love the little speckled eggs. They look like the real thing, but are ceramic.
In the guest bath, I recently added a small rug and some fresh towels from Target. The turquoise brightens up the space and really pops against the neutral walls and floor.
In the entry I have a turquoise platter that holds some flower frogs and decorative keys.
Another little bird and a thrifted milk glass plate decorate one side of the chest of drawers.
More preserved boxwood and a couple of the ceramic eggs nestled up against a vintage alabaster lamp finish out the decor here.
In the master bedroom, a vintage desk recently got a makeover with a turquoise coat of paint and now serves as a night stand. More preserved boxwood and a few decorative items top it off. Go here to see the details of this makeover.
If you want to see some inspiring spaces with turquoise and orange paired together, you'll like this post that I wrote about using those colors together.
Go here to see my favorite paint colors.
That's how things are looking around here. Have you decorated for spring or Easter yet? I'd love to know what you've done.
As usual, thanks for dropping by.
XOXOX,
Angie
If you're new here, I'd love for you to follow along and see several other upcoming projects, favorite paint colors, tips and tutorials, and much more. You can follow here:
Email * Facebook * Hometalk * Pinterest * Twitter * Instagram
Sharing this over at
Disclosure:
This post contains product links. I am an Amazon associate which means that if you purchase something from them after clicking a product link listed here, I might make a few cents from the sale. Please follow the manufacturer's instructions for any product you use.