A Tale of Two Night Stands
Hello, friends! Today I have a tale of two night stands for you. They didn't begin their lives as night stands. Their early lives were more exciting than that. They started out as desks in the original military-type housing in the town I live and grew up in, Oak Ridge, Tennessee. More recently, they were used as storage in someone else's garage and had become sad, oil-stained, and neglected.
Now they have a new lease on life as our night stands.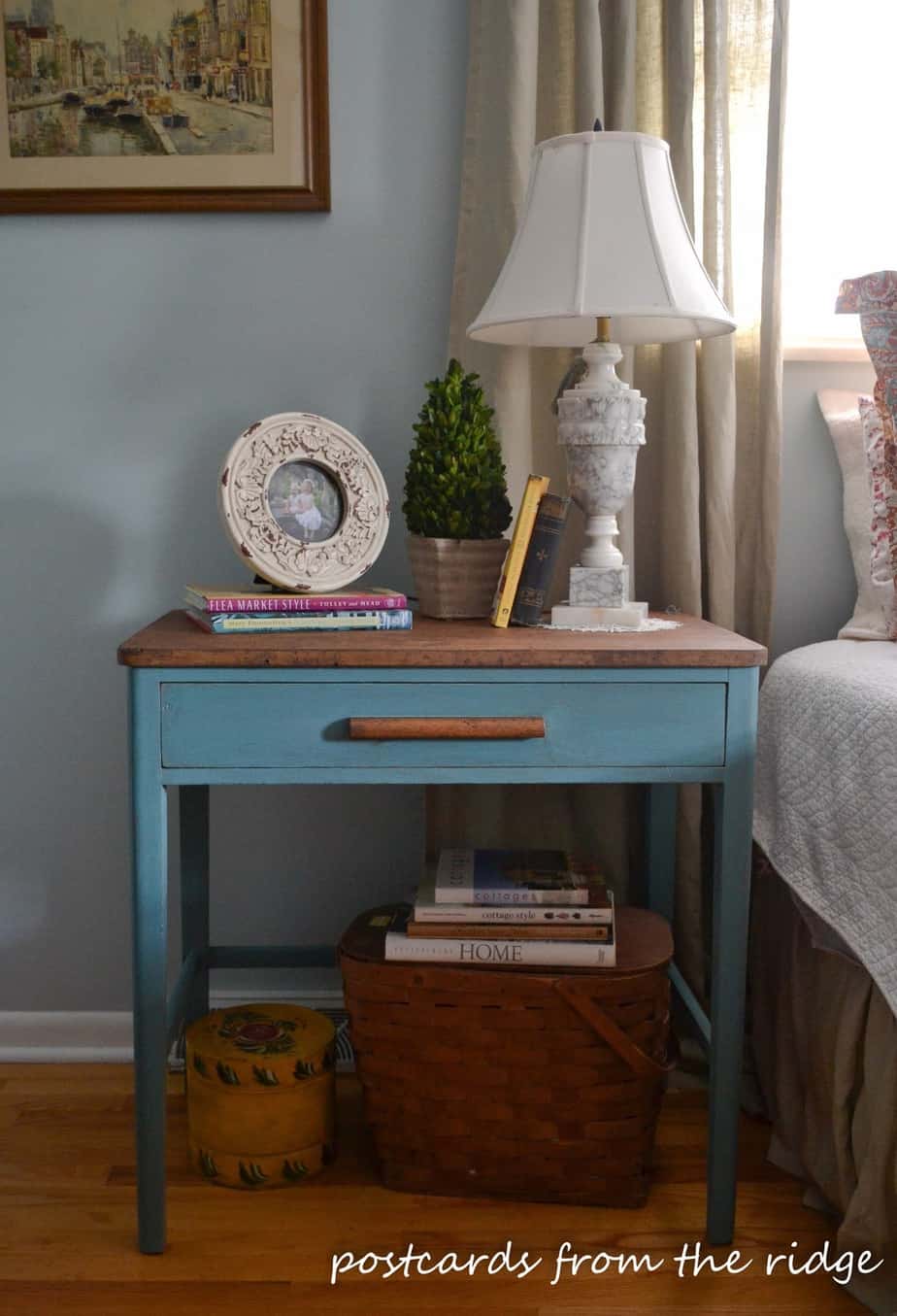 My night stand. I decorated it with some more feminine items and a basket for storage.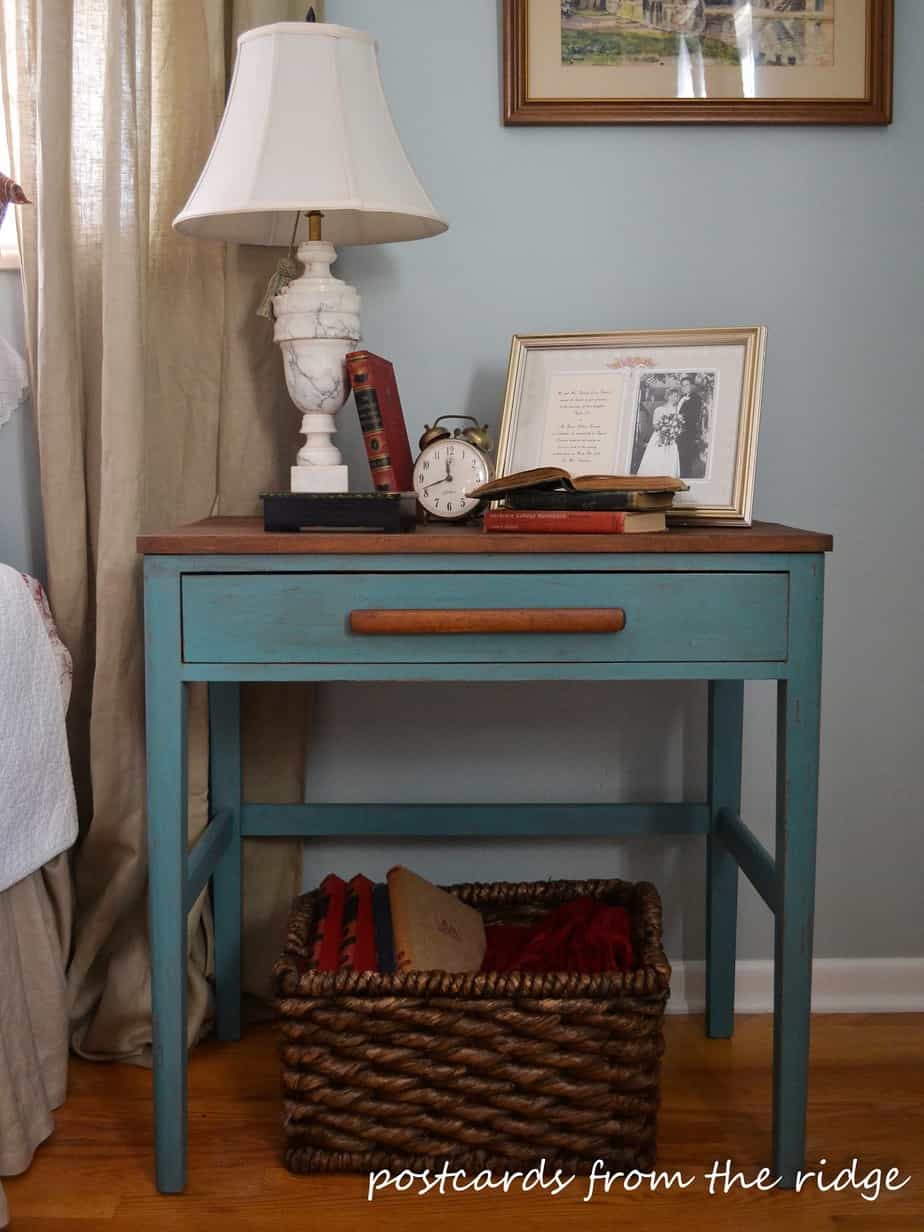 The Mr.'s night stand also has a basket for storage and I added a few masculine items on his side. I like the red accents paired with the turquoise.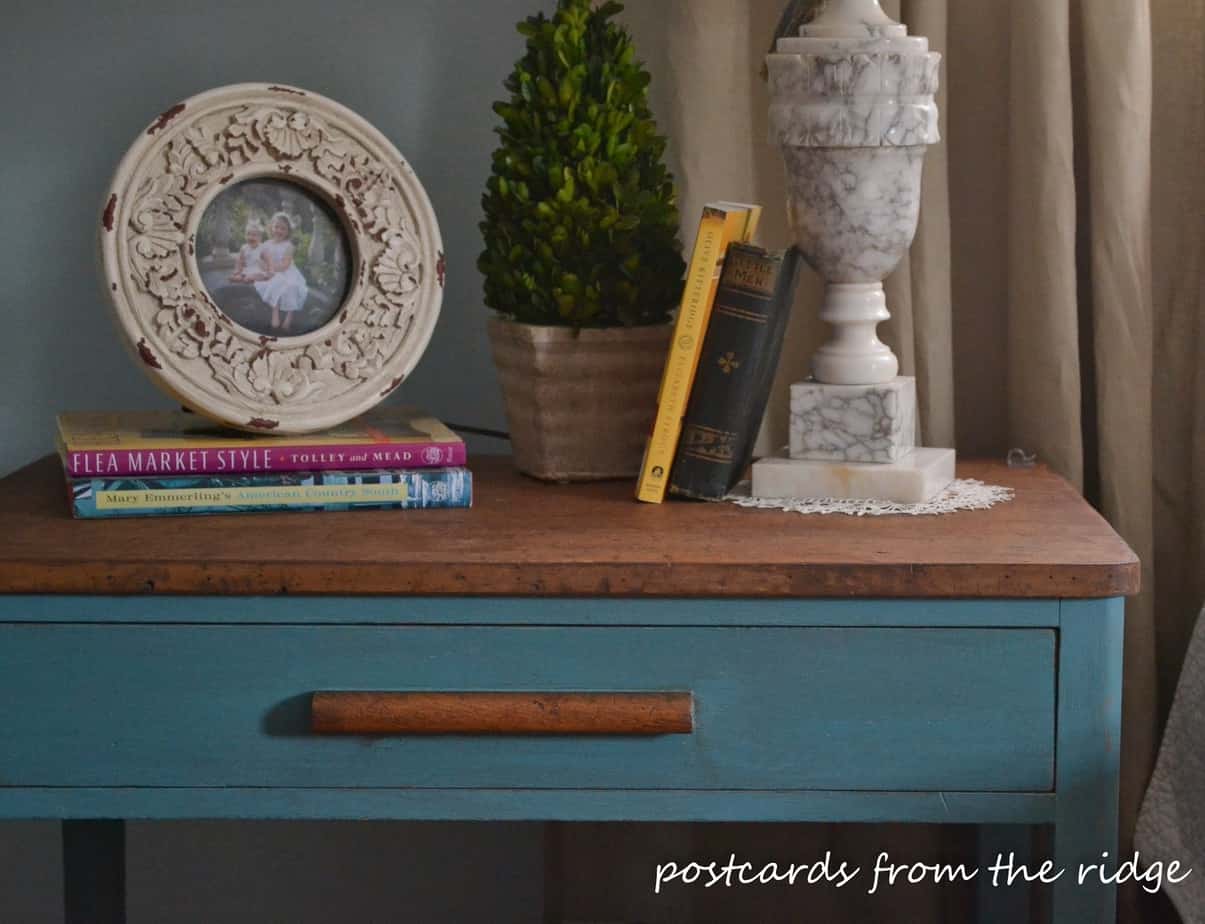 Earlier this month I had taken out a small oak chest of drawers that I had been using as a night stand and replaced it with a gate leg table. I wanted something more open than the chest of drawers, but the table just wasn't right for the space.
We needed something with a drawer for our "stuff".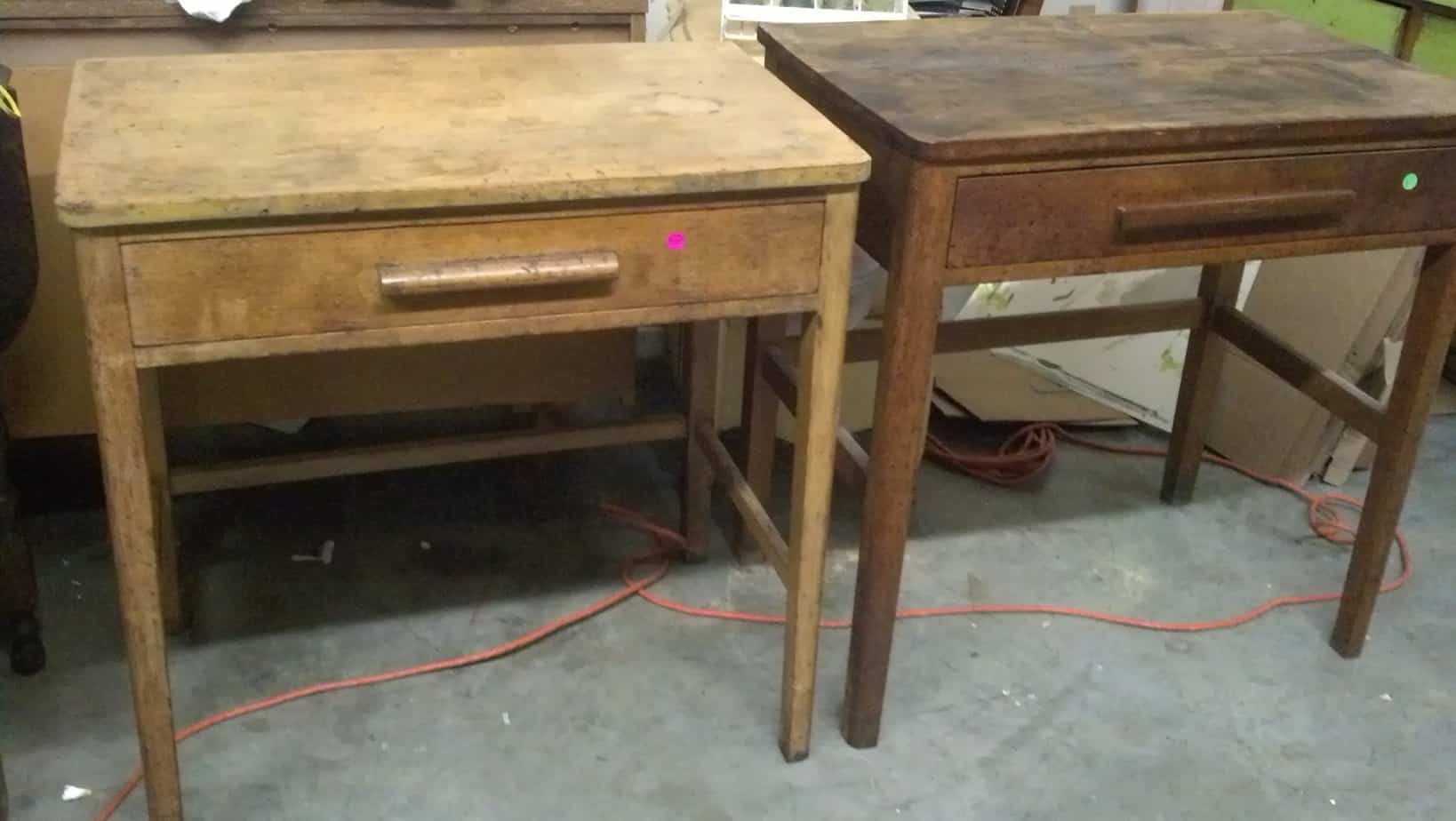 And then I found these at an estate sale. They were in the garage of the home, covered with oil stains and gunk, kinda gross, but the price was right. And they were exactly what we needed for our night stands!
After lots of cleaning with Gloss Off, the makeover began. For the paint finish, I created a color using two different shades of blue and used it for the base. After it dried, I distressed it and then did a wash with a gray milk paint to give it some variety in color. Then I finished it with Clapham's Wax. I love that stuff.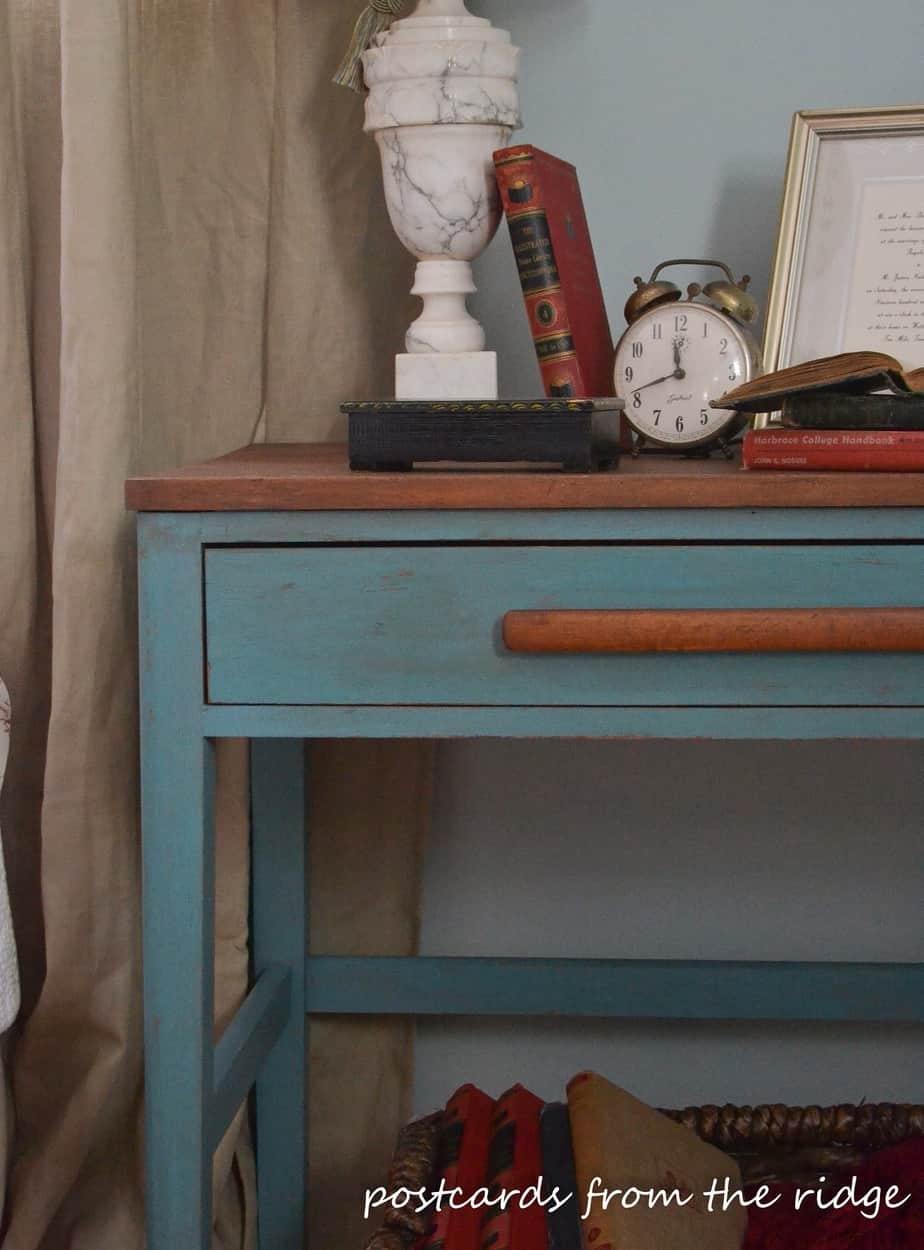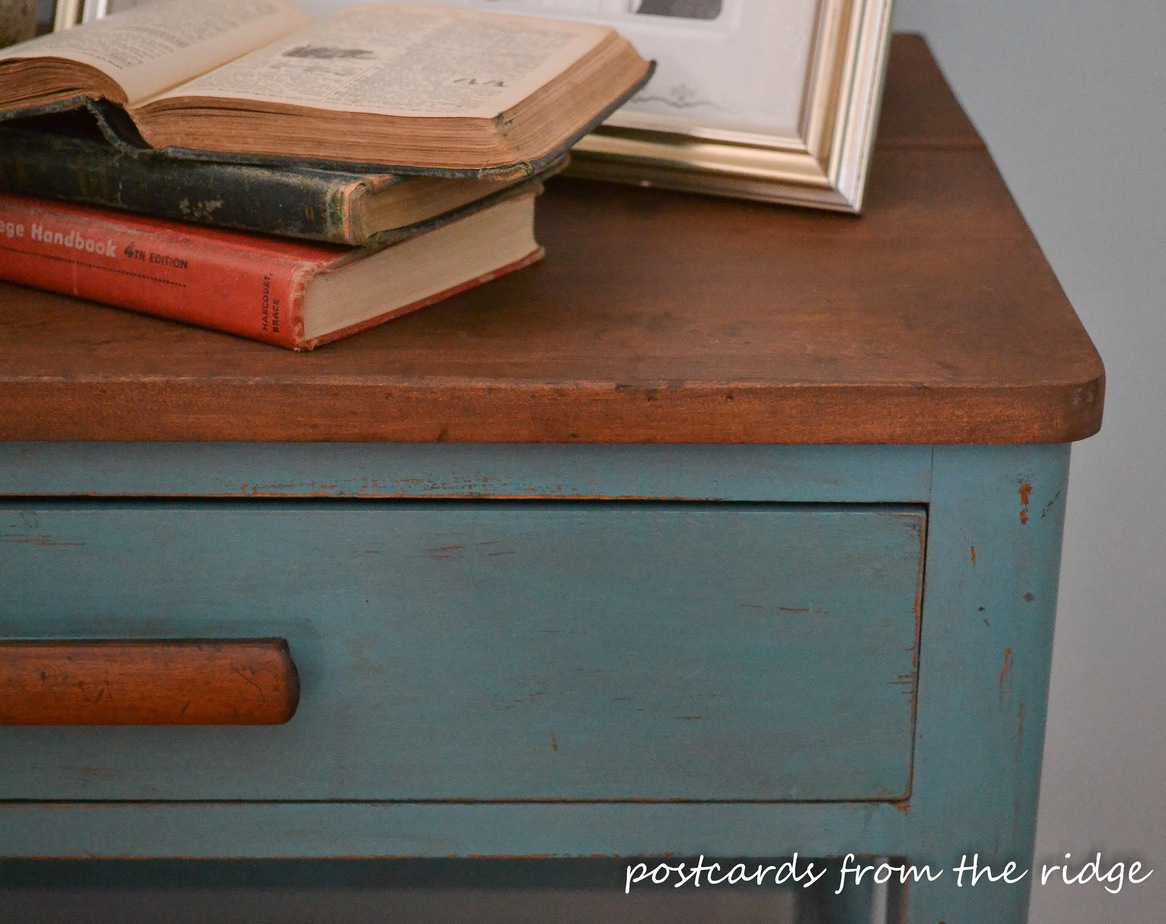 The tops were sanded and stained with Zar Mocha Stain, and then I finished them with a coat of Modern Masters Dead Flat Varnish for protection.
I've got some old books on the top and in the basket, including a vintage college handbook. Appropriate for an old desk, I think.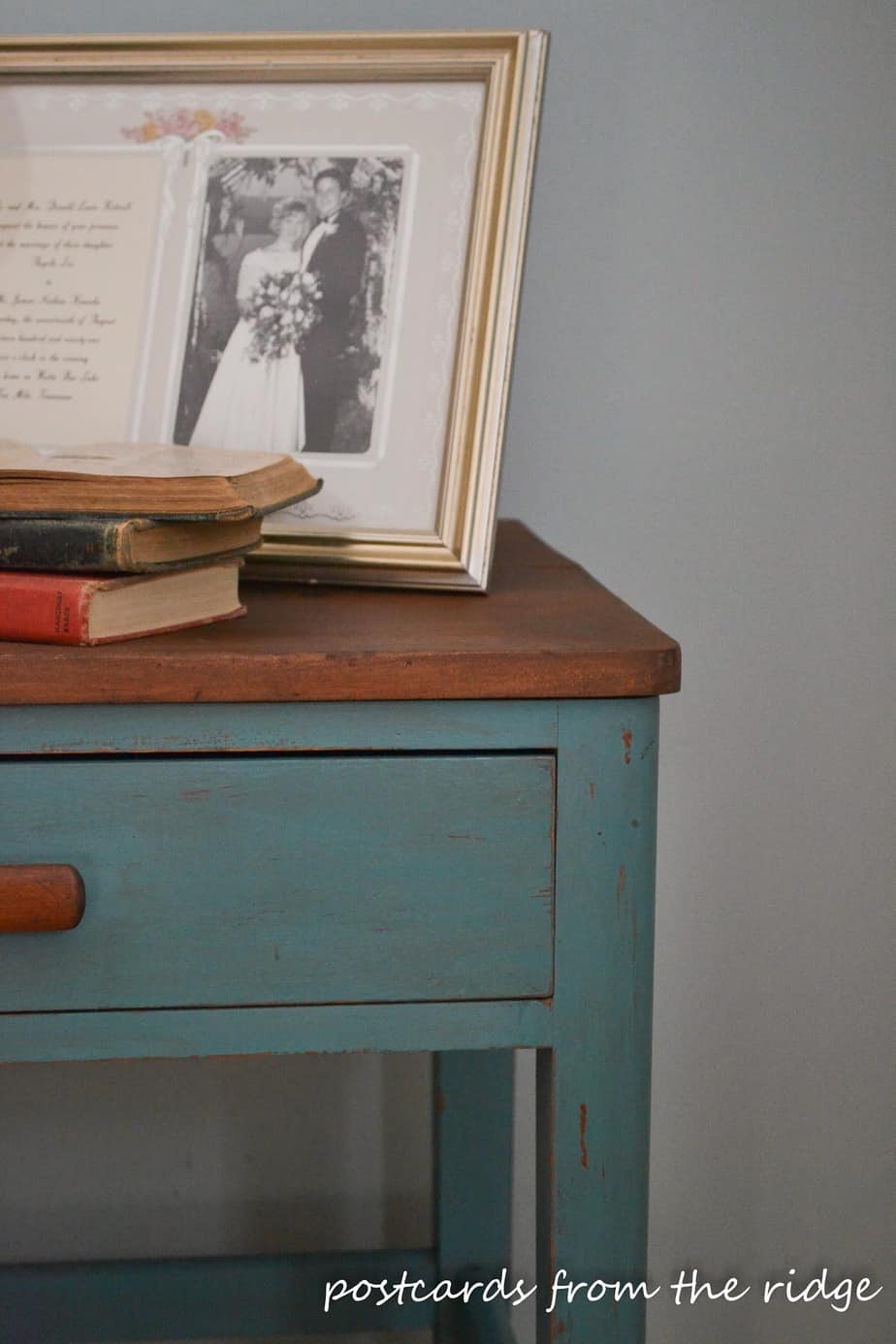 I have no idea who those very young people are. 😉
Here are the two side by side for comparison. They're not identical twins. The one on the left is slightly smaller and is made from oak. The handle is also smaller. I'm not sure what type of wood the one of the right is made from, but it's definitely not oak. Again, they are exactly the same color, but the light from the bathroom made the right desk look a little greener.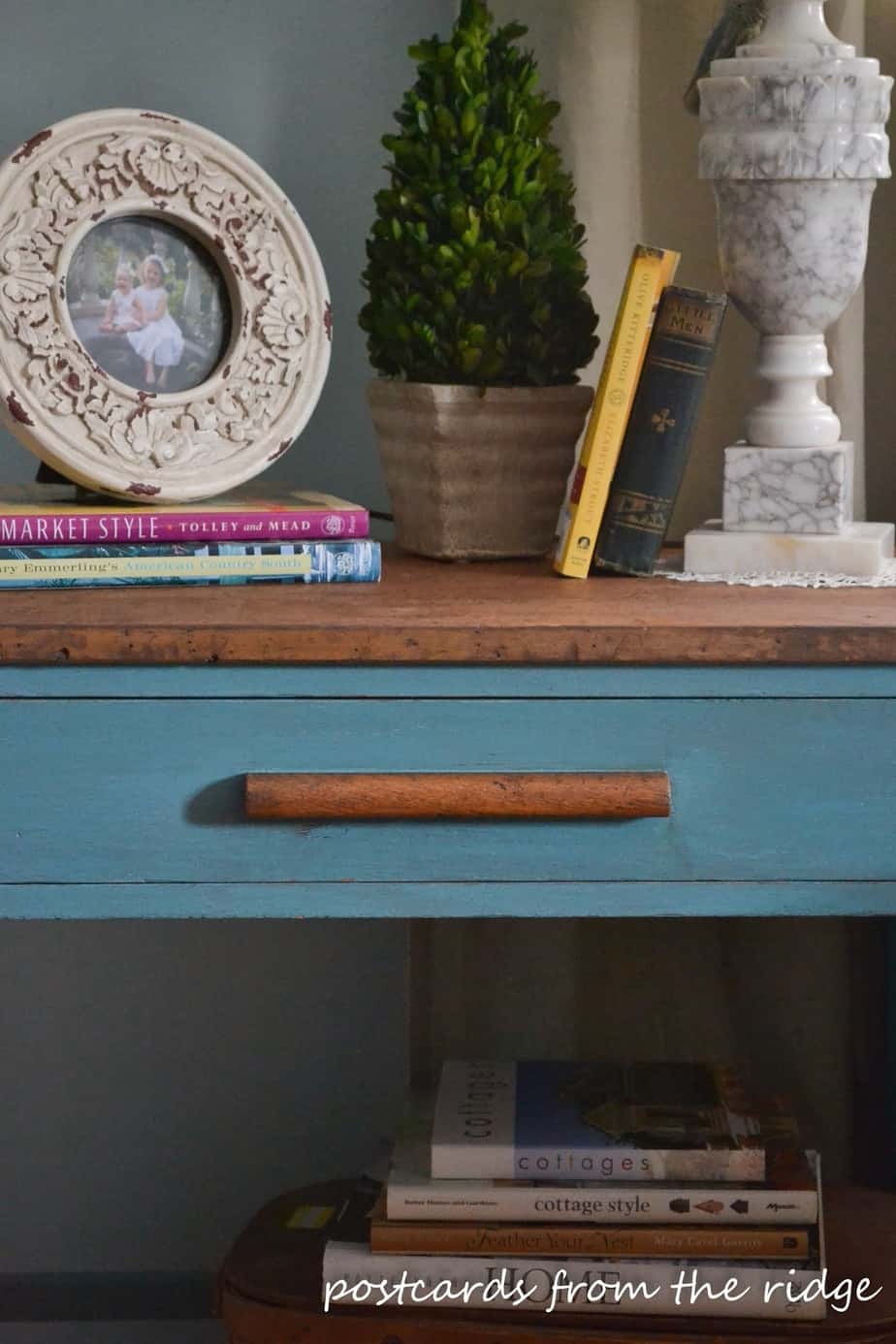 Books, boxwood, a photo of the girls when they were little, and my favorite old alabaster lamp decorate my night stand.
A tole painted can and an old jumbo picnic basket underneath make excellent storage.
The top had an oak veneer and I didn't want to sand it too much, so many of the scratches and flaws are still there.
They are very rustic and have lots of personality, just the way I like things.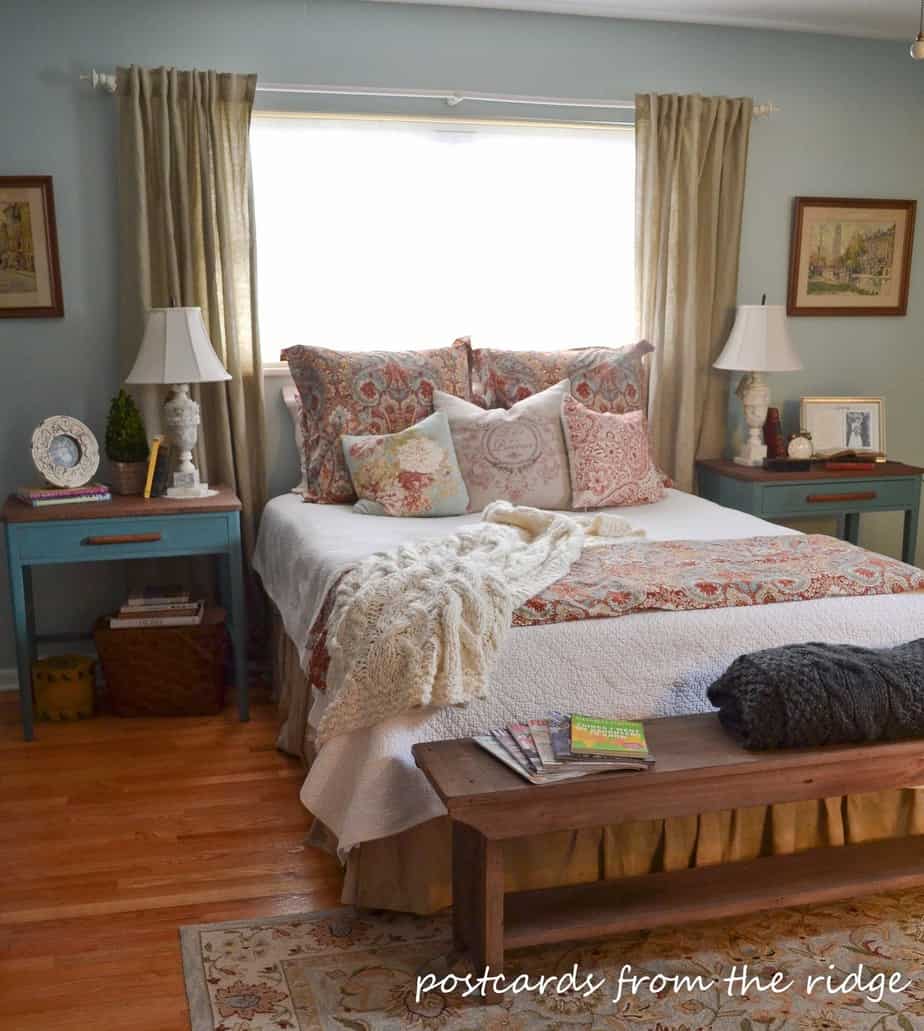 Here you can see them both in their new lives, on either side of the bed. They are exactly the same color in reality. I had the light on in the bathroom and it was casting a bit of a yellow glow on the right table, and the bed skirt too. So now you know.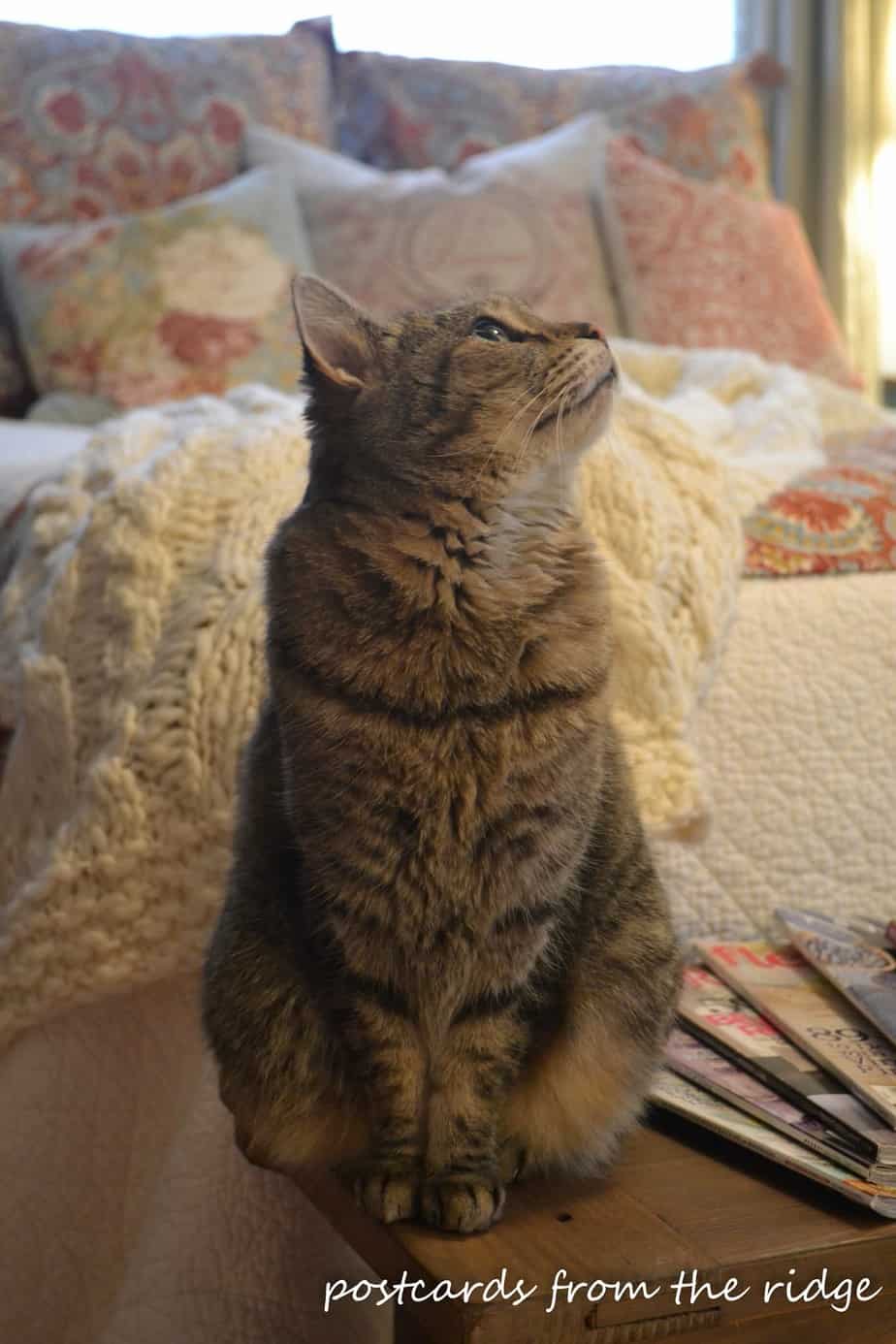 And lastly, my cat wanted to be part of this post. She's the cutest cat on the planet, and she thinks she has to be in every photo shoot. How could I resist?
So what do you think of our new old night stands? I always love it when I can give a brand new life to something that's been cast off and forgotten. And these are just the perfect size for us.
If you like this project, go here to check out my other painted projects.
Thanks so much for stopping by.
Have a great weekend.
XOXOX,
Angie
If you like my posts, I'd love it if you'd become a follower. You can keep up with my latest recipes, projects, tutorials, photos and tips many ways, including:
Email * Facebook * Hometalk * Pinterest * Twitter * Instagram
Disclosure:
The opinions in this post are mine, based on my own personal experience using the specific products mentioned here. I have not been paid by any of the brands mentioned to recommend their products. I am, however, an Amazon associate and a Wayfair affiliate, which means that if you purchase something from them after clicking a product link listed here, I might make a few cents from the sale. Please follow the manufacturer's instructions for any product you use.
Sharing this project here:
Furniture Feature Friday at Miss Mustard Seed