How to Patch and Repair Wallpaper
Simple tutorial for patching and repairing damaged wallpaper
This post contains affiliate links for your convenience. For full disclosure go here.
Hello, friends! Are you knocking out your new year's to-do list? Any progress is good progress, that's for sure. At our house, I'm in the 2nd week of the $100 room makeover challenge and am getting things done in our tiny entry. A huge thanks to Erin at Lemons, Lavender, & Laundry for organizing the challenge. Be sure to scroll to the bottom of the post and see all of the clever projects being done as part of the challenge.
Last week I showed you my inspiration and plans for the space and you can see it all here:
How to repair/replace damaged wallpaper
The number one item on the project list was repairing the damaged wallpaper. We had some mold growth behind it in one area and it had to be removed, cleaned and primed before I could replace it.
Here's what I used for this project:
Bleach and water mixture for cleaning the mildew
Leftover wallpaper
Wallpaper paste (my wallpaper was unpasted, but most aren't)
Rag and bucket of water to clean excess paste off the surface of the wallpaper
The first thing I did was remove everything from the area so I could get to the damaged spot.
Here's what it looked like after I scrubbed it with a bleach and water mixture. The mildew came off but it left some stains.
Once the bleach and water had dried, I used some wallpaper primer that I had leftover from my laundry room makeover to prime the walls for wallpaper and block the stains. Since the area is so small I simply applied it with a brush but you could use a roller on a larger area.
After the primer dried, I added paste to the wallpaper piece and to the wall. Then I applied the wallpaper to the wall. I overlapped it slightly on the existing piece so I could double cut through both layers and have a nice smooth edge.
Next, I smoothed out the air bubbles and trimmed the edges and cut through the overlapped layers. To cut straight lines, I used my metal cutting guide and a sharp cutting knife. Then I removed the trimmed pieces and wiped the excess paste from the edges and surface of the paper.
It looks so much better! I'm glad I held on to the end pieces of the rolls of wallpaper when it was installed 11 years ago. You never know when you'll need to patch or repair so it's always a good idea to keep some extra on hand.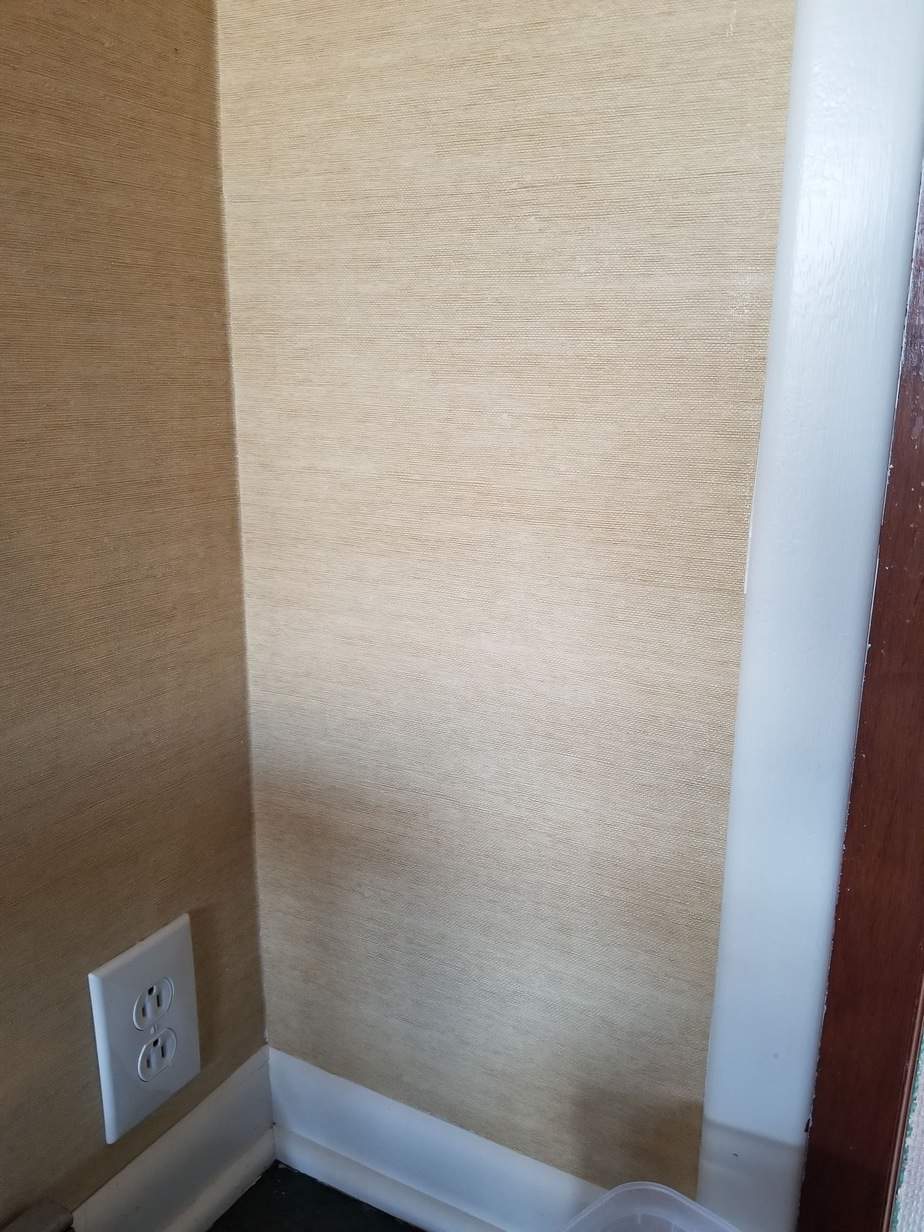 Here's my project list and what I've done and spent so far:
✔ Repair and prime damaged section of wall $0
✔ Patch Wallpaper $0
Prime and paint wallpaper
Paint door and surround?
Move "new" piece of furniture into the space
Attach botanicals to the walls
Add lamp and decor
So far, $0 have been spent simply because I already had these items on hand. The tools and supplies to do this little project would probably cost about $40 if you had to go out and purchase everything (except the wallpaper).
Next, I'll be using up more of my stash when I prime and paint the wallpaper. I'll share the how-to and details of that part of the project next week.
I'm so happy to be doing this project because 1) it needed to be done, and 2) I'm using up some of my stash and emptying up a tiny bit of space in my garage. We won't talk about how much stuff I have in our garage. That's an entirely different issue and project to be tackled at some point.
Here's a reminder of my vision for the updated entry:
sources: lamp // hooks // faux olive tree // fern wallpaper
So far, I'm definitely staying on budget. Hopefully I'll be able to do the entire space for $100 or less. Be sure to sign up for my newsletter so you can keep up with the progress of the room along with all of my other posts. The signup form is below.
And keep scrolling to the bottom of the page to see the rest of the projects!
See all of my DIY tutorials since 2011 HERE.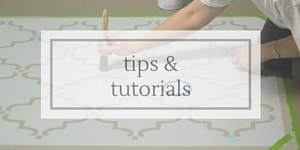 Thanks for dropping by!