2022 Dreamy Sunflower Fields at Knoxville's Forks of the River Wildlife Management Area
If you love sunflowers and taking walks in nature, the Sunflower fields at Knoxville and the Sunflower Festival is for you. About 40 minutes from our house is one of the most stunning sights I've seen. Well, there are several sights like that near me but this one is like no other.
Knoxville Sunflower Fields & 2022 Festival Information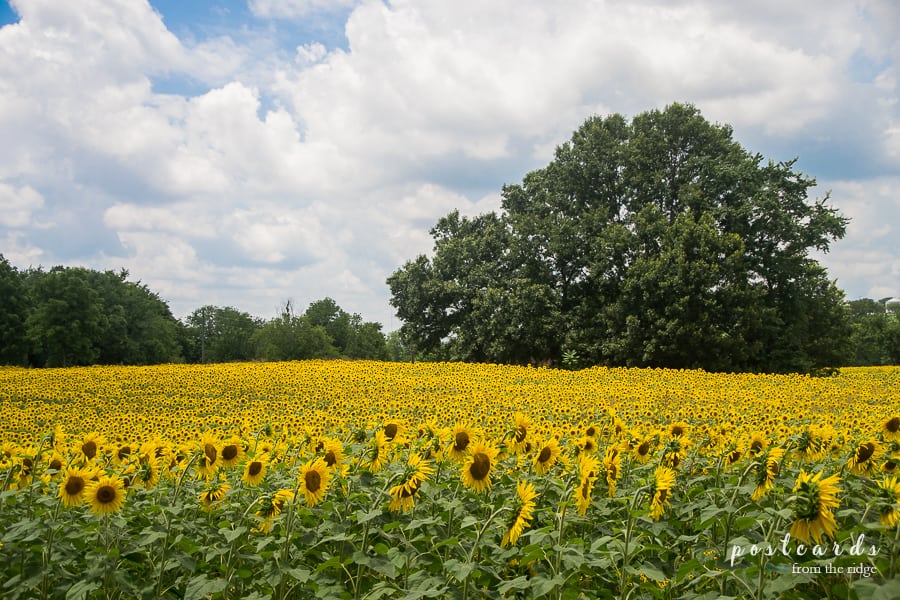 For the past couple of years my daughters and I have visited the Forks of the River Wildlife Management Area near Ijams Nature Center which has over 70 acres of sunflowers in South Knoxville. It's breathtaking, to say the least.
The flowers usually bloom in early July. It's a sea of golden yellow.
There are a few different varieties, some as tall as 6 feet!
Others are 3 – 5 feet with smaller flowers and more delicate petals, like the ones above and below.
These are the giant 6′ tall flowers.
There's so much pollen! If you suffer from allergies, make sure you're aware of the amount of pollen these flowers produce and take any medications needed.
Where are the sunflower fields at Ijams Nature Center?
The fields don't have an official address. They're adjacent to the Ijams Nature Center in South Knoxville. There are two parking areas available. Look for the one that's on McClure Lane, close to Mead's Quarry and Ijams.
2022 Sunflower Festival Information
The 2022 Knoxville Sunflower Festival is Saturday, July 9th from 9 am until 12 pm, but you can also see them at other times. Here's what you need to know about the official festival.
Presented by: Visit Knoxville, City of Knoxville Parks and Recreation, Ijams Nature Center, TWRA and Legacy Parks Foundation.
Touring the festival is easy and FREE!
PARKING: Take a free shuttle from Tennessee School for the Deaf, 2725 Island Home Blvd. Shuttles will run continuously from 9 a.m. – 1 p.m.
GUIDED HIKES: Join a guided hike of the sunflower fields at 9:30 a.m., 10:30 a.m. and 11:30 a.m. leaving from the shuttle drop-off spot in the center of the fields
WALKING AROUND THE FLOWERS: Walk the two miles from Ijams Nature Center or 1.5 miles from Ijams Quarries. Parking at both locations is limited.
RIDE A BIKE: Hop on a free loaner bike from Kickstand Community Bike Shop and tour from the Will Skelton Greenway. Kickstand will be set up in the parking lot inside FRWMA.
Join in a group bike ride to the festival with Cycology Cycles at 9:00 am from Suttree Landing Park or with Printshop Beer at 10:30 am!
FOOD & DRINKS: Food trucks will be located at the Ijams Quarries and sunflower festival gifts will be available in the Ijams Nature Center Gift Shop.
Note: McClure Lane will be closed except to local traffic and handicap permitted parking (must have permit)
More information is available by calling Legacy Parks Foundation at (865) 525-2585. Or you can visit the events page on website here: Legacy Parks Foundation Events
What to bring to the sunflower fields:
Water bottle
Sunscreen
Camera
Hat
Comfortable shoes – there are over 70 acres of flowers!
Wear lightweight, light colored clothing
Be patient, sometimes there are a lot of people there and parking is very limited
When is the best time to see the sunflowers?
The sunflowers are usually in bloom during late June or early July when it's very hot in this area. So the best times to view them are early in the morning.
The best thing to do when you go? Have fun and enjoy the view!
Have you ever been to this or any other sunflower fields? I'd love to know where you've been. Leave me a comment below and let me know!
Want a free patriotic sunflower printable? Scroll to the bottom of the post to subscribe to our free newsletter and get yours.