Ashwood Moss Painted Corner Cabinet and a new wax that I love!
Hello, friends. I've got a furniture reveal for you today. It's a nice corner cabinet, probably from the 80's, that got a facelift with paint.
For this project, I used a small portion of a sample pint of Benjamim Moore #1484 Ashwood Moss in eggshell finish. Then I lightly distressed the edges and gave the piece a coat of Clapham's Beeswax Polish. Read more about the polish below.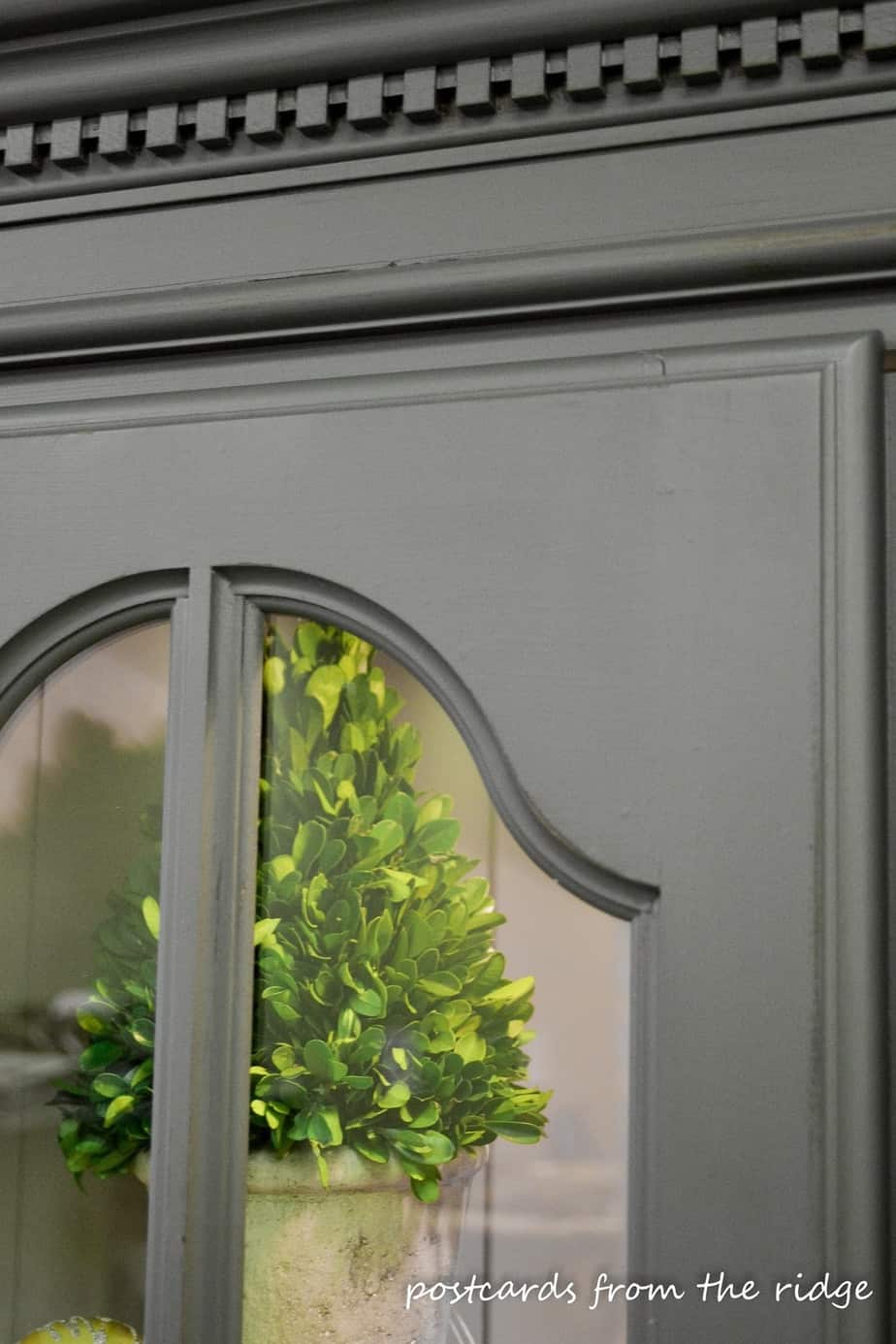 This piece has nice, classic lines and is great for storage. Everyone needs a corner cabinet, right?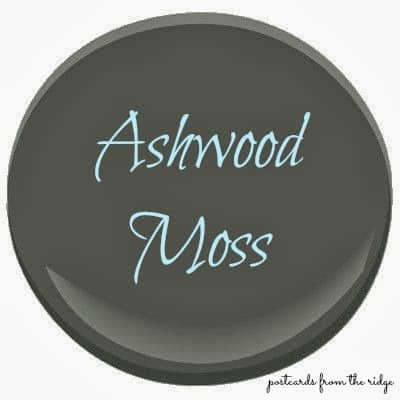 I've been wanting to paint a piece with a medium to dark gray and chose this color because it has just a tiny bit of blue and green. It shows up more blue on the piece than it does on the swatch.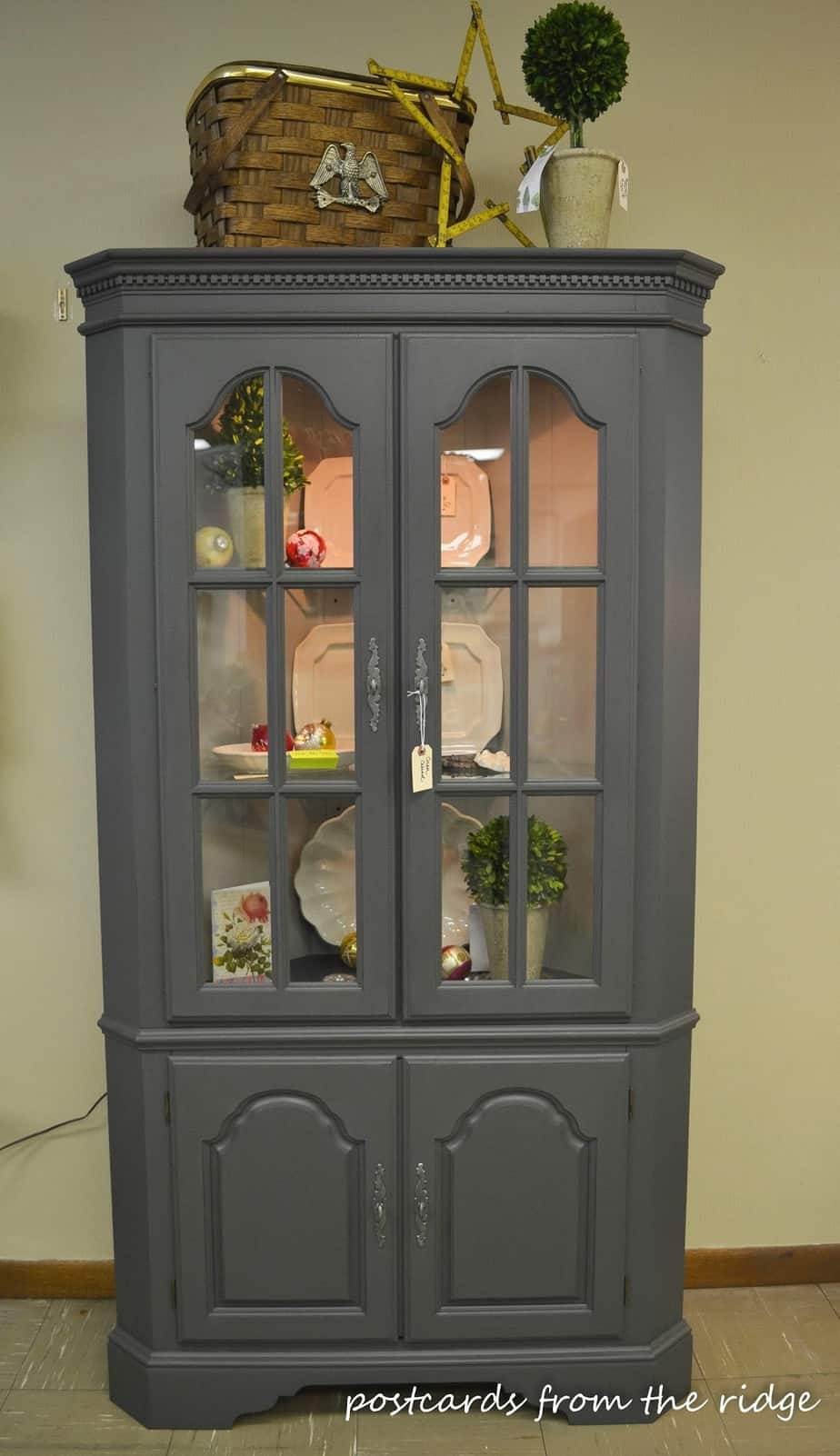 Here's a shot of the entire piece with the doors closed. It has a light inside to highlight any decorative items stored here.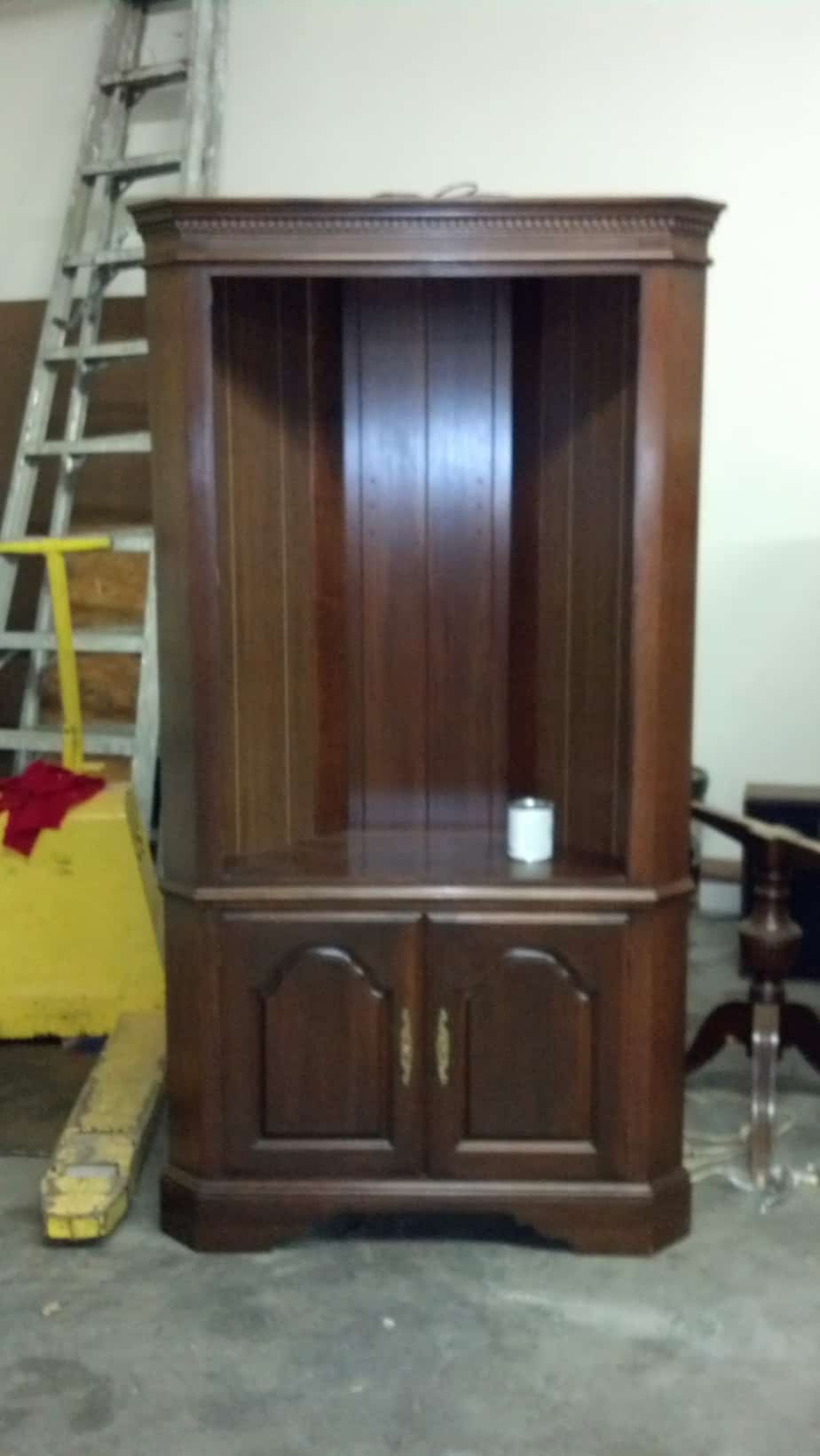 This is how it looked when I got it. Not a bad piece, just no personality.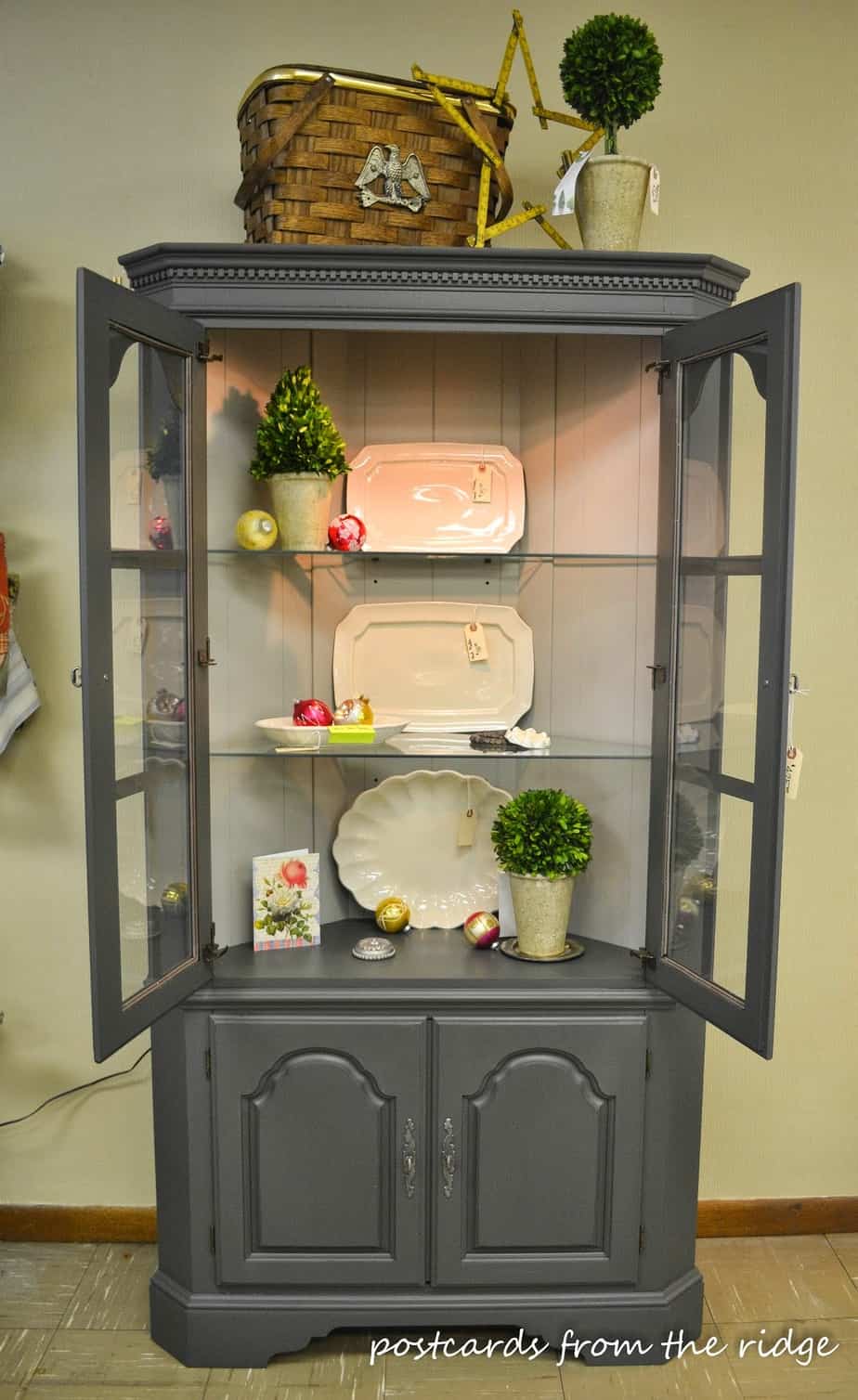 The doors open up to reveal a light grayish interior and glass shelves.
It has pretty detailing at the top. You can see how I lightly distressed it to show just a bit of the original wood color. I finished it with Clapham's Beeswax Polish.
I really loved working with this wax. It goes on like butter and has no odor at all! It dried evenly and had a nice smooth finish. I will definitely be using it again.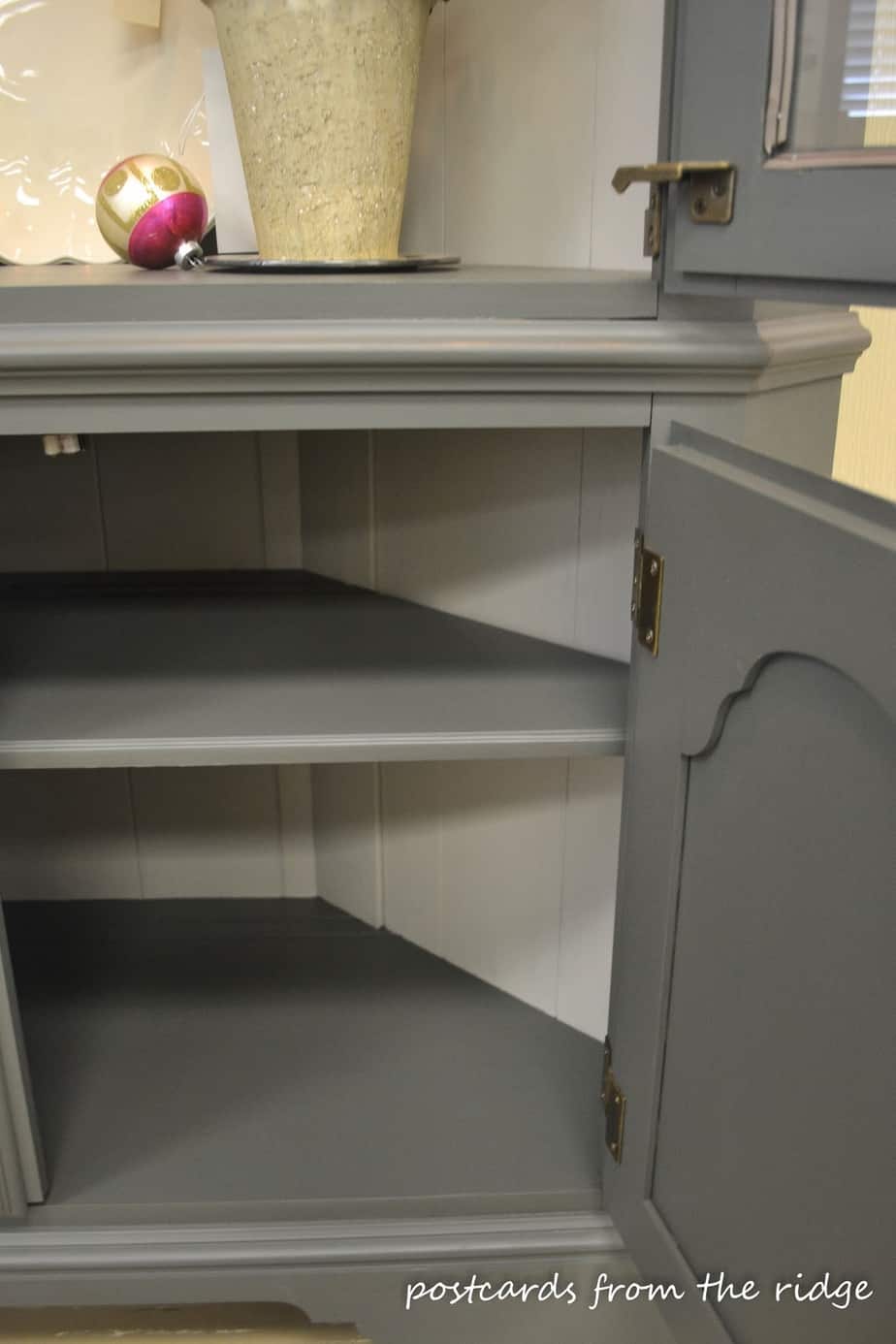 The inside of the bottom portion got a coat of paint as well. It has a shelf for storage.
The hardware got a facelift with Modern Masters Silver metallic paint and then a drybrush application of black paint to soften it.
All that was left to do after that was put it all back together, move it out to the sales floor and stage it for sale. Yes, it is for sale in my little corner of the paint shop for $425.
Next up, I've got a vintage drop leaf maple table that I'm stripping the paint from the top. I'm planning to stain the top and repaint the legs. And I hope to have it finished in the next week or so. It's probably going to go home with me after all the TLC I'm putting into it!
So, do you like the corner cabinet? I think the paint really enhances the detailing on it.
If you like this project, check out my other painted projects here.
Thanks for dropping by.
XOXOX,
Angie
If you like my posts, I'd love it if you'd become a follower. You can keep up with my latest projects, tutorials, favorite paint colors, photos and tips many ways, including:
Email * Facebook * Hometalk * Pinterest * Twitter * Instagram
**This post contains affiliate links to Amazon, which means that if you click on one of the links and purchase something, I might make a few cents.**