Roasted red potatoes with rosemary
I've got a secret to share….I love potatoes. Pretty much any way you cook them. Fried, mashed, baked, roasted, au gratin, in soup or any other way.
Never mind that they're full of starch and carbs. They're one of those comfort foods that it's okay to eat. Probably not everyday, but once a week or so isn't bad. After all, we do need our vegetables, right?
One of my favorite go-to recipes is for roasted red potatoes. So simple and so good. Anyone can make these.
We ate at a restaurant several years ago and they served this with our meal and I fell in love. I live in the South and grew up on mashed and fried potatoes so this wasn't anything that was in my recipe file. But it was pretty simple to recreate.
Here's all you need:
Roasted Red Potatoes with Rosemary
3 lbs Red potatoes, cut up into 1/4″ to 1/2″ cubes
1 tsp Dried rosemary leaves (more if you use fresh)
1 TBSP Extra virgin olive oil
1/2 tsp Kosher salt (you can use regular salt if you prefer)
1/4 tsp Fresh ground pepper
1 tsp Dried minced onion (fresh chopped onion is great too)
1/2 tsp minced garlic
1 TBSP Parmesan Cheese
Preheat the oven to 425.
1. Chop the potatoes.
2. Place the potatoes in a gallon ziplock bag. Add all the ingredients except the parmesan cheese into the bag with the potatoes. Seal the bag closed and then shake and turn the bag until the potatoes are all coated with the oil and other ingredients.
3. Spray a 9 x 13″ casserole dish lightly with cooking spray and pour in the coated potatoes. Sprinkle with the parmesan cheese.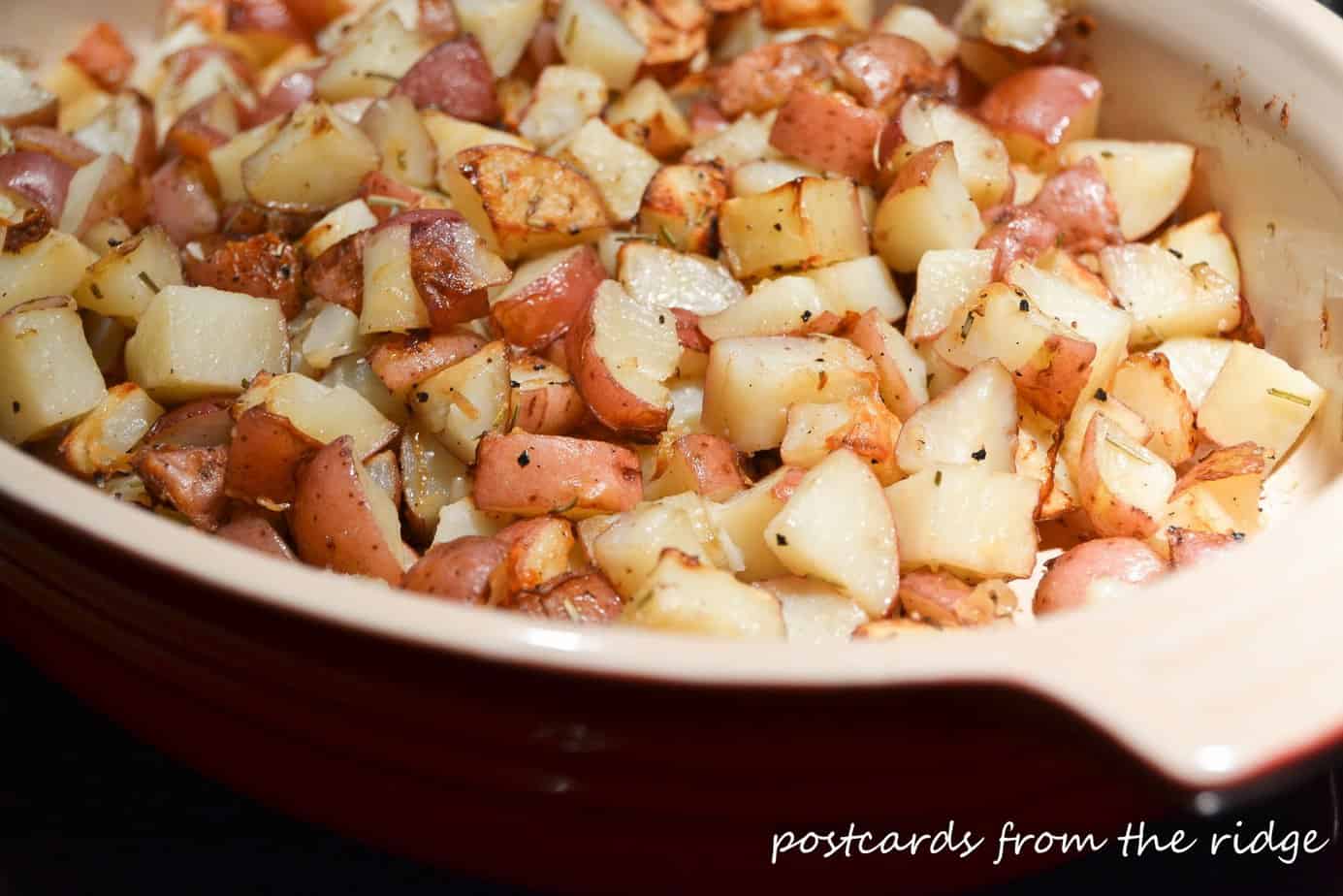 4. Bake for about an hour, stirring once or twice during this time. You can literally stick a fork in them to see if they're done. If they're tender and the fork goes in easily, they're ready to eat.
This is how they look when they're done. Crispy, yummy, goodness.
Next step, DIG IN!
These go great with chicken, steak, or pork chops. Or if you're not a meat eater, they're good all by themselves!
If you really want to wow your family or guests, throw in some bacon pieces. Because everything is better with bacon. Especially potatoes.
I hope you have a great weekend!
Thanks for stopping by.
XOXOX,
Angie
If you like my posts, I'd love it if you'd become a follower. You can
keep up with my latest recipes, projects, tutorials, photos and tips many ways,
including: