A Visit to the Lavender Festival in Oak Ridge
Today I'm taking you on a virtual visit to our local lavender festival. Since 1999, the Lavender Festival in Oak Ridge's historic Jackson Square has been adding a slight purple haze to our little town and has grown into a much-loved event that draws visitors from all over the place.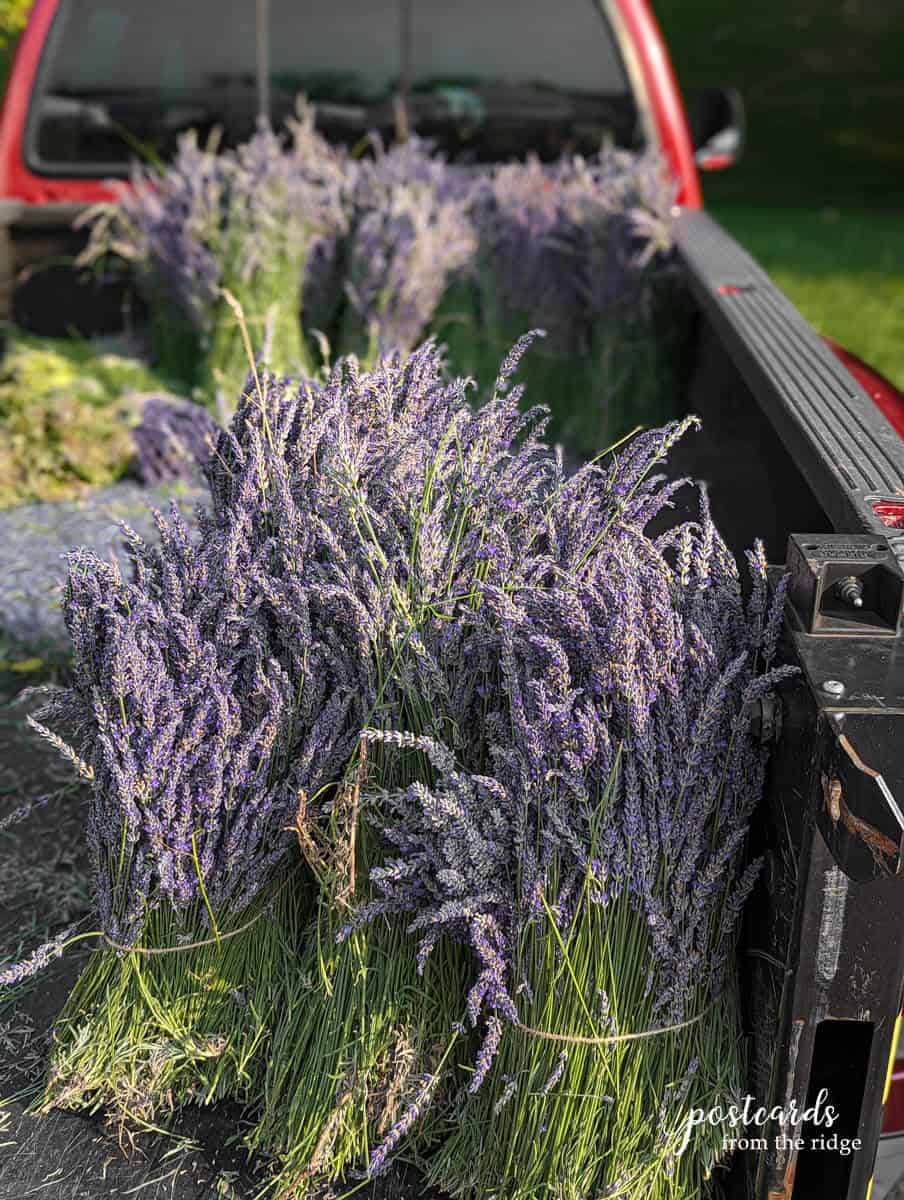 This post contains affiliate links for your convenience. I may make a small commission on products purchased with my link, but your price does not change. For full disclosure go here: Disclosure and Policies. Thank you for supporting my site.
Lavender Festival in Historic Jackson Square
Imagine the scene…dozens of small vendors with handmade items and foods, happy music in your ears, and the soft scent of lavender wafting through the air. That's what it's like at the lavender festival.
The Lavender Festival is held in Oak Ridge, TN and is the biggest event in town. It's a feast for the eyes, ears, nose, and taste buds. It happens every year on the third Saturday in June, since that's when the lavender harvest is at peak.
What are the benefits of Lavender?
Why is lavender so loved that there's an entire festival dedicated to it? In addition to the fact that it smells heavenly, lavender oil that comes from the buds can be used for several different health benefits.
It has a calming effect that helps with sleep and reduces stress. And studies have shown that it also helps with headaches and migraines. Here are some ways you can use it:
Lavender Shop
Visit my Amazon lavender shop with more than 40 lavender items here:

ALL THINGS LAVENDER
Now let's get back to the festival that celebrates this wonderful aromatic herb. I've been able to attend the event many times and am sharing a few highlights today so you can get a sense of what it's all about.
So take a little stroll with me and my youngest daughter Natalie and see for yourself. And keep reading all the way to the end of the post to see three different lavender farms we've visited.
Lavender bundles
The star of the show is, of course, lavender. You can purchase freshly cut bundles of lavender as well as lavender oils, syrups, foods, soaps, and just about anything you can make with this lovely herb.
There are several vendors with lavender bundles, along with a large variety of other fresh flowers.
Glorious Food
If you've never had food made with lavender then you don't know what you're missing. At the lavender festival there are many varieties to try. One of our favorites are the little lavender thumbprint cookies.
There are several other varieties of cookies as well as marshmallows and caramels, teas, jellies, honey, and more.
We also sampled and bought some lavender chai latte. It had a subtle hint of lavender flavor and was delicious.
We loved this little booth with Bavarian roasted nuts and treats. Isn't it adorable? The nuts were incredible too.
Who can resist macarons? This cute booth was selling various flavors and was always busy.
Fresh local produce and plants
The farmer's market is held in this location every week but there are more vendors here during the Lavender Festival. You can find basically any vegetable, herb, or fruit that's in season.
Local varieties of wildflowers and herbs can also be found at the Lavender Festival and farmer's market.
This vendor had every type of succulent and cactus you could think of. It was such a fun booth.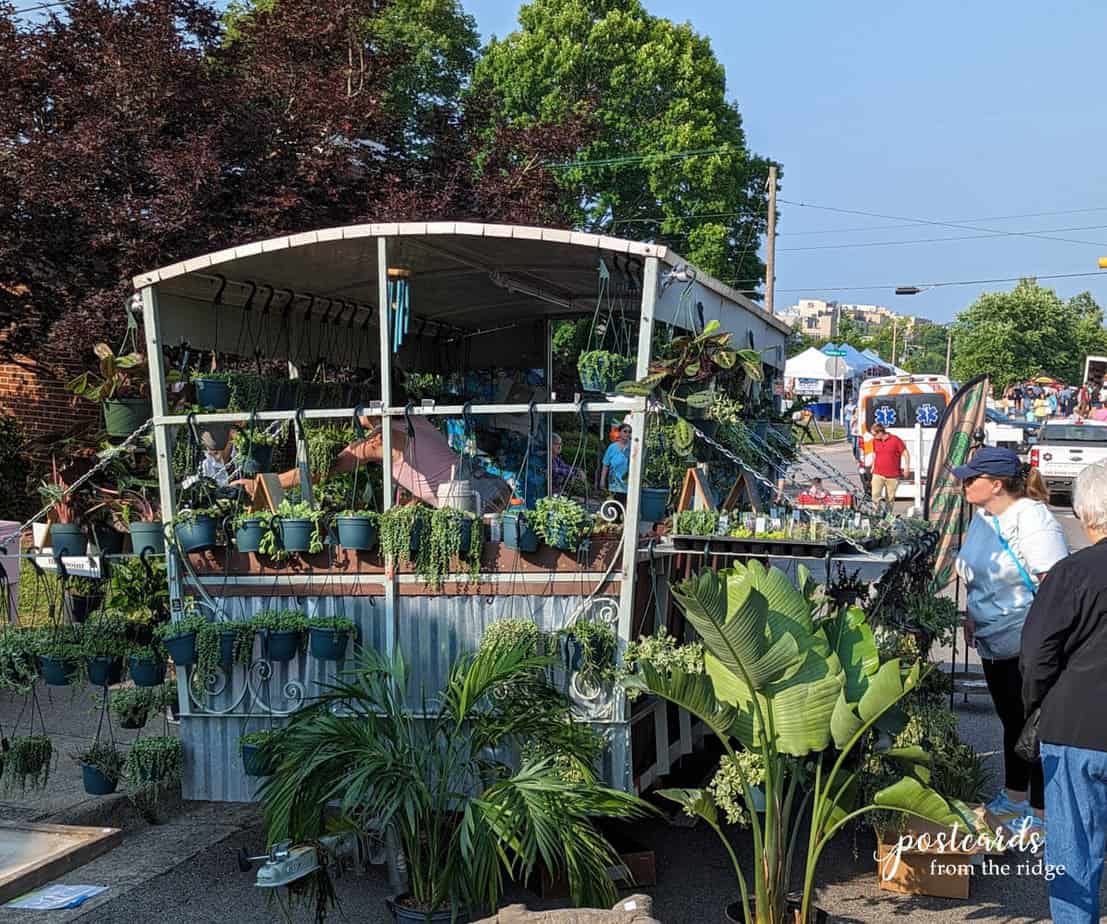 Small Local Pop Up Shops
One of the best things about the Lavender Festival is discovering new local small businesses to support. One of our favorites is KnoxFill which sells zero waste essentials. Refillable containers and sustainable items are their specialty.
Townsend Farmacy has a great selection of herbal salves and balms, essential oils, doTerra, teas, local honey, all-natural skin care products, hand-crafted soaps, customized herbal blends, and an essential oil blending bar. And isn't their converted horse trailer the cutest?
Local Artisans and Crafters
Dozens of booths full of handcrafted art and decor are always at the Lavender Festival. These unique dolls are made from corn shucks and are so charming.
Handmade ceramic art is another great find. This one features a small framed piece with lavender impressions.
And there's always plenty of local pottery vendors at the festival.
Fashion
You'll find clothing, purses, bags, hats, and more to your wardrobe. There are new and vintage dealers. Natalie and I loved these brightly colored Indian pieces.
For the Kids
Bring the kids with you when you come and they can enjoy creating at the Home Depot booth.
And the little ones love playing in the splash pad.
More Lavender Festival Activities
In addition to all the food, art, and fashion, there are some more great activities. You can watch several demonstrations throughout the day. Plus there's a wine tasting event where you can sample and purchase regional wines. I've been to this in previous years and thoroughly enjoyed it!
You can also attend the Herb Lunch the day before the festival and take tours of several local homeowners' gardens the week of the event.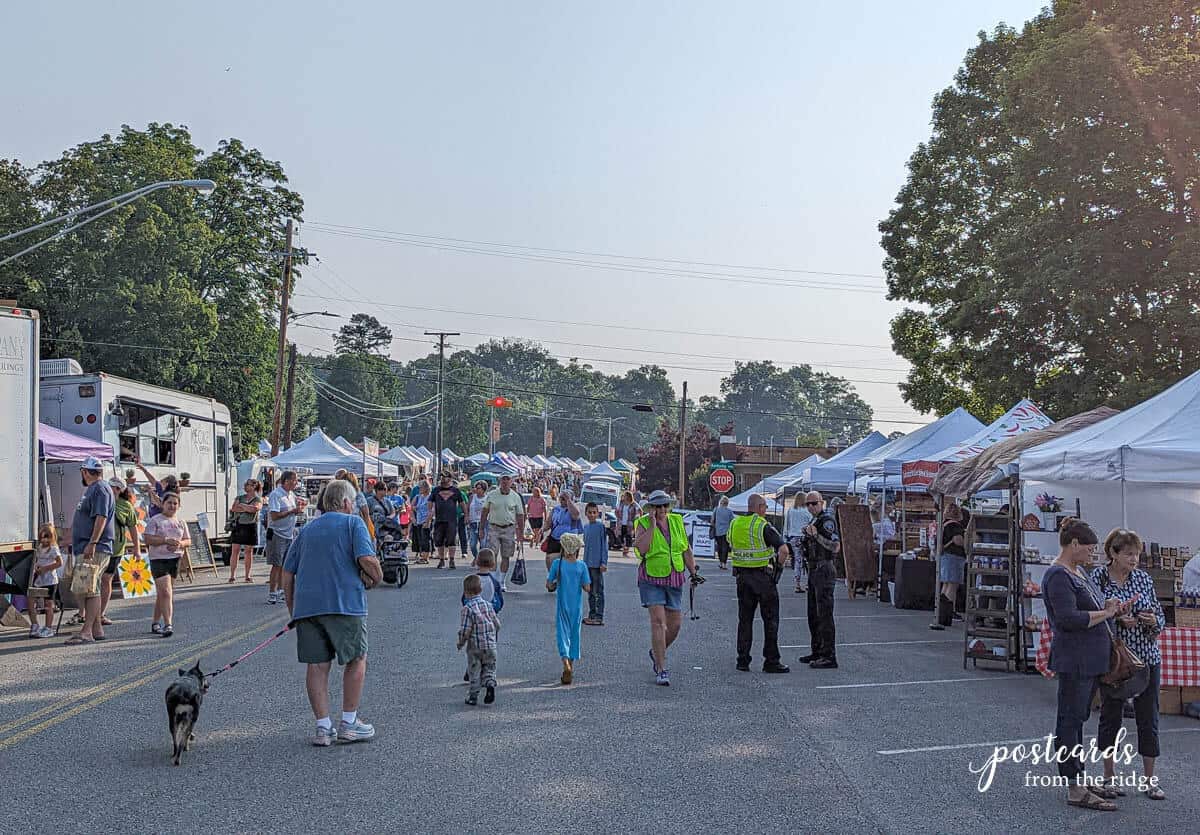 Tips for attending the Lavender Festival
I strongly recommend arriving early before it gets too crowded or hot
Wear a hat, sunscreen, and lightweight clothing
Stay hydrated
Bring a tote bag or market basket to carry around your goods
Have fun! It's such an amazing event.
Where to Stay
There are several nice areas to stay during your visit to Oak Ridge.
Good places to eat
More local places of interest
Lavender festivals and farms in your area
I realize that not everyone who reads this is close enough to attend our local lavender festival. But there are many more across the country, as well as lavender farms that you can visit and sometimes pick your own bundles.
This map on google shows some lavender festivals. Scoll down the list on the left side and others may appear. Or zoom in and do a search in your area. Click the "search this area" button at the top of the screen.
And view this google map for lavender farms. Again, zoom in to your area and do a "search this area" for the ones that are closest to you.
I've been fortunate to be able to visit several lavender farms across the country while traveling. Here are a few that I can recommend personally.
Lookout Lavender Farm in Rising Fawn, GA
A couple of weeks ago my youngest daughter Natalie and I visited the Lookout Lavender Farm in north Georgia. It's about 30 minutes south of Chattanooga and is worth the drive if you're in the area.
They allow you to pick your own lavender bundles after receiving instructions and scissors. We had fun walking through the fields and snipping stalks.
We got really lucky while we were there. It had been raining that morning and rained again after we left, but the skies were beautiful during our visit.
They also have a tent with lavender-themed foods and items, as well as a website here: Lookout Mountain Lavender Farm
While we were there this adorable little vendor was selling teas and lemonades. They were also at our local lavender festival and we bought some of their lavender chai latte mix.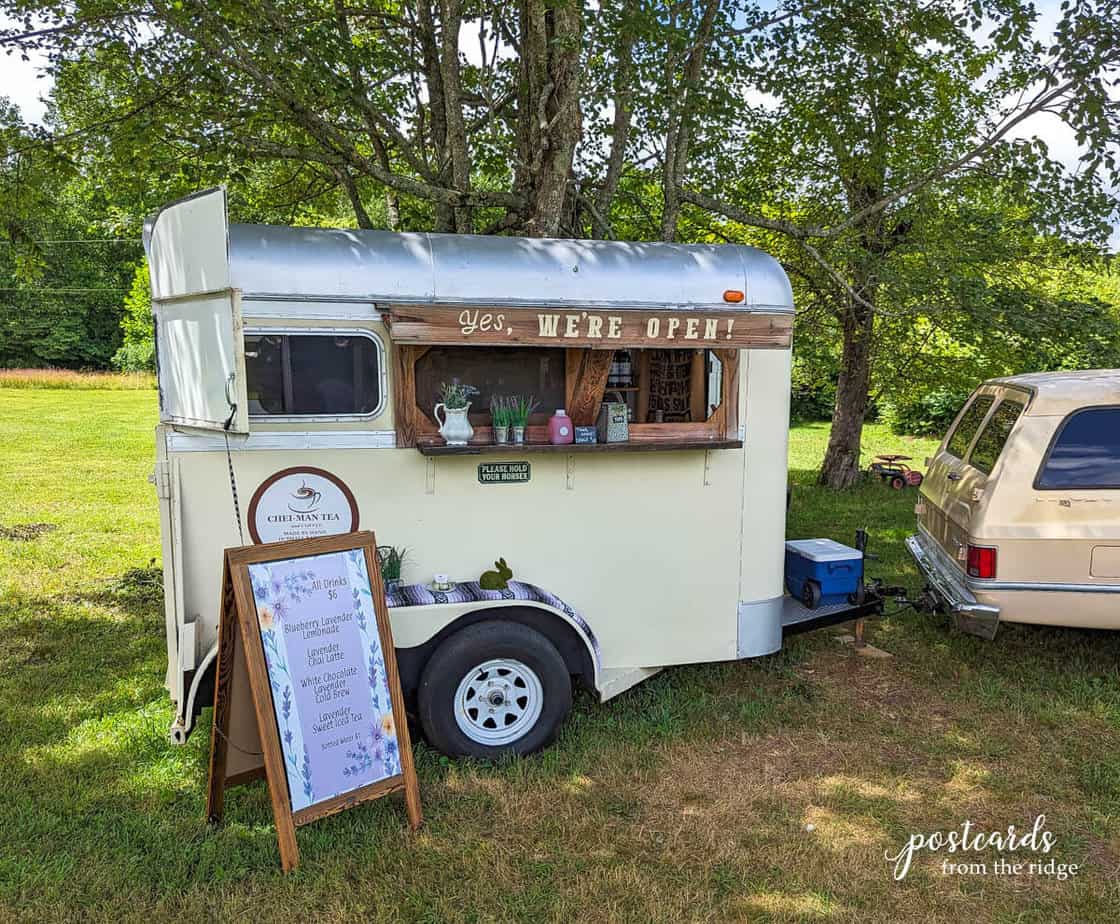 Purple Haze Lavender Farm in Sequim, WA
Several years ago when we took a trip to the Pacific Northwest we stopped by the Purple Haze Lavender Farm in Washington. It was well worth taking the time to visit.
They had a little shop with lavender-themed items and allowed you to walk through their fields. This pretty green chair had been placed at the end of one of the lavender rows and it made a beautiful scene.
Some of the rows of flowers were alternating in color and were so dreamy. You can visit their site for directions, recipes, shopping, and more here: Purple Haze Lavender Farm
View more interesting things to do in Washington here: Things to Do in Washington
Oregon Lavender Fields
On that same trip we visited the Lavender Valley Farms in the Hood River Valley area of Oregon. The views with Mt. Hood in the background look like a postcard and we got some great pictures.
Unfortunately this farm is permanently closed but there are several others in the area including the Hood River Lavender Farms.
See other interesting things to do in Oregon here: Things to Do When Visiting Oregon
Lavender Home Decor
Since I love all things lavender, you can shop from a few lavender items in my online shop, Emory Valley Mercantile.
Dried Lavender bundle
$13.99
Lavender Notecard set of 10
$17.00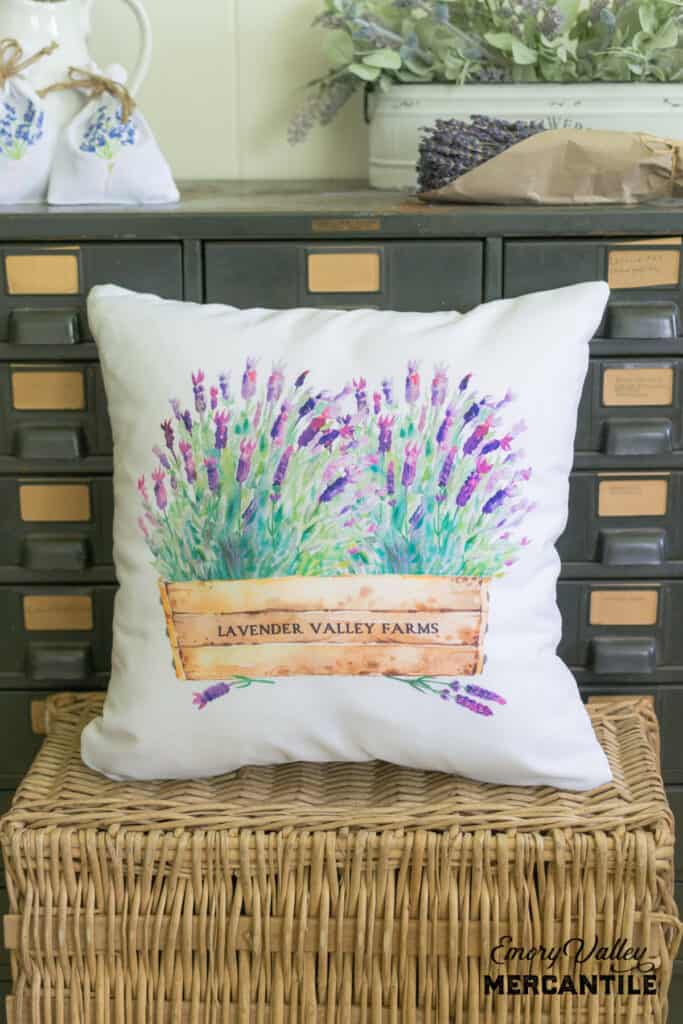 Watercolor lavender pillow
$18.99
Free Printable Watercolor Lavender Art
Dress up your walls with this free downloadable art. You can grab it and all of my free printables when you sign up for my newsletter here. Subscribe to Newsletter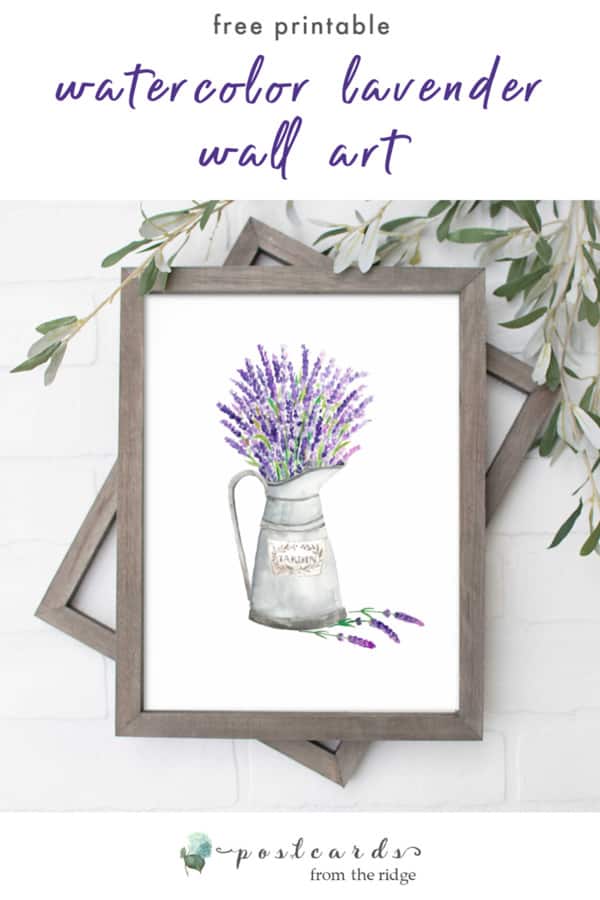 Have you been to a lavender festival? Where was it, and how did you like it? Leave me a comment and let me know!