Small Entry Decor Ideas – Through The Years
Today is the second part of a little series called "Through the Years". I'm looking back at various rooms in our home and how the styles have changed over the past 16+ years. It's so fun to see how things have changed and how much my photography skills have improved!
This post contains affiliate links for your convenience. I may make a small commission on products purchased with my link, but your price does not change. For full disclosure go here: Disclosure and Policies. Thank you for supporting my site.
It's amazing what a different you can make in a room with something a simple as paint and decor. Our entry is the focus of today's time warp tour and it's always been one of my favorite spaces to decorate because it's so small. I can change the decor in usually less than an hour and give it a whole new look.
See more tours here: Our Family Room Through the Years
Small Entry Decor Ideas
I don't have a picture of how this room was before we moved in. It had wall paper with little flowers and a larger curio cabinet in here. It's mostly open and full of doorways and doesn't have much actual wall space.
We kept the original 1960's blue slate floor in here and love how durable and organic it is. And it's actually pretty neutral.
Not long after moving in we replaced the floral wallpaper with a faux grasscloth wallpaper. It has a great texture and is very neutral.
Small Entry with Painted Dresser and vintage finds
Back in 2012 I had a painted dresser in here with some various decor for Christmas. I've almost always had the vintage mirrors and lamp in here. They never go out of style. (You can read about the dresser makeover here: Two-toned painted dresser)
Small Entry with Antique Oak Dresser
The antique oak dresser was moved here sometime in 2014 and added warmth and character to the area. For Christmas that year I added photos of the girls and some vintage Christmas ornaments for some holiday spirit.
See more here: Welcome to our Christmas Home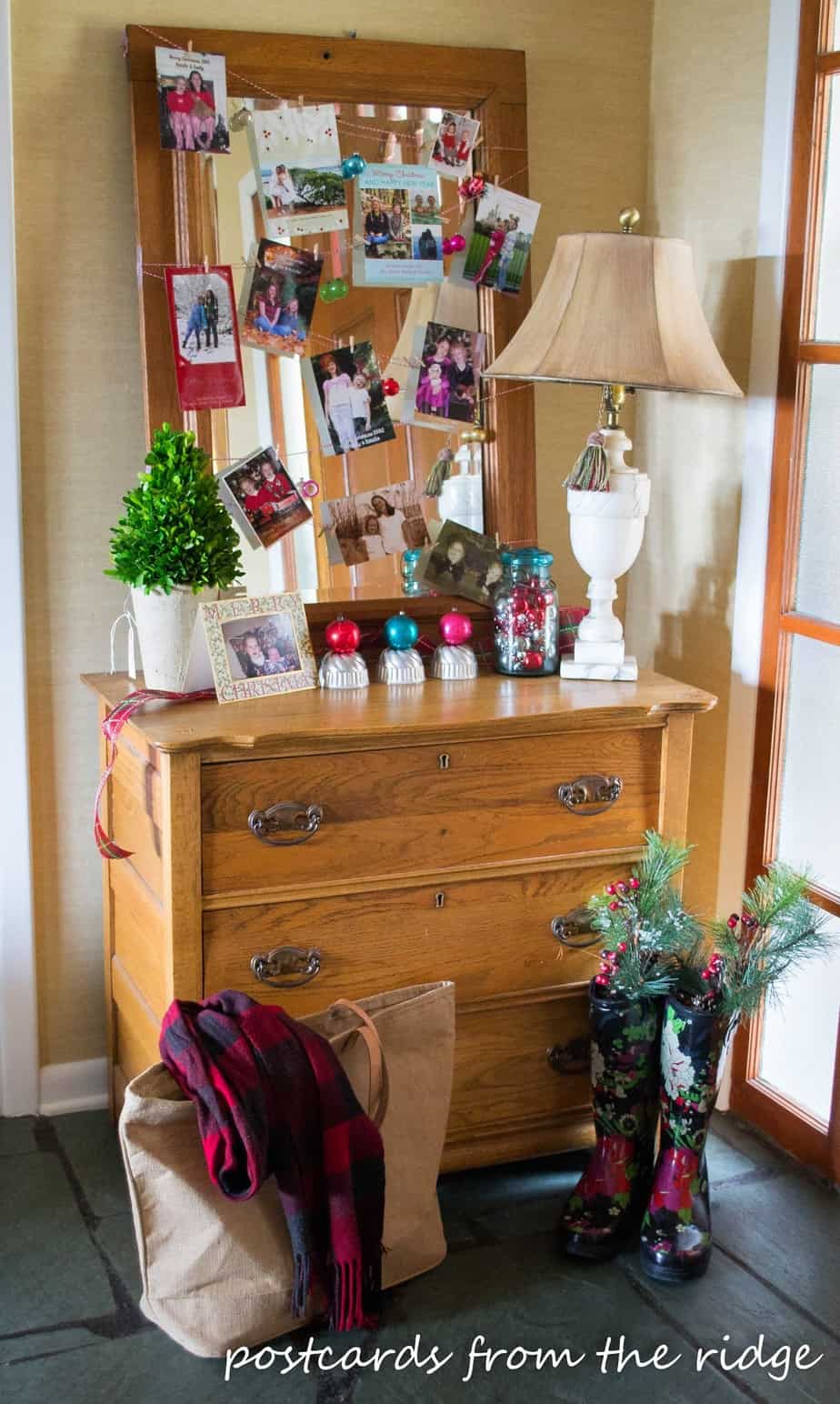 Small Entry with White Desk and Vintage Picnic Baskets
In 2016 I added this small white desk. It's the perfect size for this area and has a little drawer to stash things in. The open space underneath is a fun place to add vignettes and seasonal decor.
The vintage picnic baskets were a fun addition for the spring.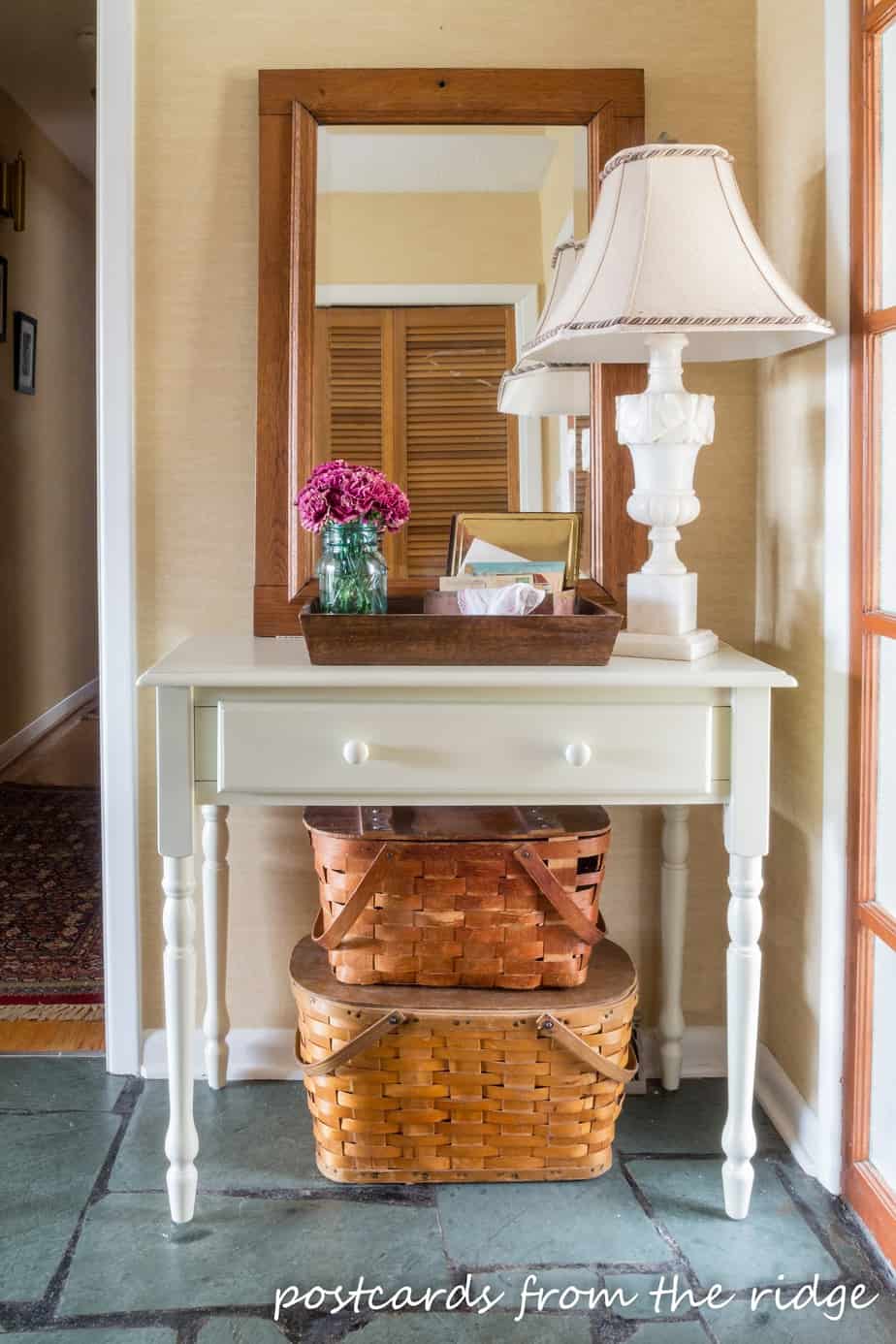 Spring Decor Ideas for Small Entry
For our spring decor in 2018 I placed a small wooden stool underneath the desk along with a large jute tote and some dried lavender from my shop. I created some free botanical printable art that you can grab when you sign up for my newsletter here: Subscribe
Fall Decor Ideas for Small Entry
I added some real pumpkins under the desk for fall decor in 2018 along with a shopping tote and blanket scarf. Some vintage fall colored books, baby boos, and dried wheat were added to the top.
Christmas Decorating Ideas for Small Entry
Here's another look at some fun Christmas decor in here from 2016. You can see more here: Christmas Home Tour and read my best tips for finding vintage items here: How to Shop Estate Sales Like a Pro
Botanical Decor in Small Entry
In 2019 I gave the space a little makeover. I painted the wallpaper with Benjamin Moore Collingwood and attached a collection of vintage fern botanical prints to the walls (available for free to subscribers).
You can see how I transformed the space for less than $100 here: Botanical Themed Entry Makeover on a Budget + Free Printables
Blue and Pink Decor for Small Entry
It's been four years and it still looks pretty much like this. Below is how it looked for Christmas 2022. See the details here: Christmas Decorating Ideas with Navy Blue and Pink
What's next in this space? I'm hoping to paint the inside of the front door and the louvered closet doors one of these days. There just aren't enough hours in the day, know what I mean?
Let me know which look is your favorite for this space!