Blackberry Wine Cake Recipe
This blackberry wine cake recipe has been a family favorite of ours for decades. It's a beautiful, moist, and delicious cake that you'll love too.
This post contains affiliate links for your convenience. I may make a small commission on products purchased with my link, but your price does not change. For full disclosure go here: Disclosure and Policies. Thank you for supporting my site.
Blackberry Wine Cake Recipe
If you love simple recipes for beautiful and delicious desserts, then this one is for you. Start with a boxed cake mix and add a few ingredients for this showstopping blackberry wine cake. I promise that your friends and family will love it and want the recipe for this winning cake.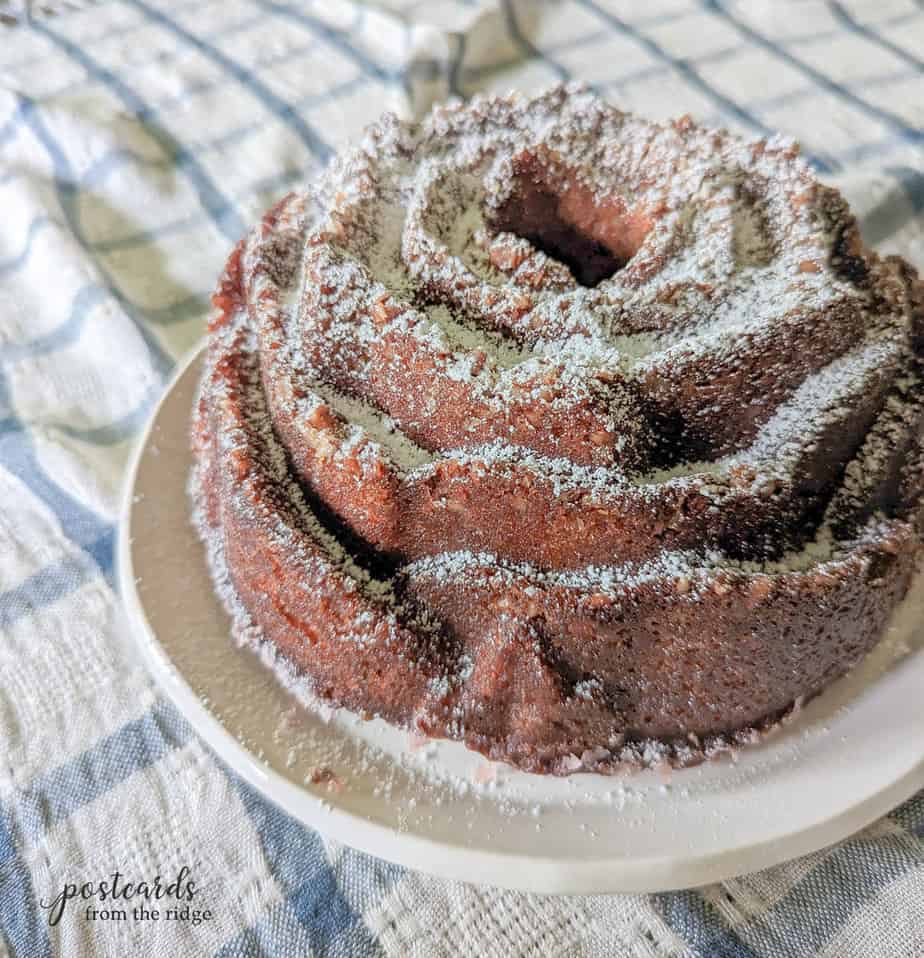 What is blackberry wine?
It's just what it sounds like… wine made from blackberries! You can make wine from many different fruits in addition to grapes. Other fruit wines include raspberry, strawberry, peach, muscadine, blueberry, plum, cherry, and even pineapple! Any sweet berry or fruit can be made into wine or cider.
NOTE – Blackberry wine can be purchased anywhere wine is sold.
More dessert recipes
You'll also want to try my recipe for a Buttermilk Pound Cake and my famous Salted Caramel Pecan Pie.
For this blackberry wine cake recipe, follow the instructions at the bottom of the post. The batter will be a pretty pink color before baking and will turn into a deeper rose when baked.
My husband and daughters love this cake and request it for special occasions. No, it really doesn't taste boozy, and is super moist and not too sweet.
The pecans add a nice little crunch and subtle nutty flavor. (You can leave these out if anyone has nut allergies…the cake is still delicious without them.)
You'll have most of the ingredients in your pantry but will also need the following items:
What you'll need
These tools will be needed when making this cake. You'll probably have most of the ingredients in your pantry with the exception of the blackberry wine and gelatin.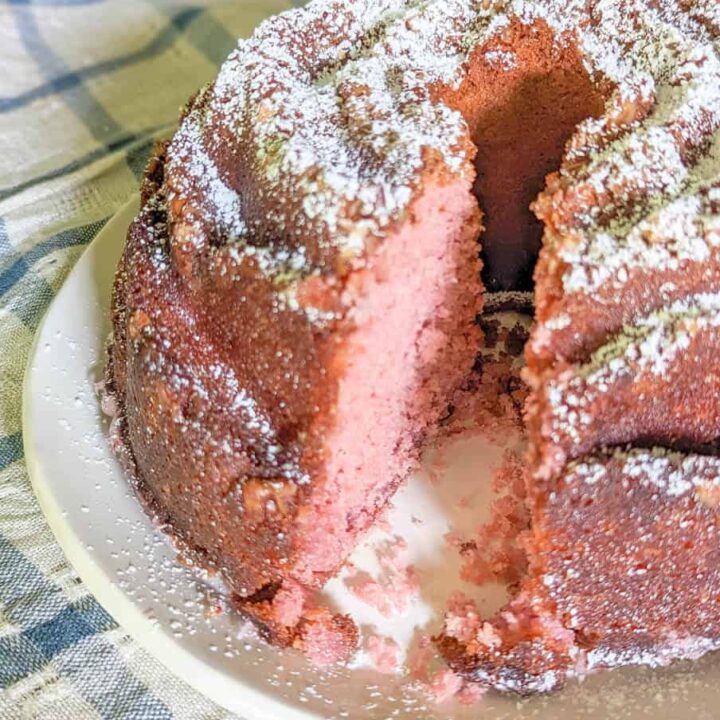 Blackberry Wine Cake Recipe
Ingredients
1/2 cup pecans, finely chopped
1 pkg white cake mix
1 pkg blackberry gelatin
1/2 cup vegetable or canola oil
1/2 cup blackberry wine
4 lg eggs
1 cup margarine or sweet butter, melted and cooled
Additional 1 cup blackberry wine
4 cups confectioners' sugar, sifted
Instructions
Please read all instructions before beginning.
For the Cake
Preheat the oven to 350.
Grease a 12-cup tube pan (or used baker's cooking spray).
Sprinkle chopped nuts evenly on the bottom of your pan and set aside.
Add cake mix, blackberry gelatin, oil, wine, and eggs to a large mixing bowl. Beat on low speed for 1 minute, then medium-high speed for 5 minutes.
Pour your batter into the pan and bake for 45 to 50 minutes. Cake is done when the top is slightly brown and the sides pull away from the pan.
Remove from oven and poke holes over the entire surface with a fork. Slowly pour the glaze over the hot cake and allow it to cool for about an hour.
Flip the cake onto a cake plate and dust with powdered sugar if desired.
For the Glaze
While the cake is baking, make the glaze. Mix the melted and cooled butter and wine together in a medium size mixing bowl.
Gradually add the sifted powdered sugar, mixing until it's smooth.
Notes
If you can't find blackberry gelatin, black cherry or raspberry may also be used.
Let me know if you make this cake and what you think of it. Our family loves it!
This recipe is adapted from the Treasured Recipes from the Charleston Cake Lady cookbook.