Colorful Vintage Christmas Decorations That Will Make You Smile
Now that Thanksgiving is over it's full blown Christmas here at our house. And this year it's all about fun colors. Today I'm sharing our colorful vintage Christmas decorations that have made the living room our favorite room in the house.
It's part of the holiday home tour organized by Jenny at Evolution of Style. All week long you can find ideas for every room in your home and the links to the tours are at the bottom of this post. There are some absolutely gorgeous homes so you'll definitely want to visit them all. If you're just coming over from Sincerely Marie Designs, welcome! Amanda's style is so classic and beautiful and her living room looks so pretty all decked out for Christmas.
Today is all about living rooms, family rooms, and dens and our living room is on tour. I've tried to use only what I already had and only purchased a couple of new items.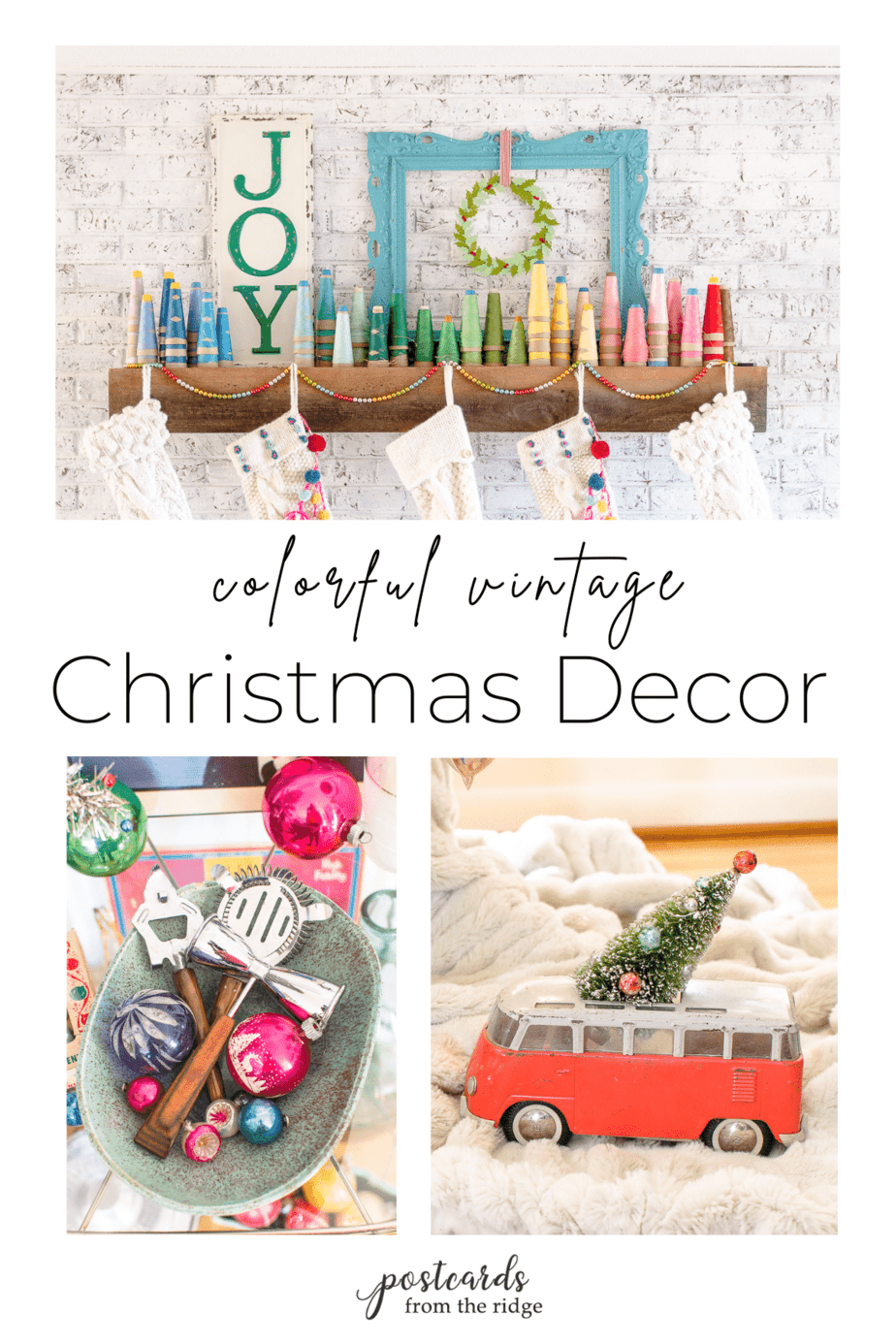 Our house was built in the mid-60's so I've focused on hip mid-century modern items but also have lots of other decades. It's truly a mash-up of fun styles.
How to use colorful vintage items as Christmas decor
There are so many things that can be used as Christmas decor in addition to the traditional ornaments, garlands, wreaths, etc. Let's look at some fun ways I've used them this year.
Ornaments
Vintage glass ornaments are fun to collect and sometimes you can find them at thrift stores. This year I added mine to our Christmas tree and love the bright and cheery colors. They're just such a happy sight.
Obviously ornaments are ideal for adding color to your tree. But you can also use them in other areas. Place some vintage glass ornaments in a big bowl for an impressive dose of color.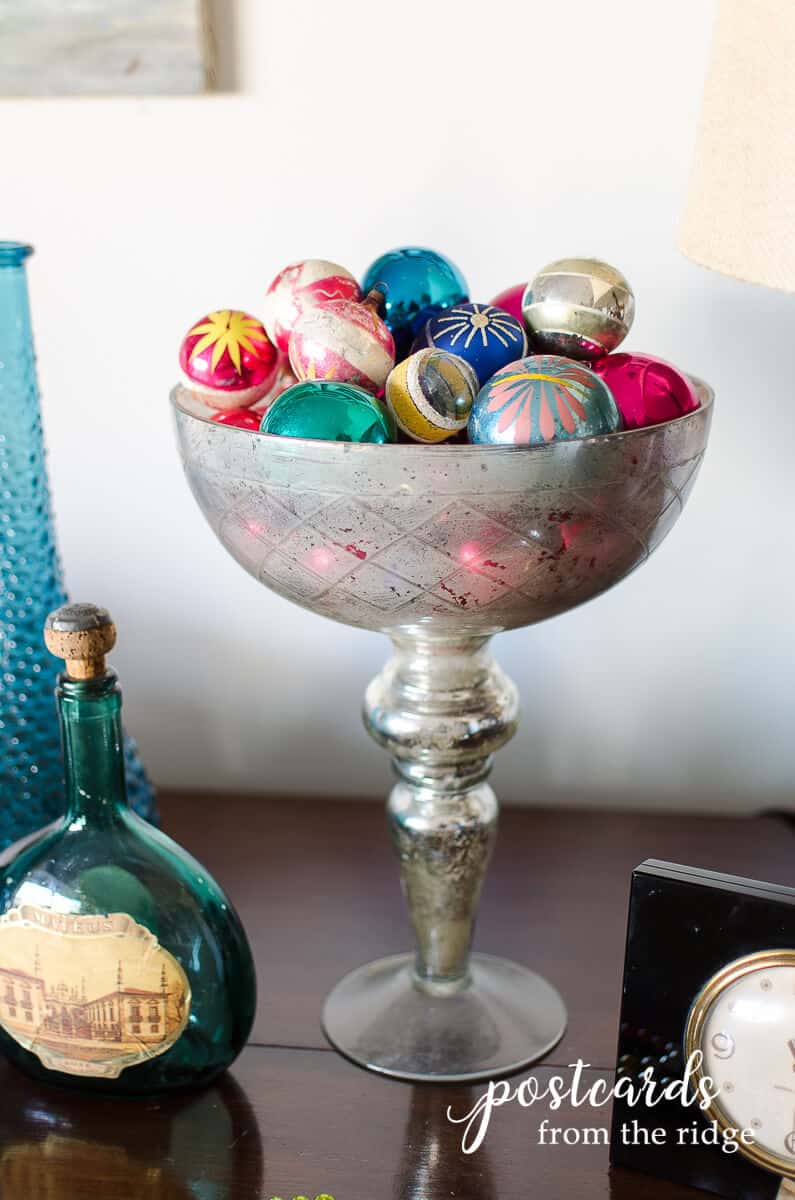 Ribbon
Confession time…I fully intended to do a blue and white theme with hot pink accents. But when I started adding my vintage ornaments I decided to use all of the colors. So that's the explanation behind the navy and white checked ribbon. But it actually goes with all the bold colors.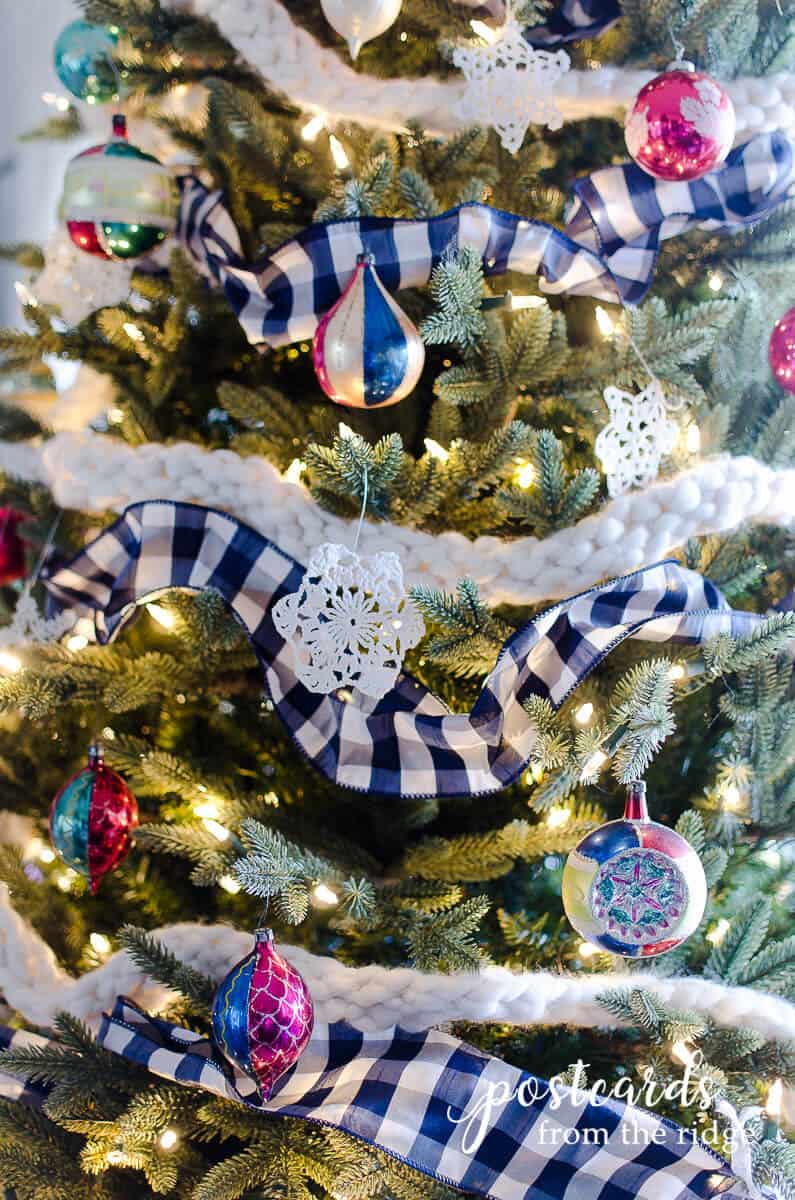 The spool of turquoise velvet ribbon adds a pop of color to the space behind the sofa. And a couple of vintage ornaments bring some sparkle to the scene.
Bottles
Colorful vintage bottles like these Empoli bottles add interest and color any time of the year. They were perfect for the table behind the sofa since I needed some height and color here.
Serger Thread Spools
Say what? Okay, this one is way out there but I love how it turned out. I had planned to do a colorful theme for Christmas and then I spotted a large collection of these thread spools on an online auction. I immediately saw them as little Christmas trees and luckily won the auction. Aren't they so much fun??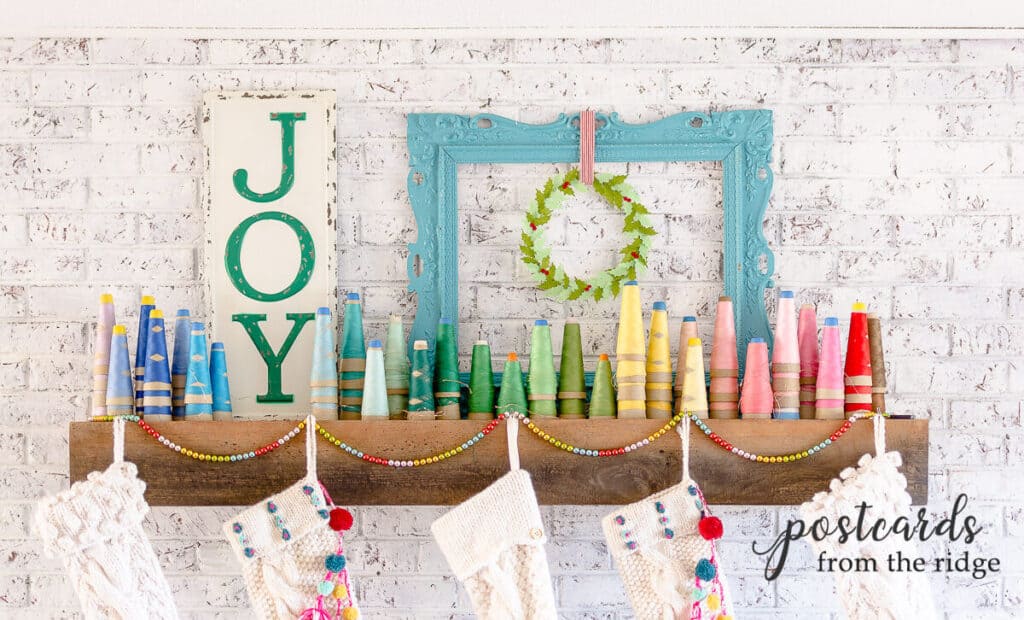 In addition to the colorful thread cones, I added a vintage frame that I painted bright turquoise many years ago, a felt wreath that I made a couple of years ago, some colorful vintage toys, colorful boho stockings, and the JOY sign because the whole vibrant sight just brings so much joy.
Toys & Games
Let's continue taking a stroll down memory lane and add more color with vintage board games. I've had these for years and haven't wrapped any presents yet so they were the perfect addition underneath the tree.
And the vintage collectible toys belonged to my late father-in-law and brother-in-law so there are some good memories there. So colorful and fun!
I couldn't resist adding a little bottle brush tree to the opening in the top of the old van. (similar one found here: vintage inspired Christmas van). The faux fur blanket it's sitting on kinda looks like snow, doesn't it?
The vintage turquoise NYLINT camper is a classic retro toy. It's built to last, for sure!
Pottery pieces
Now let's head over to the vintage brass bar cart I snagged years ago at an estate sale. We'll listen to some Dean Martin records and do the cha cha while we're there. Mr. Martin inspired a slightly Italian theme here with the vintage Italian wine bottles and hammered aluminum ice bucket. The tiny tinsel tree isn't vintage but looks like it is.
The pottery pieces aren't Italian but they add some fun color. And they're a great place for my vintage bakelite bar tools and vintage ornaments.
Glasses and cups
Continuing with the vintage colorful Italian theme are my anodized aluminum pitcher and cups. They actually look like ornaments with their bright colors. I've had these for probably 30 years and had forgotten about them until I was looking for things to use for Christmas color.
Throw blankets & pillows
Textiles are another great item to add for the season. I bought the FALALALA pillow a couple of weeks ago and it actually inspired many of the colors I used in this room. The colorful granny square blanket was a thrift store find years ago. As a side note, I just installed the photo gallery wall right before Thanksgiving. I highly recommend having photos printed from your vacations and hanging them on the wall for some unique color and personalized art.
More colorful blankets are used over on the hearth. They're soft and cozy.
The colorful stair step throw blanket adds some pizazz to my wing back chair.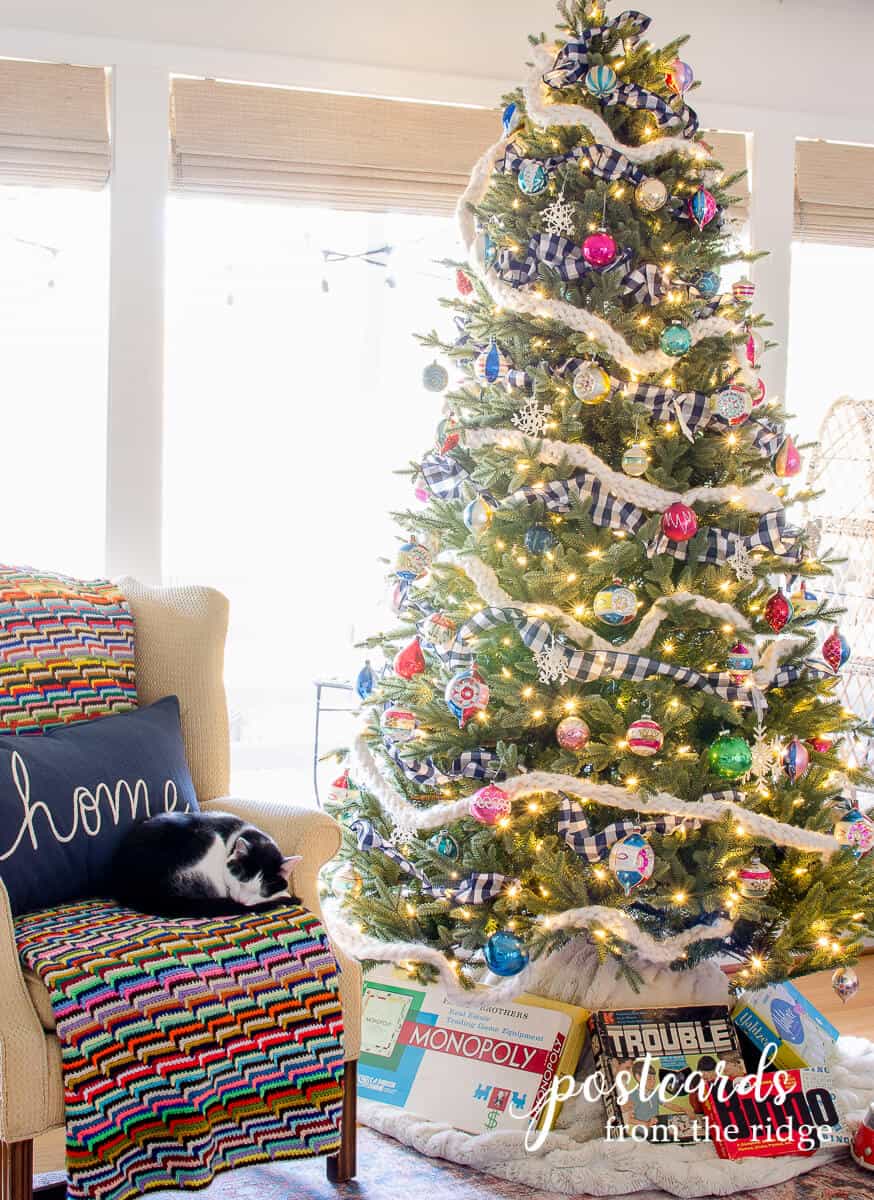 Mr. Wizard liked it so much he took a little cat nap on it. And now I'm needing a nap too, how about you?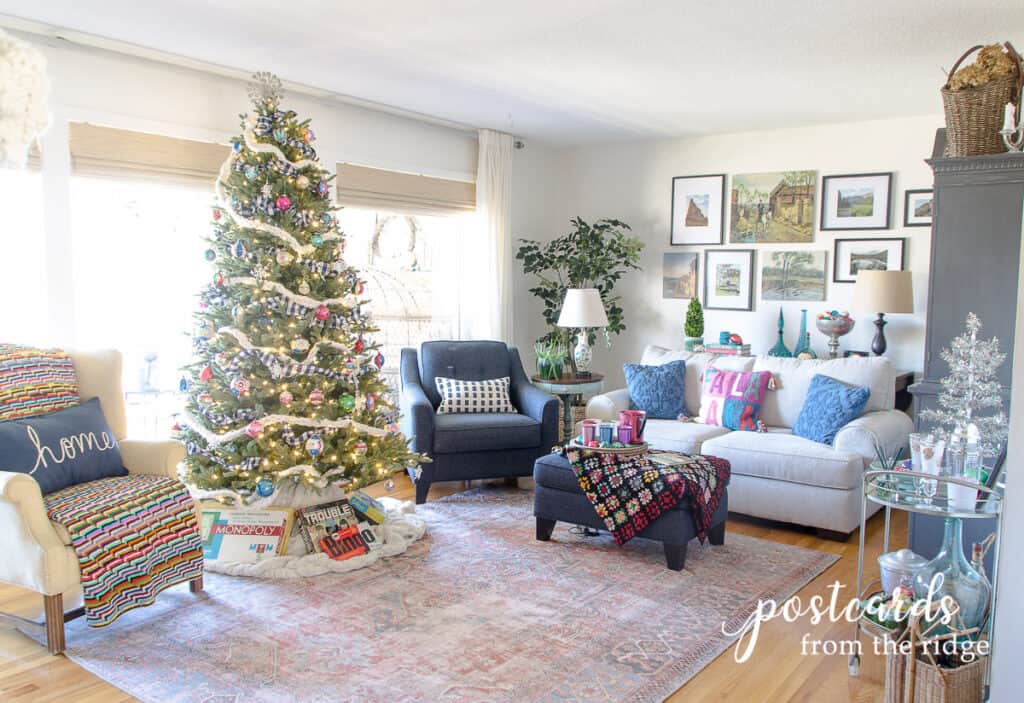 I hope you enjoyed the tour and found some ideas you can use in your own home. Keep scrolling to see all of the tour participants and be sure to visit everyone.
More Christmas Posts
Here are all the posts on on the tour, and up next is Kim at Northern California Style. You'll love her neutral living room decor!
Monday, November 28th (Front Porch/Outdoor Spaces)
Evolution of Style
|
Maison de Cinq
|
Home by Heidi
|
Southern Hospitality
|
Cindy Hattersley Design
Tuesday, November 29th (Entries/Dining Rooms)
Hello Lovely
|
A Stroll Thru Life
|
County Road 407
|
Southern Heather
|
Classic Casual Home
|
Most Lovely Things
Wednesday, November 30th (Living Rooms/Dens)
Northern California Style
|
Thrifty Decor Chick
|
Summer Adams
|
Make Mine a Spritzer
|
Sincerely Marie Designs
|
Postcards from the Ridge
Thursday, December 1st (Mantels/Kitchens/Laundry Rooms)
Southern Hospitality
|
Cindy Hattersley Design
|
Home with a Twist
|
Sincerely Marie Designs
|
Citrine Living
Friday, December 2nd (Bedrooms)
Dimples and Tangles
|
This is Our Bliss
|
Shine Your Light
|
Sincerely Marie Designs
Sources
These are the same items or similar to what I used in our living room.