7 charming types of vintage linens you should never pass up
If you're like me and you love all types of vintage linens, then you'll enjoy today's post! You'll see different linens and many ways to use them from a group of vintage-loving home bloggers.
Everyone is our group has a soft spot for all things vintage and we enjoy sharing how we use various vintage items in our homes. The group is hosted and organized by my lovely and talented friend Cindy at County Road 407. If you're just coming over from Cindy's, welcome! Don't you love all of her charming ideas in her cozy home? Be sure to visit her if you haven't already.
Today we're talking about different types of vintage linens and sharing ideas for using them in your home. There are 6 creative bloggers you can visit and find some beautiful ideas. All of the links are at the bottom of the post and you won't want to miss any of them.
This post contains affiliate links for your convenience. I may make a small commission on products purchased with my link, but your price does not change. For full disclosure go here: Disclosure and Policies. Thank you for supporting my site.
Different types of vintage linens and how to use them
1. Vintage Tablecloths
Admittedly, I don't use a tablecloth very often. When we have a large gathering and I have to use folding tables or push smaller tables together is about the only time I use them, or if we go on a picnic which isn't very often either (I need to change that!).
But I've found some beautiful vintage block print tablecloths at estate sales! Another way to use them besides on a table is folded up at the bottom of the bed during the summer, or tossed across a chair, like I did below.
2. Vintage Napkins
Before the days of the current just-throw-it-away mentality and paper everything, people used cloth napkins. We still use cloth napkins in our home and they're so easy to take care of! The ones we use every day are more casual, but I also have some that are more formal with monograms and crocheted accents.
Vintage cloth napkins really make a table sparkle. The vintage green damask napkin below was part of our spring table decorations a couple of years ago and went beautifully with all the spring colors and decor.
3. Vintage Lace
One type of vintage linen that I can definitely appreciate is vintage lace. It adds elegance and style to any table or space. The one pictured above was found at a rummage sale and I adore it.
4. Vintage Kitchen Towels
Another type of vintage linen that I love to collect is kitchen towels. They're so colorful and fun. I don't use most of mine for drying dishes but I really enjoy decorating with them.
Fun places to use vintage kitchen linens are on trays, shelves, in bowls and pitchers, and hanging on the oven door.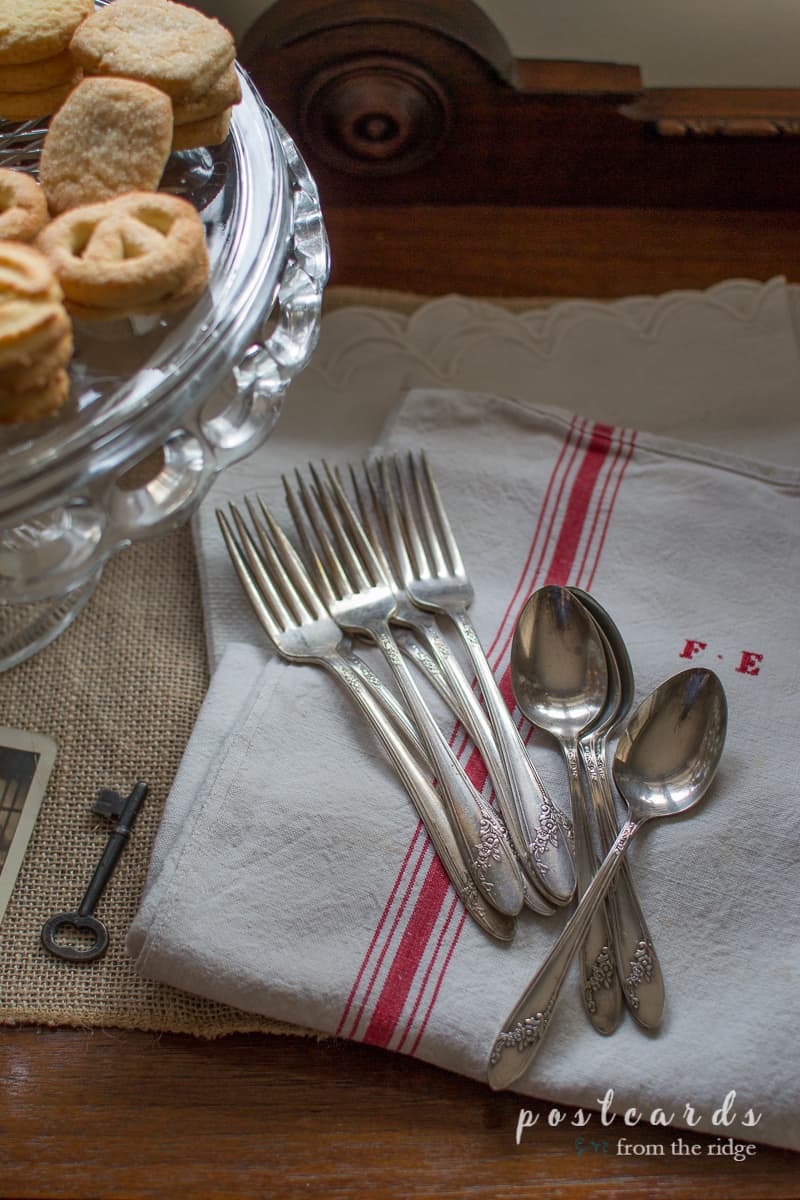 5. Vintage Pillowcases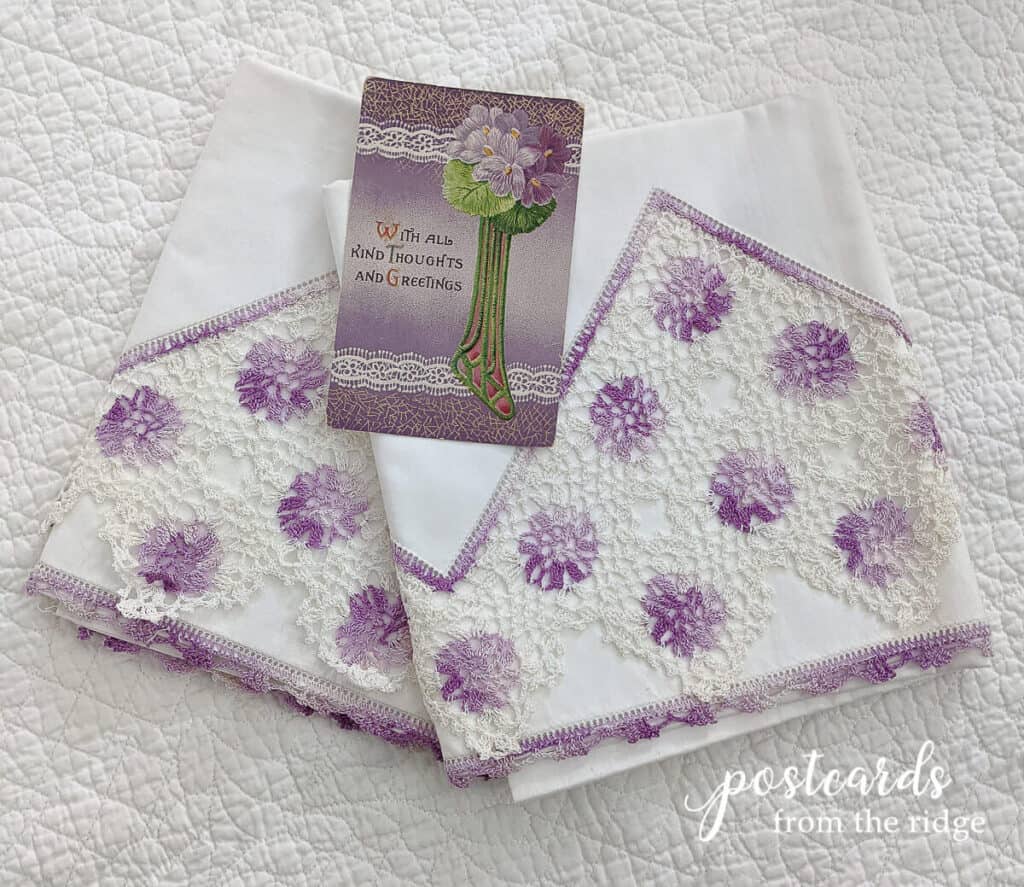 Vintage pillowcases make any bed look more cozy. You can find lace trimmed, monogrammed, and embroidered pillowcases. Guest bedrooms are a great place to use some vintage pillowcases because they make the bed look extra special.
6. Vintage Hand Towels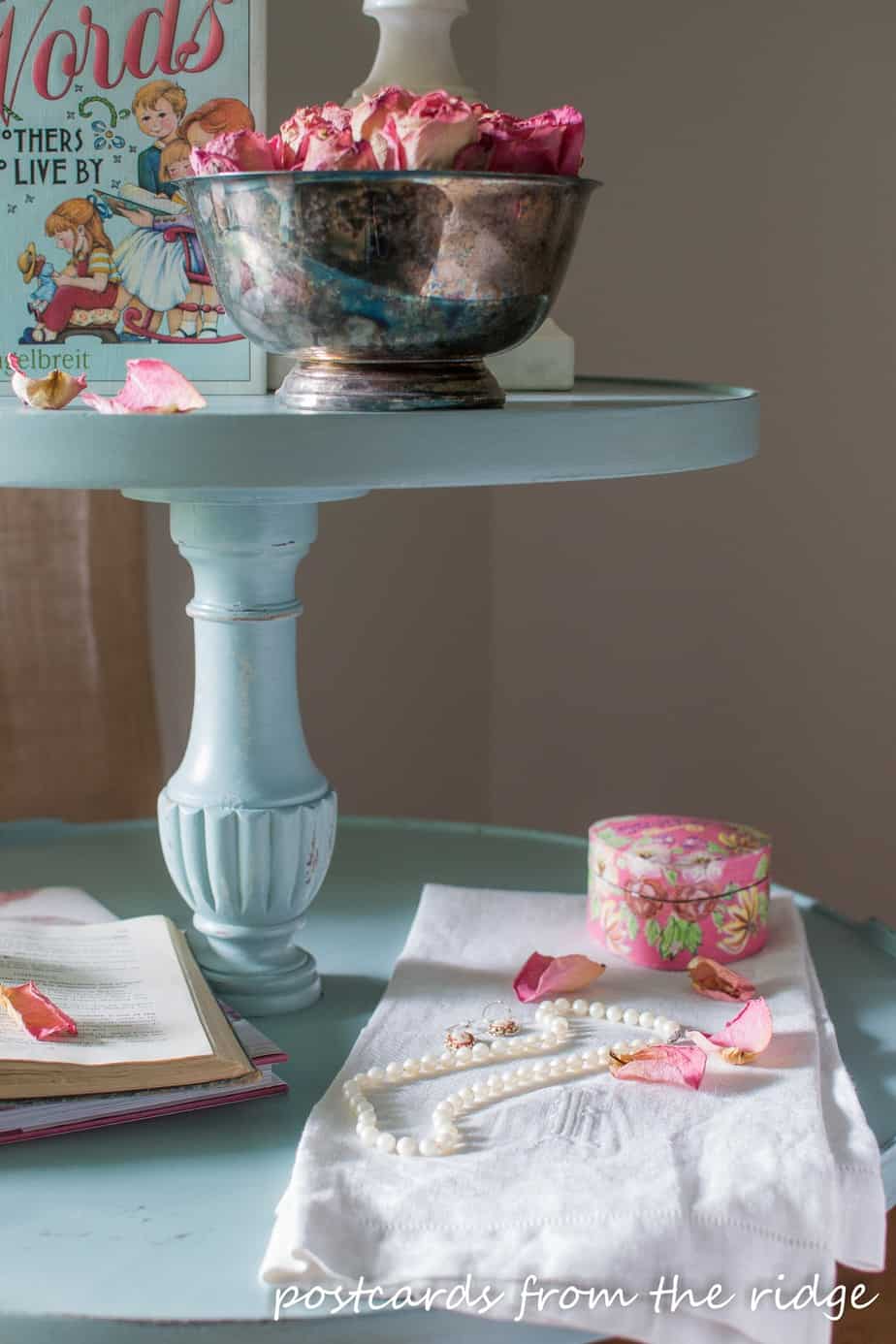 Another type of vintage linen that I love to use around the house is vintage hand towels, especially monogrammed ones. There's just something about a monogrammed item that makes it feel like a luxury item.
Hang them over a towel bar in the bathroom, on the edge of the sink, or draped over a tray in the bedroom.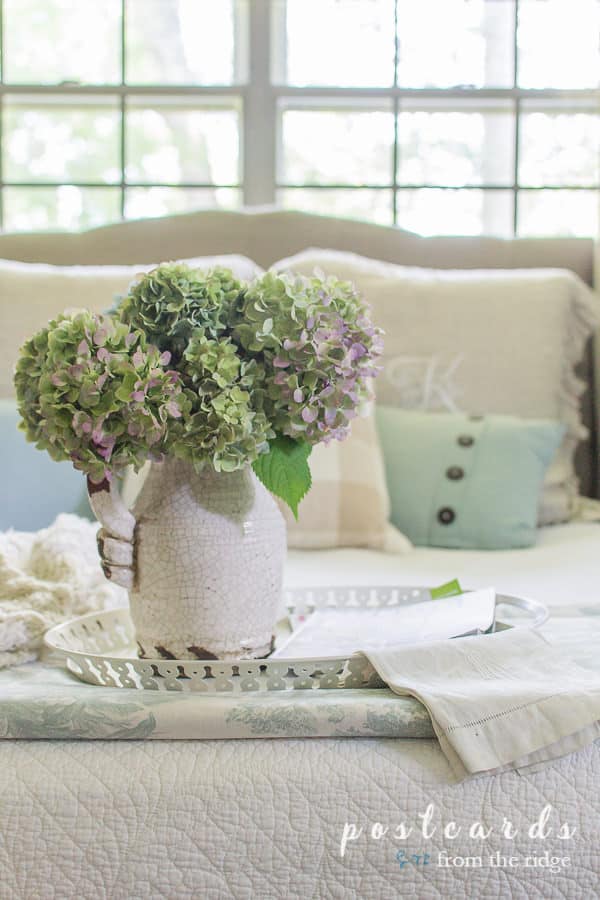 I've even hung them on my old wooden ladder for a cozy cottage look.
7. Vintage Handkerchiefs
A little vintage ladies' handkerchief looks so sweet tucked into a drawer, box, or basket.
The colors on vintage hankies are so fun and vibrant and they make the most adorable decorations just about anywhere in your home.
Favorite sources for vintage linens
Different types of vintage linens can be found at various places and for a wide range of prices. Here are just a few places to find them:
Next up with some wonderful ideas for using vintage linens is Debra at Common Ground. You'll love her adorable Easter vignette with vintage linens!
Here are all of today's posts, so be sure to visit everyone for some great ideas for using all types of vintage linens.